Who would've thought that forty years ago that at this location at Church & Nostrand Avenues, at different times you would be able to bank, purchase a Big Mac and at a later time, purchase a Whopper?
Well, that's what happened here. If your memory is sharp, you may remember this location chronicled in a FNY posting from August 13, 2014, entitled
REPURPOSED BANKS, PART 2
. It was at one time a branch of the Lincoln Savings Bank.
Personally, I've known fast food franchises to shutter – even well known ones such as McDonalds. But I can't recall an instance where a hamburger chain closes a location and another chain takes over that same site.
Are there any FNY fans who can vote a similar scenario at another location? –Gary Fonville
Here's a 1940 view of the building when it was actually the Lincoln Savings Bank. Note the lamps surrounding the bank–many employed this tactic to ward off nighttime break-ins. Of course the Church Avenue streetcar line was still running, evidenced by the trolley pole and wires. It would be one of the last of Brooklyn's streetcar lines to end service, finally giving up in 1956.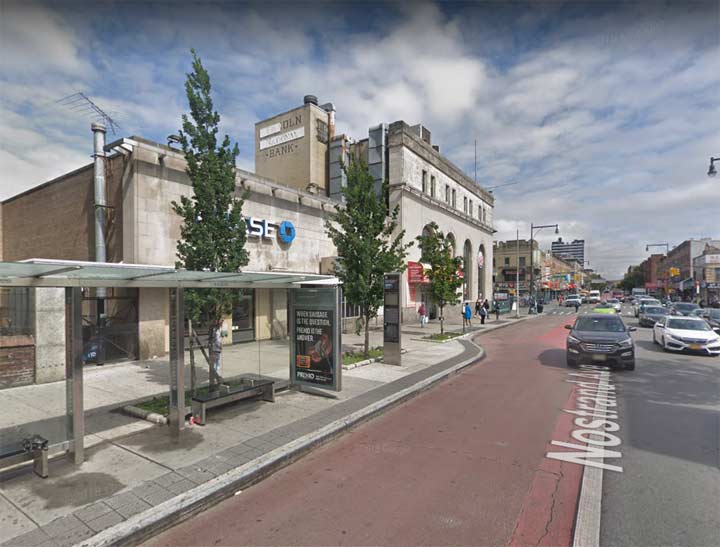 Meanwhile here's a look at the back of the bank on Nostrand Avenue, where there is presently a Chase bank. The brown pavement represents Nostrand Avenue's express bus lane.
… and in 1940, when the space was occupied by a railroad car diner. You could say, in effect, that bank and eatery have traded spaces between 1940 and 2018.