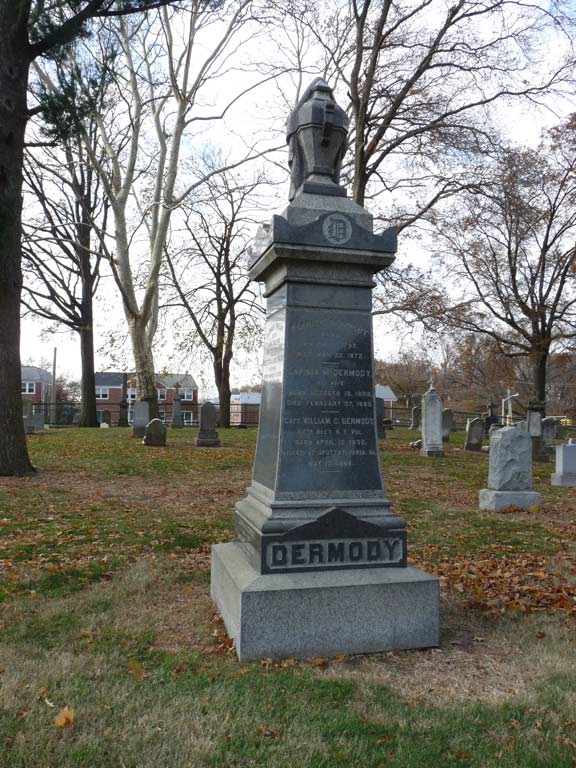 I was rambling around recently in Mount St. Mary Cemetery, the largest Catholic cemetery in Queens other than Holy Calvary in the western end of the borough. I had never visited it, and took it in on a round-robin tour of Flushing cemeteries that included Mt. St. Mary, Flushing Cemetery and "Ye Old Flushing Burying Ground," a space reclaimed from parkland about a decade ago. I'll do a proper post of my findings either here or in SpliceToday soon.
Mount St. Mary Cemetery was founded in 1862 as an offshoot of St. Michael's parish, today located on 41st Avenue in downtown Flushing. Eastern Flushing was farmland at the time, far from the town center at Main Street and Broadway (Northern Boulevard). One of the few roads through the area was Ireland Mill Road, later named North Hempstead Turnpike and still later, Booth Memorial Avenue. The pastor at St. Michael's, Father O'Beirne, procured portions of two farms for the cemetery. There were two later expansions, the latest in 1930.
The cemetery's west end, at 164th Street, is where you find the oldest gravestones. I recognized the Captain William Dermody monument. The Civil War casualty (1830-1864) is buried here with his parents. I recognized the name William Dermody, since there's another monument to him elsewhere in Queens.
In Bayside, 48th Avenue splits in two at 216th Street,with the right side curving to meet the cross street. This marks the point where Rocky Hill Road (48th Avenue's old name) made an abrupt jog south, on its way to Jamaica Avenue. At the triangle park formed by the split, you'll see a large uneven boulder in the center, inscribed "For a Better Union 1861-1865." The triangle honors Captain William Dermody, an outspoken abolitionist who was mortally wounded at the Civil War Battle of Spotsylvania, VA in May 1864.
This is the site of one of NYC's oldest war memorials. The stone was placed here in 1866, when
…this site was dedicated to the memory of Captain Dermody by a ceremonial meeting of a Union and Confederate veteran, each planting a special tree: a maple to represent the North and a sycamore to represent the South. The trees were to grow together as a symbol of the communal hope for a better union. To this effect, a monument was placed in the square with the inscription "For a Better Union 1861-1865," which remains there today. Every Memorial Day, the Bayside Historical Society lays a wreath at the park to commemorate Captain Dermody and those who fought in the Civil War. NYC Parks
Please help contribute to a new Forgotten NY website
Check out the ForgottenBook, take a look at the gift shop, and as always, "comment…as you see fit."
11/26/18