Something about North Brooklyn attracts me during the Christmas season. I have done surveys of both Manhattan and Graham Avenues in December. Today, I chose Humboldt Street, as I have a particular memory attached to it. A number of memorable incidents, for me at least, occurred in north Brooklyn in December…
Though I lived in Bay Ridge my first 35 years, I had a number of friends in Greenpoint and spent a couple of memorable Christmas seasons at Gary J.'s place on Oak Street in 1982 and 1983. For a short time, I even rented an apartment on Green Street (a one-bedroom cost $275 a month in 1982) but I found it a bit too daunting, with the bathtub in the kitchen and no shower, and got out of the lease and went back to Bay Ridge, where I lived in a number of apartments until 1993.
–I was driving around Brooklyn in December 1992 with a friend, Vincent L. (who remained in Brooklyn all these years and just recently moved to Plainfield, New Jersey). We were in Williamsburg and I mentioned I had never been in Peter Luger. 1992 was long before Williamsburg became a hipster playground and subsequently, a wealthy enclave. We ducked into Luger and had a beer at the bar at around noon. I was fascinated by the fellows in the white coats rushing around bearing platters stacked with raw meat — they were delivering them into the kitchen for the evening rush. A couple of years later I got into Luger for dinner for the first of two visits. This was about twenty years ago and it was $200 for four; I'm sure it's a lot more now. The four of us set to work like jackals on a wildebeest carcass. A half hour after the steak was brought over, just bones were left.
–In December 1982 I was working a night shift with the city's biggest type house, Photo-Lettering. I had made an arrangement with a friend, Brian B., to arrive at his house after my shift and wait for a couch. I got out of work in the Grand Central area at 3AM, but fortunately, the #4 train has an easy connection with the L train at Union Square; it took that to Graham and walked about 8 blocks. I arrived at his house at 4AM, slept on his old couch, he left for work, and the new couch was delivered in the early afternoon. Pretty mundane stuff, but he lived in an unusual place. I'll talk about it a bit further down the page.
Google map: North Brooklyn walk
Today, I got out of the L train at the Driggs Avenue end of the Bedford Avenue stop. This is Williamsburg Atelier, on North 9th between Roebling and Havemeyer. Most of Williamsburg has come to no longer look the way it did for most of the last century, as many older buildings have been aluminum sided and many have been torn down in favor of new developments like this one. As these things go, I'm not overly put off by the Williamsburg Atelier, as it was bricks or at least faux bricks in the construction.
Williamsburg still works, witness the Auster Rubber Co. on Roebling between North 8th and 9th.
Roebling Sporting Club, Roebling Street at North 8th. It's a sports bar, but somewhat different from places like Dave & Buster's.
Part of the reason I started out here was to give me an excuse to duck into Best Pizza, on Havemeyer between North 7th and 8th. I've indeed had one of the best slices in the city at Best, ranking with New Park and DiFara. I put up with the blaring hip hop station (at age 61, I like WCBS-FM played low in pizzerias) but today, something was off. I ordered a plain slice, but instead got one of their "white" slices, all cheese with a couple of sun dried tomatoes, no sauce. I hope that's not their default slice now. I was a little early, maybe that's what they had. It's only a slice of pizza, I didn't make a fuss.
A triangular plot at Meeker and Skillman Avenues was perfect for a prefab condo building with terraces allowing for a great view of the Brooklyn-Queens Expressway. There may be something fascinating, though, about looking down at the traffic rushing past, or, most of the time, sitting and honking.
I liked the etched glass windows at Kings County Imperial, a Chinese restaurant at #20 Skillman Avenue.
Streetscapes on Conselyea Street between Lorimer and Leonard Streets. 70, 72, and 74 Conselyea, with their brick fronts, look much the same as they did in 1940…but 74A, on the west end of the row, doesn't.
When the row was constructed in the early 1900s, there was enough room for 4 buildings, but not enough house numbers available…hence, the 74A. When this issue comes up elsewhere, a house can be assigned a half number, and is elsewhere in the neighborhood (see below).
I mentioned Peter Luger earlier. DiStefano's, tricked out for Christmas here, is an old-school Brooklyn steakhouse out of the Luger mold, though it has only been open since 2007. I was here for a birthday dinner (not mine) a few years ago and had the filet mignon, though I recently recall reading that filet mignon is not the cut of choice for steak snobs. But I don't care what the snobs think.
Getting near the Italian pocket of East Williamsburg, centered along Graham Avenue between Metropolitan and Meeker Avenues. As in the Corona Italian section, some of the street fixtures are painted in the red, white and green tricolor of the Italian flag.
Via Vespucci honors explorer Amerigo Vespucci (1454-1512) a Firenze (Florence) native. In 1507 cartographer Martin Waldseemüller published an atlas in which the recently 'discovered' continent was given a modified version of Vespucci's first name.
This row, on Conselyea east of Graham Avenue, is 182, 182 1/2, and 184, with charming inconsistency.
St. Francis de Paola Church, on Conselyea between Humboldt Street and Woodpoint Road, was constructed in 1941, though the parish was founded in 1906. In 2011, Brooklyn's Bishop DeMarzio combined three local parishes, St. Nicholas (Olive Street), St. Cecilia on North Henry (see below) and St. Francis de Paola, were combined into one parish, Divine Mercy, though the individual churches remain open for worship. Francis of Paola (1416-1507) was an Italian friar who was the founder of the Order of Minims.

Humboldt Street acquired its present name around 1870. Before that one section was named Smith, another Wyckoff. It was renamed for famed scientist and explorer, Alexander von Humboldt (1769-1859) who is also memorialized by a bust at Central Park West and West 77th Street. He was described by Charles Darwin as "the greatest scientific traveler who ever lived." Between 1799 and 1804, von Humboldt travelled to South and Central America, exploring and describing it from a scientific point of view for the first time. His description of much of this journey was written up in an enormous set of volumes over a 21-year span. He was one of the first to propose that the lands bordering the Atlantic were once joined (South America and Africa in particular). Subsequent studies have borne out his proposal.
Here's a real find, the old Abramo funeral home at Humboldt and Skillman, with a no-longer functioning neon sign and stopped clock. When I saw the Get Fat sign, I thought it was a restaurant, but it's actually a tattoo parlor. Me, I call tattoos "the new conformity" and that has steeled my resolve to never acquire one.
Looking east from Humboldt on Jackson Street toward the old Greenpoint Hospital complex, first opened in 1914 but closed in the 1980s. One of the buildings has become a community center, but the rest of the property sits abandoned, awaiting a presumed conversion to residential.
The Humboldt & Jackson restaurant has a curious stucco'ed exterior, as well as signs in classic fonts like Century Schoolbook and Clarendon.
478 and 484 Humboldt, at Richardson, embody two styles of architectural esthetics, in 1885 and 2018, respectively. Quite an evolution, no matter what you think of either.
201 Richardson Street, and 494 Humboldt around the corner, are the remnants of what was a colonnade row in East Williamsburg; it was mostly intact in the 1920s, but mostly gone by 1940. Both buildings date to the 1850s and have been heavily altered over the years.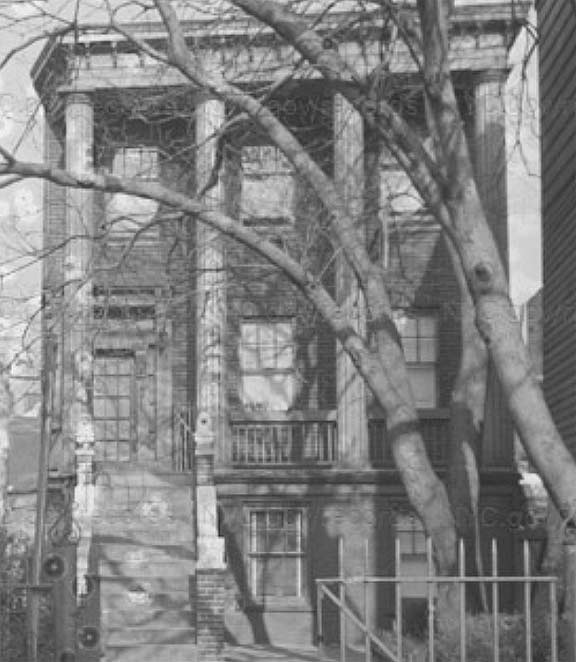 Here's what 201 Richardson looked like in 1940. The Doric columns and roof treatment hadn't been altered yet.
At this point, I'd like to mention a trend I noticed in north Brooklyn: though most of the buildings were covered in aluminum insulation siding in the 1960s and 1970s, disguising their old appearances, their true age is given away by the ancient and rusting (in many cases) railings and gates, which were rendered with the flourishes of a former age by their metalworkers and artisans.
Stained-glass house number at #9 North Henry Street off Richardson. The name "North Henry" has always intrigued me. The street is several miles away from Henry Street in Brooklyn Heights; why call a street so far away "North Henry"? The answer is simple. The cities of Brooklyn and Williamsburg each had Henry Streets, and when Williamsburg was annexed to Brooklyn in the 1850s, there were then two Henry Streets. What to do? It was agreed that the Williamsburg Henry would be known as North Henry.
There are other odd duplications around NYC — for example, West 9th Street is literally west of 9th Street in Red Hook, while North Moore, in Tribeca, is a couple of miles away from Moore Street, a one-block alley near Battery Park.
So, my couch-waiting gig was here, at #14 North Henry. But it wasn't in this building. If you look carefully, behind the tree, you will see that there is a building behind it, or a "back house." That is 14 1/2 North Henry and that's where Brian B. lived. You needed key to let you in 14, then you went down a hall, into the open air again, and entered 14 1/2 with another key. I had never been in a building like that before, and I don't think I've been in one since.
Cecilia, you're breakin' my heart. I came all this way and the white limestone St. Cecilia Church is partly under wraps during renovation. The parish was founded in 1877, while this classic church, nearly basilica-size, was built from 1891-1901 by ecclesiastical architect Thomas Poole. Its green copper dome is a familiar sight when traveling north on the nearby Brooklyn-Queens Expressway. The stained-glass windows include renderings of Saint Cecilia, who is the patron saint of music; according to legend, she was a martyr in second-century Common Era Rome.
This magnificent Romanesque building at Humboldt and Henry Streets is the former NYPD 19th Precinct, a role it fulfilled into the 1980s when it was subsequently converted to residential use. It was constructed in the pre-auto era, and its stable is still intact on the Herbert Street side. Along with a number of other handsome NYPD precincts of the same era in Bedford-Stuyvesant, East New York and Sunset Park (the latter two are sadly in ruins) it was designed by architect George Ingram, who specialized in them; there were others like C.B.J Snyder and Patrick Keely, working in the same era, who designed schools and churches. At Brownstoner, Montrose Morris says it was designed to look good, but also to intimidate somewhat and give an air of governmental authority. It was provided with an individual landmark by the LPC in 1993.
Humboldt Street is interrupted for a couple of blocks north of the BQE. In 1964, the former Oakland Street was widened and extended south to the then-new Brooklyn-Queens Expressway, assuming Humboldt's route and changing its name to McGuinness Boulevard (for longtime Greenpoint alderman — now called city councilman) Peter McGuinness.
This spot marks Humboldt Street as it continues its northern progress at McGuinness Boulevard and Bayard Street.
A handsome Italianate pair, at #527 and 529 Humboldt. Note the intact original balustrades.
My guess is that the same real estate developer built these multifamily buildings on both sides of Humboldt Street at Engert Avenue, since they look so similar.
And now for something that stumps me. A very small triangle was created when Oakland Street was widened at Newton Street and Engert Avenue, which make a V. Yet, it earns not only a Type B park lamp, but a sign identifying it as Holy Name Square. Now, there are plenty of Catholic churches in this Polish-Latino-Irish neighborhood, but none named Holy Name. In fact the closest Holy Name church is several miles away in Park Slope. So, how did it get the name? If you have an idea, the Comments section is below.
#48 Broome Street, just off Humboldt, has retained most of its excellent woodwork, window lintels and roof corbelling. It's a revelation in an area where most exteriors hide behind aluminum siding.
Stanislaus Kostka (1550-1568) was a Polish Jesuit novice who walked from Vienna to Rome, likely contracting malaria on the journey, from which he died at age 17. He was canonized in 1726. There are a number of NYC churches named in his honor, including this one at Humboldt Street and Driggs Avenue and a second one, across Newtown Creek in Maspeth. Greenpoint's Kostka serves the largest Polish congregation in Brooklyn and was visited by Pope John Paul II in 1979; his likeness is in view on Humboldt. The parish was established in the 1880s, and the magnificent Gothic building was dedicated in 1904. Catholic Manhattan has some interior photos.
I turned off Humboldt at this point, but that wasn't quite the end of today's journey; I'll post the finish in a day or two.
Please help contribute to a new Forgotten NY website
Check out the ForgottenBook, take a look at the gift shop, and as always, "comment…as you see fit."
12/23/18