I was looking through a Rand McNally map of Brooklyn and parts of Queens produced in 1911 ( I bet you weren't aware that Rand McNally was around back then) and, while doing what I usually do, checking for lost streets or streets whose names had changed, I seized upon a new angle: there were all manner of small neighborhoods in both boroughs that have been lost by the process of accretion or absorption into other neighborhoods. The process is different in Brooklyn than it is in Queens: mail addresses in Brooklyn are sent to "Brooklyn" as a catch-all, but individual neighborhoods in Queens, such as Bayside, Astoria etc. get separate addresses. A different aspect was that each borough was also made up of separate towns, with different governments. Brooklyn originally had six such towns: Brooklyn itself, Bushwick, Flatbush (Midwood), Flatlands, New Utrecht and Gravesend; later, parts of Flatbush became New Lots. Some parts became separate cities and were absorbed by the city of Brooklyn, and this process was complete by 1895, when Kings County was the city of Brooklyn. Brooklyn then narrowly voted to join Greater New York in 1897.
Queens was a different bird and it also had a number of towns: Flushing, Jamaica, Newtown, Hempstead, North Hempstead and Oyster Bay. In 1897 the three easternmost towns separated, reorganized and became Nassau County in 1899, mainly because they did not want to become part of Greater New York but also because they wanted the county courthouse in Mineola instead of Long Island City.
Even after Greater New York was established there were still small hamlets and towns that existed before NYC became nearly completely urbanized. There were also real estate developments that had separate names; these later became parts of adjoining neighborhoods. I'll discuss some of those here.
Berlinville was established in modern Laurel Hill/West Maspeth in the 1870s and promoted to German immigrant families, with streets named for German cities: Berlin, Bremen, Stettin (now part of Poland and named Szczecin), Frankfort, Cassel (spelled Kassel in Germany), Halle and Munich. Berlinville was later absorbed into Laurel Hill, and the area transitioned over to industrial. In the 1920s the streets received numbers, but by today, most of them have been eliminated as factories and warehouses were built over where they used to be.
Borough Park used to have a quite different aspect. Sure, it was always pretty quiet, but until the late 1800s it was the province of farms, hay wagons and mooing cows.
Two things happened that got the rural region the impetus to become the bustling community it has become … the construction of a steam railroad that ran from Greenwood Cemetery to Coney Island that bisected the area by Charles Gunther, later NYC Mayor; and the opening of formerly vacant land to real estate development in 1886 by one Electus B. Litchfield, who called his development "Blythebourne" (from Scottish terms for 'happy' and 'home.') In 1898 Senator William Reynolds expanded the property and renamed it Borough Park, though the Post Office on 13th Avenue and 57th (since moved to 12th and 51st) bore the name Blythebourne Branch.
The steam railroad, known originally as the Brooklyn, Bath and Coney Island Railroad, went through various stages of evolution, becoming the Bath Beach and West End Line, becoming electrified, then elevated, and finally joining the NYC subway system. These days we call it the D train.
Few artifacts remain from Blythebourne's rural era. Prior to its development, the area was vacant or occupied by Dutch and English farmers with names like Lott, Bergen and Kouwenhoven. There were dirt roads that wended their way between the farms known as Kouwenhoven Lane, Bergen Lane (today's 47th Street) and Lott Lane.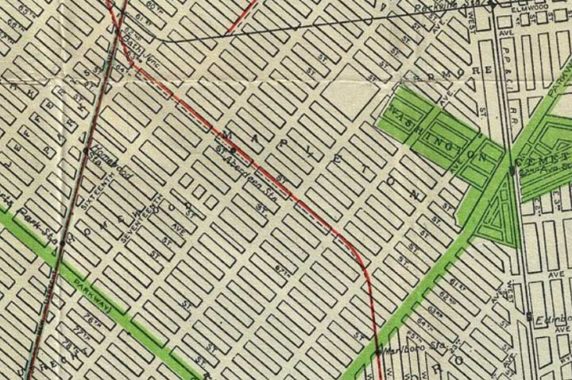 Brooklyn's Bensonhurst is a fairly large area these days, a parallelogram between between 14th Avenue, McDonald Avenue, and 86th Street. It's no surprise that the area, named for the Benson family who owned a lot of property thereabouts in the region in the colonial era, once had several subdivisions. The eastern section of today's Bensonhurst near Washington Cemetery was called Mapleton Park as William Sugarman's Alco Building Company laid out several of its streets around the turn of the 20th Century. The Mapleton name survives in the area library at 17th Avenue and 60th Street.
Note also an adjoining development called Homewood. It is now part of Bensonhurst. There was a Homewood stop on the Brooklyn, Bath and Coney Island Railroad, later the West End, at Ovington Avenue called Homewood. The area north of Washington Cemetery was called Ardmore.
The wedge of Gravesend below the "V" formed by Bay Parkway and 65th Street was once called Marlboro in an era when there were still major racetracks in the region. The development was founded by the Brooklyn Development Company in the early years of the 20th Century and followed the Brooklyn convention of "sophisticated" British-sounding names to impart gravitas. The name Marlboro survives in Marlboro Playground at West 11th Street and Avenue W, and the Marlboro Houses, between 86th Street and Avenue X and East 8th and 11th Streets.
I was surprised to see that the east end of Borough Park near Gren-Wood Cemetery was once called Martense. As you can see on the map, 36th Street is an old road that was once called Martense Lane. The Martense family were early Dutch colonial settlers into what became Flatbush, and by the 19th Century prominent local families such as the Catons and Crookes were marrying into the Martense family. There remains a Martense Street in Flatbush.
New Utrecht (pronounced, in Brooklyn, at least, "YOU-trekt") Avenue was so named because it went to the Town of New Utrecht, founded in the 1600s and one of the six towns that existed in Kings County before all were consolidated into the City of Brooklyn in 1896 and then into New York City in 1898. The town of New Utrecht was named for Utrecht, Netherlands, the 4th largest city in that country. In Dutch, "Utrecht" is derived from two words that mean "old fort," so that "New Utrecht" literally means "New Old Fort." After the town of New Utrecht was absorbed into Brooklyn, its hear at 18th Avenue and about 84th Street remained in common usage.
I was surprised to learn during my research that New Utrecht Avenue existed long before the railroad that ran along it and the elevated train that replaced it ever existed. The road was laid out in the 1830s after some protracted negotiations with Dutch landowners, descendants of original settlers, and attained its full length in the 1850s. It was known in its early years as the Brooklyn, Greenwood and Bath Plank Road, as it originally had a wood roadbed and stretched from the southern edge of the City of Brooklyn at Green-Wood Cemetery and ran to Bath Beach.
New Utrecht's neighbor, Van Pelt Manor, was named for the descendants of Dutch area settler in the 1670s, Teunis Van Pelt. The large manor house, which was built in the 1700s, survived until a 1952 fire; its location is now marked by Milestone Park. A distance marker to the Denyse Ferry in Bay Ridge was moved to the Brooklyn Historical Society.
No traces remain of Flatbush Manor and Southweald, which were long ago absorbed into East Flatbush just west of Bergen Beach. With Brooklyn's tradition of British names, South Weald is a division of Essex, UK. The Paerdegat Basin shown on the map was placed underground in the sewer system decades ago, but parts of its border roads, Paerdegat Avenues North and South, are still in place.
Bath Beach was so-called for the British spa town and originally settled in the late 1800s by Brooklyn's nabobs and elite as a suburban playground, with villas, yacht clubs and mansions. After the stock market crash in 1929 and later, the construction of the Parkway, the elite moved further east on Long Island, Jewish and Italian immigrants moved in, and joined by Asian and Latinos, they are still there in large part. In the 1920s, brothers named Horwitz built houses in Bath Beach while trying for a big break in showbiz. After getting that break, they performed for decades with vaudeville compatriot Larry Fine as the Three Stooges.
The southeast end of Bath Beach was once known as Unionville. In 1911, Crospey Avenue was being built across the not-yet filled in marshes and that's the dotted line proceeding southeast from the settlement.
Vanderveer Park, now part of East Flatbush, was developed in 1892 by Henry Mayer's Germania Real Estate Development Company. The immediate area along Avenues I and J east of Flatbush Avenue still retains some faded grandeur. Germania Place is a former name of Hillel Place, there is still a Vanderveer Place on Flatbush Avenue south of Clarendon Road. The Vanderveers were another colonial-era Dutch family living in the region.
Westminster Heights, South Greenfield and Kenwood were all former developments in what is now part of the overall Midwood neighborhood. The old street system of South Greenwood can still be discerned as the diagonal streets against the overall grid. A couple of miles north, the old village of Greenwood is now Parkville.
While the "heights" of Woodside Heights are still in place as the hills in Doughboy Park along Woodside Avenue, Woodside Heights is now simply part of Woodside. Hyatt Heights takes its name from the former name of 65th Place, Hyatt Avenue. The Shell Road running through New Calvary Cemetery is now home to the Brooklyn-Queens Expressway.
Winfield was situated roughly in the area within the following borders: Woodside Avenue to the north, Mount Zion Cemetery, Calamus Road (Avenue, today) and Maurice Avenue to the south, the New York Connecting Railroad to the east, and New Calvary Cemetery to the west. Its major intersection was where North Shell Road (45th Avenue), Thomson Avenue (Queens Blvd) and Fisk Avenue (69th Street) converged. This was an excellent place for a settlement, as it was located in close proximity to Newtown, and along the road that connected Long Island City and Jamaica. The adjacent town of Woodside was called so because the area sat beside what was then the Winfield Woods – a.k.a. "Suicide's Paradise" – where, legend has it, despondent early colonists went to commit suicide. It was apparently named for early 19th Century general Winfield Scott.
Wyckoff Heights, along Wyckoff Avenue, was the largest of the small settlements that included Ridgewood Heights, Metropolitan and Fresh Pond that are now grouped together under the name Ridgewood. Politically speaking, Ridgewood begins at the Brooklyn-Queens boro line, but the undefended border is heavily disputed,
Will try to do one of these pages on the Bronx soon — but it's complicated up there!
Check out the ForgottenBook, take a look at the gift shop, and as always, "comment…as you see fit."
1/28/19