It had been a good 6 years or so since I took a walk around Spuyten Duyvil, the hilly, almost mountainous, Bronx enclave tucked in its southwest enclave just above the Harlem River and Manhattan's Inwood Hill Park. I sallied forth in freezing March weather after the only substantial snow NYC got all winter in 2019. I was scouting a potential Forgotten NY tour in the area, but it proved too hilly, though we will invade Marble Hill in July 2019 and perhaps touch on some highlights. On the way back to Grand Concourse and the D train I went through Kingsbridge and Kingsbridge Heights — also quite hilly — and took in some sights.
Kingsbridge, and the many neighborhoods and roads named Kingsbridge, take their name from a vanished bridge that spanned a rerouted creek. Frederick Philipse built the first Kings Bridge, a tolled span over Spuyten Duyvil Creek, in 1693. Benjamin Palmer and Jacob Dyckman built a second bridge in 1759 to avoid paying the high tolls charged by Philipse. During his retreat from the Battle of Harlem Heights in 1776, General George Washington used both the King's Bridge and Palmer and Dyckman's free bridge to escape to White Plains. The span survived till the excavations for the Harlem Ship Canal between 1913 and 1916, though apparently the Bronx Historical Society maintains a small piece of it under Marble Hill Avenue between West 228th and West 230th Streets, in almost exactly its old position.
The reliable Sergey Kadinsky features King's Bridge on Hidden Waters Blog.
Ewen Park
Ewen Park is named for Civil War general John Ewen, who fought in NY State's National Guard, participating in the Battle of Gettysburg. He later was elected NY City Comptroller. His daughter Eliza donated the parkland to the city in 1916, but it wasn't opened as a park until 1935. Spuyten Duyvil and Kingsbridge are not park-starved as Ewen, Henry Hudson and Seton Parks take up a lot of green space, dwarfed, of course, by Van Cortlandt Park, NYC's second-largest park, surpassed only by Pelham Bay Park.
I took note of the twin double-masted lamppost at the park entrance (which requires descending a steep staircase) at West 232nd Street and Johnson Avenue…
… as well as this unusual combo illuminating a soccer field. These cylindrical posts are usually deployed by the Department of Transportation to carry stoplights or pedestrian crossing signals.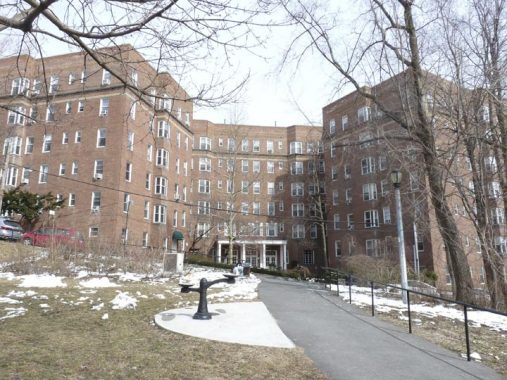 One of the large apartment complexes overlooking Ewen Park, this one on curving West 232nd Street.
In a parking lot on Tibbett Avenue north of West 231st, I found some vintage mercury Joslyn MV-141 lamps. These were never used by the DOT on NYC streets, but they do show up in some neighborhoods used in parking spaces.
The presence of Tibbetts Brook, which ran aboveground until the early 20th Century, influenced the street pattern in Kingsbridge. In Curbed, Nathan Kensinger reports that there's a plan to "daylight" Tibbetts, which now runs in the sewer system in Spuyten Duyvil.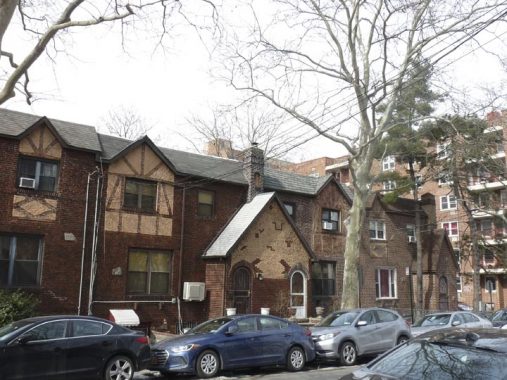 A group of handsome attached Tudors on Tibbett Avenue just south of West 232nd Street.
PS 7, Corlear Avenue and West 232nd, is one of the handsomer school buildings in the area, though as always, architectural information on public schools is sketchy. In 2014, the school was named for longtime principal Milton Fein, who helmed the school between 1971 and 1998.
Both Corlear Avenue and Corlear's Hook and its park at the bend on Manhattan along the East River take their names from the Dutch settlers the Van Corlear family. Jacobus Van Corlear owned property where Corlear's Hook is located today, and Anthony van Corlear was a messenger deployed by Peter Stuyvesant to obtain reinforcements when New Amsterdam was invaded by the British in 1664. Van Corlear drowned in Spuyten Duyvil Creek during the mission. Stuyvesant, met by superior forces, surrendered the island without a fight but the Dutch continued to populate the newly christened New York for centuries.
The elevated train came to Kingsbridge relatively early on. The original subway up Broadway to 145th Street is part of the Original 28 IRT stations that opened on October 27, 1904, and it was extended via el along Broadway to Van Cortlandt Park-West 242nd Street by August 2008.
In the 1970s, Broadway got a set of post-top lampposts to illuminate Broadway under the el. Some of the post top lamps are still in place, especially near VCP, but they've largely been replaced by mini cobra neck fixtures that now carry high intensity LED lighting.
Naples Terrace, at Broadway south of West 232nd, was named for real estate and insurance broker Edgar H. Napolis, whose development company was called Naples Holding Corporation. Napolis was actually from Naples, Italy and served in the Italian army from 1899 to 1904, according to the late Bronx historian John McNamara. Between Godwin Terrace and Broadway, it's just too steep for vehicular traffic, so the terrace becomes one of the Bronx's many step streets.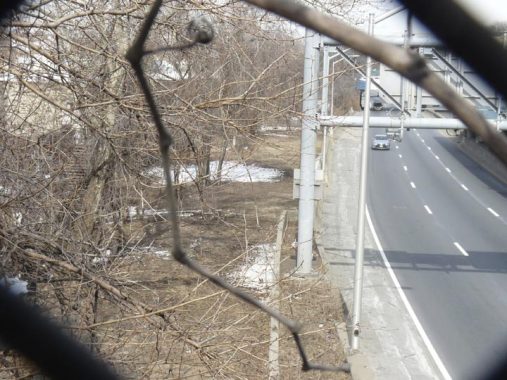 While crossing the Major Deegan Expressway on West 231st Street, why did I aim the camera through the chain link fence at a bare patch next to the busy roadway? This used to be the Putnam Branch of the New York Central Railroad. North of here, in Van Cortlandt Park, it's been turned into an urban trail.
"The Local," a pub in a handsome apartment house at West 231st and Albany Crescent on the east side of the Deegan. Albany Crescent is a remnant of the Albany Post Road, a colonial-era path stretching northward to the NYS Capital; parts of the old road are extant in Kingsbridge and Riverdale. The "post" in several old roads' titles simply means that they were built to facilitate mail delivery. The famed Boston Post Road branched from the Albany Post Road in Kingsbridge, and its old route can be made out in the routes of Van Cortlandt Avenue and other streets. (Most of Boston Road in the Bronx was built in the revolutionary period and was not part of the original Post Road, except in the northern Bronx.)
I never photograph 3072 Bailey Avenue at West 231st on my own. The camera is attracted to it and manages to snap it every time I pass by. It is an 1897 Queen Anne-style house that has retained a great deal of its 1897 detail (or has had much of it restored). Other than that, the guidebooks ignore it, and architectural details and residents' histories are largely hard to find much to my dismay.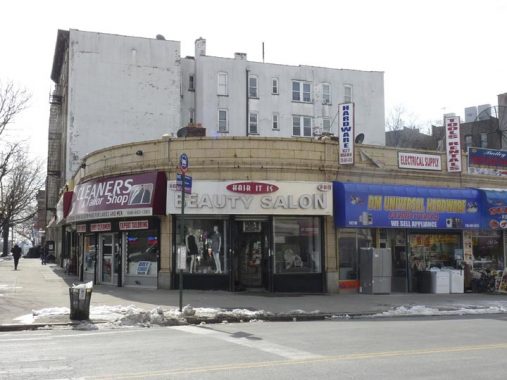 On the opposite corner of Bailey and West 231st, you can see what I term as a classic "Bronx curve." For reasons I can't fully explain other than that Bronx streets are rarely on perfect square-shaped grids, corner buildings on Bronx corners are often built with sweeping curves — whether they're one-story rows of stores, like this, or 5 or 6-story apartment buildings.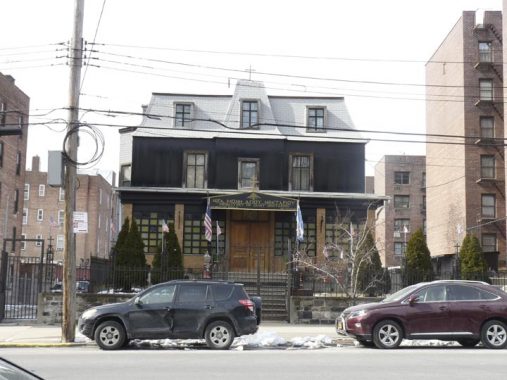 The Greek Orthodox Church (on the sign, it says Monastery) of St. Nektarios, west side of Bailey Avenue north of West 231st. If you look carefully you can see an Eastern European crucifix design, with a slanted third cross, above the awning. I was unaware the Greeks used this cross. If you know details, fill me in in Comments.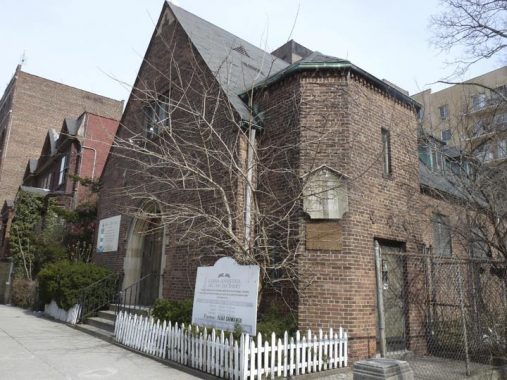 Another handsome brick church, at Bailey Avenue and Summit Place, this time a Spanish-language 7th Day Adventist church that also has what's called a "Beacon Bible" church. Undoubtedly, it was built years ago as something else, but I have not been able to discover exactly what, though the faded wooden sign does say something about "evangelical Lutheran." Once again, if anyone knows exactly, fill me in.
They don't call it Kingsbridge Heights for nothing, and Summit Place is a very steep step street running uphill between Bailey and Heath Avenues. It continues as a road open for cars one block further to Kingsbridge Terrace at the crest of the hill. The step street features some very old lamp designs.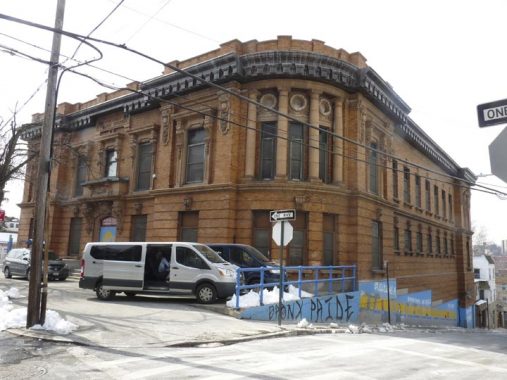 At Summit Place and Kingsbridge Terrace, in the heart of Kingsbridge Heights in the Bronx, you will find the imposing Beaux Arts former NYPD 50th Precinct station house, built by architects Arthur Horgan and Vincent Slattery in 1902. You got booked in style here! It features all kinds of bric a brac, and a curved corner (yes, another "Bronx curve") featuring four Doric columns. Since 1976 it has been home to the Kingsbridge Heights Community Center. It has been a NYC landmark since 1986.
Painted images of famed personages who can claim Bronx residency appear on the ground floor. Yes, JFK can claim it because in the 1920s, JFK lived in a house that still stands on Independence Avenue and West 252nd Street when he was a boy, between 1927 and 1928, when family patriarch Joseph Kennedy briefly moved his family to Riverdale.
Some more incredible detail of the 50th Precinct building.
A Shrady lane
Shrady Place (I wish it was called Shrady Lane) is a dead end issuing from the west side of Kingsbridge Terrace north of Summit Place. Kingsbridge Heights has a number of streets, either dead ends or one block streets, that have nothing to do with the prevailing street pattern, and Shrady Place, which has no sidewalks and seven residences along its length, is one of these. The Place sits on land formerly owned by Dr. George Shrady, a Civil War veteran and editor of the New York Medical Record.
At one time Shrady Place was mapped to met Heath Avenue and run north of it, and today, there's a patch of pavement on Heath that may well have been part of Shrady Place at one time.
Perot Place runs for one block between Kingsbridge Terrace and Sedgwick Avenue and has a set of interesting attached homes on its north side. The south side is mostly faced by 3065 Sedgwick, a large brick apartment building. I wonder if the street's residents pronounce the "t" or pronounce it the way election gadfly, billionaire Ross Perot, pronounces it.
Armand Place
Armand Place is another dead-end Kingsbridge Heights street, issuing from the south end of Perot Street. There are a couple of residences on its east side and garages on its west. The end of the alley has a peculiar downhill slope that's preceded by an exposed expanse of Belgian blocks.
One of the residences, #4 Armand Place, has a number of surprising colorful terra cotta figures.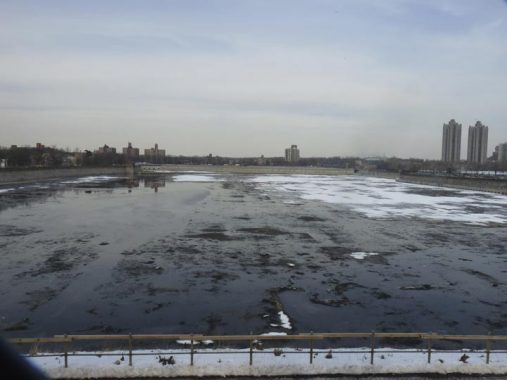 The Jerome Park Reservoir was built in 1906 in a design by Benjamin Church to serve the Croton Aqueduct system, and holds 773 million gallons of water at capacity. The Old Croton Aqueduct actually runs under Goulden Avenue, its eastern border, and its stones are actually visible in the reservoir wall from the avenue. The reservoir was actually going to be twice as large, extending all the way east; after excavations were well under way, the plan was abandoned and that site is now occupied by Lehman College, Walton High School, DeWitt Clinton High School, the Bronx High School for Science, the Kingsbridge Armory, and several subway shops and yards.
Before there was a reservoir, there was the Jerome Park Race Track, built here in 1866 by stock speculator Leonard W. Jerome (1817-1891) after he purchased the Bathgate estate, then a part of Westchester County, in conjunction with family members and future subway builder August Belmont. Jerome's wish was to bring back horse racing to prominence after its abolition during the Civil War. The racetrack was a lavish affair with a grandstand seating 8000, a large dining room, a magnificent ballroom, polo, trapshooting and sleighing and skating in winter; the track also boasted clubhouse accommodations comparable to a luxury hotel. The Belmont Stakes, now at Belmont Raceway in Elmont, Nassau County, were held at this track between 1867 and 1890 (and the Preakness was held at the Sheepshead Bay Racetrack in the 1890s!). Racing came to an end in 1894 and shortly after, New York County condemned the property and built the reservoir, which had been on the drawing board since 1875. You have probably guessed that Jerome Avenue was named for the financier, but you may not know that his Brooklyn-born daughter, Jennie (1854-1921), was taken to Paris in 1867 by her mother to mingle with society; in 1874 she met Lord Randolph Churchill, they married, and their son, Winston, became England's prime minister.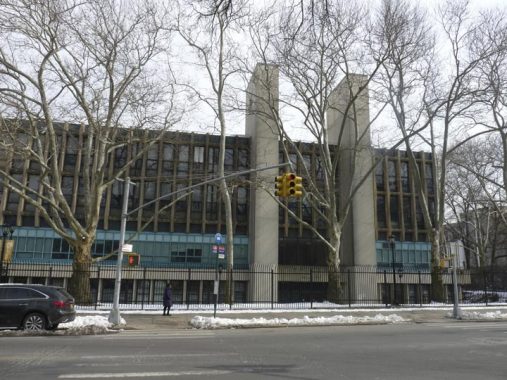 The college was founded in 1931 as the Bronx campus of Hunter College and was established in 1968 as an independent college of the City University of NY. It was named for New York State Governor (from 1933-1942) and US Senator (1949-57) Herbert Lehman in 1968.
Then-Hunter's handsome Collegiate Gothic buildings served as a national training site for women in military service in the 1940s, and it was interim headquarters for the United Nations in 1946. The original four buildings, Gillet and Davis Halls, the Music Building, and the Gymnasium, were completed in 1934.
Views from Goulden Avenue. The campus also boasts more recent buildings designed by internationally renowned architects Rafael Viñoly and Marcel Breuer, that form a striking counterpoint to these traditional Gothic buildings.
Walton High School, 2790 Reservoir Avenue, was founded as an all-girls high school in 1923, became "co-ed" in 1977 and closed in June 2008. Today the building that housed Walton is home to several schools, including Discovery High School and PS 86. The design is nearly identical to that of Abraham Lincoln High School and Samuel J. Tilden High schools in Brooklyn. Throughout much of its history Walton High carried a good amount of prestige, with many graduates going on to Ivy League schools and prominent professions. Among its graduates are Congresswoman Bella (Savitsky) Abzug (1938), and comedienne/film director (Carole Marsciarelli) Penny Marshall (1960). Comedienne/ventriloquist Shari (Hurwitz) Lewis (left) also attended classes at Walton.
I've shown the twin-towered front end of the Kingsbridge Armory, along West Kingsbridge Road west of Jerome, often in FNY, so today I thought I would show the back end, as well as the view from the el platform. The Armory was at one time considered a prime NYC tourist attraction and was advertised in subway posters by the redoubtable Amelia Opdyke "Oppy" Jones, a 1940s-era cartoonist who drew a slew of subway posters that gently and humorously called attention to the shortcomings of subway riders in the manners department as well as gave helpful travel suggestions. In its tourist heyday in the 40s and 50s it was home to bicycle races and boat shows. The Armory was built from 1912-1917 by architectural firm Pilcher and Tachau as a munitions storage area; when built it supposedly was the largest armory in the world. The interior dirt drill deck measured 300×600 feet. The Armory housed the 258th Field Artillery; the unit has its roots as a military escort for George Washington at his first inauguration. It is the largest of New York City's remaining armories, and at one time was the largest in the world.
Check out the ForgottenBook, take a look at the gift shop, and as always, "comment…as you see fit."
6/9/19