Some of the original Penn Station has been in view from the south end of the southbound local IRT station serving the #1 train, as a passageway constructed (likely by 1918, when this leg of the IRT opened) has been in view from an arched opening. There are arched roof lines and Rafael Guastavino-style interlocking terra cotta tiles, first developed as ceiling and roof treatments in 1883. These pop up all over the city, from the Oyster Bar at Grand Central to the underside of the Fort Hamilton Parkway elevated station on the West End, in 2019 serving the D train.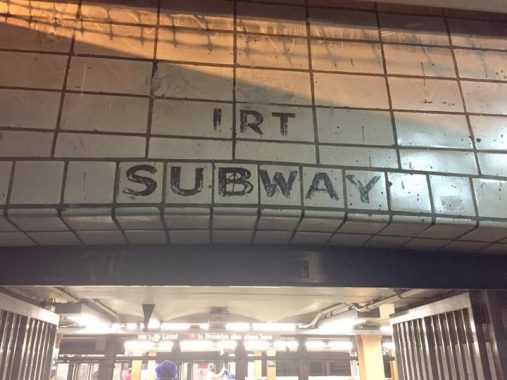 Pretty much the only aspect of this passageway remaining open to the public is the opening to the subway platform. It still retains some handpainted signage.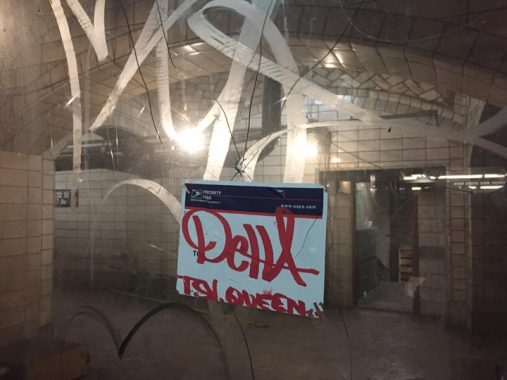 The only way for the public to view the passageway is through a window with a plastic screen; the remainder is blocked by wooden barriers, painted blue. The MTA is doing work in this area associated with the new 7th Avenue Penn Station entranceway that is scheduled to open in 2021.
Although the Forgotten NY camera is not vouchsafed to enter, both Gothamist and Untapped Cities have entered the forbidden area and gotten more photos from this passageway from the early days of Penn Station.
Here's hoping the MTA or Amtrak will see fit to restore the passageway to the public. Others, such as the Gimbels Passageway connecting Penn Station with the Herald Square subway complex, also remain shuttered; opening it would require a robust police presence to prevent miscreants from taking it over, which is what happened the last time it opened to the public in the 1980s.
Through the years FNY has posted often about Penn Station remnants, in March 2018, August 2018, and back in the beginning, in November 1999.
Check out the ForgottenBook, take a look at the gift shop, and as always, "comment…as you see fit."
11/30/19