While poring through old maps and street directories ( I do it so you don't have to) I occasionally see some great old street names that I wish had been retained. Brooklyn still has a couple, like Force Tube Avenue (there had been a high-pressure conduit running under it that connected the newly-designated parkland at Ridgewood Reservoir with to a large pumping station that stood until the mid-1960s at Atlantic Avenue and Conduit Boulevard. It was part of a water system connecting Freeport in Nassau County where the Milburn Pond was tapped in the 1890s to supply water to the then-city of Brooklyn. A water conduit through southern Nassau and Queens was constructed along streets which came to be known as Conduit Avenue and Boulevard. Aqueduct Racetrack, which sat near the conduit, was also named for it.
In Queens, some colorful names have survived, such as Fresh Pond Road, Juniper Valley Road, and Dry Harbor Road. Some more are scattered about, like Staten Island's Arthur Kill Road, which has nothing to do with murdering Paul Simon's partner; it's an English translation of a Dutch phrase meaning "the other strait." or achter kil.
Alas, most of the really colorful names have been winnowed out over the decades. In this followup to FNY's "the name's the same" page in which Brooklyn's duplicate street names are listed, here's some crazy names from all over town that have disappeared. Pardon my use of Google Street View — it saves a lot of time instead of me training and bussing all over the city to snatch these shots.
I had fun with this page — I created Department of Transportation street signs in the colors used to delineate boroughs from 1964 to about 1983, when green became the standard color for all boroughs.

I've mentioned this one before. At a width of just 25 feet total, Exchange Alley is the thinnest street in Manhattan that is open to vehicular traffic. It runs one block between Broadway and Trinity Place and appears as a thin crack between #61 Broadway, the former Adams Exchange Building (constructed from 1912-1914) and One Exchange Plaza, a brick and glass tower built from 1982-1984. Trinity Place was one of the first streets laid out in Lower Manhattan beyond the city wall and was originally called Lumber Street until it was renamed in 1846.
Both Exchange Alley and its eastern continuation, the rather wider Exchange Place, go back all the way to the Dutch era. Most of it was called Tuyn Street and its later English translation, Garden Street, but Exchange Alley, during the era of British occupation, had a somewhat more colorful name.
Oysters, in beds in the surrounding rivers and bays of Manhattan and Long Islands, were a prime means of sustenance for the Lenape Indians and then New York City residents for decades after independence. While the British controlled NYC, this was also the case and a common British delicacy is the "pasty," an empañada-like treat that featured a pastry crust with various meat, cheese or vegetable filling. Thus, "pasties" were consumed by the tonnage in the Manhattan of that era. However, the alley wasn't directly named for the food. Exchange Alley had been used as the path to British fortifications informally known as "the oyster pasty" likely because of its shape (my guess) and thus, must have acquired the name Oyster Pasty Lane or Oyster Pasty Alley.
In the 1800s, both Garden Street and Oyster Pasty Alley became Exchange Place and Alley; I don't know the exact dates. Place names tend to get homogenized over time…

Nassau Street between its south end at Wall Street north to about Maiden Lane was called Pie Woman's Lane for awhile during the Colonial era. The street still retains the narrowness of its early days. Though NYC has shucked off most of the names associated with British domination in most of the years from 1664 through 1783, Dutch names still abound. Prince William of Nassau was the namesake of Nassau Street, but don't tell anyone that he later became King William III of England, Ireland and Scotland in 1689.

William Street, north and south of its intersection with Fulton, was once called Horse and Cart Street or Lane, not for the transportation modes used there but for a nearby popular colonial-era tavern. Some years ago, I found a plaque on a building on the west side of William that mentioned this fact. There have been some building teardowns along this stretch, and I don't know if building and plaque are still there. Fill me in in Comments.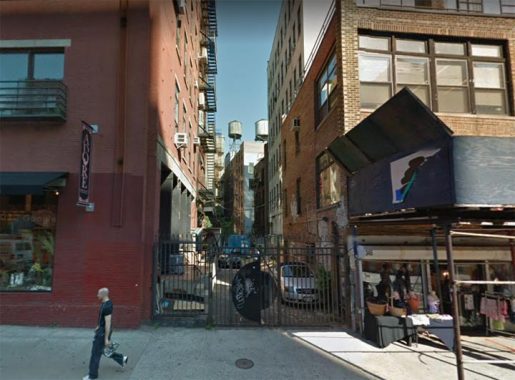 There's an L-shaped alley issuing from Lafayette Street just south of Bond Street in NoHo, which ends at Bleecker. It's actually and eastern continuation of Jones Alley, but for many years it had a separate name of its own: Shinbone Alley. The DOT used to mark it with a street sign, but it kept getting stolen so the city finally gave up on doing that. It's fenced off now, used as a driveway by adjoining businesses, but if you look through the chicken wire you can see it still has some Belgian block pavement.
My shinbone doesn't have a bend in it like the letter L –I'd be pretty messed up if it ever did. It's unknown how the name was bestowed, but other alleys around town like Washington Mews have also been called Shinbone Alley at some point.

"Abattoir" is a fancy French name for "slaughterhouse" and there were apparently two Manhattan streets that were subnamed Abattoir Place: West 39th between 11th and 12th, a section that is now the site of a Lincoln Tunnel shaft; and the west end of West 12th Street, in the old Meatpacking District, which makes sense.

Bronxdale is a rather small Bronx neighborhood east of Bronx Park between about Allerton Avenue and Pelham Parkway. Bronxdale Avenue, meanwhile, cuts across the Bronx street grid from White Plains Road southeast to East Tremont Avenue. In fact it's a Native American trail and one of the first routes through the neighborhoods that became Bronxdale, Van Nest and Morris Park, and from the colonial era through the early 20th Century, it was named Bear Swamp Road.
One of the Bronx River's vanished freshwater wetlands was the Bear Swamp. Draining into the Bronx River about where the Bronx Zoo's Boston Road entrance is today, it covered over 180 acres east of White Plains Road in the present-day Bronxdale and Van Nest neighborhoods. Bronxdale Avenue follows the line of the old Bear Swamp Road that ran through this marshy area. There may have been a Native American settlement there at one time: in the early 1800s a basin for grinding corn was found cut into a rock outcrop. [Bronx River Alliance]
The Siwanoy Indians did indeed hunt and trap black bears here; they used teeth and claws for ornaments and talismans, and the pelts for coats and blankets. Bear meat is not commonly found at the Stop & Shop, but the Siwanoy considered it a delicacy, and the fat was drained for use as hairdressing or bug repellent.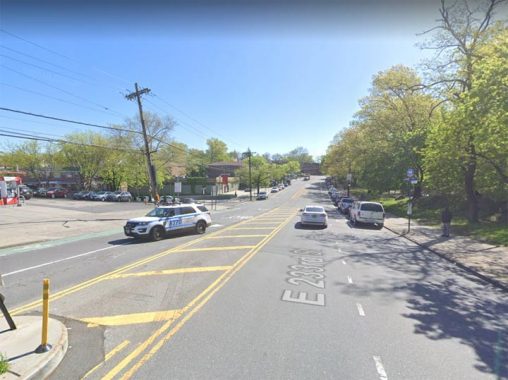 With a name like Fishers Landing Road you would think it referred to fishing in theHutchinson River, which is near this road's east end. The reality is more prosaic; the name referred to the Fisher Tavern on the Boston Post Road, which served the river's boatmen. Since NYC winnows out unusual-sounding names, it eventually became East 233rd, which extends a lot further east in the Bronx than its brother numbered East streets.

102nd Avenue between 81st and 89th Streets, north of Atlantic Avenue, was once known as Shoe and Leather Street. As has been mentioned frequently in FNY and on my tours, the Queens Topographical Bureau under the direction of Charles U. Powell completely reengineered Queens street nomenclature beginning in 1915, giving most streets numbers, while keeping names for many main thoroughfares (though even they were renamed, as well).
No doubt, there was a shoe factory nearby, prompting the name 102nd Avenue had when it was first laid out.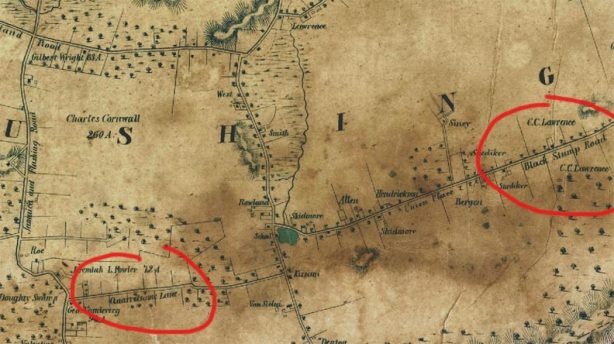 A fascinating thing about Queens is that its modern street grid hides aboriginal pathways, which were simply incorporated into the overall grid. I've excerpted the earliest map of Queens I could find, produced by Dripps in 1852. It shows the south end of the town of Flushing in what we now call Fresh Meadows. The two roads circled in red still exist, but now have numbers.

There was a road named Quarrelsome Lane that ran generally east between what is today Parsons Boulevard and Utopia Parkway, but back in 1852 was between the Jamaica and Flushing Road and Fresh Meadow Lane. There was a slight bend between today's 169th and 172nd Streets.
Today, the lane, which no doubt was a dirt trace through a forest in the 19th Century, is the pleasant 75th Avenue. Detached homes, most built after World War II, run along its length. There is absolutely no hint that it's a colonial, and perhaps pre-colonial pathway that was once called Quarrelsome Lane. The reason behind the name remains a mystery; perhaps there were rival families, like the northern version of the Hatfields and McCoys. We'll never know.

If we look a bit further east on the 1852 Dripps map, a road named Blackstump Road emanates east from Fresh Meadow Lane. There's a slight jog at the west end before it resumes an eastern course.
Today, the jog is the east end of Jewel Avenue, and the remainder of the road is now 73rd Avenue, a major east-west route with a pair of bike lanes.
These are definitely two old Queens street names I wish had been retained. The story I've heard about Blackstump Road is that farmers would burn and blacken tree stumps and use them to mark their property lines.
Note the body of water shown on the Dripps map at Blackstump Road's western end. The Essential Sergey Kadinsky relates the significance of this body of water, as well as the village of Black Stump, in primordial Fresh Meadows, in Hidden Waters Blog.

Rocky Hill Road, which ran from Flushing all the way to Queens Village along today's 46th, 48th, 56th Avenues, Springfield Boulevard and Braddock Avenue, is no stranger to Forgotten NY readers; I did a lengthy walk along its length in 2010 (time flies!)
A very short piece is still known by its old name, a connecting path as it were between 46th Avenue and 202nd Street and 48th Avenue at the Clearview Expressway.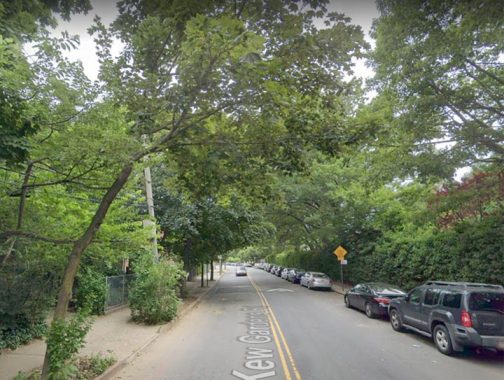 'Whitepot' was part of the Township of Newtown. A legend says that it was called Whitepot because it was purchased from the Indians for the cost of three white pots, but its actual original Dutch name was 'Whiteput,' which means "hollow creek." When the English took it over, the name was Anglicized.
Kew Gardens Road is a connector between the Kew Gardens neighborhood and western Jamaica, running along Maple Grove Cemetery for the most part. It turns up on very old maps, first as Whitepot Road, then as Newtown Road (Kew Gardens was the southeastern end of the old Queens County town of Newtown).

Sunset Avenue cuts across the modern-day street grid in the Willowbrook neighborhood in central Staten Island.
Willowbrook Road runs south from the junction of Forest and Port Richmond Avenues, and then oddly turns east at the Staten Island Expressway, running as far as Bradley Avenue. However, Sunset Avenue was once Willowbrook Road's east end; once Willowbrook was extended east to Bradley, the diagonal part was "orphaned" and first named Gun Factory Road before it was changed to the more prosaic Sunset Avenue. Had the name survived to the modern era, it'd likely be changed now.

Here's a rare case of a colorful name replaced with a historic name. Watchogue Road (pronounced WATCH-ogg) is a main east-west thoroughfare in Westerleigh, the former Prohibition Park, between the Marin Luther King Jr. Expressway and Victory Boulevard; it was formerly known as Butcherville Road, likely from a number of meat cutters who lived in the area.
What about its current name, Watchogue Road? Let William T. Davis, the great Staten Island naturalist and historian of the early 20th Century, explain it in the Staten Island Institute of Arts and Sciences Proceedings in 1905:

Today Glen Street is a service road of the West Shore Expressway, wedged between the expressway and the ancient Sylvan Cemetery at the far end of Victory Boulevard in the small town of Travis, formerly known as Linoleumville after the tile product manufactured there. Long ago, Glen Street lost its more descriptive name of Burying Hill Road.
Sylvan Cemetery, once overgrown and decrepit, dates back to the colonial era and has been nicely cleaned up in recent years.
Souces: Gil Tauber's Old Streets
As You Pass By, Kenneth Dunshee
History in Asphalt, John McNamara
Check out the ForgottenBook, take a look at the gift shop, and as always, "comment…as you see fit."
11/4/19