Walk east a couple of blocks on East 121st from Mount Morris Park — between Lexington and 3rd Avenue — and you will find a majestic, Gothic and Romanesque building standing beside a park.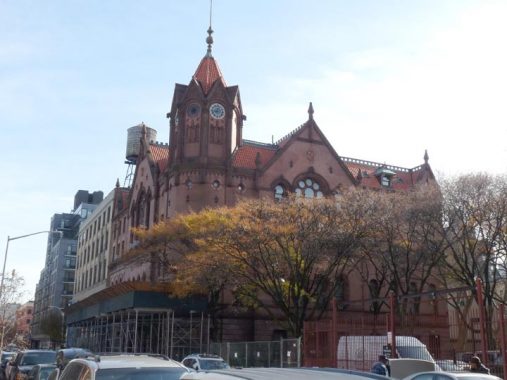 Built from 1891-1893 by the architectural firm Thom and Wilson, the Harlem Court House has been the 9th District Civil Courthouse, the 5th District Prison (I haven't been able to reconcile the two numbers — anyone know?), a magistrate's court, and a small claims court; currently, it is home to the Harlem Community Justice Center (HCJC). Inside you will find some WPA murals from the 1930s. It is the oldest building that was ever used as a jail still standing in NYC; it served as a women's jail (where women were held for trial) until 1949.
Its most prominent feature is a corner tower with eight mini-gables that give the building something of a Moorish aspect. The clocks still function but are not motorized — they need to be wound daily. Inside, a massive spiral staircase connects the 1st through 4th floors. The upper floors served as living spaces for wardens and their families. Yes, at one time the incarcerated and their wardens shared a building.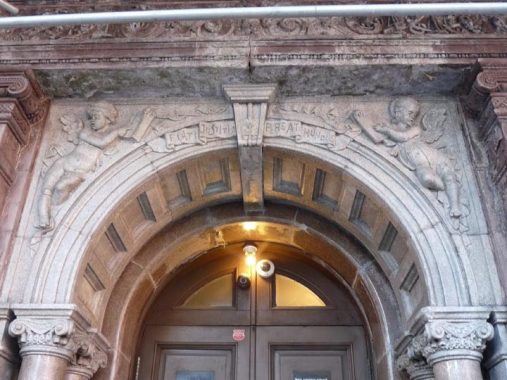 Above the front entrance, a pair of carven angels brandishing lawbooks flank the Latin phrase "fiat justitia pereat mundus," "let justice be done."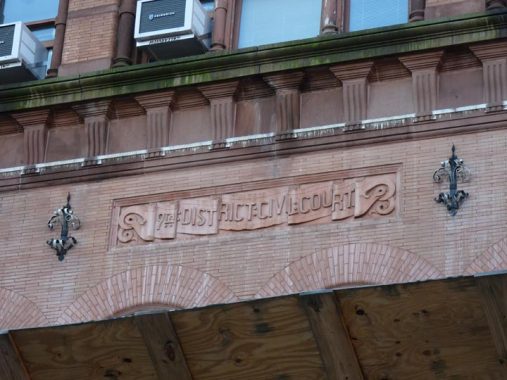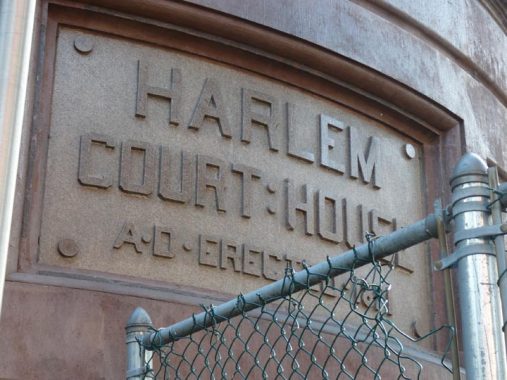 The building's original functions are spelled out. The wooden doors on the south side of the building, where prisoners were admitted from "paddy wagons" are also intact, facing the Sylvan Place courtyard. Now known as the Harlem Art Yard, it was once an exercise yard for the prisoners.
Check out the ForgottenBook, take a look at the gift shop, and as always, "comment…as you see fit."
12/3/19