Staggering around Harlem on a recent Saturday, I gravitated to 3rd Avenue, which I hadn't invaded recently. Mindful of the fact that 3rd Avenue had an elevated train rumbling over it until 1955, I was hunting for painted ads that only riders in the elevated trains could see; they weren't painted to be seen by people walking on the sidewalk. I did find a few, but most of my questions went unanswered. Perhaps some of you may want to take guesses in Comments.
A pair of items catch the eye right away as you arrive at 3rd Avenue walking east on East 120th. Can you tell what they are from the opposite side of the street?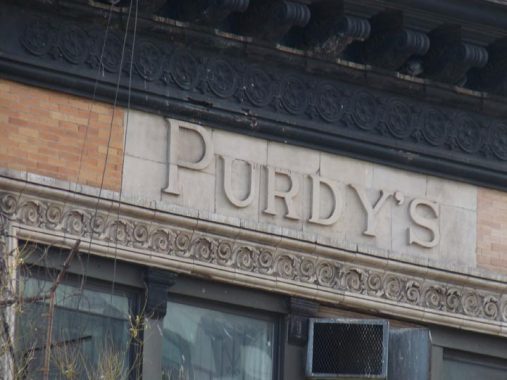 "Purdy's" at #2195 grabbed my attention right away, spelled out in terra cotta at the roofline. There's also some intricate terra cotta molding beneath. What I did not see at the time were the dates 1876 and 1898 also in terra cotta below the windows shown here.
However, the Indispensable Walter Grutchfield did notice the dates. His research reveals that Purdy's was a bakery franchise of the late 19th Century, founded by Virginia native James Seaman Purdy. His two sons entered the business with him and eventually there were four Purdy's locations, all on upper 3rd Avenue. The bakeries lasted until 1918. The two dates do not seem to jibe with the founding date of the bakery franchise (1887) though the second date may be the date of building construction.
A couple of doors down (the interim space is an empty lot) is this painted ad above #2191, which reads "Harlem Packing House" or "Harlem Blacking House." This was either a meatpacker or a place to get a shoe shine, I can't make out which.
UPDATE: It's "packing," as in meatpacking; see this Neighborhood Preservation Center piece. I missed a grand old building just around the corner!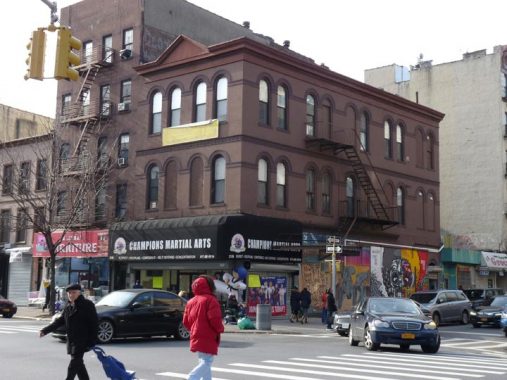 On the SW corner of 3rd Avenue and East 118th is a very old building that may go back to the Civil War days.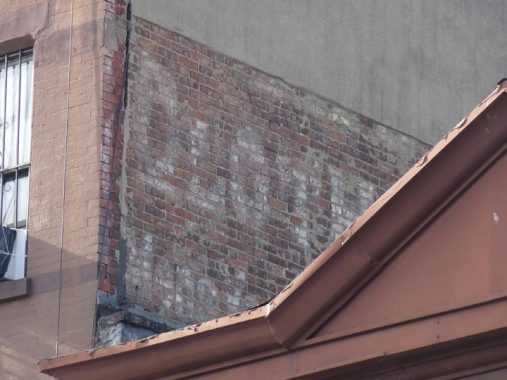 Above it on the adjacent building, there's a painted ad that says "CLOTH…" Again, it'd be fully visible only to southbound riders on the elevated.
Here's a look at a 1940 tax photo of the corner. It's no better help although the original ad said something like "MORRIS THE CLOTH…" but the rest is obscured.
Here's another 1940 rendering of the block. No Morris in sight. But notice how colorful the sidewalk ads were in those days. The midblock is dominated by a street clock for Goldblum Optometrist; the clock has a pair of specs on it.
Lastly, I spotted something interesting at 3rd Avenue and East 112th…
There's a palimpsest of 2 or 3 old ads here. Everything has faded from legibility except for one word: LIVER. Thus, this was either an ad for liver pills or a livery stable.
UPDATE: According to Matt Green of I'm Just Walkin' and Commenters, this was once an ad for Dr. Tutt's Liver Pills.
The 1940 view offers no clue. What we're seeing in 2019 is actually an older ad that was hidden from view under a Gold Medal Flour painted ad. As the cheaper paint from that ad faded out of view in the sun in the ensuing decades, the words beneath were more clearly visible.
Check out the ForgottenBook, take a look at the gift shop, and as always, "comment…as you see fit."
12/1/19