I stalk neighborhoods with the camera, attempting to see old and decrepit things amid the new and shiny things. I began Forgotten New York when I was forty (there was no mass-market internet before that, and imagine if I could have started at twenty) and now that I'm 62, I find myself one of the old and decrepit things too, though so far I am well and there are no hints of slowing down. I look for traces of what was and things that have been forgotten or that the city and its real estate developers would prefer you missed. I'll continue this work as long as my health and funds persist. There seems to be a never ending fount of research and resources I can tap into. My only regret is that I was unable to record my findings sooner. Why didn't I carry a camera everywhere until 1998? That's my fault.
Today the area I decided to concentrate on was Bushwick into Ridgewood. Well worn ground for sure, but there are plenty of streets I have never been on or covered in any detail and that's in line with the statement that you can never fully know New York until you have walked every block in it. I certainly can't say that and I've been exploring NYC since my first bus rides in grade school with my parents and then bicycle forays in Brooklyn, Queens and Staten Island. Maybe I found something new today no one has heard of. Read on to find out.
GOOGLE MAP: BUSHWICK-RIDGEWOOD-MASPETH
Here's an interesting apartment house on the corner of Bushwick Avenue and Jefferson Street and I took special note of the wrought iron shelter above the front entrance, providing partial cover from the rain while key-fumbling.
Unlike, say, Park Slope, Clinton Hill or Brooklyn Heights, Bushwick in the 19th century was economically mixed, with middle-class rowhouses, upper-class mansions and working-class tenements existing side by side. Many, although not all, of the mansions belonged to brewers. These brewers also endowed some of the neighborhood's most majestic churches. Since Germany is part Protestant and part Catholic, the neighborhood boasts both St. Mark's Evangelical Lutheran Church and the breathtaking, Spanish-baroque style St. Barbara's Roman Catholic Church.
Note the German inscriptions on the cornerstone and the date of construction, 1890. The German inscriptions on what was the adjoining school building say: 'German-English Evangelical Lutheran Sunday School/St. Mark's School.' Unfortunately the church's 2017 conversion to the St. Marks Luxury Apartments (purported to be "affordable") cost the building its tall steeple.

Like many of Brooklyn's busiest roads Bushwick Avenue began as a Native American trail that took shape as a colonial pathway. The Old Bushwick Road first appears in documentation in 1640 when it was "the road from the kill"; Boswijck, or "town in the woods" was a town established by Peter Stuyvesant in 1661, with the Old Bushwick its main roadway.
In that remote era, the Old Bushwick Road proceeded from a connection to today's Woodpoint Road and Metropolitan Avenue (which was laid out much later, in the 1810s) following today's Bushwick Avenue in general south to today's Menahan Street, when it jogged to the east and ran in the roadbed of today's Evergreen Avenue, accounting for that avenue's slight aberration from the grid. Beginning at today's Putnam Avenue it ran straight southeast, through what is now Evergreens Cemetery, to the old Jamaica Turnpike, today's Jamaica Avenue. That last section has been completely eliminated. When the overall street grid was laid out in the 1860s, sections of the Old Bushwick Road were included in Bushwick and Evergreen Avenues, but long stretches were completely lost.* A bend in Old Bushwick Road still remains as Bushwick Place between Meserole and Boerum Streets just east of Bushwick Avenue.
In the colonial era Bushwick was a farming community where Dutch settlers grew tobacco for the local market. Later, farmers of Scandinavian, French and English descent moved to the area. Bushwick remained rural through the 18th Century. Hessian mercenaries settled in Bushwick following the 1776 Battle of Long Island, and began a long tradition of German influence in the neighborhood.
*From Colonial Highways of Greater New York, NYC Comptroller's Office, 1909.
The William Ulmer Mansion at Bushwick and Willoughby, which later belonged to explorer Frederick Cook, who claimed to be the first person to reach the North Pole, has been rehabilitated and is now occupied after years of moribundity. The mansion had previously been occupied by brewer Ulmer, whose nearby brewery complex on Beaver and Belvidere Streets has recently been landmarked by the city Landmaks Preservation Commission. Ulmer also built a long-vanished amusement park in Bath Beach, which today is remembered by the Ulmer Park bus repair facility and storage yard at 25th and Harway Avenues and by the Ulmer Park Library.
Born in Wurttemberg in 1833, William Ulmer immigrated to New York in the 1850s to work with his two uncles, Henry Clausen Sr. and John F. Betz, in the brewing industry, eventually becoming the brewmaster for Clausen's very successful New York firm. In 1871, Ulmer partnered with Anton Vigelius to form the Vigelius & Ulmer Continental Lagerbier Brewery on Belvidere and Beaver Streets in Bushwick, Brooklyn. Born in Bavaria, Anton Vigelius immigrated to Brooklyn in 1840 at the age of 18 and was involved in the produce business prior to opening the brewery. He purchased land at the corner of Beaver and Belvidere Streets from Abraham and Anna Debevoise in 1869. In 1877 Vigelius sold his share of the brewery to Ulmer.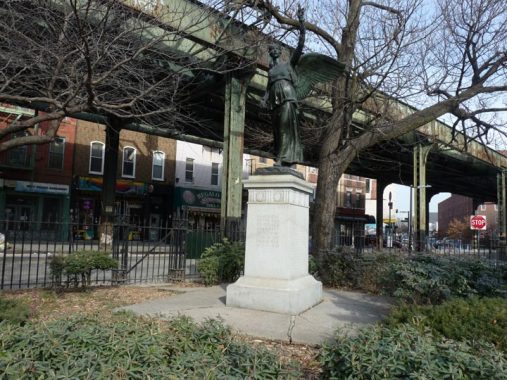 The triangle across from the Ulmer/Cook mansion, Freedom Triangle, contains the first of two war memorials along Myrtle Avenue alongside the el structure. Both are works of sculptor Pietro Montana. The "Angel of Victory With Peace" was installed here in 1921 and honors Bushwick's 93 casualties in World War I.
She appears to us to be wearing the crown of Victory, sword hilt forward and face transfigured. Her arm uplifted in a torch-like gesture to the vision of peace — the supposed end for which the Great War was fought, by America at least. The ninety-three dead who were sacrificed to it are carved on the handsome pedestal. Both statue and setting have been recently restored, thanks to the Department of Parks Division of Art and Antiques, and Greenstreets. — Cal Snyder in Out of Fire and Valor
FNY's 4-part series on Myrtle Avenue
Not all of Bushwick Avenue consists of former beer baron mansions. Consider these multifamily apartment buildings; such dwellings were built with a casual elegance that is lost today.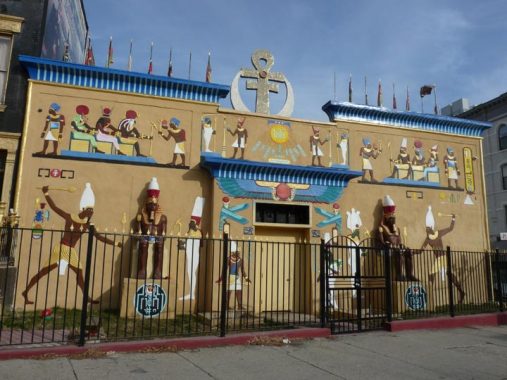 An incredible Egyptian temple has been created by the United Nuwaupians on the corner of Bushwick and Hart.

Southern Poverty Law Center described the Nuwaupianism belief system as "mix[ing] black supremacist ideas with worship of the Egyptians and their pyramids, a belief in UFOs and various conspiracies related to the Illuminati and the Bilderbergers" [wikipedia]

At this point I turned northeast on Hart Street. In a neighborhood in which many streets were named for signers of the Declaration of Independence, Hart Street honors John Hart of New Jersey. During the Revolutionary War Hessian mercenaries destroyed his farm and traumatized his wife, hastening her death. Hart spent much of the war hiding from the British in caves and forests, according to Benardo and Weiss in Brooklyn by Name.
Hart Street actually originates in Bedford-Stuyvesant, at Nostrand Avenue, and turns northeast at Broadway. Only a few streets: Hart, Willoughby, DeKalb, Greene, Gates, Madison, Putnam, Jefferson, Hancock, Halsey, Decatur, and Chauncey, extend as far as Bushwick with a few going all the way into Ridgewood into Queens. They were probably selected arbitrarily when the streets were named and laid out in the early to mid-1800s.
I also noticed that "Kosciuszko" is spelled incorrectly, without the Z, on the old hand-drawn Hagstrom maps I consulted to write this part!
I liked the Engine 218 firehouse at Hart Street and Central Avenue so much I shot it from two angles. Its 650 Hart Street HQ was built in 1887.
I detoured to Suydam Street between Central and Wilson Avenues as I wanted to get a photo of the somewhat mysterious (to me at least) St. Joseph Patron Church at #185, which also incorporates the parish grade school. Little information about the church is available online, and I'd have to guess the church is named for Jesus' father, St. Joseph, the patron of workers, fathers, and travelers. According to tradition he was a carpenter and taught Jesus the art.
Wilson Avenue was originally named Hamburg Avenue in honor of its wealth of German immigrants, but then was changed in 1918 to honor the sitting president, Woodrow Wilson. Most of America's presidents have a street in NYC that bear their names, but not all of those names honor the namesake presidents.
One of the reasons Forgotten NY's work will never be done is that I keeps finding landmarked buildings, or at least buildings that ought to be, in unfamiliar neighborhoods. The flagpoled gem at Wilson and DeKalb Avenues was the 20th and later, 83rd Precinct of the NYPD, constructed in 1894-95 and designed by William Tubby (who also built a number of buildings in Pratt Institute). No longer a precinct, it is now home of offices of the Department of Housing Preservation and Development. No, it's not endangered, having been named a NYC Landmark way back in 1977. The building now houses the Brooklyn North Task Force and the Patrol Borough Brooklyn North Headquarters.
When the 83rd Precinct moved to 480 Knickerbocker Avenue, the Wilson Avenue building was basically abandoned. In 1996, it was renovated and rededicated for its current use. The original holding cells are still inside, though unused. The 83rd was used for exterior shots to represent the 13th Precinct in Manhattan for the 1970s' Kojak, starring Telly Savalas as the lollipop chomping, tough as nails police lieutenant. The Dutch phrase Eendraght Maakt Magt, or Might Makes Right, is inscribed on the frieze above the entrance portico.
I was surprised to find an independent bookstore, Molasses Books, 770 Hart between Central and Knickerbocker. It was opened by Matthew Winn in 2012 and also serves coffee, snacks and has a liquor license.
I'm so fond of the Circo's Pastry Shop neon signage at Knickerbocker Avenue and Hart that I shot the signs, which also include a vertical "dolceria" sign, from as many angles as possible.
Circo's, at 312 Knickerbocker Avenue at Hart Street, has been a Bushwick fixture since 1945, according to the store's website. Original founder Circo sold the shop to two longtime bakers in 1973, and one of them, Nino Pierdipino, still runs the shop with his two sons Salvatore and Anthony.

At 13 letters, "Knickerbocker" is the longest street name in Brooklyn (that consists of one word): sorry, Schermerhorn Street, you're a letter short). Though you don't see him around much anymore compared to, say, Uncle Sam, in previous decades the personification of New York City was "Father Knickerbocker," a representation of the city's original Dutch settlers, who wore a cotton wig, three-cornered hat, buckled shoes, and, of course, "knickered" pants. The pants rolled up just below the knee and remained in use as boyswear well into the 20th Century; on the golf course, they're known as "plus fours," with the late Payne Stewart one of the few latterday golfers maintaining the style. The New York Knicks' formal name is the Knickerbockers, with the name drawn from a hat soon after the club's founding in 1946.
But why does the street name turn up here? The answer may lie in the name of the next avenue to the northeast, Irving Avenue. A number of streets in the area evokeWashington Irving, the famed author of the early 19th Century, and a character in his 1809 spoof History of New York is named… Dietrich Knickerbocker. Bleecker Street, which also runs through Bushwick and Ridgewood, is likely named for an Irving crony, Anthony Bleecker, a wealthy merchant. The Dutch theme continues with sister avenues Wyckoff and St. Nicholas. Knickerbocker Avenue had attained its name, at least on maps, by 1855.
Some street scrawling on Hart off Knickerbocker, featuring the snake-haired monster Medusa. Note how the artist painted eyes on the corbels for the heads, then painted the snakes.
Two different philosophies of residential architecture at 848 and 852 Hart Street. 852 is just as old as 848, and looked a lot different before the exterior work was done.
More street art, Hart Street northeast of Irving Avenue.
My friend Heather Quinlan (the filmmaker behind If These Knishes Could Talk, an entertaining examination of the NYC accent) accompanied me on a Bushwick-Ridgewood walk in 2017. We went into the Cypress Inn Cafe, on Cypress Avenue and Stanhope Street, a cozy joint where we got panini sandwiches, and I admired the vintage cash register. The Brooklyn-Queens line runs through the center of Cypress Avenue, while the Inn is on the Queens side. Thus, I have now crossed the undefended Brooklyn-Queens border.
At the Inn, if you want pickles, specify "on the side." Otherwise, they get pressed into the sandwich!
Once in Queens I switched to Himrod Street, as I had a specific destination in mind. Here are some attached brick walkups between Cypress and Seneca Avenues.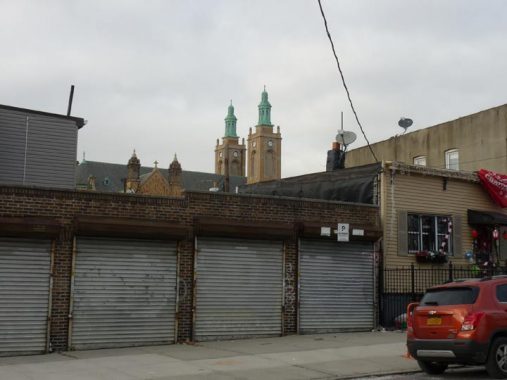 The "twin peaks" of St. Aloysius Church stick up above Himrod Street garages. The church, at 135 feet tall, is second only to St. Barbara's Church in the battle for height supremacy in the Bushwick-Ridgewood area. Stockholm Street, and the surrounding neighborhood in Ridgewood, is dominated by the twin-towered church at Onderdonk Avenue. It was built between 1907 and 1917 (Francis Berlenbach, arch.). The parish celebrated its 125th anniversary in 2017; however, it had been seeking funds to restore its bell towers. The church is the largest building in the city constructed with Kreischer brick.
Skipping a few avenues up Himrod, Grover Cleveland High School occupies almost an entire city block on Himrod between Grandview Avenue and Tonsor Street. The massive edifice was built in 1931. Prominent alumni include longtime New York Rangers and WINS announcer Jim Gordon, actress Rosie Perez, Yankees PA announcer Bob Sheppard and Ridgewood Assemblywoman Catherine Nolan.
Here's a Crazy Eddie commercial filmed at GCHS, according to legend…
Democrat Grover Cleveland (who moved to New York State from New Jersey as a young man and served as mayor of Buffalo and NYS governor) holds the distinction of being the only president to be defeated for a second term and run again in the next election and win the rematch, becoming the only president to serve two nonconsecutive terms. He lost to Benjamin Harrison (see above) in 1888 and then defeated Harrison in 1892. The Statue of Liberty was dedicated during his first term in 1886.
Cleveland Place in Little Italy, the northern two blocks of Centre Street, bears his name, as does Cleveland Street in Brooklyn's East New York. There's a Cleveland Place in Arrochar but, since it connects with Chicago Avenue, it's likely named for the Lake Erie Ohio city. There's also a Cleveland Street in New Brighton.
The reason I wanted to get on Himrod is because at its northeastern end at Metropolitan Avenue I wanted to try the new Burger City for lunch. I wasn't disappointed as the freshly made burgers and French fries rival Shake Shack quality at a much lower price; they also make shakes. In the summer, I get ice cream at the Carvel next door. It's one of the last old-school Carvel buildings, and formerly had revolving mechanical ice cream cones before Hurricane Sandy made quick work of them in October 2012. A second Burger City is located on Hempstead Turnpike in East Meadow near the Nassau Coliseum.
A classic firehouse at Metropolitan Avenue west of Forest, Engine 291/Hook & Ladder 140, has been here since 1915.
Terrific brick and stonework, with painted seals of the City of New York. The seal depicts a Dutch sailor (left) and an Indian from a tribe in Manhattan, presumably a Canarsee or Weekquaeskeek. (This particular seal is erroneous in that the clothing of the Indian doesn't match what a Canarsee or Weekquaeskeek would wear in the 1600s).
In 2015, I walked all 14 miles of Metropolitan Avenue and did a 5-part FNY series.
My trip ended in Maspeth (here at the spot where Flushing, Maspeth and Grand Avenues congeal) and the familiar Q18 bus ride back to the train at Woodside, thence to my Little Neck hovel.
Check out the ForgottenBook, take a look at the gift shop, and as always, "comment…as you see fit."
1/18/20