I stalk neighborhoods with the camera, attempting to see old and decrepit things amid the new and shiny things. I began Forgotten New York when I was forty (there was no mass-market internet before that, and imagine if I could have started at twenty) and now that I'm 62, I find myself one of the old and decrepit things too, though so far I am well and there are no hints of slowing down. I look for traces of what was and things that have been forgotten or that the city and its real estate developers would prefer you missed. I'll continue this work as long as my health and funds persist. There seems to be a never ending fount of research and resources I can tap into. My only regret is that I was unable to record my findings sooner. Why didn't I carry a camera everywhere until 1998? That's my fault.
Today the area I decided to concentrate on was Bushwick into Ridgewood. Well worn ground for sure, but there are plenty of streets I have never been on or covered in any detail and that's in line with the statement that you can never fully know New York until you have walked every block in it. I certainly can't say that and I've been exploring NYC since my first bus rides in grade school with my parents and then bicycle forays in Brooklyn, Queens and Staten Island. Maybe I found something new today no one has heard of. Read on to find out.
GOOGLE MAP: BUSHWICK-RIDGEWOOD-MASPETH
I took the G train to Broadway. The G used to have a stop on Brooklyn's Broadway and then a lengthy run under Queens' Broadway before it was cut back to Court Square in 2010. The G, the IND Crosstown Line, was built in two pieces, the first in 1933 (north of Nassau Avenue) and then from Hoyt-Schermerhorn to Metropolitan Avenue in 1937. It's the only IND line to feature one color on its tiling in all stations, green, obviously. The Broadway station has a misspelling on one of its secondary black and white station ID tiles: "BRODAWAY," that has been in place here since 1937 when it was built.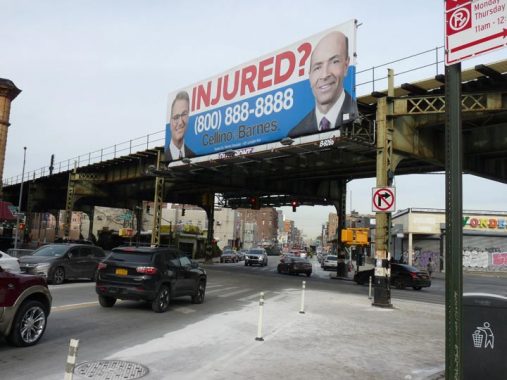 Union Avenue at Broadway. The personal injury lawfirm formed by Ross Cellino and Stephen Barnes in the 2010s has used TV and radio advertising to roll up millions in profits, but rumors have been circulating for years that the partners are splitting up. The ads are about as ubiquitous in NYC as Fletcher's Castoria ads were from 1890-1940.
Update: sadly, Stephen Barnes perished when the plane he was piloting crashed in September 2020.
In December 2019, about a half inch of salt was deposited by NYC Sanitation in advance of a predicted light snowfall that didn't materialize.
"Boerum" is misspelled here. And, why the Boreum Farmacia is here on Union between Broadway and Montrose is somewhat puzzling, as there is a Boerum Street — but it issues east from Union Avenue south of Broadway, not north of it. There are two streets named Boerum in Brooklyn, this one, and Boerum Place a few miles to the west in Boerum Hill, a bit east of Cobble Hill south of Atlantic Avenue. The first Boerum in New Netherland, Willem Van Boerum, arrived from Holland in 1629. A great grandson, Simon Boerum, held a number of offices for the village of Brooklyn in the mid-1700s. Signs featuring Spanish, Chinese and English wording are not unusual in polyglot NYC.
In eastern Williamsburg, Union Avenue separates two different street grids. One is oriented NW to SE; while east of Union Avenue, streets are more on a general north-south axis. This makes for some interesting building shapes with oblong prows, such as this building at Union and South 5th, which also meets Montrose Avenue here at an angle.
In 2011 I walked Union Avenue when it still featured some of its old East Williamsburg facade, with old garages and repair shops. Most if not all have now been eliminated in favor of high rise glass-encased residential towers.
The original appearance of a 3-story walkup at 240 Union Avenue, between Meserole and Scholes, has been remarkably preserved the way it looked in decades past. Here's the ornate pediment above the front entrance.
At the corner of Union and Scholes is what was originally the St. Peter German Evangelical Reformed Church, now Iglesia Pentacostal Misionera. The church was organized in 1853 at Union and South 3rd; this is the second church on this site.
A couple of the new residential buildings I was talking about, on at Union and South 3rd, and the other at Lorimer and Scholes. They're not completely glassy and the architects decided to make them somewhat visually interesting, but they still look like boxes on top of other boxes.
I headed east on Scholes Street, named for an early 1800s landowner. How do locals pronounce it, "sholes" or "skoles?" I am aware that the Dutch pronounce "sch" as "sh" while Germans say "sk." Let me know in Comments.
I had really never been on Scholes. That's why I like to say I try to be on a NYC street I have never been before at least once a week. And, my curiosity was rewarded…
Scholes Street is the southern border of the Williamsburg Houses between Leonard Street and Bushwick Avenue, a large municipal housing project I have always found somewhat interesting, as it has a unique aspect, with big blue panels at its entrances and its own street lighting design.
These were one of the very first housing projects built in NYC, reaching completion in 1938, before the dismaying Le Corbusier-inspired 'boxes-in-a-park" pattern took hold. They were built by the Williamsburg Associated Architects, which comprised Shreve, Lamb and Harmon (who designed the Empire State Building) and Swiss architect William Lescaze, in a streamlined "International" style.
Facades in tan brick alternate with entrances and storefronts in blue tile. The Williamsburg Houses pioneered the 'superblock' concept as Stagg and Ten Eyck Streets were truncated and their roadbeds given over to pedestrian traffic. Never before had streets been closed to accommodate housing.
I said I found a surprise walking east on Scholes and here it is, the Little Zion Baptist Church at #98, east of Leonard. This fanciful building is noted in the AIA Guide to NYC Architecture as "supported by colonnettes in the Romanesque manner, then topped off with a Second Empire hat" and dates it to 1892.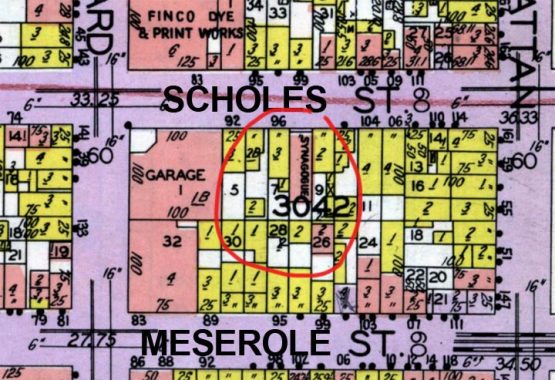 Taking a look at the handy dandy 1929 Belcher Hyde Desk Atlas of Brooklyn, it can be gleaned that by that year the building was a synagogue (Congregation Ahavath Sholom Beth Aaron ("Lovers of Peace – House of Aaron"). No idea if it had started out that way. I detected no Stars of David or any other evidence to that effect. I have helpfully added street names to the excerpt.
You've seen what architecture looked like in 1892. Here's an example of the 2010s, at 102 Scholes. In 100 years, if it's still there, this, too, will be a quaint remembrance of things past.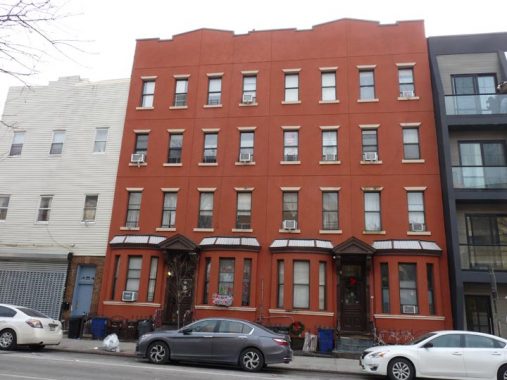 I recognized 104-106 Scholes as older attached buildings that had been given extensive renovations that drastically streamlined it. Here's what it looked like in 1940. Surprisingly the ground floor bays are pretty much intact but the window lintels and roof treatments have been stripped away. The doorway pediments are just the same as they always were!
166 Manhattan Avenue, SE corner of Scholes, greatly resembles its 1940 appearance — if you crop out all those cell phone relayers, that is.
PS 196, Scholes and Bushwick Avenue, has not changed substantially in appearance from when it was first built in the early 20th Century. The architect was probably prolific schools designer, C.B.J. Snyder. Interesting quatrefoil reliefs on the corner, with an avian addendum.
The Hittleman Brewery (see below) can be seen beyond the astroturf of the Ten Eyck Playground, behind the school. In Dutch, Ten Eyck means "the oaks" but in East Williamsburg, Ten Eyck Playground and Street honor Conraedt Ten Eyck, who arrived in New Amsterdam from Germany in the late 1600s.
East of Bushwick Avenue Scholes Street enters the industrial section of East Williamsburg. Buildings such as the Pitz Foundry and NY Couch and Frame Company are now used for small manufacturing and warehousing. Waterbury and Meserole Streets have also attracted a sizable number of "street artists" who use the buildings as canvases.
Waterbury Street was named for Noah Waterbury, first president of the village of Williamsburg in 1827 and later first president of the City Bank of Williamsburg in 1852.
Hittleman Brewing
The Hittleman Brewing complex is still more or less intact along Meserole Street and Bushwick Place. The building dates to about 1885 and was originally the Otto Huber brewery, one of Brooklyn's largest, which at its peak turned out 10,000 bottles of beer per day. Huber had purchased the Hoerger brewery in 1866. Huber passed away in 1890 and in the 1920s, the Huber family sold to Hittleman, who operated the brewery until 1951. More recently, this building was where one of Williamsburg's only remaining beer production plant and one of Brooklyn's prime tourist attractions, the Brooklyn Brewery, was founded in 1988 before later moving operations to their present building on North 11th Street near Wythe Avenue. In the recent past the building has been used as a ginger ale bottling plant and currently hosts a gymnasium as well as a food wholesaler.
As you may know, northern Brooklyn was formerly home to dozens of breweries beginning in the late 1800s, and well-known makes such as Schaefer, Rheingold and formerly, Trommer's all had plants in Williamsburg and Bushwick.
Somewhat mysteriously, a smokestack bearing the initials "VD" and the date 1858 can be seen toward the rear of the brewery on the Bushwick Place side. A few blocks away, on the corner of Grand and Waterbury Streets, a sign saying "F.H. Von Damm Est. 1858" is set into the brick wall of a corner building. According to Eating in Translation, the Von Damm family operated a grocery and was also in the animal feed fertilizer business, leading to speculation that the Huber/Hittleman breweries dealt with its services.
A few yard in back of the brick house and barbed wire fence at Bushwick Place and Montrose Avenue is the western end of the Bushwick Branch of the Long Island Rail Road. The tracks are still operational and are used to move garbage cars and freight cars pulled by diesel along unelectrified tracks. The tracks connect to the LIRR Montauk tracks at about 60th Street in Ridgewood. In the dim past, the Bushwick tracks carried passenger trains, as the Montauk tracks did as late as 2003.
These residences at 40-44 Bushwick Place between Montrose and Johnson Avenues face the freight yard. Decades ago, the occupants of these homes likely worked on the railroad, at the brewery, or some of the industries and factories in the area.
Bushwick Place is a surviving portion of the Old Bushwick Road, an early Dutch colonial road dating from the 1600s that ran from the junction of today's Metropolitan and Maspeth Avenues southeast through the town of Bushwick, through what is now Evergreens Cemetery, joining the Jamaica Road (Jamaica Avenue) in what became East New York. Extant portions of the road comprise parts of Bushwick and Evergreen Avenues as well as Bushwick Place.
One of the businesses at the west end of the Bushwick LIRR branch is concrete company Kings Ready Mix.
Stanwix Street
Stanwix Street runs south from Flushing Avenue, meeting Bushwick Avenue at Jefferson Street. Prior to World War I, it was called Bremen Street; however, during the war years 1917-1918, many German-sounding names on the Brooklyn map were changed despite the loyal German Americans who lived in Bushwick, Ridgewood and Maspeth at the time. Hence, Bremen Street was renamed Stanwix in honor of British General John Stanwix, a 18th Century Seven Years' War participant also memorialized by upstate Fort Stanwix. Nearby Hamburg Avenue was renamed Wilson, for the sitting President Woodrow Wilson.
I first encountered Stanwix Street in the 1980s, riding past it on the B57 bus on Flushing Avenue. Stanwix, Montieth, and the surrounding streets were reduced to rubble and empty lots at the time as the old Rheingold Brewery and its satellite buildings had been torn down in 1981. The brewery, which originated as Liebmann's Brewery in the 1850s, began marketing Rheingold in the NYC market in 1933; the brand lasted until 1978. Along the way it sponsored Mets TV broadcasts for many years and held annual "Miss Rheingold" contests; the brand has ben revived a couple of times, without success. The main brewery buildings were located along Forrest Street between Stanwix Street and Evergreen Avenue.
Today's Stanwix Street has been completely altered by three main residential projects. The first, above, is 10 Montieth Street, which presents a striking appearance with the current stacked-boxes design and candy-coated trim in red, orange and yellow, which makes it look like Froot Loops.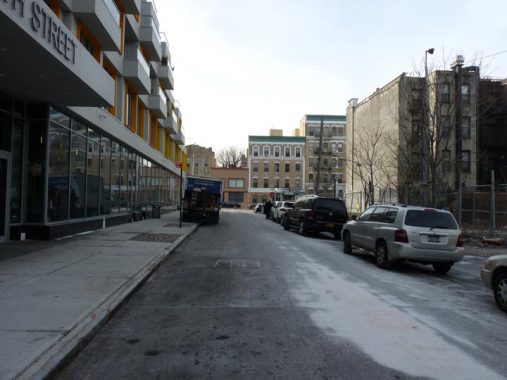 The north side of Montieth Street, right, is still rubble-strewn with a makeshift parking lot.
Here's a (somewhat indistinct) view of the Liebmann Brewery on Forrest Street in 1940.
This more-conventional development was built atop the old brewery location west of Stanwix from Forrest south to Melrose. It includes a new addition to the Brooklyn street map, a dead end called Renaissance Court. The buildings were championed by disgraced and deceased former Assemblyman Vito Lopez and built beginning in 2010.
X marks the spot on a somewhat less attractive new development on the east side of Stanwix between Noll and Melrose.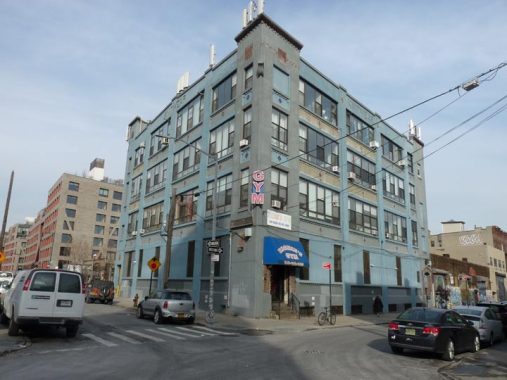 Some older structures are still extant on Stanwix Street such as this former knitwear factory at Jefferson Street, now hosting a gym on the ground floor.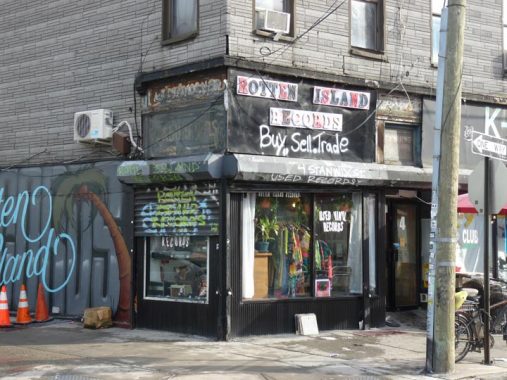 I remember Rotten Island Records, #4 Stanwix at Jefferson, as the site of a discount auto parts shop with a vintage sign. The K9 guard dog training "school" is still there.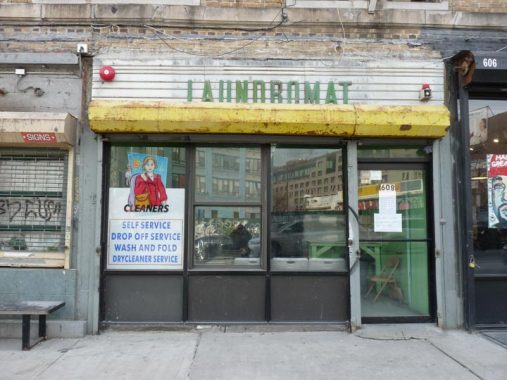 The nexus of Stanwix, Jefferson, and Bushwick Avenue is a nexus of sorts for vintage signage. Here's a laundromat on the west side of Bushwick at Jefferson.
The most striking structure at Bushwick and Jefferson, though, will have to wait for Part 2 of this feature.
Check out the ForgottenBook, take a look at the gift shop, and as always, "comment…as you see fit."
1/13/20