I have written about stoplights before, the red, green and sometimes yellow type, especially former mounting designs whose examples I found around town in the 1990s when I began compiling this website. One variety I haven't paid attention to are blinking or continuously lit warning or caution lights. These can be found in "cyclops" form either midblock or mounted at intersections where a regular red-yellow-green light isn't warranted by traffic volume.
Today however I am writing about a specific subgenre of stoplights: caution lamps that are mounted at full stops where traffic must turn left or right, and caution lamps that signal a bend in the road. I don't think the Department of Transportation has mandated a specific design but, in general, it seems that one has been settled on.
This pair can be found at Douglas Road and Hillside Avenue in Douglaston, adjoining Aurora Pond. The one on the left is unique in that a pair of street signs are mounted on it; few regular stoplights pull that kind of double duty.
Notice that while the pair of unblinking red signals are mounted on the same type of cylindrical posts that are used by many stoploghts and pedestrian control signals, the posts are painted white. This is a frequent feature on caution signals around town. In Douglaston, on Shore Road facing Little Neck Bay, the cross street end there are a number of similar poles to be found there.
Unblinking red is not universal. You'll find blinking red and yellow combos, or cyclops red or cyclops yellow. I haven't deciphered an intentional difference between the two.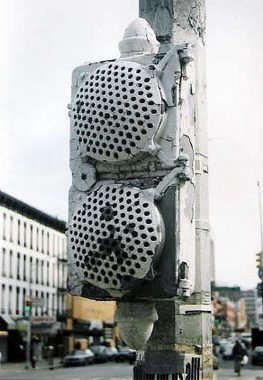 This caution signal was mounted facing the eastbound lane of West 125th Street where the street makes an eastern bend at Morningside Avenue. It illustrates another occasional feature: it's behind a metal cage. When the signals are mounted low on a post within reach of pedestrians, the local youth's habit is to destroy the glass mounting, so the DOT took pains to install shields like this.
Also notice that this was one of the last Ruleta signals still on the job in NYC. Those were the red and green lamps mounted on "olive" posts catercorner on intersections. Most were swapped out for other designs by the mid-1980s. Today most stoplights found at intersections are made by Marbleite.
The Ruleta was replaced by this blinking yellow two-lamper.
Check out the ForgottenBook, take a look at the gift shop, and as always, "comment…as you see fit."
3/21/20