A week ago in 2020, I did a Brooklyn A to Z page about southern Brooklyn avenues named for letters of the alphabet, Avenue A to Z. There are a dozen or more sets of alphabetized avenues in the five boroughs, especially in Queens. Probably, the most notable of Queens' avenues by alphabet is in Flushing, where a number of avenues are named Ash through Rose. This is a legacy of the Robert Prince commercial plant nursery, established around 1735, which gradually expanded to 115 acres and was joined by competing commercial plant farms. They thrived until after the Civil War, after which Flushing became increasingly urban and the land was needed for housing.
Only two streets in the sequence break the rule: Georgia Road and 45th Avenue, the only numbered avenue running through this part of Flushing. Did it ever have an "F" name in the sequence? Yes, it did….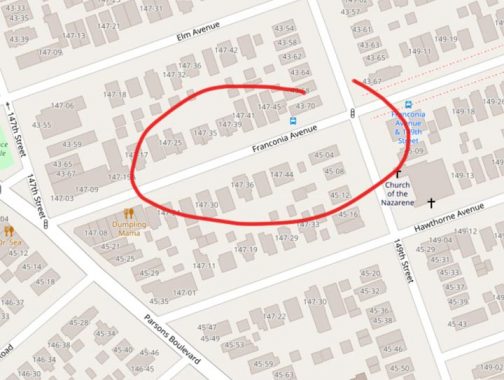 …and apparently the editors of Open Street Map still think it does! At least in the section of 45th Avenue between Parsons Boulevard and 156th Street. I can assure you, that section is named 45th Avenue. I have a Goushá map from 1942 that labels this 45th Avenue, and Hagstrom in 1949 was calling it 45th Avenue, so the change was made early in the 20th Century.
"Franconia" isn't a plant. It is a region in southern Germany (In German, Franken) including northern Bavaria. The largest city in Franconia is Nuremberg, and picturesque Rothenberg preserves many beautiful buildings from the medieval era and is a worldwide tourist attraction. It was invaded and occupied in the 6th Century by the tribe known as the Franks, for whom the country of France is named.
Why was it renamed 45th Avenue? We can guess. Until 1937, the Flushing to Jamaica trolley line used it, turning south at 162nd Street and accounting for the great width of 164th Street, its old right of way. But that's only guilt by association.
Today's Q65 bus follows the trolley's old route, and the Franconia Pharmacy at 45th and 162nd Street preserves the street's old name.
Check out the ForgottenBook, take a look at the gift shop, and as always, "comment…as you see fit."
6/22/20