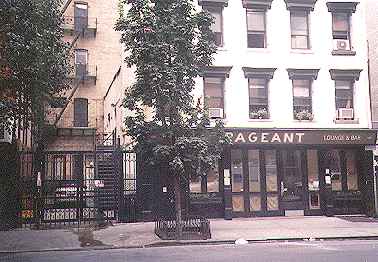 I was stumbling around the East Village a couple of years ago when I happened on the Pageant Print Shop at #69 East 4th Street between the Bowery and 2nd Avenue. I went in and chatted with the counterperson, telling her I wrote the website Forgotten New York, and she was familiar with the website (this happens wherever I go and I'm always humbled and charmed by this).

I knew the name Pageant. Many years ago I was a patron at the Pageant Lounge and Bar, on East 9th between 3rd and 4th Avenues, which was a callback to the former location of Pageant Books. I was to be found frequently scouring its stacks for ancient NYC maps and prints. Aisle after aisle of dusty tomes awaited book hawks. It was among the last remaining shops of Booksellers Row, on 4th Avenue between Cooper and Union Squares. Except for the Strand, they're all gone. The Pageant made a go of it on Houston Street for awhile before moving to East 4th Street.
Pageant Books, which now specializes in prints, old magazines and maps, was founded in 1946 by Sidney B. Solomon and Henry "Chip" Chafetz. In its early days the shop published a popular reproduction of the Gutenberg Bible, the first book ever published, in the 15th Century, that employed Johannes Gutenberg's new invention, the printing press mechanical movable type.
Pageant Books gained notoriety and popularity because it was frequently employed in location shots in motion pictures including Neil Simon's "Chapter Two" and Woody Allen's "Hannah and Her Sisters." Sidney Solomon's daughters Shirley and Rebecca have continued to keep the shop going, in both physical and online business.
Check out the ForgottenBook, take a look at the gift shop, and as always, "comment…as you see fit."
8/10/20