That might seem to be a simple question. If asked, many Queensites would say it's at Citifield, because MTA signage for the past few decades has proclaimed the stop between 111th Street and Main Street to be Willets Point — and so Citifield it is, in the minds of most. Problem is, that spot is not Willets Point at all. There is a Willets Point, but it's miles away.
Ever since 2009, MTA signage at the #7 train station, as well as the Long Island Rail Road station a mile south that serves commuter trains when there is an event at Flushing Meadows like a Mets game, concert or tennis tournament, have read "Mets—Willets Point." The MTA has permission from the Mets to use their name here, but never obtained it from Citigroup, the financial entity; hence, the signs cannot mention Citifield.
Winding the clock back to 1964 we see a blue and white R-33 trainset and the original Shea Stadium with its blue and orange panels. A small sign on the lamppost has "Willets Point." So far, so consistently.
Also from 1964, though, we have this on the side platform. Sorry I don't have a better photo, but you can clearly see that the "Willets Point" of the newer signs really means Willets Point Boulevard.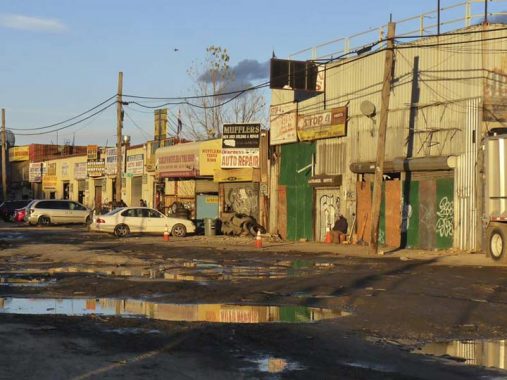 Willets Point Boulevard is a road that runs in two separate pieces, one from Roosevelt Avenue and 126th Street northeast to Northern Boulevard. The other "piece" runs from Union Street at 134th in Flushing northeast to the Cross Island Parkway.
Long ago plans called for that road to be bridged over Flushing Creek and head northeast toward the actual Willets Point, which is in Fort Totten, where land was purchased by the US Government in 1857 from the Willets family (see below). However the bridge was never built and Willets Point Boulevard now exists in two widely separated parts, one here and another in Whitestone.
The Willets Point Boulevard here at the subway runs through the so-called "Iron Triangle." Over the past decades, this run-down 60-acre neighborhood has become home to car repair, auto parts stores and other larger businesses, including waste facilities and warehouses. An April 2006 Hunter College study called it "a unique regional destination for auto parts and repairs." In all, an estimated 225 firms are established here and from 1,400 to 1,800 people work here, according to the study. –Alexis Buisson, in Forgotten New York in 2008
This is a region that the City has sought to get rid of for decades and render it available for redevelopment. "And yet, it persisted." It is still home to auto repair, tire repair, auto glass shops, and other businesses. The city has never installed sewers and has not resurfaced the roads or repaved them in decades. Many of the auto shops have moved out, but some are still hanging on. As I walked, my pants and shoes were swiftly caked in mud.
Until his death in 2016, Joseph Ardizzone, a security instructor, lived in the two-story house where he was born at 126-96 Willets Point Boulevard; on the ground floor is the Master Express Deli, which serves lunch to the local laborers.
Plans for redevelopment are reported year after year, but I suspect the triangle will remain Iron for the near future; many of the shops have left and the blocks are barren and empty, but a few do remain.
Willets Point Boulevard at 25th Avenue. This is a major route cutting diagonally through the street grid, running through Flushing and Whitestone to the Cross Island Parkway.
This 1852 map shows Flushing and Whitestione, and you can see the road now called Willets Point Boulevard angling northeast… to what is actually Willets Point, which is now home to Fort Totten. You can see the names Charles Augustus Willets and Joseph Willets on the map.
Since 1870, Fort Totten has guarded the harbor at Willets Point, along with its older sibling, Fort Schuyler in Throgs Neck, Bronx. The government first contemplated adding fortifications at Willets in 1856, from a belief that there were greater fortifications necessary to protect NYC from an enemy fleet in the Atlantic Ocean. The proposal was discussed in detail in an article by Brigadier General Joseph Totten in a Flushing Journal article that year. The completed fort was renamed (from Camp Morgan) for the general in 1896.
On May 16, 1857 land comprising 100 acres was acquired from the Willets family by the government, and six years later, additional acreage was purchased from Henry Day. Additional adjoining marsh and swampland was filled in that completed the territory that would comprise the future fort, which brought the total acreage to 163 acres. Named Camp Morgan, it was used to train Civil War recruits.
In World War II, Totten was headquarters for the Anti-Aircraft Command of the eastern defense Command from 1941 to 1944. For twenty years after that Totten would become the center for the Army Air Defense Command, responsible for combat readiness of Nike missiles in the metropolitan area; and it also was home to the Army Medical Equipment Research and Development Laboratory.
Fort Totten's military operations ended in 1967. After that, it became a mostly unarmed residence for military families. The Coast Guard took over 10 acres of the base from the Army in 1976. The old fort is now a NYC park, though the Coast Guard, the NYPD and FDNY control some acreage for training.
This is the fort's oldest and most neglected structure, the only building on the base that predates the military. The Willets Farmhouse was built in 1829 shortly after Charles Willets purchased the peninsula. The Army abandoned this house in 1974 and despite city landmark designation, it continues to rot away. For years the sign outside this fenced-off home had the words, "Please Excuse My Appearance, I am a Candidate for Historical Preservation."
Charles Willets died in 1832 and was buried in a family plot on his property. Although his body was reinterred at Green-Wood Cemetery in 1855, this stone marker stands on the gravesites of the farm's previous owners, the Thorne-Wilkins family, which claimed this property in 1645.
Much more on Fort Totten/Willets Point from Sergey Kadinsky
Check out the ForgottenBook, take a look at the gift shop, and as always, "comment…as you see fit."
8/27/20