Last week I recounted meandering on Meserole Avenue, one of Greenpoint's east-west routes, where there were several interesting things to see. The same day, I meandered north up Franklin as I wanted to check something out at its northern end (more on that later).
Franklin Street, along with Commercial Street, and Vernon Boulevard in Queens, was part of a road called the Ravenswood, Green-point and Hallet's Cove Turnpike, constructed in 1839 to connect the manufacturing and shipping strongholds along the water, most of which has now disappeared. In 1832 Eliphalet Nott, president of upstate Union College, and industrialist Neziah Bliss purchased 30 acres along the East River and were soon followed by other shipbuilders and manufacturers. It was Bliss who laid out much of both Greenpoint and Hunters Point's grid street layouts. I had been under the impression that Bliss had built the turnpike. He hadn't, but he endorsed it. The road crossed Newtown Creek by ferry, and later by the Vernon Boulevard Bridge, which was torn down in 1954, having been replaced by the Pulaski Bridge one block to the east.
Greenpoint these days is primarily residential but it was once one of New York City, and the country's, biggest manufacturing centers. Shipbuilding, china and porcelain manufacturing, pencil manufacturing, glassmaking, and oil refining were all centered in the streets between Franklin Street and the East River, most of which are as silent as the tomb these days. You can read about Greenpoint's manufacturing past in the Greenpoint Landmarked District designation report.
This Belcher Hyde atlas excerpt from 1929 shows two of Greenpoint's major riverside manufacturing centers. The American Manufacturing Company was a vast complex that made rope and twine products necessary in the era of shipping. After the company went out of business in the 1960s, the buildings were home to light manufacturing and warehousing, until most burned down in a suspected arson in May 2006. Today, waterside apartment buildings have been constructed in their place.
The Continental Ironworks was founded in 1851 and constructed America's first warship with an iron hull, the Monitor, in 1862, and built other ships of the same type. After the age of the original ironclads the works continued to manufacture iron products until its closure in 1949.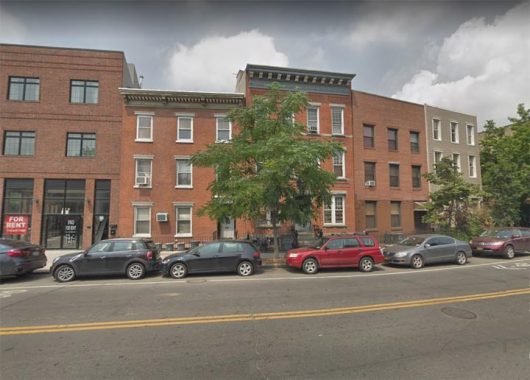 Houses along the west side of Franklin north of Calyer, #51-#57. The one with the corbelling in the center, #53 Franklin, is particularly interesting…
…as just about every available door and window space is filled with toys. The owner apparently does seasonal decorations; cf. these photos in Miss Heather's Greenpoint blog, New York Shitty, in 2011.
Meanwhile, a piano had been wrapped up for transport a couple doors down.
Across the street at #88, Brooklyn Woodwind and Brass is the only full-service repair, rental and dealer in trumpet, flugle horn, trombone, French horn, and other brass and reed instruments. the shop opened in 2011.
And now, a little something I can't explain about Franklin Street. Note that #88 is directly across the street from #55. The house numbers on the east side of Franklin are about 30 houses higher than the numbers on the west side. This is the case for the entire length of the street from North 14th and Kent Avenue all the way north to Commercial Street. The house numbers on parallel West Street and Manhattan Avenue behave normally, but Franklin numbers are, we can say, a bit off.
Paul Giannone opened Paulie G's pizzeria on Greenpoint Avenue in 2010 and a branch location here at #110 Franklin at Noble, as well as other branches in Illinois, Ohio and Maryland. I have never tried Paulie G, but I keep meaning to; I always seem to have meat defrosting at home every time I go by. At this point what I can recommend is the old-school plastic letter sidewalk sign.
Though Greenpoint is as patriotic as the next neighborhood, I'd imagine, the American Playground at Franklin between Milton and Noble is in reality not extremely patriotic in origin, nor is it coincidental. The name refers to a former business in Greenpoint.
The American Playground at Franklin Street between Milton and Noble Streets is a standard-issue NYC playground in many aspects with swings, volleyball walls, restrooms, etc. It is overlorded by a huge water tower that formerly served the Greenpoint Terminal Market on West Street. Only now is its buildings been fitted for commercial and residential use. Many of its buildings were devastated by a suspicious fire in 2006. Until 2014, the Polish flag on one side and the inscription "Save The Palestine" were emblazoned on it, but owners of the property painted over the marks in 2014. The City leased the site from American Manufacturing (see above) as early as 1927, and it became a full fledged playground in 1955.
Brooklyn Safehouse, 120 Franklin, looks like a speakeasy with boarded up windows. As a proud hand letterer, I liked the signs.
Word Books has been the venue for a couple of Forgotten New York events over the years, including a joint appearance with for Greenpointer author Kate Christiansen, whose novel The Astral was set in the neighborhood.
The building it's in, 126 Franklin at Milton, was built in 1852 and is landmarked, since along with every other building on the east side of Franklin between Noble and Java, it falls within Greenpoint's Landmarked District.
Little Neck Outpost, 128 Franklin at Milton, has nothing to do with my town, Little Neck, Queens. There was a fairly decent crowd, so much so that I crossed the street in the Age of Covid. I had assumed that "Little Neck" referred to clams or shellfish, given that Little Neck, Queens was a former shellfish harvesting area, but the menu at this breakfast and lunch place features items like lobster roll and avocado and tuna fish sandwiches, with no oysters or clams. However this is an offshoot of Little Neck's older Gowanus location which does indeed have mussels on the menu. I'm not a shellfish guy, though I do zealously protect my "alone time."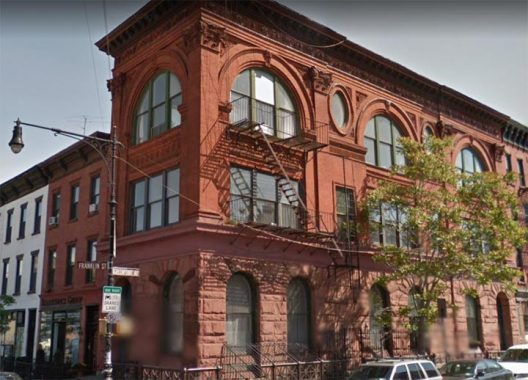 The lushly appointed Mechanics and Traders Bank at Franklin Street and Greenpoint Avenue features gorgeous terra cotta work and arched bay windows on the uppermost floor. After a series of mergers, Mechanics and Traders became JP Morgan Chase. The building later hosted a Polish-language newspaper and is now divided into expensive apartments.
Many moons ago on a Forgotten NY Greenpoint tour on which I was accompanied by the late great Brooklyn blogger Bob Guskind, we were meandering down Greenpoint Avenue and while I was talking about this very building, in what was equally a Kevin Walsh, Greenpoint and Forgotten NY moment, we were mooned by a guy on the top floor.
One thing you notice in the "hipper" parts of town, or those parts of town that aspire to be hipper, is the presence of sidewalk shingle signs that announce businesses that you see as you are proceeding forward. The first, Musk Ox, is a barbershop while the second marks a cocktail bar called Ramona.
Gold leaf window lettering is making a comeback, in this case at Elder Greene, a restaurant on the NE corner of Franklin and Kent.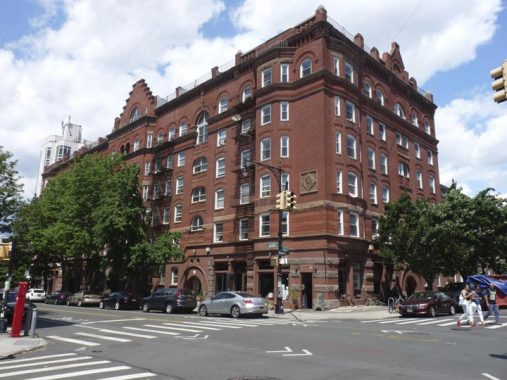 I can't walk up Franklin Street without mentioning the Astral Apartments, between India and Java Streets, the handsome, distinctive apartment building built in 1885 as living quarters by Charles Pratt for workers in his Astral Oil Works. Astral made Pratt a multimillionaire, but he later sold it to a bigger one, John Rockefeller's Standard Oil. In 1911, Standard was found to be in violation of the Sherman Antitrust Act; the shards of Standard became Esso (Exxon), Chevron, Mobil and other companies.
The Astral takes up the entire block and has nearly a hundred apartments. Its distinctive 3-sided bays, arched entrances and recessed arch reaching the 5th floor are rare features; a center courtyard admits air and light to all apartments that don't have a front exposure.
This awning sign at Franklin and Huron somehow appears to be older than it is; it first appeared around 2011-2012.
Looking west on Huron from Franklin. Greenpoint looks much different than it did just a few years ago thanks to an increasingly large ring of tall luxury towers arising on its waterfront. Seen here is a 39-story tower completed in 2018 called simply The Greenpoint. (Like Sudan, Bronx and Batman, Greenpoint occasionally has a "The.")
That's also evidenced by looking north on Franklin. I'll talk about the Bell and Blue Slip towers a bit later, but just a couple of years ago, Manhattan was somewhat visible from this vantage point, but no longer.
I went looking for the embossed remnants of the Freiberg Iron Foundry I discussed just 3 years ago but I didn't see them. Maybe they're still there.
Franklin Guesthouse, a hotel at 214 Franklin between Green and Huron, is located in a former wool products processing plant as shown in this 1940 Municipal Archives photo.
M. Israel Wool Waste:
WHAT IS WOOL WASTE?
Waste is any scrap of material resulting from industrial processing, which can be reused in the form of Materia Prima Secondaria, for the manufacture of secondary products. Specifically, Pistoni deals with textile waste that is waste resulting from fibre or textile processing of various types including wool. Wool textile waste is the set of wastes resulting from the production of yarn or woolen fabrics and which are collected and processed to be reused in subsequent productions. From the wool waste, it's get the so-called regenerated wool. [Textile Recycling]
A quartet of 30+story residential towers are rising on the Newtown Creek waterfront facing Commercial Street. The buildings are part of the waterfront Greenpoint Landing development that will eventually entail 5500 residential units, with 1400 of those tabbed as "affordable."
The development is interesting to me for two reasons. No, I couldn't afford even the units designated as "affordable." However I am interested in the two new streets called Blue and Bell Slip. They're the first new streets in NYC called "slips" in over 200 years; in lower Manhattan, there are a number of streets called "slips," so named because they are built atop former short man-made inlets where ships docked, slipping in, so to speak.
However: these are not true "slips" as they were never canals or waterways. But if we consult the 1929 Belcher Hyde atlas again, we see a trio of short streets on Commercial Street leading to the East River: Pink, Bell and Blue Streets. I'm not sure they were ever built, but the Greenpoint Landing developers must have consulted the old maps and revived the names, as "slips." Though I'm a little disappointed they left Pink out. Greenpoint has a number of these ghost streets along the waterfront and elsewhere.
The only benefit that I, and other peons living in NYC get from these waterside developments is that the builders are often kind enough to vouchsafe a waterside walkway to allow access to the waterfront that was heretofore impossible when the waterways were ringed by industrial concerns. On a clear day like this, the views of midtown Manhattan across the East River are marvelous.
The entrance of 2 Blue Slip. The L-shaped lampposts are about as minimalist as it gets.
For Greenpoint Landing residents, the Riverside Market is the only game in town for groceries unless you get them delivered or hike over to Manhattan Avenue.
The Harte & Company factory building at Franklin, Clay and Commercial Streets is a visual marvel, with its sweeping arc of glass block windows. It now faces Greenpoint Landing and is under the gun from developers who would like the foorprint; I'm hoping it can be adapted to residential.
Spanning half a city block, the Art Moderne style Harte & Company building was constructed circa 1930 by an unknown architect. The Nuharte and Company manufactured shower curtains, upholstery and other plastic products in Greenpoint's Harte & Company building until the plant closed in 2004. Prior to plastic manufacturing, the site was used for manufacturing boilers, light fixtures and soap. The only piece of information I could find about the building in the Brooklyn Library's archives is that part of the building is an addition. Judging by aerial photography, my guess is that the building is two separate structures. The granite veneer at the building's entrance on Dupont Street also appears to be an afterthought or addition to the original structure. [Brooklyn Relics]

Note: a comment to that article states that the Harte & Co. building went up in 1952.
Commercial Street isn't in an area protected by the Landmarks Preservation Commission, and there are a number of interesting buildings from long ago. One of these is #70, which has a curved facade to accommodate Box Street, which arrives at Commercial Street from the east. It's got a classic faded ad on it indicating this used to be a warehouse or factory for floor lamps and silk shades. The company or the building name was Warner.
i wish I knew more about this row of brick buildings on Commercial west of Manhattan Avenue that have just had construction netting removed after a thorough cleaning. The Brooklyn Ice Cream Factory has been a mainstay here fro many years; BICF also had a Fulton Ferry outpost that recently changed hands and now operates under a different name.
This painted water tower at Manhattan Avenue and Commercial Street is reminiscent of Tom Fruin's water tower work but I'm unsure if it's one of his.
The grand old brick building at Manhattan and Commercial Streets is the 1868 Chelsea Fiber Mills building, a manufacturer of marine rope. In recent years it has been home to the Greenpoint Manufacturing and Design Center. "GMDC has played a vital role in helping meet New York City's need for affordable, flexible production space for small and medium-sized manufacturers."
Here Manhattan Avenue increases its width, allowing a small parking lot in the median. Vernon Boulevard also has a center median at 50th Avenue. The Vernon Boulevard Bridge, also called the Hunters Point Bridge, crossed Newtown Creek here, connecting Vernon Boulevard with Manhattan Avenue. That bridge was subsequently replaced by the Pulaski Bridge (between 11th Street and McGuinness Boulevard) in 1954, and today its only traces are the extra widths of Manhattan Avenue and Vernon Boulevard.
I was stumped by this strange object overhanging the G train subway entrance at the Little Tiffin thai restaurant at Manhatan Avenue and Huron Street. Anyone have any guesses? The Comments are open.
Check out the ForgottenBook, take a look at the gift shop, and as always, "comment…as you see fit."
12/13/20