By SERGEY KADINSKY
Forgotten NY correspondent

The last frontier of Brooklyn is on the shore of Jamaica Bay, where knob-shaped necks of land separated by inlets did not experience development until the late 20th Century. The last great parcel remained vacant into this millennium, when it was transformed into Gateway Estates, a shopping strip and residential community with a park, sports field, and playground. Its name comes from Gateway National Recreation Area, a set of parks and wildlife refuges along Jamaica Bay.
Sandwiched between Hendrix Creek and Spring Creek, Gateway Estates offers hints of new urbanism with walkable distances to schools, stores, and parks, but also a continuation of the street grid with century-old names extending past new townhouses and apartments. From the 1930s through the 1950s, landfilling transformed the marshland here into a dry terrain covered with sand, known informally as Vandalia Dunes. In 1967, the site was designated as an urban renewal area, touching off forty years of plans for a new neighborhood.
Entering this neighborhood from Belt Parkway, one sees a big-box version of a strip mall, with stores lined up next to each other, no indoor walkways here. Only the brick exteriors make Gateway Center visually appealing, and I'm stretching this catchphrase. Behind the shops is a parklike walkway connecting the big-box anchor tenants to the smaller stores in the back and the new neighborhood next to them.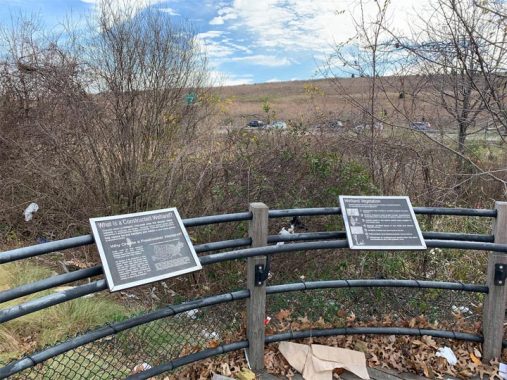 On the southern and western sides of this mall is a section of Spring Creek Park that was developed alongside the mall. The park features a constructed wetland that drains into Hendrix Creek with overlooks that have informative signs on the importance of the wetland and its wildlife. Across Belt Parkway from this park is the former Fountain Avenue Landfill, which opened to the public in 2019 as Shirley Chisholm State Park. Spring Creek Park has a circular cricket field named for Roy A. Sweeney, an outspoken local promoter of the British sport popular in its former colonies. Thanks to recent immigrants from the Commonwealth realms, it has arrived in this former colony as well. New York City has 16 fields dedicated to this sport.
Hendrix Creek is a rare waterway with an X in its name. It lines up with Hendrix Street that runs north of this creek's furthest inland point. The authoritative East New York Project knows the namesake: Rep. Joseph C. Hendrix, who served for one term in 1893, but he was also a trustee of the Brooklyn Bridge, Brooklyn Institute, Cornell University, Brooklyn postmaster, and member of the Board of Education. He is buried at Green-Wood Cemetery. That's as Brooklyn as it gets.
Schroeders Avenue is a new street with a long history. Its route was approved by the city Board of Estimate in 1915 and for decades it appeared as a paper street on official maps, its namesake long forgotten. But if I could name a city street with the longest duration between its designation and realization, it would be Blue Slip in Greenpoint, which first appeared on a map 160 years before it was developed. Vandalia Avenue is another example of a long-delayed planned street, planned in the 1890s and built in the 1960s. The emptiness of this area prior to Gateway Estates, when it was a dump, brings the Vandals to mind.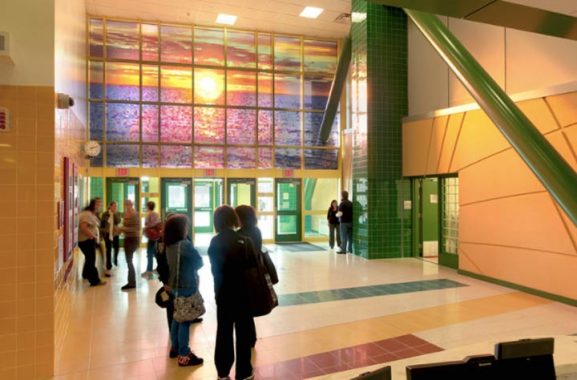 At Elton Street and Flatlands Avenue, the neighborhood's public school has an attractive postmodern look. Inside the lobby is a glass mosaic of a sunrise above water by Russian-born artist Peter Rostovsky. The proximity of Gateway Estates to Jamaica Bay merited this water-themed public artwork.
The surprise for me in Gateway Estates was Berriman Playground, a beautiful post-millennial design that allows water from the comfort station's roof to flow down into a rain garden. As with any park that I've researched, I looked up its namesake. It borders on Berriman Street, which was named for William Berriman of the Buffalo Evening News. The encyclopedic book Brooklyn By Name writes that Berriman was a friend of New Lots Democratic Leader Harry H. Adams, who made this honor happen. Initial plans for this park had it named as Gateway Playground, but that name ended up on another recent park in Jamaica.
I found nothing online on Mr. Berriman, so this street and playground may be the only tokens posthumous fame bestowed on him. The playground's designer, Nancy Owens Studio also worked on Estella Diggs Park in the Bronx, and Lawrence Playground in Queens, among other city parks. On the north side of Berriman Playground is a set of Nehemiah homes named after the biblical figure who brought his people back to their homeland. Nehemiah Housing Development Fund was formed as a civic coalition that transformed empty lots across East New York into suburban-style houses and townhouses, akin to Charlotte Street in the Bronx, from blight to bloom.
Erskine Street is an early road in Gateway Estates, planned in the 1960s and laid out a decade later in tandem with Brooklyn Developmental Center. Its namesake is former Brooklyn Dodger Carl Erskine. The team left the borough in 1957. Along with Jackie Robinson and Gil Hodges, he will always remain on the map of Brooklyn. Belt Parkway marks Erskine Street as Exit 15, planned decades in advance between exit 14 (Pennsylvania Avenue) and exit 17 (Cross Bay Boulevard). Like the missing letters of the subway alphabet, gaps on the highway exit count indicate planned streets that had not been built when the highways were completed. Where's Exit 16? Perhaps it was meant for Fountain Avenue or an avenue in Howard Beach, but their proximity to other exits likely means that it will never be built.
Across Erskine Street, Brooklyn Developmental Center operated from 1974 through 2015 as a residential campus for mental health patients. Its location is a throwback to a time when society placed its misunderstood individuals on islands and on the city's margins. The BDC was located between a landfill and marshland on the eastern edge of Brooklyn.
Governor Andrew Cuomo ordered the campus closed in favor of smaller group home facilities. Family members of residents and the union representing the center's workers fought this order, but the state prevailed. This 28-acre site is being developed as The Fountains in Brooklyn, 28 acres of mixed-income housing, with a mere 17 units for people with developmental disabilities. This new community includes solar panels on every rooftop, an urban farm, and plenty of green space inside the superblock.
The eastern border of Gateway Estates is Fountain Avenue, which follows Spring Creek, the waterway separating Brooklyn and Queens. The shore of this creek has a long history as a dumping ground for mafia victims. This is where Murder Inc, the Gambino family, and the DiMeo Crew did their dirty work. DeMeo's career in crime inspired the 2006 film Fountain Avenue and a book by DeMeo's law-abiding son Albert, For the Sins of My Father. The recently repaved road now serves as an entrance to Shirley Chisholm State Park.
As with my previous essays on new neighborhoods, historic maps tell the story of what wasn't built at Gateway Estates. A map from 1898, when Brooklyn was absorbed by New York City, shows a uniform grid of streets atop the marshland. At the time, Vandalia Avenue was envisioned as the southern limit of the grid.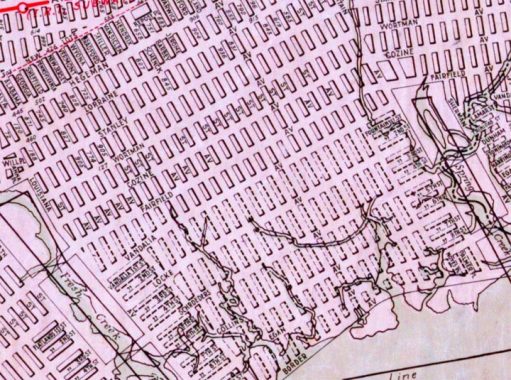 By 1922, five more paper avenues were added, extending the grid to the water's edge. Flatlands Avenue has its eastern tip in this corner of the borough, ending its 8.5-mile run here. Of course, the century of landfilling and unrealized urban renewal plans never realized this grid. Instead, we have Gateway Estates as Brooklyn's last neighborhood.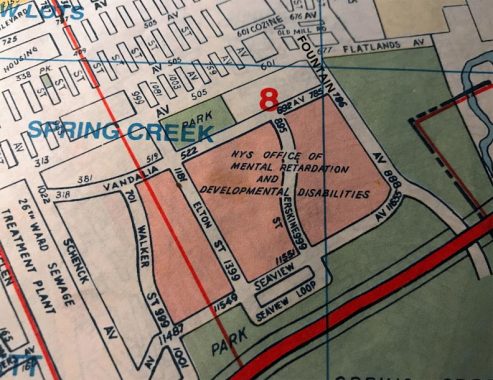 In 1997, Hagstrom was depicting the area like this, with a couple avenues completed but the entire area dominated by what was then called the New York State Office of Mental Retardation and Developmental Disabilities.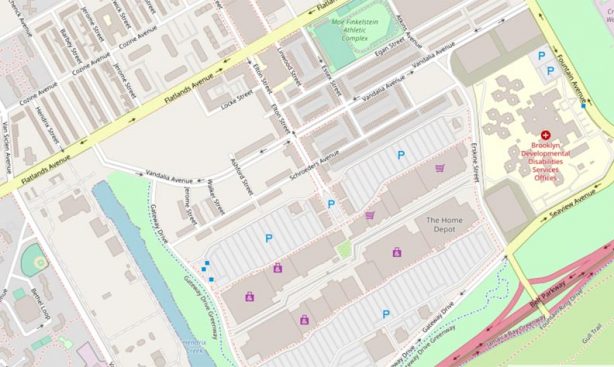 Gateway Estates and Center map, 2020. It looks quite a bit different from developers expected in 1922; today, Locke, Vandalia and Schroeders Avenues were built in some form. The developmental disability center is now called the Brooklyn Developmental Disabilities Services Offices and is located east of Erskine Street.
in recent years developers have come closer to completing Gateway Estates:
The prefab exterior vinyl panels of Gateway Estates housing is the new trend in residential design around NYC and pops up frequently wherever you find new housing.
If you like reading about the city's post-millennial neighborhoods, check out my Forgotten-NY pages on Melrose Commons, Hudson Yards, and Riverside South.
Sergey Kadinsky is the author of Hidden Waters of New York City: A History and Guide to 101 Forgotten Lakes, Ponds, Creeks, and Streams in the Five Boroughs (2016, Countryman Press) and the webmaster of Hidden Waters Blog. 
Check out the ForgottenBook, take a look at the gift shop, and as always, "comment…as you see fit."
12/1/20