It's time for another entry in FNY's Cross Streets of NYC series!
I've done them piecemeal in the past, but I've already posted 20th Street, 21st Street, 22nd Street, 17th Street, 10th Street, 6th Street, 18th Street, 25th Street, 26th Street, 34th Street and 38th Street in this batch, and 14th Street as well in autumn 2019 with more to follow. Before the Great Infection, I spent a number of Saturdays (and some Sundays too) crisscrossing Manhattan via its numbered streets. Over the years, I've done this quite a few times and I was amazed at how much stuff I missed and how much material I knew about and posted here and there, but never really formalized or categorized. Eventually I might make these "crosstown" posts their own separate category. In late summer, I resumed the crosstown walks.
Today I chose 16th Street, which runs from 11th Avenue east to the FDR Drive, surviving three interruptions at Union Square, Stuyvesant Square and the Stuyvesant Town complex; there is a short dead end section at Avenue C.
I'll go east to west on this page. I got the shots on two separate walks, one in February, one in October 2020; both days were pretty cloudy and dank, so there's a unity of appearance.
16th Street is interrupted by two public parks: Stuyvesant Square, seen in Part 1, and by Union Square, though you can continue to walk in a straight line as 16th Street runs as a pedestrian path through the square.
Union Square was named (actually as Union Place) in 1815 at the near-junction of the Bloomingdale Road, or Post Road to Albany, and the northern part of the Bowery Road, the Post Road to Boston. In the original Commissioners' Plan drawn up 1807-1811 by surveyor John Randel, Broadway was originally going to run "north" above Tenth Street and end at a 239-acre military training ground called The Parade spanning between 3rd to 7th Avenues and from 23rd to 34th Streets. By 1814, however, the idea for The Parade had been scrapped as the new Third Avenue diminished the Post Road's importance, and emphasis was then placed on Broadway as a main north-south route up Manhattan Island. To do that, it took a northwest angle.
Union Place, the meeting of the Bloomingdale and Bowery Roads, was so named by 1815, but served time as a potter's field and a place for squatters until the park's present configuration west of 4th Avenue (Union Square East), Union Square West (Broadway) East 14th Street and East 17th was finally laid out and landscaped as the modern street grid had reached that far uptown by then. After a short stint as Union Park, the name Union Square was settled on by the 1870s. The square is named for the junction of roads, not the Union (USA, vs the Confederacy) or later gatherings by trade unions that took place there.
Park statuary contains three American history stalwarts: NYC's first major outdoor portrait statue, by Henry Kirke Brown of George Washington on horseback at the parks's southern end; the Marquis de Lafayette, the French military commander who assisted in the Revolutionary effort, sculpted by Frédéric-Auguste Bartholdi and dedicated in 1876: his Liberty Enlightening The World would be dedicated in the harbor ten years later.
At the north end of the park, on the 16th Street line, is Brown's Abraham Lincoln, the first statue of "Honest Abe" to appear in NYC after his assassination in Washington in 1865, as it was installed in Union Square three years later. A similar Lincoln statue also sculpted by Brown is in the Picnic Grove in Prospect Park in Brooklyn.
Union Square's north end limestone arch, flanked by two Ionic-columned pavilions, was built in 1929. Though the south end of the park is now where most demonstrations take place these days, the pavilion has historically been the site for marches, sit-ins and protests through the years. There always seem to be plans for a restaurant inside the arch, but they're always thwarted by neighborhood groups who prefer to keep the space public. A new playground opened adjacent to it in 2009.
The building on the NW corner of Union Square West and East 16th Street dates from the dawn of the skyscraper era. At left is the slivery 1903 Bank of the Metropolis Building (Bruce Price, architect) that is actually wider on the 16th Street side. The bank was founded in 1871 and was absorbed by the Bank of Manhattan in 1908, just 5 years after the building opened.
I don't know much about the 1950s or 1960s office building it's in, but The Coffee Shop, popular with Manhattan's cognoscenti, had been a mainstay at Union Square and East 16th from 1990 to 2018, when it was finally priced out of its choice location; its iconic neon corner sign was taken down (hopefully it would up intact somewhere) as a Chase Bank branch took its place. However, there is still a leftover "Cocktails" sign above a taqueria masquerading as a tire repair shop further west at #30 East 16th!
A piece of 16th Street on either side of 5th Avenue falls within the Ladies' Mile Landmarked District, so there are some details on some fascinating buildings readily available. #10 East 16th is an example of two buildings constructed in the 1840s joined together and remade in the Queen Anne style popular in the 1880s.
Seen here on the northwest corner of 5th Avenue and West 16th (a Street View shot from when there were still big crowds in the streets) is the Judge Building, designed by the famed McKim, Mead and White firm in 1888; it had no connection with courts but instead hosted the editorial offices of Judge Magazine, published between 1881 and 1947. Harold Ross worked there before founding The New Yorker in the 1920s.
The Italianate brownstone building on the left, #2 West 16th Street, was constructed in 1852 by a dentist, John Lovejoy. Presumably much of the block featured buildings that looked like this at one time, but this is one of the few survivors. It featured a private carriage house in the rear.
As soon as I passed it, I developed an unutterable fascination with #the townhouse. Why? Well, there's that rococo brownstone pediment above the front door; below it, the wrought iron house number (just a big "2") on the transom; and the globular bannister newel on the front steps — the other one is missing. In 1864 the owner was banker and NYC Parks Commissioner Henry G. Stebbins (in a typical Forgotten NY association, I recognized the name from the Bronx' Stebbins Avenue in the Crotona Park area– even though most of it was renamed for a local preacher, the Rev. James Polite).
The Center for Jewish History opened in 2000 at #15 West 16th in the former location of the American Foundation for the Blind/Helen Keller Institute.
Center for Jewish History and partner collections span five thousand years, with tens of millions of archival documents (in dozens of languages and alphabet systems), more than 500,000 volumes, as well as thousands of artworks, textiles, ritual objects, recordings, films, and photographs. The Center's experts are leaders in unlocking archival material for a wide audience through the latest practices in digitization, library science, and public education. As one of the world's foremost research institutions, the Center offers academic fellowships, symposia, conferences and lectures as well as a wide array of cultural, educational and genealogy programs for the public. Please visit the Center, search our collections online and join our Email List. [CJH]
Included in its collection is Emma Lazarus' original manuscript of her famed poem "The New Colossus."
The townhouse behind the brick porch in the center, #24 West 16th, was home to editor and poet William Cullen Bryant from 1867 until his death in 1878.
Famous since his teenage years for poems like "Thanatopsis" and the Civil War elegy "My Autumn Walk" he was for over 50 years the editor of The New-York Evening Post, which had been founded by Alexander Hamilton in 1801. In those days the Post, in contrast to its tabloid style of today, was an erudite, literary publication rather like today's weekly The New Yorker. Bryant Park was named for him, and he is memorialized in a statue there sculpted by Herbert Adams in 1911.
Early 20th Century poet Hart Crane ("To Brooklyn Bridge") also resided here.
At #30 is St. Francis Xavier Church, West 16th Street between 5th and 6th Avenues. The present church was designed by NYC's foremost Catholic church architect, Patrick Keely, in 1878. The parish was founded by a Jesuit priest, Father James Larkin, in 1847. Don't miss the exquisite vaulted interior. Xavier High School for boys is next door on West 16th.
Francis Xavier (1506-1552) was a Spanish-born Jesuit missionary who did extensive work in the Far East, in India, Japan and Indonesia, spreading the Gospel into countries that were still largely a mystery to Europeans at the time but were part of the Portuguese colonial influence.
Freestanding street clocks have slowly been attritioned out of NYC the past few decades, but here's a relatively new one attached to #43 West 16th. A door down is #41, where Joni Mitchell wrote "Chelsea Morning,"a song that Hillary Clinton enjoyed.
#574 6th Avenue, NE corner of West 16th Street, was built in a Beaux-Arts style in 1903 for the Knickerbocker Jewelry Co. According to the Historic Districts Council, it was built to resemble a jewelbox. It's landmarked, though not in a district.
Mural, IND subway entrance, West 16th and 6th Avenue.
Look at that incredible serif and script carved type on the tablet at The New York House and School of Industry, built in what is considered one of the first Queen Anne buildings at #120 West 16th Street in 1878, designed by Sidney Stratton. The school was founded in 1850 to help indigent girls and women find marketable trades such as seamstressing.
Just two stories tall over a shallow, stone basement, it oozes architectural charm. The great, two-story stone oriel window of the eastern section steals attention from the more modest western half. Stratton employed all the aspects of the new style: terra cotta panels, multi-paned windows, a fish-scale slate roof and quaint pseudo-balcony. [Daytonian in Manhattan]
The Institute moved out in 1951; today the building hosts the Young Adults Institute, a home for people with cognitive disabilities.
Look what they've done to my church, ma! The French Evangelical Church at #124 West 16th was founded in 1846 as a Presbyterian congregation for French Americans living in the Chelsea area. France is majority Catholic, but French Protestants, known as Huguenots, had already populated sections of Staten Island as early as the late 1600s.
This small brick church had been built as early as the 1830s, with the French Evangelicals occupying it by 1848. It was remodeled in a Romanesque Revival style in the 1880s.
In 2012 the FEC was desperate for funds and its building was severely decaying, so it sold air rights to Einhorn Development, which built an 11-story condo above it: but the congregation, by now consisting of French-speaking Haitians and others from African countries, was able to preserve and update the church with amenities such as air conditioning.
It's a win-win in everything but esthetics.
I haven't found much about this winning pair, brick apartments #138 and #140 West 16th, with balconies and interesting diamond checkerboard patterns at the roofline.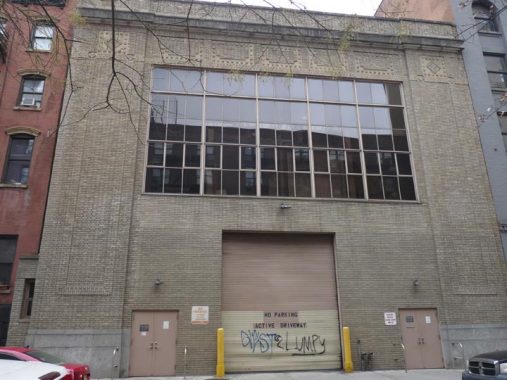 The brick building at #150 West 16th with patterned brick treatments at the roofline was constructed in the mid-1910s as an electrical substation for the IRT line beneath nearby 7th Avenue.
200 West 16th, at 7th Avenue, is one of four buildings completed as part of developer Henry Mandel's plan to build a straight line of apartment towers along 7th Avenue, collectively caled Chelsea Corners, in the 1930s.
The first element of Chelsea Corners was completed in late 1930, the 18-story-high 200 West 16th. With nine apartments per floor, it was heavily marketed to singles and working couples. Early ads listed prices for one-room apartments as $76 to $145 per month, and four-room apartments as $160 to $270 per month.

Like other such buildings, 200 West 16th had space-saving Murphy beds, but with a twist: instead of folding down from a false doorway, they pivoted around on a track from an oversized clothes closet and then unfolded to the floor. [New York Times]
I liked the bas relief lettering and colorful storefront at #220 West 16th. The space is promoting the Apple TV kiddie show "Helpsters" "giving children hands-on time to solve real-world problems."
A garage sale in what apparently used to be a garage, at #247 West 16th between 7th and 8th. Actually the shop is called No Particular Hours.
The latest thing in apartment building construction is prefabricated exterior wall panels, sported by #131 8th Avenue at West 16th Street. This is actually an early example of the genre since it was built in 2008.
The Dr. Gertrude B. Kelly Playground, West 16th just west of 8th, is named for a pioneering Irish immigrant physician, advocate and philanthropist (1862-1934). Dr. Kelly operated clinics for the poor, supported national women's suffrage in the USA and Irish independence from Great Britain, both of which were obtained in 1920.
Though West 16th between 8th and 9th Avenue has its share of older buildings, it's also something of an experimental lab for newer styles of residential housing; the lengthy building is a School of Visual Arts branch.
On 9th Avenue between West 16th and 17th, on one side an exuberant early 20th Century apartment building, on the other, the 1966 Maritime Union Building, complete with portholes, now the Maritime Hotel after a long stint as NYC headquarters for Covenant House, an organization providing food and shelter for runaway and homeless youths. Franciscan priest Bruce Ritter, a professor at Manhattan College, instituted Covenant House in 1972 after several years assisting poor, homeless and runaway youth, and he became the face of the organization on TV ads and mailings. Ritter was forced to step down in 1990 after several allegations of sexual misconduct came to light; nonetheless, the organization continued to thrive and has branched to several cities in the USA. Its current HQ is at 460 West 41st Street.
At its west end West 16th Street is crossed by High Line Park and borders Chelsea Market, the mall/office complex located in a former National Biscuit Company bakery.
Check out the ForgottenBook, take a look at the gift shop, and as always, "comment…as you see fit."
11/30/20