I was digging around in my Facebook photo files and I came up with a cache of photos that were sent by US Naval academician David Silver back in 2012 that I had never used. I'll do that here, with as much research as I can come up with on each.
You don't see many references to vaudeville anymore, but here's one, at the former Loew's Grand Theatre, at Jerome and West Fordham Road in the Bronx. The painted ad remains in place, with all trace of the theater buried under large modern printed ads.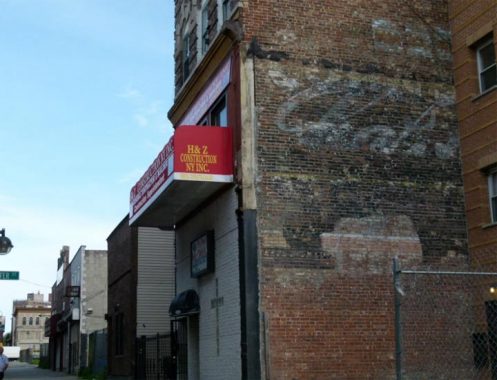 Charles H. Fletcher began selling his Castoria, a mild stomach remedy for children, in 1871. The medicine was heavily promoted on ads and billboards in the late 1800s and early part of the 20th Century, and evidently the paint used for the ads was of a very high grade, because several ads survive to this day all over town. Traces of them can still be found such as here at Broadway and MacDonough Street in Bedford-Stuyvesant.
Early last year (2020) FNY featured a Fletcher's Castoria ad on Jersey Street in New Brighton. This one is further west, at Richmond Terrace and Jewett Avenue.
This was a fine example of the Castoria genre and could be seen from passing Long Island Rail Road trains, on Archer Avenue east of Sutphin Boulevard in Jamaica. I've featured it before. This one's long gone, replaced by the new development Crossing at Jamaica Station.
This illuminated sign hung outside the venerable Cup & Saucer luncheonette at Canal and Eldridge Streets, which disappeared in 2017. Canal Pizza and Two Bridges Diner now occupy the space.
Amazingly, John De Lorenzo & Bro. Iron & Sheet Metal at 43 Grand Street just off West Broadway in SoHo has escaped my notice till now. In the alphanumeric phone number, WA stands for WAlker.
Disc-o-Mat, "home of cheap records," 474 7th Avenue in the Garment District at West 36th. 474 is now occupied by a Burger King, while the corner shop is "Weed World" which is actually a candy store. This was a chain. Flaming Pablum has some info plus a photo of one of the stores.
A brick building at Dock and Water Streets in DUMBO is a former sanitation garage, and bore this plaque from the John Hylan mayoralty for many years.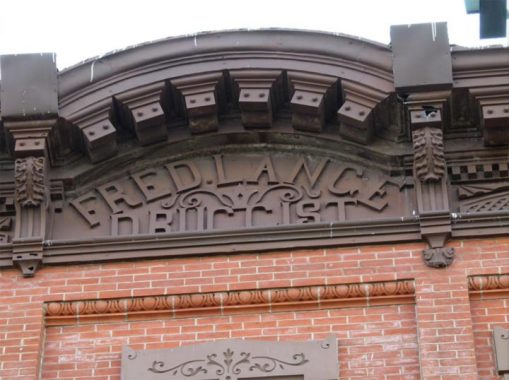 Fred Lange (or Lance?) druggist's building was located at Myrtle Avenue and Broadway in Brooklyn, where two elevated train lines met each other. No doubt, this pediment sign was meant to be viewed from the elevated station platform. Both lines were in place by 1890.
Almost faded to illegibility is this "livery stable" ad at Church Street and Port Richmond Avenue in Port Richmond. However: it could be newer than you think. Painted ads that harked back to the 1910s and 1920s were placed strategically around Port Richmond for the Steve Buscemi period production Boardwalk Empire, shot in Staten Island (similar ones also appeared for The Knick in Brooklyn.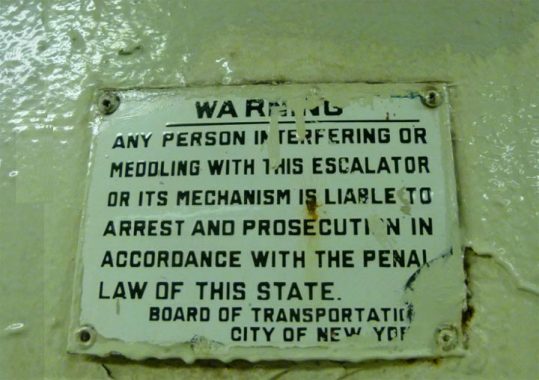 Enamel sign placed beside a subway escalator.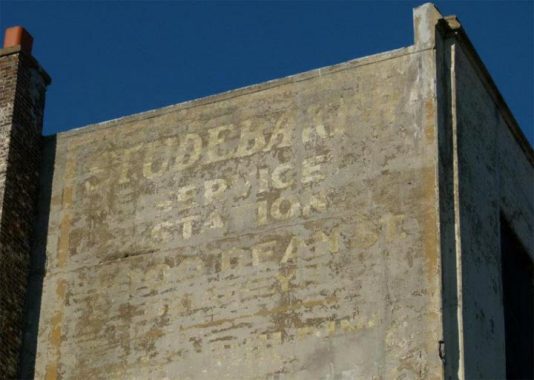 Studebaker service station, 1000 Dean Street (between Classon and Franklin) in Bedford-Stuyvesant, Brooklyn. This painted sign was covered over in 2013.
From the ForgottenBook: Brothers Henry and Clement Studebaker opened a blacksmith shop in South Bend, Indiana in 1852, and before long, after John Mohler Studebaker bought out his brother Henry, they expanded their business to covered-wagon maufacturing. Studebaker benefited from Civil War business and western expansion, and became the largest wagon business in the world, topping $1 million in sales by 1875, but that was only the beginning…Studebaker made a successful transition to motorized vehicles as the new century dawned, producing its first motorized vehicle, the Electric Runabout, in 1902. As it became clear that gasoline-powered autos were going to emerge, Studebaker's first gas-powered vehicle, the Studebaker-Garford, rolled out in 1904.
By the time its Crown Heights showroom opened in 1920, Studebaker had sold off its original wagon works to a Louisville, KY firm: it was the only former wagon manufacturer to make a successful transition to automobiles. The 1935 Champion was likely Studebaker's most successful model in its history, while its production peaked at over 268,000 cars in 1950; Studebaker continued production until 1966. The Studebaker imprint is currently owned by Cooper Industries, the hardware and tools manufacturer that itself has an over-130 year pedigree.
Terrestris plant sales, 409 East 60th Street, shot from the Roosevelt Island tram window. This ad was covered by 2013.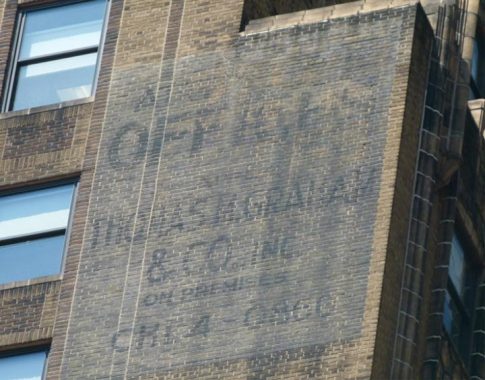 OFFICES 
APPLY 
THOMAS M. GRAHAM 
& CO. INC. 
ON PREMISES 
CH 4-0860
570 7th Avenue at West 41st Street. The CH in the number stands for CHickering. The building is still there but the ad has by now mostly faded out.
Check out the ForgottenBook, take a look at the gift shop, and as always, "comment…as you see fit."
1/20/21. Today Forgotten NY greets its fifth US President…