I was out for a "ramble" after a few days of overcast and rain, even though conditions were windy and cold, and was shuffling along the Little Neck LIRR platform. I was fortunate enough to see a work run on what's ordinarily a passenger line. The LIRR is no stranger to freight, though most of its freight operations are now on the Montauk Branch between Jamaica and LIC, the Bushwick Branch, the Bay Ridge Branch (where subsidiary NY & Atlantic has freight runs) and the main line.
Here LIRR diesel Engines 160 and 165 are pulling a long string of "gondolas" carrying smashed-up rubble. This isn't a "freight" run, per se, but actually has something to do with ongoing concrete rail tie replacement along the line.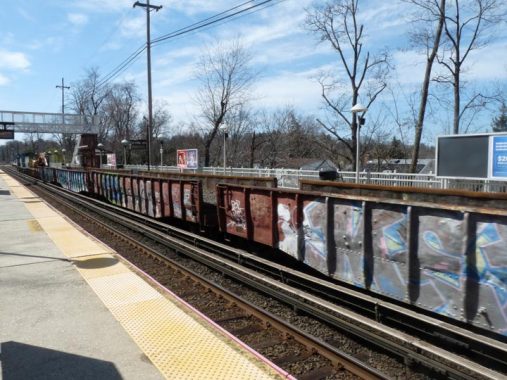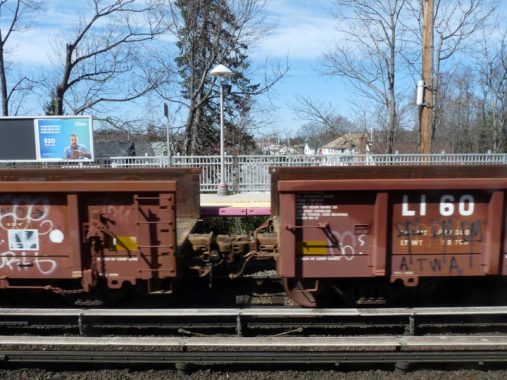 In March 2021 the LIRR reacted to reduced passenger utilization due to the Covid pandemic by slashing service across the board on all lines; on "my" branch, the Port Washington, service was cut from twice an hour to once. At the same time, the railroad has embarked on a rail tie replacement program (the cut in service may have proven fortuitous for that). The Port Washington still mainly uses the wooden ties it has employed for decades, while other branches have received concrete ties; if the PW is going all-concrete, that'd be a welcome shift.
In any case, due to public outcry, full service is supposed to be restored by month's end.
Has the Port Washington branch ever been used for proper freight runs? Evidence shows that it has; a freight receiving building still stands at the Bayside station. Where is today's "cargo" going? The Sunnyside Yards (ably chronicled by the Newtown Pentacle); maybe the Oak Point yards in the Bronx. Rail buffs, the Comments floor is yours.
Check out the ForgottenBook, take a look at the gift shop, and as always, "comment…as you see fit."
3/19/21