I had been noticing out of date ads at the Little Neck LIRR station for some time…none had been replaced in over a year, as agencies had ceased buying ad space given the severely reduced ridership on the LIRR. Curbed, now a subsidiary of New York Magazine, also noticed the phenomenon in the subways, but their piece provided the impetus for me to also amble down and snap what I could. Later in the year, new ads will likely begin appearing, as ridership increases: but in March 2021, the ads seem to have been rescued from a February 2020 time capsule. You'll see what I mean…
Rock of Ages is a musical drama featuring pop metal music from the 1980s. It ran on Broadway at the Brooks Atkinson Theatre from 2009-2015. A film version appeared in 2012. In spring 2020, a revival production was playing at New World Stages in Hell's Kitchen.
Broadway, which used to feature original musicals and dramas, has now become chiefly a venue for musical remakes of live action movies and cartoons. Harry Potter and the Cursed Child, though, is a bit different, as it's an original work by J.K. Rowling based on her wildly successful Harry Potter books. It was playing at the Lyric Theater in the spring of 2020.
Aladdin, based on the 1992 Disney cartoon itself based on the Arabian Nights classics, has had a wildly successful run at the New Amsterdam Theatre, grossing over $400M.
Here are a pair of gems unearthed from a few years ago; they may have been lurking underneath newer billboard ads. Finding Neverland, a musical telling the story of J.M. Barrie, the creator of Peter Pan, ran on Broadway in 2015 and 2016.
A poster from the Lincoln Center jazz schedule in the 2014-15 season. Depicted is Wynton Marsalis.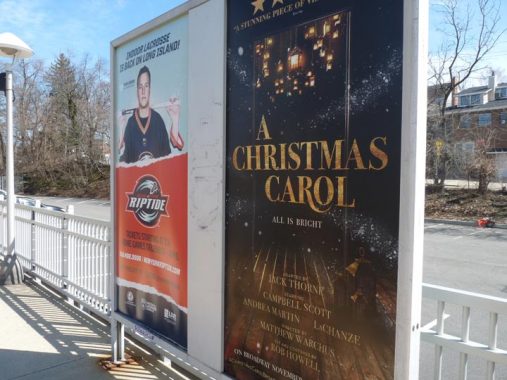 We have just finished another Christmas season, but this Christmas Carol production was playing in December 2019 at the Paramount Theatre. For many years, a version played at Madison Square Garden (one year, Roger Daltrey played Scrooge!) The last time I attended a Broadway production, it was Patrick Stewart doing a one-man Christmas Carol.
Brookfield Place is located in the World Financial Center in lower Manhattan, a building spared the worst during the 9-11-01 terrorist attack. It's notable for its indoor palm trees in a climate-controlled atrium.
Spies in Disguise opened on Christmas 2019. The high-concept cartoon features Will Smith as a superspy (who occasionally becomes a pigeon) and saves the planet along with the help of an idealistic young scientist.
The Paramount also features rock concerts and comedy shows. Here is the slate for the 2019-2020 winter season. The most recognizable names are the Goo Goo Dolls and Kevin James.
No doubt, a lot of women "dragged" their husbands to Tootsie The Musical, in which an off-Broadway actor ascends to glory by convincing one and all that he's a woman. It opened at the Marquis Theatre in March 2019, closing in early 2020.
Of course, the Radio City Christmas spectacular is an annual favorite.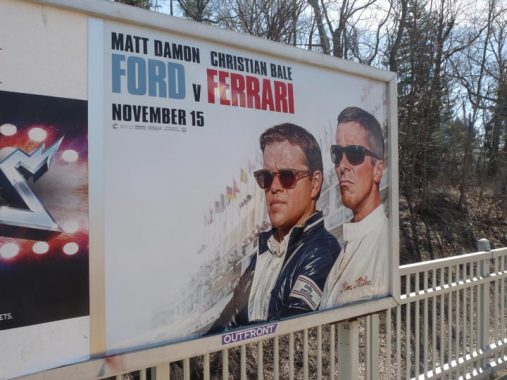 The only production in the bunch I've seen is Ford vs. Ferrari, based on a true story, set in the mid-1960s, in which automotive designer Carroll Shelby (Matt Damon) and British driver Ken Miles (Christian Bale) team up to prove Ford could finally beat Ferrari at the famed LeMans race in France. The fast-paced movie was a critical and commercial success.
Check out the ForgottenBook, take a look at the gift shop, and as always, "comment…as you see fit."
3/19/21