Jeez, who knows if this thing is ever going to end? I've done Part 1 and Part 2, and now I'm ready for Part 3. I always think of more streets named for other streets, or Forgotten Fans send me more. At least it stops me from getting stumped about what I'm going to write about today. Some days, I'm stumped till it's almost bedtime, or I wind up skipping a day. (I usually skip Saturday while I start on the longer Sunday page). After 22 years, I do this…so you don't have to.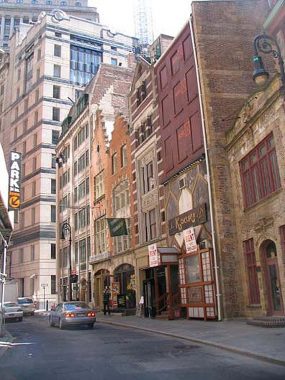 I'm including some "directional" streets on this page, South this and North that. However, the ones I am featuring are not part of the pattern whereby streets on one side of a main road, such as 5th Avenue or Jerome Avenue, are "West" and the other side "East," nor am I doing any of the various North, South East and West numbered streets around town. They're all the same street, it's just that one part is East and another part is West, or in Brooklyn's case, a group of numbered streets is positioned opposite another group of numbered streets.
South William Street is a short, curving street in lower Manhattan from Broad Street to where William meets Beaver. Like other downtown streets it's quite old and has had a number of names; according to Henry Moscow in 1978's The Street Book, it's been called "Glaziers Street" for its glassmakers, Mill Street (the first grist mill in New Amsterdam was located there) and "Jews Alley" and Synagogue Alley" for self-explanatory reasons. It has been South William since 1738.
A walk on South William Street will reveal a series of buildings that appear to have been built during the Dutch era, with stepped Flemish-style gables. 13 and 15 South William are the most notable, constructed by the very busy C.P.H. Gilbert. However the date of construction, 1903, is conveniently displayed below the roofline. They're definitely not from the colonial era; a huge fire in 1835 wiped out nearly all of lower Manhattan's then-existing buildings, with a couple of exceptions like St. Paul's Chapel on Broadway.

Technically, North Moore Street is north of Moore Street (a tiny one-block street off Water Street near Battery Park) but the two have little to do with the other.
There are still well-read West Villagers and Tribeca-ites who insist that N. Moore (which always appears rendered like that on new and old street signs — never North Moore) was named for Columbia College librarian from 1842-1849. Columbia later moved uptown to Broadway and 116th, of course, where it is presently devouring the west end of Manhattanville.
N. Moore, however, is named for a Moore, but not Nathaniel. It was named for his uncle, Benjamin Moore (1748-1816), who was Trinity Church rector, Episcopalian bishop, and president of Columbia College from 1801-1811. In the early 1800s, Trinity Church owned much of western Manhattan, and when streets were created, church officials named them for prominent church officials, and Benjamin Moore took his place among them. This Benjamin Moore had nothing to do with the other prominent Benjamin Moore who began a paint company in 1883.
There was, ah, one small hitch when it was time to honor Benjamin Moore. Manhattan already has a Moore Street near the Battery, named for nearby docks in its original Moor Street spelling. So, as the location was generally north of there, the N. was affixed to the Moore.
Hook & Ladder 8, at North Moore and Varick,  is more popularly known as the "Ghostbusters firehouse" as this was the firehouse where the ambulance used by the spook-chasing comics in that 1980s 2-film series was headquartered. It is a functioning firehouse, though budget cuts had the 1865 masterpiece on the chopping block in May 2011. The next month, its continuation of service was announced.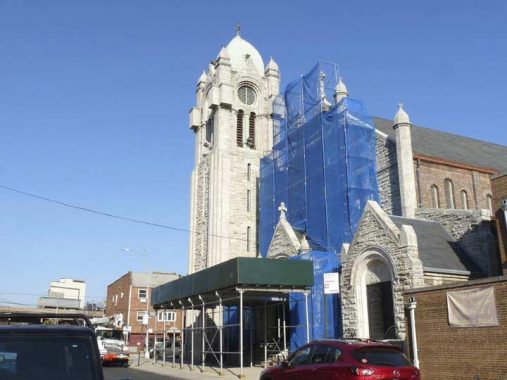 In December 1982 I was working a night shift with the city's biggest type house, Photo-Lettering. I had made an arrangement with a friend, Brian B., to arrive at his house at #14 North Henry Street in Greenpoint after my shift and wait for a couch. I got out of work in the Grand Central area at 3AM, but fortunately, the #4 train has an easy connection with the L train at Union Square; I took that to Graham and walked about 8 blocks. I arrived at his house at 4AM, slept on his old couch, he left for work, and the new couch was delivered in the early afternoon.
The name "North Henry" has always intrigued me. The street is several miles away from Henry Street in Brooklyn Heights; why call a street so far away "North Henry"? The answer is simple. The cities of Brooklyn and Williamsburg each had Henry Streets, and when Williamsburg was annexed to Brooklyn in the 1850s, there were then two Henry Streets. What to do? It was agreed that the Williamsburg Henry would be known as North Henry.
I came all this way and the white limestone St. Cecilia Church is partly under wraps during renovation. The parish was founded in 1877, while this classic church, nearly basilica-size, was built from 1891-1901 by ecclesiastical architect Thomas Poole. Its green copper dome is a familiar sight when traveling north on the nearby Brooklyn-Queens Expressway. The stained-glass windows include renderings of Saint Cecilia, who is the patron saint of music; according to legend, she was a martyr in second-century Common Era Rome.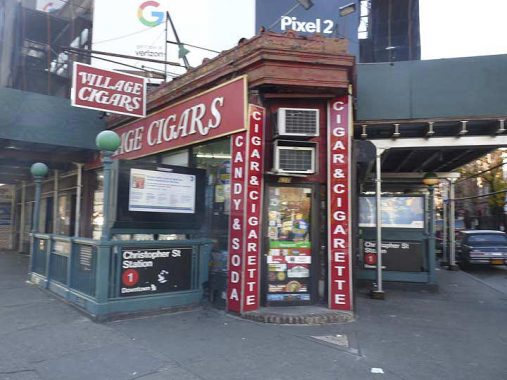 7th Avenue South was created in the early 1910s when 7th Avenue was plunged south from its original source at Greenwich Avenue and West 11th south to connect with Varick Street. This was done when a cut and cover trench for a southern extension of the IRT Subway was being built. 7th Avenue South was gouged through the Village in Moses-ian fashion, creating several new spiderwebs of intersections. Prior to 1914, 7th Avenue ended its southern run at Greenwich Avenue and West 11th Street, as seen here. 
a similar thing happened in the late 1920s when the IND subway was built under 6th Avenue, which was alos extended south to Church and Franklin Streets, the southernmost point any numbered Manhattan avenue goes. However, 6th Avenue was renumbered; 7th Avenue wasn't, and 7th Avenue South got its own set of house numbers; to this day, there aren't many addresses on it.
I imagine "7th Avenue South" sounded better to city planners than "South 7th Avenue."

A few years ago I walked around Battery Park City and got a few dozen pictures, but never used them and I believe a hard drive swallowed them. I really should revisit it because BPC takes pains to divide itself from the rest of town, with its own street grid, street sign design, numbered streets (1st, 2nd and 3rd Place) and distinct atmosphere. It's also got a Street Named For Another Street, Little West Street, which runs from Battery Place north to 3rd Place and is separated from the mega-wide west Street by the Hudson River Greenway.
Check out the ForgottenBook, take a look at the gift shop, and as always, "comment…as you see fit."
3/16/21