Different cities have patterns of street naming. Boston is fairly haphazard — there are five Washington Streets, repeats of other names, and very few, if any, numbered streets. Philadelphia's major north-south streets going west from the Delaware River are numbered, with major exceptions like Broad Street. It's a large city by area—named streets are interrupted frequently— and a street in one neighborhood has another piece in a separate neighborhood miles away, which must frustrate cabbies. Washington features letters, numbers, names, and states' names about equally.
Numbers dominate two NYC boroughs (Manhattan and Queens), there are large "numbered" areas in large swaths of Brooklyn and the Bronx, and few numbers in Staten Island except 1st through 10th in New Dorp. Signers of the Declaration of Independence can be found on street signs in Williamsburg and Bedford-Stuyvesant in Brooklyn, while the southern side of the borough unimaginatively features letters and numbers. In Eastchester in the Bronx, you'll find early NYC mayors. In Rosebank, Staten Island, classical composers; in New Springville, 1960s-era astronauts; in New Brighton, US presidents in the 1840s and 1850s.
And, sprinkled around, you'll also find streets named for other streets. I can't explain the phenomenon: why not give a street a separate identity instead of sowing confusion by giving it the name of another street? In NYC's case, only three streets have other streets named for them, but there are a total of seven streets that are named for other streets. You'll see what I mean…

East Broadway runs from Chatham Square, where the Bowery also begins, northeast to Grand Street. It was originally named for Harman Rutgers, brewer and member of the locally prominent Rutgers family (Henry Rutgers and Catherine Rutgers are also remembered this way).
For most of its route East Broadway was paralleled by Division and Hester Streets, which formed the dividing line between the street grids of the Lower East Side and the Williamsburg Bridge area, but both Hester and Division were cut back by the construction of the Seward Park Houses in the 1940.
Speaking of Seward Park and Straus Square, where East Broadway meets Canal Street, probably the greatest concentration of interesting buildings on East Broadway can be found here, including the Forward Building.
The word Forverts, or Forward, in Hebrew characters is spelled below the clock at the roofline. The building was designed in 1911 by architect George Boehn to house the offices of the influential then-daily founded by Abraham Cahan in 1897. It quickly became the most influential newspaper in the Jewish community and was an early example of advocacy journalism, fighting to eliminate sweatshops, supporting the labor movement and battling corrupt politicians. The Forward moved uptown years ago and the building then housed the Chinese Center and then became upscale living space.
For a complete history of the Forward and this building, see its NYC Landmarks Designation Report.
Likenesses of four prominent Jewish socialists appear above the front entrance: Karl Marx, Friedrich Adler, Ferdinand Lassalle and Friedrich Engels.

In NYC, all Broadways are a hommage to the original that begins at Bowling Green and runs up the center and western parts of Manhattan island and, as Route 9, goes almost all the way to the US border with Canada. Brooklyn's Broadway runs from Williamsburg through Bushwick to East New York, and is under an el most of the way; in the Bronx, Broadway is a northern extension of Manhattan's; Queens' Broadway goes from Ravenswood, Long Island City to the heart of Elmhurst at Queens Blvd. and Grand Avenue; and in Staten Island it's a two-lane road, moderately trafficked but not a main artery, in West Brighton and Livingston.
West Broadway is an amalgam of several former streets: College Place, Chapel Street, and Laurens Street. The streets were grouped under the moniker West Broadway around 1841 or so, with the piece running between Bleecker Street and Washington Square South becoming South 5th Avenue for a time before becoming LaGuardia Place in 1967.
There is a vast difference from the West Broadway in the early 20th Century and the present one: from the 1880s through about 1936, West Broadway was shrouded and sooted by the Sixth Avenue El, which ran over it from Murray Street north to West 3rd, where it jogged west to 6th Avenue. Since 1918, the IRT Seventh Avenue line has run under West Broadway from Leonard to Vesey Streets, so for almost 40 years, the avenue had both a subway and an el.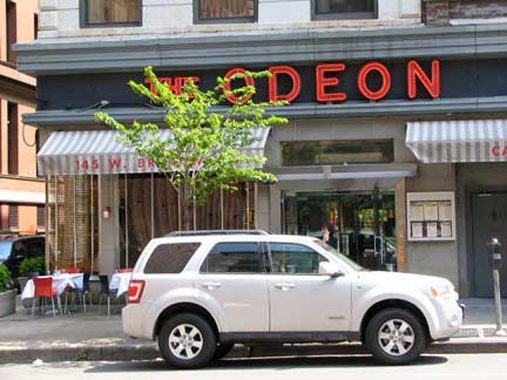 The Odeon (former Towers Cafeteria), at West Broadway and Thomas Street. The restaurant was made famous by Jay McInerney in his 1984 novel Bright Lights, Big City. I've never been in. Early on in Forgotten NY history, I almost had the opportunity to get into the Odeon as a woman who liked the site was talking about having lunch with me there but alas, it didn't transpire.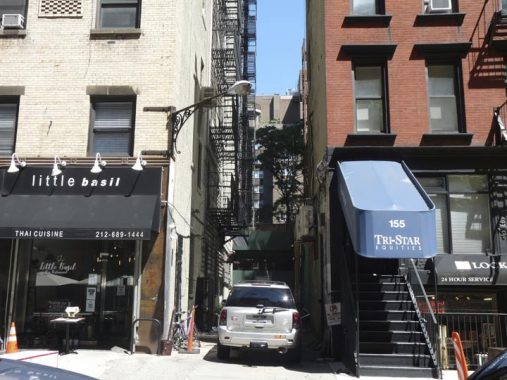 Broadway Alley, between East 26th and 27th just west of 3rd Avenue, by some accounts, was laid out as early as the 1830s as a break between surrounding buildings. By 1909, mapmakers began showing the name "Broadway Alley." There had been individual dwellings on the east side of the alley. Today, just one remains.
Broadway Alley is approximately five blocks east of the actual Broadway, which is the longest street in Manhattan and the Bronx. There is speculation that along the way, it acquired the name because local property owners wanted to impart a gay, (in the 'upbeat' sense of the word) theatrical aura to the place. However, as you might expect, in its almost 2-century history, it has been home to prostitution and crime. It was once lined on its east side with stables and tenement houses. A story holds that the Barnum and Bailey Circus had kept their elephants in the alley at one time.
#8 Broadway Alley, the only address. Of the tenements that used to line the east side of the alley, only one, #8, remains. Presumably #2, 4, 6 have been lost to time. In 2012, #8 was home to The William Morrison Communications Agency, but by 2021 that seems to be kaput.
On a Manhattan Byway, Feeling Dirt Beneath Feet [NY Times from 2005]

A block east of Broadway itself between West 193rd Street and Fairview Avenue where Washington Heights meets Inwood runs a one block street, lined with apartment buildings, called Broadway Terrace. Both Broadway Terrace and Fairview Avenue traverse steep hills and bordering apartment buildings, fronting on nearby Wadsworth Terrace, depend on massive superstructures.
A V-shaped plot is formed by Broadway Terrace and Fairview Avenue. Note the Flatiron-esque apartment house and steep steps as Broadway Terrace meets the scarp.

Why is there an Old Broadway in Manhattanville? Isn't Broadway itself pretty old?
Very. It follows the path of a trail known in colonial days as Bloomingdale Road, which started at about where Madison Square is now, at 5th and 23rd (before these streets were mapped or cut through of course) continuing along the present path of Broadway to 86th Street, where it veered east, running between today's Broadway and Amsterdam Aves. At 104th St it again assumed Broadway's present route until 107th, where it turned northwest until meeting the present path of Riverside Drive, following it to 116th. Here it turned northeast again, crossing Manhattan Street (today's 125th Street) as Old Broadway. From 133rd Street it ran slightly east of the present Broadway to Amsterdam and 144th Street (today's Hamilton Place is another remnant) and ended at St. Nicholas Avenue and 147th Street.
As the area became more populated, and Bloomingdale Road was straightened and widened into the Broadway we know and love today in the 1870s, a bend in the road between 125th Street and 133rd Street was left over…which became Old Broadway.
Two "slices" of the old Bloomingdale Road persist. One is Old Broadway, which till the 1940s ran from WEst 125th continuously in a bent path to West 133rd. But when the Manhattanville Houses were built in the 1950s, it cut Old Broadway in two. The more interesting southern section runs from West 125th north to West 129th…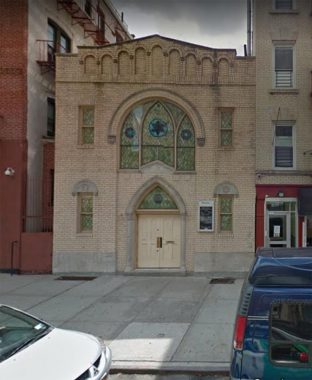 …I say "more interesting" because that section has Harlem's only synagogue, Old Broadway Synagogue, incorporated in 1911. The present building dates to 1923. Jewish populations held firm in Manhattanville decades after they had abandoned Harlem.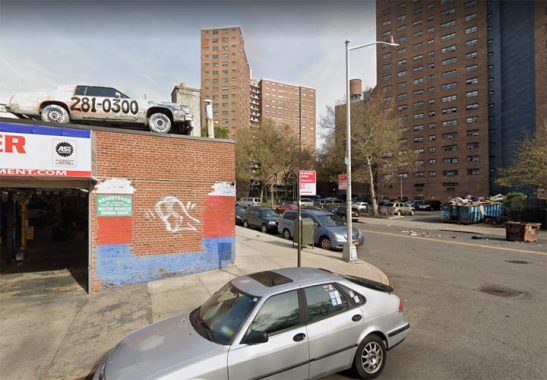 The northern "piece" of Old Broadway is fairly uninteresting, running along the Manhattanville Houses, beginning and ending at auto repair joints. One has a car on the roof.

Shore Road Drive can actually be considered one of the more picturesque roads in Brooklyn still open to auto traffic, with the closure of the roads in Prospect Park. It runs from 4th Avenue and 66th Street, at the west end of Lief Ericson Square, west to its junction with the Belt Parkway, which since 1940 it has served as an approach and exit road. It doesn't look like a road associated with pedal to the metal Belt Parkway traffic, though, twisting and turning uninterrupted among grass and trees. At intervals, it is bridged by ornate arches that carry 3rd Avenue and Ridge Boulevard; a third, connecting Colonial Road with the Brooklyn Navy Yard, was lost decades ago.
It's a vestige of an early effort to build picturesque carriage roads around Brooklyn. Fort Hamilton was originally going to be one such, but evolved into the truck exhaust dominated roadway we have today. Only Ocean and Eastern Parkways are manifestations of this one-time effort. Until the 1920s, Shore Road Drive was called Bay Ridge Parkway, until the name was flipped in the 1920s to 75th Street (which native Ridgeites still call it). The somewhat awkward moniker Shore Road Drive was applied to the former Bay Ridge Parkway, and it never had a formal street sign until the 1980s. Even when the title card photo was taken, the Department of Transportation was confused about what to call it. Moreover, Shore Road Drive kept its collection of castiron lampposts for a few years after the rest of Bay Ridge had converted to mercury vapor lamps in the 1960s.
Brooklyn historian Henry Stewart has the complete story of Lief Ericson Park and Shore Road Drive, and I do mean complete. Make yourself a sandwich and a cup of tea before tackling it.

Shore Road Lane is a dead-end cul-de-sac on Shore Road, hence the moniker, just north of 86th Street and just south of Fort Hamilton High School. The lane was built in 1941, when the high school was built, replacing the old Crescent Athletic Club.
The city could just as easily called it Shore Lane, but perhaps there was another street by that name on the books in the 1940s.

Grace Court Alley proceeds east to a dead end from the east side of Hicks Street south of Remsen. It is not exactly on the same line as Grace Court, which is across Hicks and named for the nearby Grace Church, and the two may have developed independently of each other. I'm not sure when it acquired its awkward name.
Like Manhattan's Washington Mews and Macdougal Alley, it was a lane that originally held stables serving buildings on paralleling streets. Long ago the stables were converted into carriage houses, and today fetch prices unimaginable to the artisans who built them in the 19th Century. Most of Grace Court Alley's north side and all of its south side are given over to these carriage houses.
There you have it, seven streets named for three other streets. Are there any more around town? There must be…check out the ForgottenBook, take a look at the gift shop, and as always, "comment…as you see fit."
There's more: NYC's "Little" streets
3/14/21