On this 22nd anniversary of Forgotten New York, I'll turn to one of the items that got me started on this thing a couple of decades ago, a remaining Type F castiron pole on West 13th between 6th and 7th Avenues in the Village. The oldest lampposts (or lamppost designs) in NYC are classified by letters A through G. These "reverse-scrolled" lights formerly lit Manhattan's and Bronx's side streets by the thousands; they were employed less in the other borughs (Brooklyn actually had its own early 20th Century design).
This one has been granted preserved status by the NYC Landmarks Preservation Commission, and so cannot legally be removed. It's lost a finial (the decorative element at the top of the shaft) and I don't think its incandescent bulb has been replaced in years. Its Westinghouse AK-10 "cuplight" was likely installed from 1945-1955.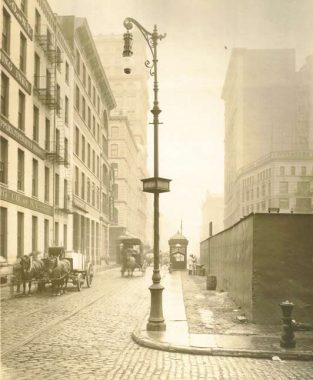 The Department of Transportation has recently returned to this design for new posts installed along 8th Street in the Village, Wyckoff Avenue on the Bushwick-Ridgewood border, and Metropolitan Avenue in Middle Village, but even the new edition is used sparingly compared to the Corvington and Bishops Crook designs.
Check out the ForgottenBook, take a look at the gift shop, and as always, "comment…as you see fit."
I earn a small payment when you click on any ad on the site.
3/26/21