The following is an expansion of an article that appeared in SpliceToday, December 30, 2020. I walked from the 71st/Continental Avenue station (E/F/M/R) to the Jamaica LIRR station.
In the days before Christmas I set off down the Boulevard of Death, aka Queens Blvd., for a walk. Queens Blvd. attained its 10-lane width in the 1920s and 1930s and its take-no-prisoners traffic spelled the end of the line for dozens of pedestrians before calming measures such as bicycle lanes, lengthier "walk" times at crossings and fencing preventing jaywalking helped alleviate things somewhat.
On this journey I began in Forest Hills and skirted the neighborhood of Kew Gardens. The neighborhood was inspired in layout by the London suburb that gave it its name. It was conceived and developed in the 1890s by Manhattan lawyer Albon Platt Man and later by his son, Alrick Man, and features block upon block of Spanish Colonial, Italianate, Dutch Colonial, Tudor, and Japanese-style homes, as well as a cluster of apartment complexes in the vicinity of the Kew Gardens LIRR station.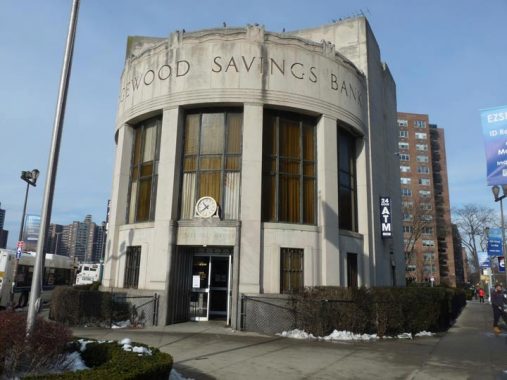 In Historic Preservation in Queens by Jeff Kroessler and Nina Rappoport (Kroessler is a former board member of Forgotten NY's associated group, the Greater Astoria Historical Society), the Ridgewood Savings Bank branch at Queens Boulevard, 108th Street and 70th Road and is described as "without a doubt one of the most handsome commercial structures in the entire borough." It was designed by the firm Halsey, McCormick and Helmer, Inc. and dedicated in 1939. That firm also designed One Hanson, the Williamsburg Bank Tower in Brooklyn. It's a designated NYC Landmark.
The Midway motion picture theater, built in a distinctive Streamline Moderne style, was built at 108-22 Queens Blvd. It was named for the WWII Battle of Midway and opened the same year, in December 1942. An interior remodeling in 1997 stripped it of its original furnishings, but the old exterior is still intact.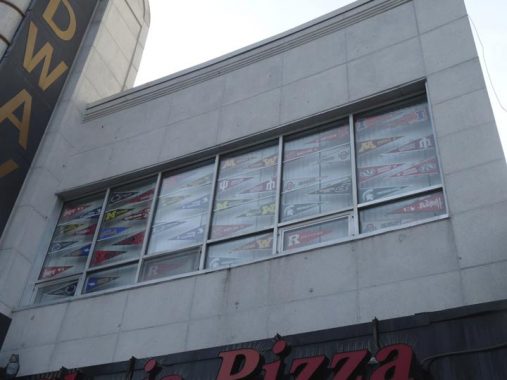 Someone in Midway management must be a college football fan.
Its neighbor Gloria Pizza is a Queens touchstone as it was a beloved, high-quality pizzeria in Flushing between the 1970s and 1990s. The son-in-law of the original owner reopened it next to the Midway Theater in 2018.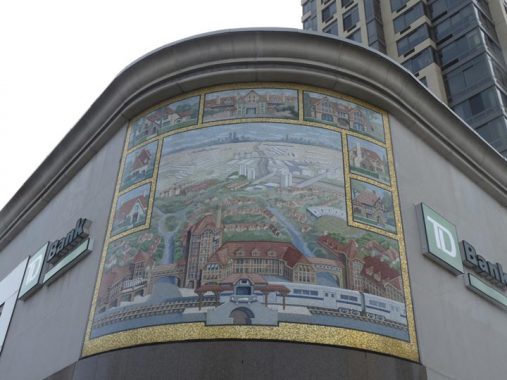 Muralist Richard Haas' work depicting Forest Hills Gardens has appeared on the bank on the southeast corner of Queens Blvd. and 71st Rd. since 1989. Haas, whose murals can be found at Chase Field in Phoenix, as well as courthouses, government buildings and department stores in Chicago, West Virginia, St. Louis and Munich, Germany, explained that he was attracted to Forest Hills Gardens because of its European garden model.
In 1909 Cord Meyer, the developer of nearby Elmhurst, sold 100 acres south of the Long Island Rail Road to the Russell Sage Foundation, which commenced to piece together a nearly self-contained community, Forest Hills Gardens, from 16 former truck farms throughout the 1910s and 1920s. Winding streets, Tudor brick buildings, and short, cast-iron streetlamps and street signs make the development unique in New York City.
The mural shows the Forest Hills Inn, Station Square and a passing LIRR train in front, depictions of separate Gardens buildings in panels on the sides, and Forest Hills Stadium on the right and the Manhattan skyline, including the former Twin Towers, in the background. The bank is located on the site of the Stratton, a once-famed Forest Hills nightspot.
The parish of Our Lady Queen of Martyrs was founded in 1916, with the current Romanesque church building at Queens Boulevard and Ascan Avenue dedicated in 1939.
Ascan Backus was once of the first settlers in what became Forest Hills Gardens, in the early 1800s. He was called the "King Farmer" of Long Island for his many properties. He immigrated from Germany in 1814 (the family name was originally Backhaus). Though Ascan Avenue was named for him, it was his son Frederick who helped develop FHG in partnership with Cord Meyer; when the avenue was laid out, he named it for his father. Frederick named his son Ascan Backus II. I seriously doubt if the Forest Hills Backuses are related to Jim "Mr. Howell" Backus of Gilligan's Island and Mr. Magoo fame.
The 31-story high rise at 110-11 Queens Boulevard was built in 1964 as was called the Kennedy House, no doubt for the recently assassinated president John F. Kennedy.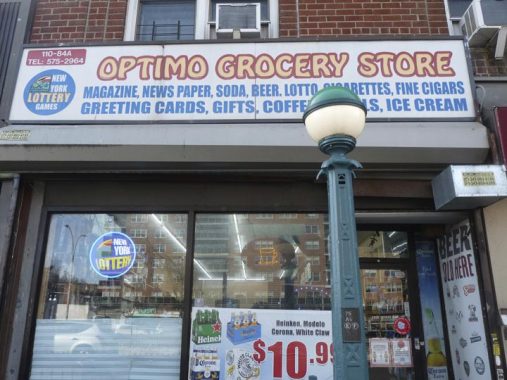 This "cigar store" sign is set in Hobo, a typefont developed by Morris Fuller Benton in 1910. It's reminiscent of the font used on the entrances of some of the older Metro stations in Paris (I've seen photos). For many years, I've seen newsstands with the huge word "Optimo" featured on the sign, and when I was a kid I assumed someone named Optimo owned the place. It's actually a "privilege" sign as Optimo Cigars, and later the companies distributing Optimo, paid for the sign. For Optimo history, we turn to The Indispensable Walter Grutchfield:
Optimo was a popular cigar brand manufactured by A. Santaella & Co.. Mostly they manufactured from a factory in Tampa, Florida. The owner was Antonio Santaella (1863-1948), an immigrant from Spain. According to a passport application from 1920 Antonio Santaella was born in Spain 8 January 1863, and immigrated to the US, sailing from Havana, Cuba, October 1880. He became a naturalized citizen in Kings County, Brooklyn, 9 February 1886. On his death in 1948, the following appeared in the New York Herald Tribune, 29 January 1948, pg. 20, "Tampa, Fla., Jan. 28. – Antonio Santaella, eighty-five, owner of the Optimo Cigar Company of New York, died Sunday night in a hospital here. A native of Seville, Spain, Mr. Santaella came to the United States at the age of seventeen and entered the cigar business. He had factories in Tampa and Clearwater Fla.
Optimo sold to Universal Cigar in 1964, and in turn Universal was acquired by Swisher International in 1986.
There really should be more landmarked firehouses around town, but at least we have this one, Engine 305/Hook & Ladder 151 at Queens Boulevard and 75th Avenue. It was built in 1923 during the John Hylan mayoralty. It was built in what Historic Districts Council describes as a "neo-Medieval" style, designed by John Sliney, opposed to the Georgian favored by most firehouses built during this era.
#112-03 Queens Boulevard at 75th Avenue, a.k.a The Pinnacle, rivals the old Williamsburg Tower (One Hanson) in Brooklyn as a House of Pain: there are a number of oral surgery practices here.
Four modified Corinthian columns set off the Medical Society of the Covnty of Qveens, complete with the "Vs of Importance" on the chiseled roofline sign, at #112-25 Queens Boulevard.
Outside of New York City, I doubt you see many signs advertising "bialys" and "appetizing." A bialy resembles the better-known bagel, but has a depression, not a hole, in the center like a bagel, and it comes with a filling such as onions or poppy seeds; is simply baked without boiling (bagels are boiled before baking). Bialys can be served with cream cheese, smoked fish or other extras, but many prefer them alone. Bialys were originated in Bialystok which has been in Poland, Germany or Russia depending on who was conquering who.
Note that the usual English orthography is thrown out the window. Usually, y with a consonant in front of it changes to "ie" for the plural, but "bialies" would look sort of awkward, so "bialys" it is.
"Appetizing" is one of the few words ending in "-ing" that can be used as a noun, as well as "inning." In Jewish food store lingo, it comprises foods that can be put on bagels, such as lox (smoked fish), and cream cheese. Kosher delis skip the cheese products in combination with the lox or any other meat.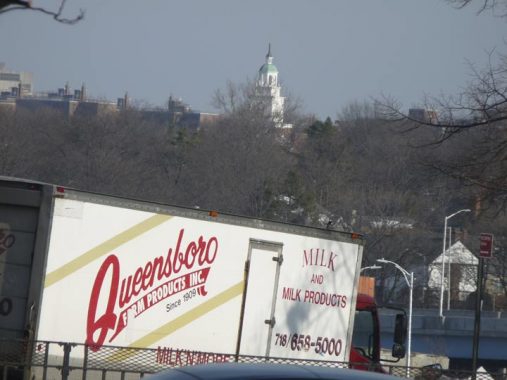 The tall tower of the Queens County Savings Bank, across Flushing Meadows-Corona Park at Main St. and 76th Ave., can be glimpsed from miles away in Forest Hills. This flagship of the QCSB was constructed in 1953 and was modeled after Independence Hall in Philadelphia. In fact, it has a Liberty Bell model in the lobby.
Kew Gardens Road begins at Queens Boulevard and Union Turnpike, which here is the service road for the Jackie Robinson (Interboro) Parkway. It angles southeast, skirting the edge of Maple Grove Cemetery, and connects Kew Gardens with Jamaica.

Kew Gardens Road is old indeed and harks back, perhaps, to the colonial era. It was originally part of Whitepot Road. You can see it on this 1852 Dripps map, which I have conveniently labeled.
"Whitepot" was part of the Township of Newtown. A legend says that it was called Whitepot because it was purchased from the Indians for the cost of three white pots, but its actual original Dutch name was "Whiteput," which means "hollow creek." When the English took it over, the name was Anglicized.
From 57 years later, here's a 1909 map. There's more of a street grid and Maple Grove Cemetery has been added as well as the Long Island Rail Road.
Queen of Queens Boulevard. The corner of Kew Gardens Road and 80th Road is named after Joseph W. Queen, a Newsday reporter who died in 1996; the corner was dedicated in 2001.
PS 99, at Kew Gardens Road and 83rd Avenue, originated in a one-room wooden schoolhouse on Cuthbert Road, while its current brick school building opened in 1924.
When Albon and Alrick Man developed Kew Gardens, many of the streets were given British-sounding names, and many have kept theirs such as Mowbray Drive., which stands in for 83rd Ave. between Austin Street and Kew Gardens Road A glance down the west end of the street reveals the Long Island Rail Road Kew Gardens station, a handsome, hip-roofed station building supported by Doric columns that opened in 1909 and replaced the Hopedale station, which was eliminated when the LIRR main line was rerouted. Charlie Chaplin lived on Mowbray Dr. during the years of his initial fame, 1915 through 1922.
The oldest section of Maple Grove Cemetery, facing Kew Gardens Road, was established in 1875 as part of the "rural cemetery" trend, with winding roads, pleasant vistas and beautiful plantings pioneered by Green-Wood Cemetery in Brooklyn and Mt. Auburn Cemetery in Cambridge, MA and including Woodlawn in the Bronx. Its administration building, seen here at KGR and Lefferts Boulevard, was designed by James E. Ware in 1880.
Though Maple Grove doesn't quite have the star power of Green-Wood or Woodlawn, it's the final resting place of pop singer and Rock Hall of Famer LaVern Baker ("Tweedle-Dee," "Jim Dandy"), "Winnie Winkle" cartoonist Martin Branner, "Archy and Mehitabel" creator Don Marquis, New York Knicks star Anthony Mason, Broadway songwriter Vincent Youmans ("Tea For Two"), former slave Millie Tunnell, who lived to the age of 111 (1785-1896), and chess and puzzle king Sam Loyd. The Man family, who conceived Kew Gardens, is here.
The Cemetery was established in a then-rural area of Queens by a partnership headed by Colonel William Sterling Cogswell. Land was purchased from the Webb family. As of 2020 there were over 80,000 interments, still a far cry from Calvary Cemetery further west, whose "guests" number about three million.
I enjoyed a pleasant walk around Maple Grove on an early winter afternoon. Amid the Covid Pandemic, no one was walking about except me. I found many stones with prominent Queens names such as Backus (see above) Snedeker (which is on the Brooklyn street map as "Snediker" and formerly, Woodhaven's) and Stier (a Paul Steir developed block after block of residential housing in Ridgewood).
One of Maple Grove Cemetery's more intriguing traditions is a relatively new one: on its western end, a number of "story stones" have been placed, following the 2001 terrorist attack, to commemorate those in unmarked graves. When you visit a cemetery, bear in mind that hundreds of gravesites have been left unmarked for one reason or another; perhaps their families could not afford markers. One of the stones remembers George Washington Johnson, the first successful African-American recording star.
Toward its southern end, Kew Gardens Road enters a little neighborhood that's not quite Kew Gardens, not quite Richmond Hill, and not quite Jamaica. At the Van Wyck, you will find The Cats tire repair shop.
The Jamaica-Van Wyck station, serving an extension of the Queens Boulevard Line E train to Parsons-Archer, is one of the newest stations in the system and since it opened December 11, 1989, that's saying something. The station continued the MTA's fascination with red/orange brick from the Bowling Green and 49th Street stations.
At the end of Kew Gardens Road at Jamaica Avenue, Metropolitan Avenue also meets the eastern end of its route. Metropolitan Avenue is one of the lengthiest roads between Brooklyn and Queens. It was first built in 1815, give or take a year, as a toll road and was known along much of its length as the Williamsburg and Jamaica Turnpike until the mid-1800s, when it was bestowed its current name. It runs from the East River to Jamaica Ave. and along the way, marks the southern limit of Newtown Creek, and runs through Lutheran/All-Faiths and St. John's Cemeteries, as well as Forest Park. It's the spine of several communities—Williamsburg, Middle Village (so named because it was midway between Williamsburg and Jamaica), and Kew Gardens, and forms the boundary line between Ridgewood and Maspeth.
A look at some longstanding signage on Jamaica Avenue /89th Avenue east of the Van Wyck Expressway.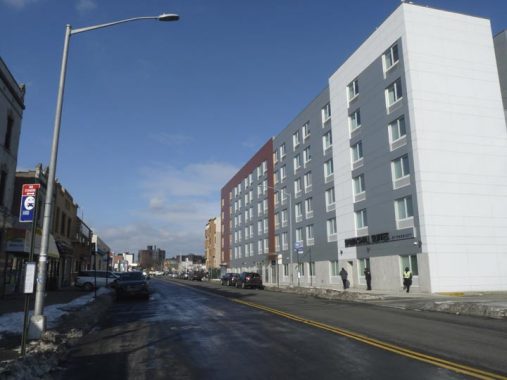 Fittingly, the Queen's House sits on Jamaica Avenue at the south end of Queens Boulevard. By the time it gets here, the once ten-lane behemoth is reduced to two, plus the parking lanes. This building has all the earmarks of being a hotel or lodging at one time, but today it's merely an apartment building.
I have mentioned them before but every time I'm in this area I check to see if the 3-block stretch of 89th Avenue between 144th Street and Sutphin Boulevard is still paved in red brick, the largest collection of red brick pavement remaining in NYC. I first saw this in 2000 and here in 2021, they're mostly hanging in. This area is a former private development called Everett Park.
The last time I was called for jury duty, in 2015, I was told to report to the new Civil Court building on Sutphin Blvd. and 89th St. On this occasion, there was a special "treat" waiting for me because our case was going to be adjudicated in the older Queens Supreme Court Building north of the Civil Court.
This building that looks older than it actually is. It was built beginning in 1936 and wasn't finished until 1942; the first case was held in the building March 7, 1939, just a month or so before the first World's Fair opened in Flushing Meadows. The architects were Alfred Eccles and William Knowles who, with Dwight James Baum, had previously designed the Flushing Post Office on Main St. The building was partially funded via a $2.2 million grant from the Works Progress Administration out of a total cost of $4.8 million. It was built in a classical style with eight massive Corinthian columns flanking the entrance, whose doors have depictions of historic lawgivers Hammurabi, Confucius, Moses, Manu, Gaius, Mohammed, Edward I and Grotius.
I didn't take many photos of the interior since cops, many of whom dislike photographers, were around in numbers. I take a camera everywhere, though, and snapped two murals seen from the staircase featuring "Mosaic Law" and "Constitutional Law" (shown here) lawmakers. Figures from the 18th and 19th centuries appear side by side in the Constitutional mural, but don't seem to want to have much to do with the other. Both murals are by Vincent Aderente, who also painted the Queens neighborhood murals in Flushing's Main St. post office.
Time to get a train back to Woodside. There's been a Jamaica station on the Long Island Rail Road since its beginnings in the 1830s, and it's become the main hub of the railroad since then (though the Port Washington branch doesn't go here). This handsome brick station was built in 1913, and I didn't include the monstrosity built in the 1990s next to it, which overhangs all the hub's platforms. Its redeeming feature is an overhead walkway connecting the platforms. In the early 2000s it was joined by the AirTrain station, with those trains providing nonstop service to Kennedy Airport.
As always, "comment…as you see fit." I earn a small payment when you click on any ad on the site.
5/9/21