HESTER is name not commonly given to girls anymore, but it has a lengthy history; it's a variant of the Hebrew name Esther, which translates to "star." Many Hesters have been nicknamed "Hetty." Likely, the most famed Hester was Hester Prynne in Nathaniel Hawthorne's classic novel "The Scarlet Letter" in which she wore an A for "adultress." In 1975, the drama film Hester Street gave comedienne Carol Kane her first big starring role and an Academy Award nomination. It's on the street the film is named for that I walked in the bottom of winter in February 2021, after noticing I had never walked its length before. (The street is relatively short, and on a busy weekend, I preferred a shorter feature page this week, as well!)
In Manhattan, Hester Street is generally in the Little Italy neighborhood, running from Centre on the west to Essex in the east, a block north of Canal. The street formerly continued further east to an intersection with Division and Clinton Streets, but the space is now occupied by Seward Park and the Seward Houses. On maps, it's indisputably part of Little Italy (see below) but it can also be thought of as northern Chinatown.
The street is named for Hester Leisler, whose husband Jacob assumed the lieutenant governorship of New York in 1688 after British King James II was overthrown by William of Orange in 1688. Leisler was later betrayed by William and was hanged (some accounts say stake-burned) by William's allies in New York. Hester Leisler remarried, to landowner Barnet Rynders, and when city streets were built on his property, he had one named for his wife.
Hester Street, looking west from Essex Street.
Speaking of Chinatown, translation, please, for this sidewalk sign and the signs suspended on the fire escape at Hester and Ludlow. Hester Street's house numbers run from east to west and since the first address encountered is #32, you can tell the street's eastern end has been eliminated.
I have really begun to seek out street signs carved, embossed or otherwise attached to buildings, like this one at #31 Ludlow, corner of Hester. Since most were placed there before 1910, they often mark streets that have since changed their names, though that's not the case here. Some of these are true pieces of functional art that involved painstaking craftsmanship. We'll never know the unrecorded name of the person who rendered this.
And, there's more such craftsmanship to be seen in the street address plates and the entire PS 42, facinh Hester between Orchard and Ludlow, a masterwork by schools architect C.B.J. Snyder in 1898. The building originally held 42 classrooms able to accommodate 1890 seats, or 45 children per room. The toilets were still outside the building until the 1940s, and a coal burner was used until the 1990s.
In 1916 this school was named for Benjamin Altman, who opened the B. Altman dry goods store on 6th Avenue and West 19th Street in 1877. The store later moved (1902) to 5th Avenue and East 34th Street. Though B. Altman closed in 1989, both of its buildings are still standing. Altman's first business was on nearby Attorney Street.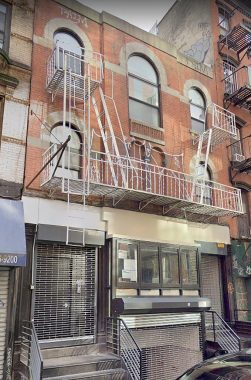 70 Hester, west of Orchard, was home to the First Roumanian-American Synagogue from 1881 to 1902, after which it moved a short distance to Rivington Street, where it remained until a 2006 fire.
Mendel Goldberg Fabrics was established in 1890. The sign isn't that old, but I like its Baskerville and Futura fonts.
The store is a junglelike collection of fabric-filled shelves covering entire walls. There are woolens in every color, beaded laces that sell for as much as $1,600 a yard, and uncommon fabrics that the store's four staff members can identify with a quick glance. In the basement, off-season and overstock fabrics are stored beside unsold fabrics from as far back as the 1950s. Mendel Goldberg
At Eldridge Street and Hester we come to a rather ridiculous schools complex that dominates a complete block and eliminated part of Forsyth Street, consisting of three schools, each of which has its own huge bay, or curved protuberance.
The school housed here is called the Emma Lazarus School. Her sonnet honoring the Statue of Liberty was inscribed on a plaque placed on the statue's granite pedestal in 1903. Though she passed by the statue on a ship while returning from Europe in 1887, a year after Liberty was dedicated, Lazarus (1849-1887) was too ill to actually see the "New Colossus" because of Hodgkin's lymphoma, which claimed her life at age 38. If you haven't read it in school it's a short and dramatic piece of poetry:
Not like the brazen giant of Greek fame,
With conquering limbs astride from land to land;
Here at our sea-washed, sunset gates shall stand
A mighty woman with a torch, whose flame
Is the imprisoned lightning, and her name
Mother of Exiles. From her beacon-hand
Glows world-wide welcome; her mild eyes command
The air-bridged harbor that twin cities frame.
"Keep, ancient lands, your storied pomp!" cries she
With silent lips. "Give me your tired, your poor,
Your huddled masses yearning to breathe free,
The wretched refuse of your teeming shore.
Send these, the homeless, tempest-tost to me,
I lift my lamp beside the golden door!"
Also facing Hester at Forsyth is the Dr. Sun Yat-Sen Intermediate, or Junior, High School. Sun (1866-1925) was the founder and first president of the first Chinese republic, after the 1911 overthrow of the dynastic system that had ruled China for millennia.
Thou shalt not pass: Hester Street is one-way eastbound, but you cannot drive from Centre straight through to Essex. It's interrupted twice, by Sara D. Roosevelt Park, shown here, and there's also an interruption at Allen Street. Before Sara Roosevelt Park was built, its site contained cemeteries, synagogues, and a short-lived luxury hotel tower. Forsyth and Chrystie Street follow the park's length, offering historic buildings that withstood the neighborhood's demographic changes and urban renewal schemes (see link).
Two different housing architectural philosophies are displayed at Chrystie and Hester Streets. The big glassy box in the background is an entry in the Wyndham Gardens hotel chain, and the neighborhood youth have already had a graffiti go at it.
There's a lot of sign "layerage" at Hester Street and the Bowery. There's the handlettered Chung's Candy & Soda Stand with a decades-old 7 Up logo; the Rx, which generally means prescriptions are available, refers to the Bowery Pharmacy, and finally the vinyl Sunrise Yuan Gift Shop sign.
Which one's landmarked at Bowery and Hester? It's the 5-story building in the center, #97 Bowery, an Italianate style building constructed in 1869 for the John P. Jube carriage business, which remained here until the 1930s, so it predated the 3rd Avenue El and darn near outlasted it. Check the link for a history of the Bowery from the Landmarks Preservation Commission.
When worlds collide: East of Mott Street, Hester is as Chinese as Canal Street itself, but west of Mott is a stretch that gave Little Italy its name. The south side of Hester is dominated by the Original Vincent's, a restaurant that originated when Giuseppe and Carmela Siano sold goods from a pushcart. The restaurant began as a clam bar in 1904, the year the first IRT subway opened, and it has become a reliable touchstone and tourist locale. Frank Sinatra dabbled in the kitchen here, and Dean Martin, Tony Bennett and Robert DeNiro have been patrons.
I was drawn to #187 and 189 Hester Street, just east of Mulberry, which are both painted in the red, green and white tricolor found on the Italian flag. At 187 is Puglia Ristorante, which was the subject of a FNY guest post a few years ago.
Classic residences along Hester in the Elizabeth-Mulberry-Mott trio of cross streets. Lampposts are often painted red, white and green in heavily Italian regions of the city.
Umberto's Clam House, #132 Mulberry, relocated here awhile ago from its former outpost at the NW corner of Mulberry and Hester Streets. The restaurant gained infamy in its incarnation there when mobster Joey Gallo was shot dead there in 1972:
Joey Gallo had celebrated his 43rd birthday at the Copacabana nightclub with a group of arty friends that included the actor Jerry Orbach, comedian David Steinberg, and columnist Earl Wilson. The party finished and Gallo, his bodyguard, and four women went to Little Italy in downtown Manhattan, looking for a place to eat. The only restaurant open was Umberto's Clam House on Mulberry Street, owned by the mobbed up Matthew 'Matty the Horse' Ianniello. Robert Daley, Deputy Police Commissioner, said the party ate 'Italian delicacies.' Gallo and his bodyguard, Pete Diapoulis, sat with their backs to the door. The assassin (from the Colombo mob family) put four bullets into Crazy Joey Gallo at about 5 a.m. Gallo staggered out the front door onto Mulberry Street, where he collapsed and died. Twenty shots were fired in all. The assassin escaped. Pete Diapoulas was wounded. He refused to talk to the police. The shooting left 'Little Italy' (the surrounding neighborhood) in an agitated state. Witness said they saw pistols in tenement windows. Deputy Commissioner Robert Dailey said, 'He made a mistake, Crazy Joe did. He should have gone home to bed last night.' Museum Planet
Note that "Crazy Joe," who is buried in Green-Wood Cemetery in Brooklyn, had a lot of showbiz friends. The line between fame and notoriety can occasionally be blurred, and what's right and wrong can sometimes be ignored. Bob Dylan eulogized him in a 1970s song.
There's also an Umberto's on Arthur Avenue in that borough's Little Italy, and when I was a kid, I once had lunch with my mother in an Umberto's branch at 86th Street and 16th Avenue in Bath Beach, Brooklyn.
One of the buildings I do like in Little Italy is this simple brick building on the NW corner of Hester and Baxter. Readers of FNY may know I'm a fan of stolid brick buildings like this one, former factories or warehouses converted to condos. That happened at this building in 2007, which was named the Machinery Exchange since after its 1915 construction, it served as machinery storage as well as stables for police horses just south of the old NYPD headquarters on Centre Street, itself converted to residential in 1984.
PS 130, NE corner of Baxter and Hester. C.B.J. Snyder is the likely architect if this is from the early 20th Century.
Hester Street at its west end, looking toward Centre Street and then a look east.
As always, "comment…as you see fit." I earn a small payment when you click on any ad on the site.
6/27/21