WHEN ambling around the area east of City Hall Park recently, I was surprised to find Theatre Alley completely open to the air and the elements, as opposed to the usual sidewalk sheds frequently found at construction sites.
Theatre Alley, running from Ann to Beekman just east of Park Row, at one time was the back entrance to the old Park Theatre (originally the New Theatre), which fronted on Park Row. It stood from 1798 to 1820; after a fire the theater was rebuilt the next year, and stood till 1848, when it once again burned down. At that time the Park Theatre was beginning to lose out to other theaters springing up along the Bowery uptown. The Astors, who owned it then, elected to not rebuild it. The Park opened in 1798 with a performance of Shakespeare's As You Like It. The alley served as the service lane for carriages bringing theatergoers to Park Theatre. But the carriages approaching each other from both sides of the narrow lane created NYC's first traffic jams ­ causing Theatre Alley to become NYC's first one way street!
John Howard Payne, composer of "Home, Sweet Home" was a frequent performer at the Park as a dramatic actor, as was Edmund Kean and his son Charles Kean, Junius Brutus Booth (father of famed actor Edwin Booth and Lincoln's assassin, John Wilkes Booth) and Tyrone Power (1795-1841), an antecedent of the famed screen actor of the 1930s and 1940s. Charles Dickens was feted at the Park on a visit to New York in 1842.
In Luc Santé's indispensable book, "Low–Life," he offers a description of Park Theatre:
The Park Theater was built on the model of the London stage, with a repertoire that naturally ran heavily to Shakespeare, as well as featuring the work of such successful comic playwrights as Colly Cibber and Richard Brinsley Sheridan. It was expensive for its time, with prices up to fifty cents for pit seats and a dollar for boxes. On its boards walked a collection of actors imported and domestic, many of whose names are familiar even now: Junius Brutus Booth, Edwin Forrest, Charles Kean, Ellen Tree, George Frederick Cooke, Thomas S. Hamblin, Tyrone Power (great-grandfather of the movie star), Charlotte Cushman, the Wallacks, Henry and James William, and the Kembles, Fanny and Charles. The Park was not merely the cynosure; for years it had no competition at all. It may have been elite, but it was scarcely exclusive, as the cheaper galley seats filled up every evening with the families of "mechanics" (this was the common term at the time for working men). In those days, and for another couple of decades, "le tout New York" would be literally that.
Since 1999 or 2000 — for over two decades — buildings on both sides of Theatre Alley underwent demolition or renovation and the alley was always covered with construction material. However, in 2021, work is wrapping up on 33 Park Row, a new residential tower to the west of Theatre Alley, and work has been completed on The Beekman at #5 Beekman Street.
At the SW corner of Nassau, Temple Court (or #5 Beekman) has been called one of NYC's lost treasures. Completed in 1883, it was an early adopter of fireproof building methods. Amazingly, its nine-floor atrium with cast-iron balustrades was completely abandoned for many years. It has been redeveloped as a luxury hotel and restaurant after many years of neglect. The building was built by banker/Irish immigrant Eugene Kelly, who had amassed the nineteenth-century equivalent of $630 million by the time he died.
Many of New York's foremost urban photographers have been granted access to the amazing atrium and have produced photos of this space that are truly incredible. (I doubt if I'll ever be allowed access.)
Way back in 1999, I snapped this photo on #1 Beekman, adjacent to Theatre Alley. However there was never a Victoria Theatre; this was simply a prop for a TV show or film being made during that era. The building where this appeared was demolished several years ago.
As we can see from this old map, Theatre Alley (circled in red) has been there for centuries and likely appeared in 1798 when Park Theatre was built. Interestingly the map (full version on Historic Map Works) is hand-labeled as being made in 1833; yet, the map is rather older than that. A little bit of research proves otherwise. Note that the street names are shown with the "long s" popular in orthography in the late 1700s. This style went out of fashion in about 1805 and from then on, letter "s" were printed as they are today. Another clue is in the street names, "George" for Spruce, or "Fair" for Fulton. A visit to Gil Tauber's essential Old Streets reveals that George became Spruce in 1817 and Fair became Fulton in 1816… long before 1833.
Thus, my estimated date for this map's publication is 1799, 1800, around that time.
So, what have we got on Theatre Alley in 2021? As the saying goes, there might not look like there's anything to write home to Mother about, but I did find a couple of things.
For one thing, Theatre Alley now has an address, at #10. This is the entrance to the Alley Cat Amateur Theatre, a combination "speakeasy" and theater space, in the basement of The Beekman. It's basically an exclusive bar with a performance stage.
Most of the drinks are classic cocktails infused with Japanese flavors, like the "tonkotsu old fashioned," which is made with pork fat-washed rum, wasabi, and plum, and the "Tokyo gin fizz," which mixes gin with shochu, lemon, egg white, sesame, and cherry blossom water. Eater
I think I live on a different planet from people who enjoy drinks made with pork fat, but NYC is composed of many different worlds.
Theatre Alley is lit today by a regulation octagonal pole and by this shorter one, in the style of poles usually found under overpasses. It's a shorter octagonal pole, but notice the yellow object at the apex. This feature is usually found at the top of pedestrian control stanchions (the ones that used to flash WALK and DONT WALK) and stoplights, and I've never seen one of them on a streetlamp. Comments are open if anyone knows their function.
Frying oil and canola oil used in cooking. According to wikipedia, canola oil is a vegetable oil derived from a variety of rapeseed that is low in erucic acid, as opposed to colza oil. There are both edible and industrial forms produced.
These window panes will likely be used in nearby construction.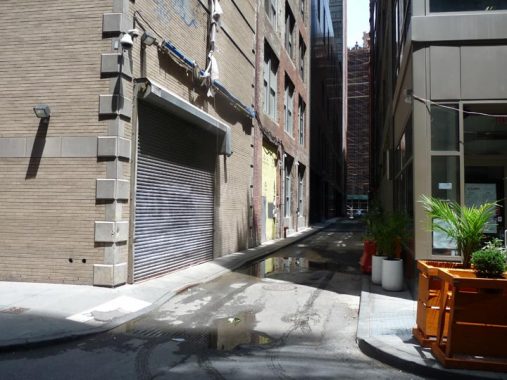 Theatre Alley's intersection with Ann Street used to be rather more interesting; for example, up to at least 2007, a porno palace could be found on the right corner. A look in 1940 also shows an interesting street scene. Note that Theatre Alley is marked one way!
For more on Theatre Alley, see Ephemeral New York.
As always, "comment…as you see fit." I earn a small payment when you click on any ad on the site.
6/29/21