FOR this FNY Crosstown post I selected 4th Street, which is the only numbered east-west street (that always had a number) to almost go river to river south of 13th Street. I say "almost" since West 4th stops short of the Hudson by about 4 blocks, and East 4th is stopped by the Jacob Riis Houses at Avenue D from proceeding on to the East River.
4th Street didn't always used to be nearly all the way crosstown. The portion west of 6th Avenue that runs through Greenwich Village used to be called Asylum Street. West 4th turns northwest at 6th Avenue and intersects 10th, 11th, 12th and 13th. The short story is that in the early 19th Century the Orphan Asylum Society stood on the street between Bank and Troy (12th) and the street that went past it was called called Asylum Street, and when the asylum was torn down in 1833, the city decided to make it a western extension of West 4th, creating illogical intersections when the other named streets also acquired numbers. Asylum Street had been previously renamed in 1813 from William Street, possibly to avoid redundancy with the William Street downtown.
Bob Dylan's 1965 putdown hit, "Positively 4th Street" came out the same year as his LP named for another route, "Highway 61 Revisited." It has never been "positively" cleared up, by Bob himself or anyone else, what 4th Street is in the title. It could be this 4th Street or it could be the one in Minneapolis, where he also spent a chunk of time.
To save myself – and you – time and sanity, I'll have to split up my coverage of 4th Street into several posts. I'll confine myself today to the section of East 4th that runs from Lafayette Street east to the Lillian Wald Houses at Avenue D, the easternmost section.
South of 8th Street, the divider of East and West numbered streets is Broadway, so this page will concentrate solely on East 4th. Taken as a whole, 4th Street has three distinct sections with three different "atmospheres:" between 8th and 6th Avenues is classic Greenwich Village, with narrow streets, townhouses, brownstones and stoops, and 4th Street runs through perhaps the Village-est spot of all, Sheridan Square. From 6th Avenue east to Broadway, 4th Street is dominated by Washington Square and New York University. East 4th runs through the East Village, jammed with walkups and apartment buildings that not too long ago were tenanted by people of modest means. Today that's changing as the area is transitioning into another upper middle class to downright rich region. It hasn't lost all of its quirks…yet.
The DeVinne Press Building, 393-399 Lafayette Street on the NE corner of East 4th, was completely wrapped in construction netting in September 2021. Fear not, I have a photo from an earlier outing. When researching the building, from my Photo-Lettering type days I remembered the Bodoni-esque DeVinne type font. Thomas DeVinne was a giant of print on either side of 1900, publishing then-popular but now forgotten magazines such as Scribner's, Century, and St. Nicholas Children's Magazine. The DeVinne name was famed for innovative type fonts and high-quality books and magazines.
The DeVinne Press Building boasts tremendously thick load-bearing walls as the building was completed in 1885, before the era of steel skeletons. Note the five different types of arched windows.
The NW 4th Street corner building, 400 Lafayette, is just another example of the casual excellence of this era's design. Another one from 1888.
Believe it or not I've never been inside the Federal/Greek Revival Seabury Tredwell House at #29 East 4th, built in 1832 for Joseph Brewster but later owned by merchant Seabury Tredwell, who left it to his spinster daughter Gertrude, who resided here until her death in 1933; she was the inspiration for Henry James' "Washington Square" and its film adaptation, The Heiress. Inside furnishings have been kept pretty much as they were in Gertrude's day as the Merchant's House Museum, and some say Gert hasn't left yet and the house is haunted. (I would love the chance to disprove this by staying there overnight.)
An empty lot away from the Merchant's Museum is #37 East 4th, a Greek Revival building from 1845 that was the home of Seabury Tredwell's cousin, Samuel Skidmore Tredwell.
In the 1840s, this was one of the most fashionable residential neighborhoods In the City. Around the corner, on Lafayette Place, was William B. Astor's residence. On the west side, across that street, stood LaGrange Terrace. A large part of Vauxhall Garden, a favorite summer evening resort since 1805, offering band music, theatrical performances, fireworks, cakes and ale, was located in the middle of the block bounded by Fourth Street, the Bowery, ·the present Astor Place and Lafayette Place. The area to the north was .still largely undeveloped at the time Skidmore built his house. Grace Church, at Tenth Street and Broadway, was then In the process of construction. Within a few years, however, the Astor Library was erected on the east sIde of Lafayette Place, followed by Cooper Union, in 1857. By the early 20th century, the area had become almost entirely commercial, making two surviving early residences, Nos. 37 and the previously designated No. 29, all the more precious. —from the LPC Designation report
#37 was closed up and in poor condition for several years, but it has been restored to past glories. I don't know why there's an empty lot in what should be considered prime real estate territory, but in this 1940 photo you can see there was once a garage between #29 and #37. Tom "Daytonian" Miller has more.
Almost directly across the street is #34 East 4th Street, the home of the Swift Hibernian Lounge. "Hibernian" is a synonym for Irish, derived from old Celtic by way of Latin, while you know Jonathan Swift (1667-1745) born in Dublin, as the author of Gulliver's Travels, which operates on two levels, as a satire and a straight-ahead adventure story.
I was hoping to discover that a former NYC mayor had resided at #38 East 4th. Why? A pair of lamps flanking the front stoop has often been an indicator of a former mayoral residency; this holds true on St. Luke's Place near Hudson Street (Jimmy Walker) and #6 Gramercy Square West (James Harper). It was constructed in 1845, but no mayors have lived there.
Phebe's, without the usual "o" in front of the "e," has been at East 4th and the Bowery since 1969.
Robert Palmer, in a Times item about the Bowery scene, noted that "when theater types mingle with CBGB's denizens after hours, Phebe's becomes a kind of theater with a flair of its own." An employee told Roxyplex that deals for "Hair" and "Torch Song Trilogy" were signed there and that Lanford Wilson, Sam Shepard, and Michael Bennett had written scripts there; according to a regular, patrons have included Mick Jagger, John Lennon, Tennessee Williams, and Al Pacino. Bedford and Bowery
Now dwarfed by residential high-rise objects, the slant-roofed building in the center, #357 Bowery, was built as the Germania Fire Insurance Company building when this area in the East Village was home to thousands of German immigrants.
I was stumbling around the East Village a couple of years ago when I happened on the Pageant Print Shop at #69 East 4th Street between the Bowery and 2nd Avenue. I went in and chatted with the counterperson, telling her I wrote the website Forgotten New York, and she was familiar with the website (this happens wherever I go and I'm always humbled and charmed by this).

I knew the name Pageant. Many years ago I was a patron at the Pageant Lounge and Bar, on East 9th between 3rd and 4th Avenues, which was a callback to the former location of Pageant Books. I was to be found frequently scouring its stacks for ancient NYC maps and prints. Aisle after aisle of dusty tomes awaited book hawks. It was among the last remaining shops of Booksellers Row, on 4th Avenue between Cooper and Union Squares. Except for the Strand, they're all gone. The Pageant made a go of it on Houston Street for awhile before moving to East 4th Street.
Pageant Books, which now specializes in prints, old magazines and maps, was founded in 1946 by Sidney B. Solomon and Henry "Chip" Chafetz. In its early days the shop published a popular reproduction of the Gutenberg Bible, the first book ever published, in the 15th Century, that employed Johannes Gutenberg's new invention, the printing press mechanical movable type.
Pageant Books gained notoriety and popularity because it was frequently employed in location shots in motion pictures including Neil Simon's "Chapter Two" and Woody Allen's "Hannah and Her Sisters." Sidney Solomon's daughters Shirley and Rebecca have continued to keep the shop going, in both physical and online business.
I had previously been aware of #62 East 4th Street, between the Bowery and 2nd Avenue, because of its distinctive enclosed exterior spiral staircase and its eclectic collection of arches, columns and alcoves. After decades of deterioration, the building's exterior has been painstakingly restored to splendor in 2010-2011 by its co-owner with the Rod Rodgers Dance Company, the Duo Multicultural Arts Center, which since 1969 has provided an artists' venue in the East Village, with an emphasis on Latino culture. The building was constructed in 1889 and over the years has served as meeting hall for NYC's first Musicians' Union (established by John Philip Sousa), as well as ILGWU (International Ladies' Garment Workers' Union) and as as a restaurant and ballroom.
In the 1930s, when part of the building became a performance space, a stage was added on the second floor that retained the room's chandelier as well as two beautiful murals painted when the building was first constructed, and it became one of the neighborhood centers of Yiddish theatre and a studio for early television productions as the Astoria Theatre.
In the late 1960s Andy Warhol used the space, by then known as the Fortune Theatre, to show adult films. The late Jim Carroll ("Basketball Diaries") was the ticket taker. In the 1970s, Warhol also used the theater as a performance space, and it got the notice of filmmaker Francis Ford Coppola; a scene in The Godfather: Part II was filmed there. The DMAC has been here since 1981, and 62 East 4th is currently home to performances and art installations, as well as the Rod Rodgers Company dance performances. (Or will be, once it reopens after the Covid Pandemic.)
The 4th Street Food Co-Op, #58 East 4th Street, is like other "co-ops" around town, as patrons, in exchange for lower prices generally found elsewhere, are obligated to devote some of their weekly time helping out in the store as cashiers, shelf stockers, etc., with nonworking members paying more.
I am highlighting #60 East 4th, an art gallery when open, because of the ancient pair of spotlights pointed toward the front window.
#66 East 4th was built in 1832 as part of a series of Greek Revival row houses called the Albion Place development. When the building became a German Turn Verein (gymnasium complex) in the 1870s, it was extended back to East 3rd. Since the 1970s it has been an annex of the La Mama experimental theater.
Rivington Guitars was opened in 1998 on Rivington Street a bit to the south, operated by Howie Statland of the band Thin Lizard Dawn, who bought the store when the band broke up. The store specializes in vintage guitars including Fender, Gibson, Gretsch, Martin, Rickenbacker, Silvertone and Harmony as well as many other more unusual brands.
Aschenbrödel Verein, #74 East 4th, was covered in construction scaffolds in September 2021. I hope the busts of Mozart, Mendelssohn and Beethoven are retained! It was built designed by architect August H. Blankenstein for the German professional orchestral musicians' social and benevolent association, today the home base of La Mama.
FNY took an in-depth look at the building in 2018.
#85 East 4th, formerly the pro-Soviet hangout Ukrainian Labor Home, is now home to the New York Comedy Club, The KGB Bar and the off-Broadway Kraine Theater.
The shuttered doorway with the flagpole over it, #82 East 4th, is the former location of Club 82, described by Jim Naureckas in NY Songlines as "mobbed-up drag bar that was an important venue for the first wave of punk/new wave; the New York Dolls, Television, Debbie Harry (pre-Blondie) all played here, to audiences that included David Bowie and Lou Reed." It had closed by 1978, but had opened as the Rainbow Inn as far back as 1930!
The Romanesque #72 2nd Avenue, NE corner of East 4th, is tall in comparison to its neighbors at 6 stories. It was built in 1928 and has interesting terra cotta ornamentation and a bronze clock over the front entrance.
PS 751 (Manhattan School for Career Development) was constructed as PS 25 in 1894, #113 East 4th, with an expansion in 1905. It's yet another school building designed by C.B.J Snyder and is his second oldest school in the East Village. Surprisingly for a school building, you can find its architectural story online at Village Preservation.
Speaking of Snyder, here he is again with the massive former PS 63, now the Neighborhood School STAR Academy, smack in the middle of the Village View Towers, built in 1964. They're rather nondescript, so I'll skip ahead to…
The massive Ageloff Towers, #174 East 4th at Avenue A, constructed with Assyrian details such as winged lions by Samuel Ageloff. in 1928. You can see what the apartments look like at 6 Sq Ft. (You can tell the income level patrons 6 Sq Ft caters to when they call a $725K place a "starter apartment." (Only Wall Streeters and tech fund people need bid!)
This is the shorter of two liquor store signs on the NE corner of Avenue A and East 4th, with thic-serifed lettering reminiscent of the signage seen in western movies. Did cattle towns in the wild west really use signage with this lettering?
The Church of the Most Holy Redeemer is the tallest building in the immediate area.
Murals at #220 East 4th east of Avenue A.


#220 East 4th is a former Roman Catholic school for boys, built sometime prior to 1903. It subsequently served as an orphan asylum, and is currently the Cornelia Connelly Theater. The building may have originally been associated with the nearby Church of the Most Holy Redeemer on East 3rd.
The historic Connelly Theater is a beautiful 99-150-seat jewelbox space in the heart of NYC's East Village that now serves as a home for adventurous independent theater productions. Past productions include Sasha Velour's Nightgowns: The Musical, The Crucible (Bedlam), Plano (Clubbed Thumb, Drama Desk-nominated), Mandy Patinkin in Concert: Diaries 2018 (New York Theatre Workshop), The Bengson's The Lucky Ones (Ars Nova, Lortel and Drama Desk-nominated), Sinking Ship's A Hunger Artist (The Tank's Flint & Tinder series, Drama Desk-nominated), Jomama Jones' DUAT (Soho Rep.), Mac Wellman's The Offending Gesture (The Tank/Flint & Tinder), Daniel Kitson's A Show for Christmas, The Lisps' Futurity (Soho Rep. & Ars Nova, Lortel Award), Lyspinka! The Trilogy (TWEED), Mission Drift (The TEAM), The New York International Fringe Festival, Lucy Thurber's Monstrosity (13p), Anne Washburn's Apparition, and many others. The theater also serves as a location for film and television productions, including shows on HBO, Netflix, Amazon, FX, ABC, MTV, PBS, and many more. The building, originally an orphanage, dates back to the mid-1870s. The theater itself was once a choir hall, with the distinctive proscenium arch and raised stage added later. [Connelly Theatre]
I'd really like to know the story behind #53 Avenue B's wild paint job in pink, maroon and gold, but I'm coming up blank on the world wide web. In Google Maps Street View, it's painted like this as far back as it goes, 2007. Comments are open if you have an idea. The doorway also has interesting metalwork depicting sun, moon and stars.
Flags of many nations surround the Garden of the Humanitarians, #270 East 4th Street east of Avenue B. The community garden has gone by many names that also include Generation X Garden and Tu Pueblo Batay. In early 2021 the garden was seeking donations for an overall cleanup.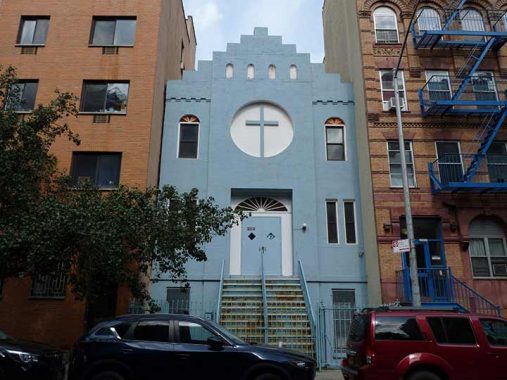 Former Road to Damascus Pentacostal Church, #289 East 4th. The name refers to the Biblical Acts of the Apostles story of Saul, a Pharisee who persecuted the newly formed church of Christ and was personally converted by the resurrected Jesus while en route to Damascus. He was subsequently known as Paul, the prolific epistle composer who spread Christianity throughout the Middle East and Asia Minor.
This is a former synagogue, as a tax photo from 1940 will reveal. Most of its original architectural elements have been removed since then.
I enjoyed the brick and stonework and ogee-arched entrance at #300 East 4th/#51 Avenue C. The building is far removed from any Landmarked realm, so I know little of its history.
Murals on the NE corner of Avenue C and East 4th. Avenue C is also known as Loisaida Avenue, after Spanish-inflected pronunciation of "lower east side."
One of my favorite church buildings in the city, not least for its unusual brown and white paint scheme, is the San Isidoro y San Leandro Orthodox Catholic Church of the Hispanic Rite, located at #345 East 4th. The building was constructed in 1895 asa the Roman Catholic St. Elizabeth of Hungary Church, then became a Russian then a Greek Orthodox church. St. Isidro and St. Leandro were brothers, both bishops of Seville in the late 6th-early 7th Century and helped convert the Germanic rulers who were the big boys in Europe in the centuries after the end of the Roman Empire.
A sampler of residential housing at the east end of East 4th.
East 4th Street ends at Avenue D, separated from the FDR Drive by the Lillian Wald Houses, named for the founder of the Henry Street Settlement. But we're not quite done with East 4th Street. The first few images of this Municipal Archives page show you what East 4th Street looked like east of Avenue D before the Wald Houses were built in 1949.
As always, "comment…as you see fit." I earn a small payment when you click on any ad on the site.
10/31/21