It's time for another entry in FNY's Cross Streets of NYC series! I have been walking Manhattan's numbered streets from east to west or vice versa so compulsively, I've decided to create a new FNY category to hold them. Over the years, I've done this quite a few times and I was amazed at how much stuff I missed and how much material I knew about and posted here and there, but never really formalized or categorized. Eventually I might make these "crosstown" posts their own separate category. In late summer, I resumed the crosstown walks. There's a separate universe in each NYC numbered cross street.
Today I chose 3rd Street, which runs from 6th Avenue east to Avenue D, with an interruption between Broadway and the Bowery in which its place is taken by Great Jones Street (which I will treat in a separate post). South of 8th Street, Broadway is the divider of East and West numbered streets, but it only performs the duty for 3rd and 4th Streets, and only East and West 4th actually intersect Broadway (I frequented that corner quite a bit as it was home to Tower records for many years).
Only its peaked roof is a giveaway that the IFC (Independent Film Channel) Center, at 323-325 6th Avenue opposite West 3rd, was once a church. It was constructed in 1853 as the West Reformed Dutch Church at a time when 6th Avenue was still called West Road. The building remained home to solely a church until 1893, when part of it was leased to become a factory making glass used in stained glass church windows. In 1937 it was converted to the Waverly Theater and altered by architect Harrison Wiseman. Until 2001 the theater showed first-run pictures but was also something of an art house (it was home to weekend midnight screenings of the Rocky Horror Picture Show in the 1970s) before running out of steam by 2001.
That year it was purchased by the Independent Film cable TV channel and converted into a full fledged art house, with a complete remodeling of the interior.
A look at the Waverly Theater in 1940 from the Municipal Archives, three years after the former church became a movie theater.
I always liked the newsstand at 6th Avenue and West 3rd, at the basketball courts, but it seems to be closed at least for now. Lots of interesting scrollwork. In 2008, Vanishing New York's Jeremiah Moss did a guest FNY piece on classic newsstands, which are getting scarcer as they are replaced by standard CEMUSA models.
The Blue Note jazz club, opened in 1981 by Danny Bensusan, boasts a grand piano-shaped canopy over its entrance. Sarah Vaughn, Lionel Hampton, Dizzy Gillespie, Stanley Turrentine, Oscar Peterson, Ray Brown, and Tito Puente all played here in the club's early days.
Somebody help me out here. In the 1980s, when I was furnishing an aprtment for the first time, this Ace Hardware was something of a general hardware store where I could find anything and everything. What was its name? The building itself was constructed as a garage in 1920 for Zachary T. Piercy, whose name is still at the roofline.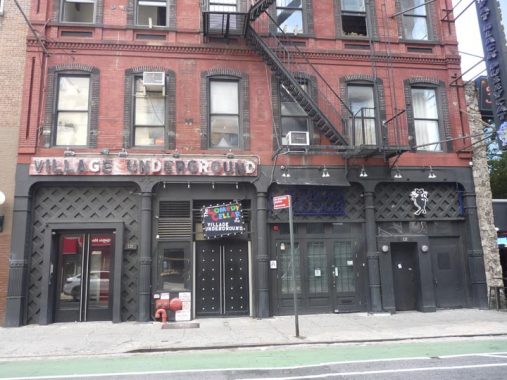 Two clubs at #130 West 3rd, Fat Black Pussycat and Village Underground. This is a new FBP named for the older one from the 1960s on Minetta Street off 6th Avenue, whose painted sign persisted for decades after it had closed. Bob Dylan, Mama Cass Elliott and Tiny Tim had played there.
The Village Underground is currently on the site of the old Gerde's Folk City, which closed in 1986. No official plaque marks the spot of the Fillmore East (and none, for that matter, marks the locales of other legendary NYC rock venues such as CBGB, the Palladium, Bonds of Times Square, Folk City, Max's Kansas City, the Peppermint Lounge (either of them), Danceteria, the Ritz, the Lone Star Cafe and many others.
The building went up in 1875 as a repair shop for the FDNY.
The Minetta Garage, a block north of Minetta Lane, is a converted stable that was originally built in 1889, becoming a garage for cars in 1921. A couple of doors east at #118 was longtime record/weed shop Bleecker Bob's from 1968-2013.
#130-132 MacDougal, just south of West 3rd across the street from Cafe Reggio, are a pair of brick buildings constructed in 1852 and share a marvelous wrought-iron portico. According to an unsubstantiated old wives' tale, Louis May Alcott wrote the classic Little Women while living at #130. Alcott was actually in Concord, MA in the early 1850s.
In this four-story building at 85 West 3rd Street, Edgar Allan Poe lived and worked in 1845 and 1846. Some of his more famous works such as "The facts in the Case of M. Valdemar" (which was made into a movie starring, who else, Vincent Price) were written here.
Poe had three NYC residences: 85 Amity Street (renamed West 3rd soon after Poe left the house), a farm in what is today West 84th Street, and the Poe Cottage in Fordham, Bronx. For 70 years this building hosted the popular Italian restaurant, Bertolotti's. There was also a club called The Gold Bug, a title Poe aficionados would know about.
In 2001 New York University tore down the house, which had never been landmarked, and built a large building to house the NYU Law School. However, the central building was designed to resemble the old building in which Poe had lived. The law school also hosts an annual Poe event.
This firehouse at #84 West 3rd, built in 1906, looks like it had once been a FDNY firehouse, since it's marked "Fire Patrol #2." However, the FDNY and the Fire Patrol were two different entities. The Fire Patrol was established in 1839 by the New York Board of Fire Underwriters to protect and possibly save properties. The FDNY was established decades later and the Fire Patrol became sort of an auxiliary entity, while it continued to be underwritten by insurance agencies. The Patrol finally ceased operations in 2006. In 2010, TV pundit Anderson Cooper purchased this firehouse.
LaGuardia Place, which runs from West Houston Street to Washington Square South, has gone by a variety of names. Starting out as Laurens Street, it was once the north end of West Broadway. Later it was known as South 5th Avenue; Robert Moses once wanted to connect it to 5th Avenue and put a road straight through the square.
Neil Estern's 1994 sculpture embodies the enthusiasm NYC's 99th mayor, Fiorello LaGuardia, brought to City Hall for 12 years, 1933 to 1945. Estern's 1965 bust of John F. Kennedy can be seen at Grand Army Plaza, Brooklyn. A third likeness of FLG can be seen at the Marine Air Terminal at LaGuardia Airport.
Though he was born on the Lower East Side of Manhattan, LaGuardia grew up in Arizona. While still a teenager, LaGuardia worked at the US Consulates in Hungary and Trieste. LaGuardia spoke Yiddish, Italian, German, French and some Croatian dialects.
The somewhat forbidding-looking Elmer Holmes Bobst Library at West 3rd and LaGuardia Place is clad in red sandstone with a minimum of windows. It opened in 1973, designed by famed architect Philip Johnson, with an $11M grant from philanthropist Bobst, a friend of Richard Nixon's. NYU liked the design, since other buildings in the complex are also clad in red sandstone. NYU accepted the grant despite Bobst's recorded antisemitism.
New York University's Leon Shimkin Hall on the former corner of West 3rd and Wooster Street, which was closed north of Bleecker Street in 1964 to accommodate Washington Square Village. Wooster is now a pedestrian-only street named Schwartz Plaza. NYU acquired the loft building in 1926 for its School of Commerce, Accounts and Finance.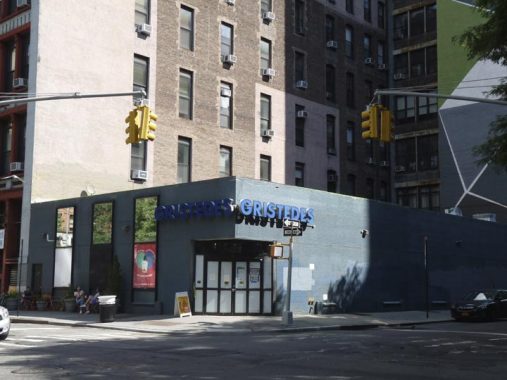 Gristede's was begun by German immigrant brothers Charles and Diedrich Gristede with one store on 42nd Street and 2nd Avenue in 1891. Customers found the selection and service to their liking and the brothers were soon able to open new stores around town, and by 1948 Gristede's had 141 locations in Manhattan, Bronx, and the northern suburbs. The company had its ups and downs and at one time or the other had partnered with both Sloan's and Food Emporium. Today, Gristede's is owned by billionaire John Catsimatidis, who ran for mayor a few years ago and currently owns radio station WABC.
This Gristede's is on West 3rd and Mercer Street. Along with the old Food Emporium, Sloan's and d'Agostino's, as an "outer borougher" these were sort of mystery supermarkets to me since they were found almost exclusively in Manhattan. In Brooklyn, I patronized Key Food and in Little Neck, the World's Smallest Stop & Shop.
This 1970 mural by Tania on West 3rd Street near Mercer is the only remaining City Walls mural, as far as I know, that is still visible in its totality. City Walls was a not-for-profit organization established in 1967 by muralist Jason Crum and other artists to brighten up otherwise drab NYC locations with bright, lively artworks.
From wikipedia:
Tania (1920, Warsaw, Poland, Tatiana Lewin – 1982, Brooklyn, New York) was a Polish-born, New York based, Jewish American abstract painter, sculptor, collage artist, and painter of city walls. She was known by several different married names over the course of her career (including Tania Pollak, Tania Milicevic, Tania Schreiber, Tania Schreiber-Milicevic, Tania Milicevic-Mills, and Tania Mills), but decided as of 1958 to use simply her first name, Tania. She was active in the New York art world from 1949 to 1982, but is perhaps best known for her 13-story geometric wall painting of 1970, which still stands at the corner of Mercer St. & 3rd St. in Greenwich Village, New York. In 1966, she became a founding member of City Walls, Inc., a non-profit organization that commissioned abstract artists to paint walls around New York City, and which (when consolidated with the Public Arts Council in 1977) would later become the Public Art Fund.
As I've said, for two blocks between Broadway and the Bowery, East 3rd Street's place is taken by Great Jones Street, which deserves its own post, which I'll get to eventually. But how did that arrangement come about? I'm not sure, exactly, but a map from 1850 might serve to clear things up just a bit.
In 1850 West 3rd was still called Amity Street between Broadway and 6th Avenue, and it was Great Jones east of Broadway. At this time there was no West 3rd at all, with East 3rd beginning at the Bowery, as East 1st and 2nd do today. The Village underwent several street name changes in the mid 19th century, with Amos, Hammond and Troy becoming West 10th, 11th and 12th and Asylum Street becoming West 4th, just to name a couple. The mid-20th Century saw other changes such as several blocks of Greene and Wooster eliminated to make way for Washington Square Village.
East 3rd Street begins its numbering at the Bowery, another clue that there was never a time when Great Jones was called East 3rd. #5 East 3rd here is something of a mystery to me as the reason for the name "Wyoming Building" escapes me. Adjoining #3 East 3rd, as well as the former Salvation Army HQ at the Bowery corner, were torn down for the Urban Muse condo project a few years ago. That was a shame, as property records showed that #3 East 3rd was built in the early 19th Century; developers have not been kind to the older buildings on the Bowery in recent years.
Across the street at #8 East 3rd Street is a massive 6-story brick building now home to the Renewal on the Bowery homeless assistance agency. The building went up in 1915 and was originally the Bowery branch of the YMCA, which has a lengthy history assisting the unfortunate on the Bowery, having been a neighborhood presence since 1872.
In 1931, the branch served over 1.3 million meals in its cafeterias, managed to secure jobs for over 1,000 men and provided overnight lodging in dormitories as well as longer-term shared accommodations for over 100,000 men. [Village Preservation]
A painted sign that partially reads "Bowery Branch YMCA" can still be seen on the building's west end. The YMCA moved out in 1947, but the building has been home to homeless assistance agencies since then.
Directly to the rear of the building you can find the New York Marble Cemetery.
I was impressed by this building at what would be #15 East 3rd but it is actually a rear extension, built in 1871, of a much older building, #66 East 4th, which was built in 1832 as part of a series of Greek Revival row houses called the Albion Place development. When the building became a German Turn Verein (gymnasium complex) in the 1870s, it was extended back to East 3rd. Since the 1970s it has been an annex of the La Mama experimental theater.
This colorful mural which looks like it depicts a cross section of a human head appears on the west side of the landmarked #30 East 3rd (constructed in 1836), facing a sitting area adjacent to the Renewal on the Bowery building. Out of the picture on the right side is a high wall protecting the cemetery.
On the southeast corner of 2nd Avenue and East 3rd is 40-42 East 3rd, an apartment building that was actually constructed as a courthouse in 1919, in which role it remained until 1979 when it became a movie theater!
As I wrote in 2011,
The rather spare 1968 Roman Catholic Church of the Nativity stands at 46-48 2nd Avenue, opposite the New York Marble Cemetery, replacing an earlier Greek temple styled, Ionic-columned building constructed in 1831 as a Presbyterian church, but sold to the Catholic parish in 1842. The original church was demolished just before the new one was constructed.
I was dismayed, but not shocked in 2020, to find the church abandoned. It had merged with another parish in 2015 and closed the building. The property was sold in 2020.
#47 East 3rd is a great looking building that falls in the East Village landmarked district. Let the LPC describe it for you in architect-speak:
Elaborate entrance enframement with modillioned doorhood; light-colored brick parlor story with quoined window enframements; upper stories feature red brick with elaborate terra-cotta window surrounds, spandrels, and beltcourses.
#55 East 3rd is part of the East Village Catholic Worker complex. At 34-36 East 1st Street, social activist and convert to the Catholic Church Dorothy Day (1897-1980) initiated the St. Joseph Hospitality Church, a soup kitchen/hostel/office for the publication of The Catholic Worker newspaper in 1967. Day took the paper and Catholic Worker's operations here to nearby 55 East 3rd in a building known as Maryhouse in the 1970s. For several years Day herself resided in southwest Staten Island in a housing project set up by Spanish immigrants in the mid-20th Century; it was razed in 2000. Reportedly, the canonization candidate died at 55 East 3rd.
#50 and #54 East 3rd Street were recently rehabilitated. The Renaissance Revival tenement buildings went up in 1897 and 1900.
The front door at #76 East 3rd is completely bricked up; I suspect access is through the side gate. The back end of the buildings on the south side of East 3rd face the New York City Marble Cemetery, which is not to be confused with the New York Marble Cemetery (see link above).
This Street View clip from 2011 shows the Hell's Angels NYC headquarters at #77 East 3rd in 2011. The Angels moved out in 2019, decrying the East Village's yuppification. The gang had been in the East Village since 1977 and had indulged in drug trafficking, but some said they prevented worse crimes from happening (also the reason Howard Beachers celebrated the presence of John Gotti for so many years). You did not think about touching or moving any of the sawhorses protecting the chopper parking.
When I was a kid out of school, we were heading into an East 3rd Street dive one night when it was realized that the Angels were on the same block. A cross word or a disagreement with an Angel could result in unpleasantness that could leave permanent marks, so we thought better of it.
Continuing past 1st Avenue. The massive former PS 63, now the Neighborhood School STAR Academy, is at #121. It is yet another design by NYC schools architect C.B.J. Snyder, who was active from 1895-1915 and built a number of schools in the East Village.
The campanile, or bell tower, of Most Holy Redeemer Catholic Church, 173 East 3rd between Avenues A and B, dominates the East Village skyline. The church is cathedral-sized and believe it or not, the bell tower was once taller than it is today, as its original 250-foot height was lowered to 232 feet in 1912. The parish is one of the oldest in Manhattan, established in 1844 to serve German Catholic immigrants, and the church itself was consecrated by Bishop "Dagger John" Hughes in 1852 — two years after St. Patrick's Cathedral construction got underway. The church also contains a crypt below ground. Today its services are still bilingual but in English and Spanish. Oddly, there are no signs marking it as MHR outside the building.
Ever been in a pizzeria/video rental? Two Boots at East 3rd and Avenue A has been that combination for several years, though I'm unsure if the rentals are still there. Two Boots is a pioneer in Cajun-style pizza, adding Louisiana style spices to several pizza recipes. This flagship opened in 1987.
Book Club's name isn't completely ironic nor does it reflect a former business at #197 East 3rd. This really is a coffee bar that also sells books. Why not? Speaking of book clubs, one of my more prouder moments was when Forgotten New York the Book was offered at the now-defunct Quality Paperback Book Club, which I had patronized for years. You just had to remember to tell them you weren't ordering that month, or you'd get charged for the monthly feature title.
In Covid Year 2020 I was a bit taken aback to find a big crowd dining out on Avenue B. I was told this was a regularly scheduled street fair. I hope the time when I have to give even moderate crowds like this a wide berth passes soon.
The Nuyorican Poets Cafe (a portmanteau of "New York" and "Puerto Rican") was founded in 1973 by Miguel Algarin.
Over the last 40 years, the Nuyorican Poets Cafe has served as a home for groundbreaking works of poetry, music, theater and visual arts. A multicultural and multi-arts institution, the Cafe gives voice to a diverse group of rising poets, actors, filmmakers and musicians. The Cafe champions the use of poetry, jazz, theater, hip-hop and spoken word as means of social empowerment for minority and underprivileged artists. Our community of spectators, artists and students is a reflection of New York City's diverse population; Allen Ginsberg called the Cafe "the most integrated place on the planet." [Nuyorican]
The cafe moved to #236 East 3rd Street in 1980.
We are several blocks from Tompkins Square, but this is the Tompkins Square USPS office, #244 East 3rd, one of the smaller ones I have seen around town.
Don't know much about Divine Master Pentacostal Church at #250 East 3rd, but I do know that this was an empty lot in 1940 according to the Municipal Archives.
Bullet Space, an art gallery/performance space at #292 East 3rd between Avenue C and D, now owns the space but it was originally inhabited by squatters on the property. I'll let their website tell you the origin of the name:
A community access center for images, words, and sounds of the inner city. The center was founded in the winter of 1985 and was part of the squatter movement and reconstructed with or without the formal sanction of the city, invisible officialdom. The ground floor of the building is open-like, a bulletin. "Bullet" first originated from the name brand of heroin sold on the block — known as bullet block, encompassing the accepted American ethic of violence; "Bullet Americana" — translating that into the art form as weaponry. [Bullet Space]
Check out the ForgottenBook, take a look at the gift shop, and as always, "comment…as you see fit."
12/20/20