So there I was in February 2021, wandering down Boerum Street in Williamsburg. How did I wind up there? Sometimes I just pore over online maps when I feel like rambling and pick something out that might bear some fruit, especially on sunny days. This February happened to be a cold and snowy one and at my age, gusts of cold air make my eyes water, so I have to dab them every so often. Drives me nuts. Anyway, I spied this red-colored older building at the NE corner of Boerum and Graham Avenue, which appeared to have some potential. Why?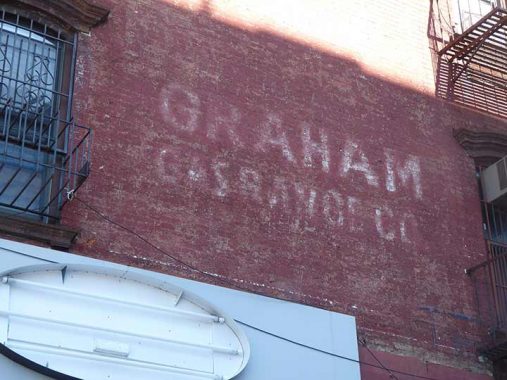 I spied some painted words on the Boerum Street side, Graham Gas Range Co. I promptly forgot about it until I went through my shots (I have about 70,000 since beginning Forgotten NY in 1998). I decided on a bit of sleuthing as the Municipal Archives could show me what the place looked like in 1940.
Sure enough, there it is, the Graham Gas Range Company storefront. Next door is a pharmacy with a shingle sidewalk sign. Today, a nail cosmetics place and a "deli & tobacco" place have replaced these two businesses. The Graham Gas Range lettering is on the awning, and the bigger sign is a "privilege sign" paid for by the advertiser, Norge, which was a familiar brand name in my youth, a maker of various appliances especially freezers and refrigerators. No appliances have been sold under the Norge name since 1979, as it has been sold and resold over the years and is now part of the Whirlpool brand.
As always, "comment…as you see fit." I earn a small payment when you click on any ad on the site.
11/3/21