THIS post is primarily for out of towners because if you live and work in midtown Manhattan, you're likely aware of Turnstyle, the mini-mall in the incredibly huge connecting corridor between exits of the express IND section of the Columbus Circle station (constructed in the 1930s), which also connects with the local IRT Columbus Circle stop, one of the city's original 28 stations opened in 1904.
A hallmark of the IND is that the stations are incredibly cavernous, with large underground passageways connecting exits that are often a complete block from each other. I had been in the IND portion of Columbus Circle only a few times and recall a barber shop, some retail and not much else (the IND 8th Avenue 42nd Street station is similar).
For 9 months in 2019, I worked at a small design firm in the MONY MONY Building, #1740 Broadway and thus Columbus Circle was my stop. I was flabbergasted to see what they had done with the corridor, with eateries and shops on each side of the corridor with some more shops and seating in between. Turnstyle had actually opened in 2016 but I only became aware of it three years later.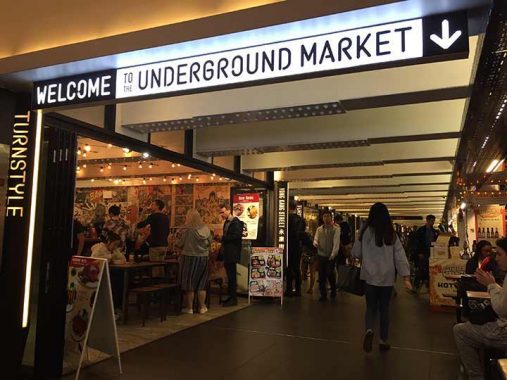 Seen here is the pizza franchise, Champion, where I went for lunch once per week. Most often I would get tacos at a Mexican place opposite. Both have since left Turnstyle.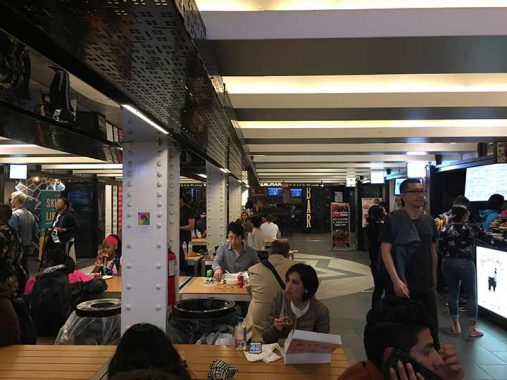 What fascinates me about Turnstyle was that it makes no attempt to cover up its subway pedigree. The columns and rivets are not disguised in any way.
In addition to the restaurants there are several retail places, offering computer/watch repair and flowers.
On the south end of the corridor was the bar Merchant's Gate.
Central Park masterminds Frederick Olmsted and Calvert Vaux whimsically named several main park exterior openings as 'gates' when the park was being built in the 1860s. Running clockwise around the park from Columbus Circle they are:
Merchants' Gate: Columbus Circle
Women's Gate: Central Park West at West 72nd Street
Explorers' Gate: CPW at West 77th Street
Hunters' Gate: CPW at West 81st Street
Mariners' Gate: CPW at West 85th Street
All Saints' Gate: CPW at West 97th Street
Boys' Gate: CPW at West 100th Street
Strangers' Gate: CPW at West 106th Street
Warriors' Gate: Central Park North at Adam Clayton Powell Blvd. (7th Avenue)
Farmers' Gate: CPN at Malcolm X Blvd. (Lenox Ave.)
Pioneers' Gate: Duke Ellington/James Frawley Circle at 5th Avenue
Vanderbilt Gate (only gate named for a person): 5th Ave. at East 106th Street
Girls' Gate: 5th Avenue at East 102nd Street
Woodman's Gate: 5th Avenue at East 96th Street
Engineers' Gate: 5th Avenue at East 90th Street
Inventors' Gate: 5th Avenue at East 72nd Street
Scholars' Gate: 5th Avenue at East 60th Street
Artists' Gate: Central Park South at 6th Avenue
Artisans' Gate: CPS at 7th Avenue
Strictly speaking, there are no metal gates that open and close — these should be called entrances — but Central Park does close at 1 AM and NYPD patrols shoo everyone they can locate out at that hour.
The sign, though, was inspired by the tiled signs you find in older subway stations.
This was 2019…and most of the shops you see here aren't there anymore, as the Pandemic in 2020 forced many to close. The current roster can be found here.
As always, "comment…as you see fit." I earn a small payment when you click on any ad on the site.
9/2/22