EARLIER in 2022, FNY discussed Cloverdale Boulevard, one of the "lesser" boulevards found in Queens, a borough in which quite a few main routes are known as "Boulevard." In the article, I stated:
In the early 1920s, in addition to assigning the majority of streets numbers and creating a unique hyphenated house numbering method, the Queens Topographical Bureau also designated several major routes as "Boulevards." Thus Vernon Avenue became Vernon Boulevard, Farmers Avenue became Farmers Boulevard, and so on. Jackson Avenue and Broadway were combined to create Northern Boulevard, which as also taken over Route 25A, North Hempstead Turnpike, in Nassau County (despite it running through the entire Town of North Hempstead).
This got the gears turning on my head and using Google Street View instead of bus fares and Adidas, I gathered most of Queens' lesser Boulevards…
Amstel Boulevard
I have been on the Rockaway peninsula just a handful of times since beginning Forgotten NY in the late 1990s, but ironically I visited more often in the 1970s and 1980s when I bicycled in from Bay Ridge. It's fairly easy to get there as I traveled to Sheepshead Bay, across the Marine Parkway Gil Hodges Bridge (which I dislike along with the Triborough because of its low guardrails) and presto, there I was at Fort Tilden. From there I was easily able to bicycle east down Rockaway Beach Boulevard and Beach Channel Drive.
I must have encountered Amstel Boulevard, which issues west for a few blocks from Beach Channel Drive at Beach 70th Street, coming to a dead end west of Beach 75th. The name is a mystery, though it may be a portmanteau like Arverne (see below). It's mostly home to auto repair shops with a few scattered houses, though I was fascinated with this multi-windowed, sea-green glass garage.
From Comments: The Amstel is the river Amsterdam, Holland is located on, a possible inspiration. A section of the peninsula was once called Holland, a fact that is still represented in A train platform signs.
Arverne Boulevard
Arverne, on the Rockaway peninsula, is located just east of the A train bridge crossing Jamaica Bay. A relatively new development, Arverne By the Sea, appeared about two decades ago on the south shore facing the Atlantic Ocean, but the remainder was built up around the turn of the 20th Century by Remington Vernam, whose signature "R. Vernam" inspired the name.
Arverne Boulevard is busy, but short, running from Beach 54th Street west to Beach Channel Drive at Beach 62nd Street. East of Beaxh 54th, Rockaway Beach Boulevard takes over its route north of the IND A train tracks, while Edgemere Avenue takes over for Rockaway Beach Boulevard south of the tracks. How this complicated situation arose is a mystery to me.
Berrian Boulevard
We move from Queens' southern frontier to its northern edge in Astoria, where Berrian Boulevard runs a few blocks from Steinway Street east to a parking lot for LaGuardia Airport employees east of 45th Street, taking the place of 18th Avenue. It borders a sewage treatment plant, but it's also in view of the Steinway Mansion, an 1852 building home to generations of people associated with the landmark Steinway Piano factory.
The boulevard is named for the colonial-era Dutch immigrant family the Berriens, whose scion Cornelius Jansen Berrien, Sr. purchased an island in the East River in 1727, where he and his descendants lived. The island was attached to Astoria by landfill and is now home to a massive Con Edison power plant.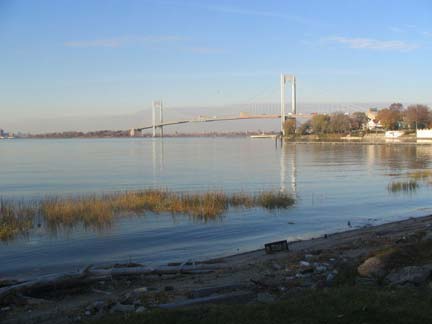 Boulevard
A street simply called Boulevard runs along the East River in Malba, an exclusive enclave along the shoreline in Whitestone west of the Whitestone bridge. It was named for the surnames of the founders of the Malba Land Company: Maycock, Ailing, Lewis, Bishop and Avis. It's filled with Spanish-style and other varieties of impressive houses, and the streets wind around in contrast to the usual Queens grid pattern. No numbers here, but the other streets have imaginative names like North Drive, South Drive, Center Drive etc.
East Hampton Boulevard
East Hampton or Easthampton Boulevard (it has been spelled both ways) is one of a cluster of small streets in Oakland Gardens centered on Cloverdale Boulevard east of Queensborough Community College. It runs from 56th Avenue south to the Long Island Expressway, and a couple of blocks border a sliver of Alley Pond Park west of Cross Island Parkway. The named streets all have British-sounding names and so East Hampton Boulevard has nothing to do with the town in eastern Suffolk County.
Edgerton Boulevard
This wide but relatively short Boulevard runs from Grand Central Parkway to Jamaica Avenue and 178th street and is smack in the middle of Jamaica Estates, a semiprivate development and another area in Queens where streets are not numbered, but carry British names in developers' efforts to class up the joint.
Jamaica Estates, built on the northern edge of the former Town of Jamaica in the 1905-1907 period, occupies about 500 acres between Home Lawn Street, Hillside Avenue, 188th Street and Union Turnpike. In the 1930s, it was neatly cut into two sections by the construction of the Grand Central Parkway right through it. When construction, consisting initially of Tudor-style homes on large plots (as large as 60'x105′), began Jamaica Estates was surrounded by open farms and fields, dotted by small towns and connected by wagon and farm-to-market roads, many of which developed into the pedal-to-the-metal boulevards we know today.
The project was conceived by former NYS lieutenant governor Timothy Woodruff and railroad builder Michael Degnon, who, among many other projects, constructed the Steinway Tunnels which today connect the #7 train with Manhattan and Queens.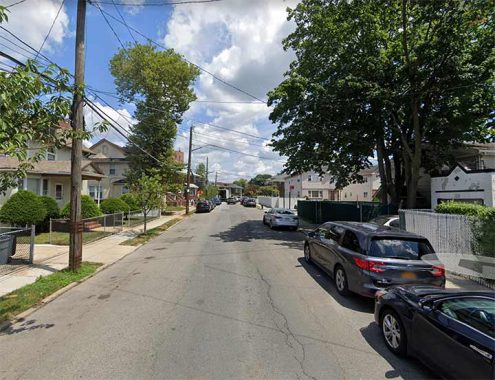 Gateway Boulevard
In 1981, this item appeared in The Wave, then as now the major Rockaway Peninsula newspaper:
The City Council is considering a resolution that would rename Greenport Road in Far Rockaway. The resolution, which would change the name of the street to Gateway Boulevard, was introduced by city councilman Walter Ward at the behest of Community Board 14 and a number of developers who are hoping to build new housing on the street.
The renaming went through, as developers got their way. For reasons unknown, a number of streets in Far Rockaway bear names from eastern long Island, such as Greenport, Brookhaven, and Plainview.
Lakeview Boulevard East
Visitors unfamiliar with southeast Queens will find a sweeping, green oasis in Baisley Pond Park, which sits on an irregular plot between Foch, Sutphin, Rockaway and Baisley Boulevards. The park's 110 acres offer baseball, softball and cricket fields in its southern extension between Rockaway Boulevard and the Belt Parkway, children's playgrounds, catch and release fishing in its large peaceful pond, and plenty of benches to laze on.
Today's Baisley Pond, named for a mid-19th century farming family on whose land the pond was created, first appeared in the 1850s. When Brooklyn's civil engineers were dredging the pond to make it deeper after its creation, remains were found of an American Mastodon including five molar teeth and a bone fragment, which were decades later dispatched to the American Museum of Natural History. The massive shaggy elephant-like creatures frequented southern Queens up until 10,000 years ago. The reasons for their disappearance are still debated, but likely have something to do with changing climate and the appearance in the area of the world's most feared hunter — Man.
Meanwhile, in the 21st Century, you can find Lakeview Boulevard East at the park's eastern end between 118th and 122nd Avenues. There's no Lakeview Boulevard West and I'm not sure there ever was one; its spot is filled by 155th Street.
Little Neck Boulevard
Today, Little Neck Boulevard in Bayside exists in two pieces: one section issues north from 28th Avenue in a section so exclusive the Google Street View truck hasn't visited it, and another section that forms a "T" with the east end of 28th Road.
Developers once had bigger plans for Little Neck Boulevard. Called "Parkway" in 1949, it was changed to a Boulevard to avoid confusion with the lengthier Little Neck Parkway further east. It was mapped to run continuously from Bell Boulevard south as far as Crocheron Park at 33rd Avenue, but only two stubs were constructed.
Nassau Boulevard
Nassau Boulevard runs northeast from the LIE near 254th Street into Nassau County, where it becomes Horace Harding Boulevard. It is all that remains of a much longer surface route constructed in the 1930s, Nassau Boulevard, subsequently renamed Horace Harding Boulevard for a Robert Moses aide. In the 1950s, the road was developed into the Long Island Expressway. This is a short section that diverges from the main LIE as it pushes east.
Powell's Cove Boulevard
Probably the strangest of Queens' minor boulevards, Powell's Cove Boulevard was once mapped by the city to run along the East River from 15th Avenue all the way north and east along the East River to Cryders Point near the Throgs Neck Bridge, but only some of it was built. Nonetheless it runs from College Point all the way to Whitestone in six separate surviving sections. In College Point it runs in a semiprivate area between 121st Street and Lax Avenue, where private street signs call it "Powell Cove Boulevard." Powell's Cove itself is an inlet in the East River west of the Whitestone Bridge.
Oddly a one-block section of Powell's Cove Boulevard takes over for 7th Avenue in Whitestone between 151st and 152nd streets…
…and 149th Place serves to divide short sections of 2nd Avenue (the lowest numbered avenue in Queens) on the left and Powell's Cove Boulevard on the right.
The lengthiest and most attractive section of Powell's Cove Boulevard runs from 154th Street east to Cryder's Point. Here you will find eclectic private homes and Tudor apartment buildings like this one.
As always, "comment…as you see fit." I earn a small payment when you click on any ad on the site.
8/31/22