TODAY I set the controls of my H.G. Wells Time Machine to 1938 and went just down the road from where I live to what is now Nassau Boulevard at 260th Street facing west. In 1938, this was actually one of the few paved roads in the area and connected what is now Little Neck with Elmhurst.
Horace Harding and Nassau Boulevards have an intertwined history. As early as the 1920s, a road called Nassau Boulevard extended from Queens Boulevard in Elmhurst east through Flushing, Bayside and Little Neck. In the 1930s, Nassau Boulevard became Horace Harding Boulevard, named for a prominent banker (1863-1929) who was actually more of a railroad executive than a motorcar buff, though he did financially support the construction of the road that bears his name.
From 1953-1958 New York traffic czar Robert Moses built the Long Island Expressway along the route of Horace Harding Boulevard, but diverged from the original route at Little Neck Parkway. The service roads along the LIE within NYC bore the Horace Harding Expressway name, but there was still a short piece of original road extending from the city line to a section of Lakeville Road.
In NYC that section would up with the old Nassau Boulevard name, while the portion in Nassau became Horace Harding Boulevard. However, once in Nassau County, it becomes Horace Harding Boulevard again! Politics, is all I can say.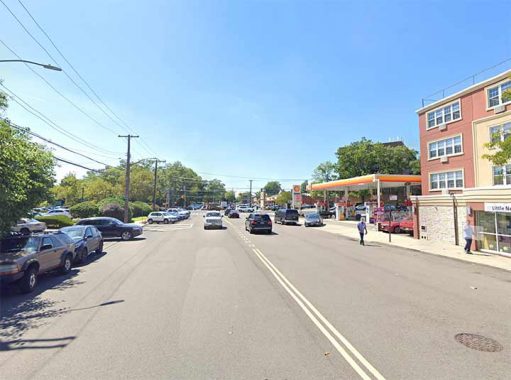 In the 1938 photo, what looks like a farm can be seen at right, while the intersection with Little Neck Parkway is at the rear. Today, a Shell gas station has replaced the farm. The farmhouse itself survived until fairly recently and I mentioned it in FNY in 2007, the year I moved to Little Neck.
More from the Queens-Nassau border
Photo: Al Ponte's Time Machine [Facebook]
As always, "comment…as you see fit." I earn a small payment when you click on any ad on the site.
11/14/22