As readers of Forgotten New York may know after over 23 years, I have a fascination for NYC's elevated trains…not only the trains, routes, and stations, but also the streets that run beneath them. I have walked the lengths of New Utrecht Avenue, Fulton Street (its eastern section beneath its elevated), Myrtle Avenue (the elevated over it in Ridgewood); Sergey Kadinsky has covered Livonia Avenue; and I walked Roosevelt Avenue in Queens on the occasion of the Flushing Line's 100th anniversary in 1987.
Manhattan was dominated by elevated trains beginning in 1868, when what was later called the 9th Avenue Elevated was built on Greenwich Street and 9th Avenue as far north as West 30th, and then extended uptown, eventually connecting with elevated tracks on River Avenue near Yankee Stadium. The 9th Avenue El actually ran in a short tunnel in western Bronx, which I investigated with other railbuffs in 1999. Elevated trains running north on 2nd, 3rd and 6th Avenues followed, with the former two running nearly the length of Manhattan Island north to south.
As more subway lines were built from the 1910s through 1930s, the elevateds' era closed quickly and all but the 3rd Avenue El had closed by 1942; the 3rd succumbed in 1955, with its northern end from the Hub to Fordham in the Bronx hanging in there until 1973. Today the only piece of elevated train in Manhattan is the northern end of the IRT 7th Avenue-Broadway line, which surfaces at Dyckman Street and runs to Van Cortlandt Park.
Whereas Manhattan was shy to maintain elevateds in its most crowded business sections downtown and Midtown, Chicago has had no such reluctance and its storied Chicago Loop is busy until this day.
While elevated trunk lines ran on 2nd, 3rd, 6th and 9th Avenues, portions of these elevated lines shadowed many other streets in Manhattan, and latterday readers will be surprised indeed to know that these streets, which offer views of the skyey void above, once had those views blocked and the streets shadowed by heavy rail. Using the NYC Municipal Archives and modern-day Google Street View, I'll present these streets in today's post.
It is nearly impossible to visualize it now, but all of Manhattan's elevated trains once converged in a large terminal on Whitehall and South Streets adjacent to Battery Park. What turns into the 2nd and 3rd Avenue els turned north on Water Street, while tracks later diverging into the 6th and 9th Avenue Els emerged out of the park and ran up Greenwich Street.
This stretch of Water Street was once covered by elevated tracks from Whitehall Street to Coenties Slip. Elevated tracks on the line south of Chatham Square were demolished in 1950. Today, Water Street is much wider than its parallel streets, partially because of the el: but elevated tracks once ran up streets that were indeed narrow, as we'll see.
My mother Betty worked in the early 1970s for Manufacturers Hanover at #4 New York Plaza, the building on the right, which is still occupied by Manny Hanny's successor, JP Morgan Chase. A group of venerable buildings can still be found on Water Street's north side, at left.
A set of subway cars runs on the S-curve at Coenties Slip, which remains a wide, though short, thoroughfare today. A tight turn from Water via Coenties Slip onto Pearl Street necessitated this S-curve.
Coenties Slip was one of the largest of lower Manhattan's colonial-era boat slips. It has pretty much kept its old slanted shape, too. The slip was filled in around 1870. The name "Coenties" is old Dutch as Dutch can be since it recalls an early landowner from New Netherlands era, Conraet Ten Eyck, a tanner and shoemaker. He was nicknamed Coentje, or "Coonchy" to the British, and over time settled into this spelling. Ten Eyck Street in Brooklyn's East Williamsburg was also named for him. Another story has it that the name is a contraction of "Conraet's and Antje's": Conraet Ten Eyck and his wife Antje.
To this day I have never heard "Coenties" pronounced, but I imagine area denizens pronounce it as spelled: "ko-ENT-ees." Am I right?
The el that split into the 2nd and 3rd Avenue Els traveled north on Pearl Street and north of that, New Bowery (now called St. James Place) to Chatham Square, East Broadway at the Bowery, where there was a large double decked station handling trains proceeding north on the 2nd and 3rd Avenue Els. Much of it, but not all, was demolished when the 2nd Avenue El ceased operations in 1942, but a smaller hub served as the downtown terminal of the 3rd Avenue El from 1942 to 1955.
In this photo, we see a Horn and Hardart Automat, where you put your coins in a slot and doors would unlock, accessing you to your selection. Bugs Bunny demonstrated how it worked in "A Hare Grows in Manhattan." The last Automat, 3rd Avenue and East 42nd, closed in 1991.
Second Avenue El
The Second Avenue El ran northeast on Division Street, a quite narrow street that parallels East Broadway, before turning north on Allen Street. Division Street is so-called because it was the colonial-era line between the farms of James deLancey and Henry Rutgers, who between them owned most of the Lower East Side in the late 18th Century.
The above photo is Police Plaza, between the Municipal Building and NYPD Headquarters. The Second Avenue El ran from a terminal on Park Row opposite City Hall to Chatham Square, where it turned up Division Street at the aforementioned complex at Chatham Square, where it met the 3rd Avenue El. Park Row used to run in a straight line from Broadway to Chatham Square, with the El built above it. In the 1970s, when the new NYPD headquarters was constructed, Park Row was redirected around it, part of the way in a tunnel, and closed to all but NYPD-associated vehicles. Once again, it's hard to picture an elevated train running through here, but it did so.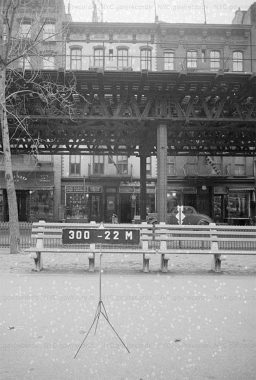 The 2nd Avenue El ran above Allen Street between Division and East Houston Streets, originally completely shadowing what was a narrow route. Between 1927 and 1931, both Pike and Allen Streets gained an extra traffic lane and a center median, while the 2nd Avenue El ran above the western lane.
The 2nd Avenue El was actually the 1st Avenue El between East Houston and East 23rd Streets. When the elevateds were built on Manhattan's avenues, most of the time they were of sufficient width to allow sunshine on both sides of the street, the exceptions being at stations, where platforms had to be built that cast bigger shadows. This photo depicts 1st Avenue at East 21st Street in 1940.
The 2nd Avenue El turned left onto East 23rd Street, where there was a station, shown here.
East 23rd Street at 2nd avenue today. Only #304-310 East 23rd remains today from the elevated train days.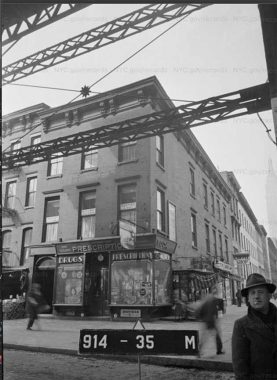 Manhattan's els were built high above or lower to the ground depending on topography. They were higher in valleys and lower on hiller areas (though most of Manhattan's steep grades were evened out to a great degree when its street grid was constructed in the 19th Century. The building shown here, at the SW corner of 2nd Avenue and East 34th Street, still stands and in 2022 hosted a pizzeria on the ground floor.
The 2nd Avenue El continued north to the Harlem River at East 129th Street, where it was joined by the 3rd Avenue El via the 129th Street Yard. The combined elevateds then ran north on Third (as 3rd Avenue is spelled in the Bronx), Webster Avenue and east on Gun Hill Road to meet the elevated at White Plains Road. The latter part of the route ended service in 1973. Strictly speaking, the 3rd Avenue El ran on its own right of way in Mott Haven and then over Third Avenue north of East 145th Street.
In addition, the 2nd Avenue El had a spur line that crossed the Queensboro Bridge to Queens Plaza. That spur closed in 1942 with the remainder of the line.
3rd Avenue El
Looking west on Kenmare Street at the Bowery. The 3rd Avenue El ran in more or less a straight line from Chatham Square up Bowery, and then over 3rd Avenue as far north as East 129th, where a spur at the 129th Street Yard joined it with the 2nd Avenue El before crossing the mighty Harlem River.
When originally built in 1878, the el was built in two separate tracks on either side of the Bowery, leaving the center in sunshine, but when a central express track was added in 1917, shadows covered the Bowery until 1955.
Here's a look at the view from the Canal Street elevated station.
This building at the SW corner of 3rd Avenue and East 36th is still standing, though considerably altered. Whelan Drugs was a very large drugstore chain in the northeast, founded by the same family that had founded United Cigars. Whelan Drugs eventually operated 219 stores, but had disappeared by 1962 because of a series of mergers.
The 3rd Avenue El lasted long enough to be rather more chronicled on film and in publications than other Manhattan elevated lines. Color photos of the el, in the stations and on the street, can be seen in Lawrence Stelter's marvelous By the El: Third Avenue and Its El at Mid-Century. In Billy Wilder's The Lost Weekend, Ray Milland staggers uptown along the el, searching for an open pawn shop on Yom Kippur in 1945. "To further create a realistic atmosphere, Wilder and his crew used hidden cameras, placing them behind boxes or in the back of trucks, and capturing Milland as he walked up 3rd Avenue among actual pedestrians who were unaware a film was being made. The production also had the unprecedented permission to film inside Bellevue Hospital in the alcoholic ward." [wikipedia]
The Third Avenue El had two spur lines, one running east on East 34th Street to a ferry at the East River. I could not locate any good photos of 34th Street covered by an elevated train, but this photo was taken after the spur's demolition; it ran from 1880 to 1930, so a good stretch of 34th Street was shadowed for a good half century: unthinkable today.
All three Grand Central Terminal buildings (they followed each other at East 42nd Street and Park Avenue, with the present one completed in 1913) were served by the 3rd Avenue El 42nd Street shuttle spur, which ran from 1878 to 1923. Try imagining an elevated train above East 42nd between GCT and 3rd Avenue today! Pictured in 1914, before the viaduct on Park Avenue was built.
6th Avenue El
Flowing like rivers around a narrow building where Greenwich Street and Trinity Place diverge at Morris Street, the 9th Avenue El (left) and 6th Avenue El (right) separate. The 6th Avenue El was the shortest of the great Manhattan trunk lines because of topography, proceeding no further than Central Park. There was a spur on West 53rd Street to the 9th Avenue El.
Downtown, the 6th Avenue El as many doglegs and turns as the 2nd Avenue El and certainly more than the 3rd.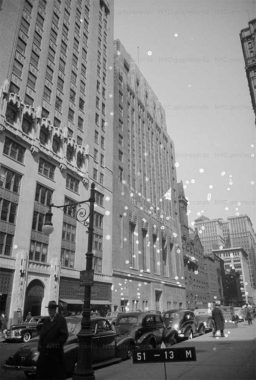 It's difficult to imagine in 2022 how many elevated trains were squeezed into the Financial District before the 1940s; we've already seen els on Water Street, Coenties Slip, Pearl Street and now Greenwich Street and Trinity Place, where the 6th Avenue El shadowed its entire length. (Add to those the subway lines that still run today, and you have quite the mass transit scenario.) The Sixth Avenue el was closed in 1938, and Municipal Archive photos were taken in 1940. Yet it's apparent that the 6th Avenue El was here just recently, here on Trinity Place across from Trinity Church Cemetery. How can I tell?
If I were doing Forgotten NY in 1940 (without the internet or a xerox copier, I would need to typewrite my notes and distribute them by mimeograph; dealing with photos would be complicated) I would mark the routes of recently demolished lamps by noting where the Dwarf lampposts are still standing. Dwarf posts are manufactured with shorter masts to fit beneath elevated trains. In the outer boroughs, pendant lights affixed to elevated train girders were employed. In Manhattan, Dwarves designed with special scrollwork (because everything was made with ornamentation in that era) were deployed beneath elevated trains on many occasions. This one on Trinity Place marks a street where an el had been. Soon after this photo was taken, regulation height lamps would be installed.
The 6th Avenue El also shadowed Church Street, named for Trinity Church and taking over for Trinity Place at Liberty Street. Just about all the buildings in the foreground looking north at Church and Cortlandt are new, save the East River Savings Bank building at right now occupied by Century 21. Sergio Calatrava's extravagant Oculus can be seen at left, along with #3 World Trade Center.
Murray Street between Church Street and West Broadway. The 6th Avenue El made a very brief sojourn on Murray Street before continuing uptown on West Broadway.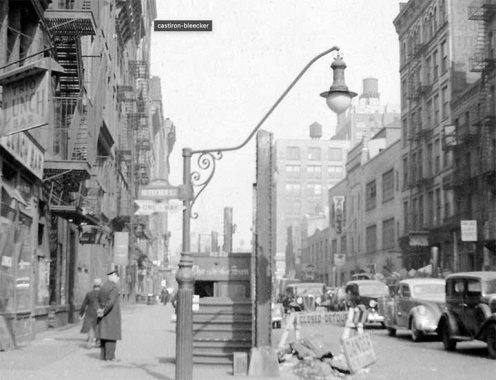 Here's a fairly wild example of a Dwarf lamp at Bleecker and West Broadway, which is now known as LaGuardia Place at this intersection. The shaft is abbreviated and the mast is oddly angled, most likely to get around an el structure or a staircase. The photo was taken in 1940 and the elevated train, in this case, was the 6th Avenue El, which ran up West Broadway, turned left at West 3rd, and then headed up 6th. It was torn down in 1938; its replacement is the A/C/E IND subway. It's likely that this particular pole was replaced shortly thereafter by a regulation Corvington or Bishop Crook post. A leftover train pillar was still there in 1940.
Look closely and you'll see other anachronisms, like a delivery truck for The Sun and a cop walking the beat.
The 6th Avenue El turned west at West 3rd Street, running over this narrow street in the heart of Greenwich Village, before turning north again at 6th Avenue. When it was constructed, 6th Avenue had yet to be extended south to Church and Franklin Streets from Carmine Street…leaving just one block of it in the sunshine. The extension, made to accommodate the new IND subway, was opened in 1928.
Once again, a Dwarf marks the spot where an el had been, here in 1940 at West 3rd Street. Fire Patrol #2 can be seen at left.
When the 6th Avenue El ceased service in 1938, it would be a good two years until service on the new IND 6th Avenue Line (which today features B, D, F and M trains) began north of West 4th Street. That same year, 1940, service ended on the 9th Avenue El, whose replacement, the 8th Avenue IND now hosting A, C and E trains, had opened in 1932 as the very first IND line. Thus, Midtown had a mysterious gap in service from 1938-1940 train service that was not shared by the East or West Sides.
The most egregious gap in adequate service, of course, was in the Upper East Side, whose IRT Lexington Avenue line had to suffice between 1955 and 2017 when the Second Avenue BMT extension opened. It's planned to be extended north to East 125th Street and south to Hanover Square, at dates reminiscent of science fiction's "Things To Come" or perhaps "The Time Machine."
Until 1938, a spur elevated connection from the 6th avenue El to 9th Avenue El was in place on West 53rd Street, with a station at 8th Avenue. This Dwarf marks its former passage, and in the background we see an elevated section awaiting demolition. Later, the IND subway was built underneath 53rd Street en route to Queens.
9th Avenue El
To me, the oddest route for an elevated train was the oldest, above Greenwich Street in the West Village, where elevated service began in 1868 with a single track line carrying steam engines pulling passenger cars. The line had been modernized and electrified, of course, by the time this 1940 photo had been taken at Greenwich and North Moore.
Had the 9th Avenue El survived it would have run smack through both World Trade Centers, old and new. Once north of Tribeca, Greenwich Street becomes a quiet north-south residential thoroughfare; it hands off to 9th Avenue at Gansevoort Street in the Meatpacking District.
The 9th Avenue El above East 56th Street. I recently shot an entire sequence on 9th Avenue, which in the late 20th Century became a foodies' mecca with its large array of ethnic restaurants.
Famed 20th Century photographer Berenice Abbott (1898-1991) captured this shot of people waiting for the train in the token booth area at the 9th Avenue El 72nd Street station. Note the stove, as well as classic turnstile and stained glass window treatment.
Probably the most famed curve of the Manhattan els could be seen at West 110th Street, where the 9th Avenue El turned east and then ran north along 8th Avenue, today's Frederick Douglass Boulevard.
The 9th Avenue el ran at varying heights above 8th Avenue. Most of the 9th Avenue el closed in 1940, with the exception of a short spur connecting the Polo Grounds to the Jerome Avenue El in the Bronx. That spur closed in 1958, after the Giants had departed to San Francisco; it was demolished by the time the Amazing Mets played at the Polo Grounds from 1962-1963.
As always, "comment…as you see fit." I earn a small payment when you click on any ad on the site.
11/13/22