On a recent Saturday I traveled around Blissville in western Queens with my friend Mitch Waxman, who I call the King of Newtown Creek. He is a historian and preservationist who has led dozens of walking tours and boat tours with the Newtown Creek Alliance and other groups, some of which I have participated in. Desiring a change of scenery, he and his wife Catherine have recently moved to Pittsburgh, but not before he rang up and proposed one last tour around the Creek area. I can't walk in comfort very much for the present (the condition is mysterious so far to the doctors, and I hope to find some answers soon) so we drove around in his new SUV and I got out and walked as tolerated.
Blissville is a small wedge of Queens positioned between Newtown Creek, Calvary Cemetery and the Queens-Midtown Expressway; it takes its name from Neziah Bliss, inventor, shipbuilder and industrialist, who owned most of the land here in the 1830s and 1840s. Bliss, a protegé of Robert Fulton, was an early steamboat pioneer and owned companies in Philadelphia and Cincinnati. Settling in Manhattan in 1827, his Novelty Iron Works supplied steamboat engines for area vessels. By 1832 he had acquired acreage on both sides of Newtown Creek, in Greenpoint and what would become the southern edge of Long Island City. Bliss laid out streets in Greenpoint to facilitate his riverside shipbuilding concern and built a turnpike connecting it with Astoria (now Franklin Street in Greenpoint, Vernon Blvd. in Queens); he also instituted ferry service with Manhattan. Though most of Bliss' activities were in Greenpoint, he is remembered chiefly by Blissville in Queens and by a stop on the Flushing Line subway (#7) that bears his family name: 46th Street was originally known as Bliss Street.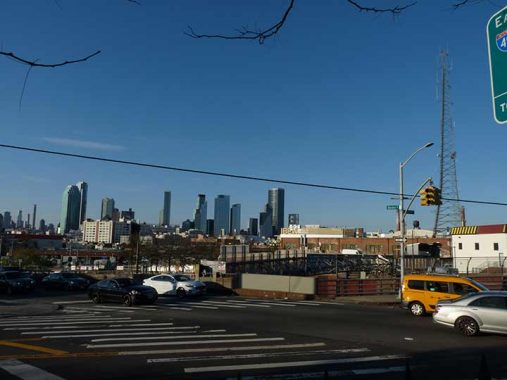 This was a rare dusk foray for the Forgotten New York camera, the reasons for which I will discuss presently. Our first stop was the oldest section of Calvary Cemetery. In 1847 the Rural Cemetery Act was passed, prohibiting any new burial grounds from being established on the island of Manhattan. Presciently anticipating the legislation, trustees of the old St. Patrick's Cathedral on Mulberry Street in what is today known as Little Italy began buying up property in western Queens. Calvary Cemetery, named for the hill where Christ was crucified, opened in 1848. The original acreage had been nearly filled by the late 1860s, so additional surrounding acreage was later purchased to the east for the section between Queens Boulevard and the BQE known as New Calvary. Its most prominent recent burial was likely former mobster Tony Sirico, "Paulie Walnuts" of The Sopranos fame.
This shot was taken just inside the cemetery fence at Greenpoint and Borden Avenue, which serves as the service road for the Brooklyn-Queens Expressway. The pace of new construction has quickened in recent years in both Manhattan and Queens, and most of the taller buildings you see in this photo are new with the exception of the Empire State Building (1932) and One Court Square on the right (1989).
A FDNY comm tower can be seen from roughly the same angle.
Facing east up Greenpoint Avenue what remains one of the tallest towers in Blissville (on the border of Sunnyside) is in view.
St. Raphael's Church, named for an archangel, dominates views from Hunters Point, Blissville, Calvary Cemetery, and Sunnyside. It was built in 1885 here at Greenpoint and Hunters Point Avenues and replaced an earlier structure; the parish dates to 1865. The reputed architect is Patrick Keely, the famed architect of mostly Catholic churches in the 19th Century.
As always, the most comprehensive history of this church, as well as others, is found on the American Guild of Organists' NYC pages.
The parish of St. Raphael was established in 1865, and the first Mass was said in November 1868 by Rev. Theodore Goetz, who attended the parish from Winfield. At the time, the area was known as Blissville, named for Neziah Bliss, inventor, shipbuilder and industrialist, who owned most of the land in the 1830s and 1840s. Blissville was bordered by Calvary Cemetery to the east, Newtown Creek to the south, Dutch Kills (a tributary of Newtown Creek) to the west, and the Queens-Midtown Expressway to the north. Blissville existed as a small village until 1870 when it was incorporated with the villages of Astoria, Ravenswood, Hunters Point, Dutch Kills, Middletown, Sunnyside and Bowery Bay into Long Island City.

Located on Greenpoint Avenue at Borden Avenue, the first church was a wooden frame building that would serve as the mortuary chapel for Calvary Cemetery. The second pastor, Rev. N. J. Farrelly, who succeeded Father Goetz after his sudden death in 1879, was determined to build a new and larger church. In 1881, the old church was demolished to make room for the new, and Bishop Loughlin laid the cornerstone for the present church on June 18th that same year. However, due to a lack of funds only the stone basement was completed by Christmas. Over the next four years, sufficient funds were raised and the completed church was dedicated by Bishop Loughlin on June 7, 1885. Built of brick and sandstone, the church is 149 feet long, 69 feet wide, and the height of the steeple is 150 feet. It is believed that the Gothic-style church was designed by Patrick Keely.
More on Hunters Point Avenue on this FNY page.
Whenever I do a tour in a cemetery, I tell people to peer through any opening in mausoleum doors and you'll often be met with exquisite stained glass renderings, of saints, Jesus or Mary. Today the setting sun sent a shaft of light directly upon this piece in Calvary.
Steve Brodie (1861-1901) is more famed for what he didn't do than for what he did. He is well-known as a fabulist for claiming to have jumped off the Brooklyn Bridge, July 23, 1886 and of course lived to make the claim. (Though others have truly accomplished the deed, Brodie never did.) He was able to make a living off the claim for many years at speaking engagements and circuses, telling the tall tale. He needed the money, as he had been a profligate gambler but not a very successful one. Brodie later opened a saloon on the Bowery and when he died at the young age of 39, he was said to be worth $100,000… real money in those days. Westerns actor Steve Brodie adopted his screen name from the real Brodie.
Another story, though, holds that Brodie was egged on by Bugs Bunny. Apparently the Vimeo link I has posted has gone bad because it violates some copyright somewhere, but the incident happened in "Bowery Bugs."
Here's a condensed version…
I wander through Calvary, and plenty other cemeteries, and marvel at the craftsmanship…all devoted to people who cannot possibly enjoy their own monuments. I always feel at home in Calvary, as I grew up in the Catholic faith and the majority of burials in Calvary are Irish Catholics… or at least Catholics from Italy or eastern Europe.
The Keating and Hogan mausoleum features another prime stained glass piece depicting the Sacred Heart of Jesus. Many Catholic (and Anglican) churches and schools are named for the Sacred Heart:
The devotion is especially concerned with what the church deems to be the long-suffering love and compassion of the heart of Christ towards humanity. The popularization of this devotion in its modern form is derived from a Roman Catholic nun from France, Margaret Mary Alacoque, who said she learned the devotion from Jesus during a series of apparitions to her between 1673 and 1675. [wikipedia]
After forming the Degnon Construction Company in Cleveland in 1895, Michael Degnon (1858-1925), whose chief line of construction was in railroads, moved his headquarters to New York in 1897. The Degnon Company built many of the IRT's early subway tunnels in Manhattan and Brooklyn from 1904-1908; the Steinway tunnels originally meant to carry trolley cars but later fitted for subways; what is now known as the PATH tunnel under 6th Avenue; and much of the original Pennsylvania Station.
Degnon also built a now-defunct railroad serving several warehouses and businesses in Sunnyside that connected to the nearby Sunnyside railyards, as well as many of the warehouses themselves which are now home to schools and the International Design Center. Some of the Terminal's early clients were Sunshine Biscuit Company, Packard Automobile Company, American Ever Ready Company, and American Chicle Company. Of course, the rising cost of doing business in New York forced all of these companies to find other cities in which to manufacture, and the Degnon tracks in Sunnyside were defunct by the end of the 1980s. Degnon's railroad works around the country are also numerous.
Yet another prime piece of stained glass from the Bernard Byrnes mausoleum; it likely depicts Mary Magdalene, or one of the other women present at Easter morning, after witnessing that Christ's tomb was empty.
The mayor of Long Island City before Queens became part of Greater New York was a colorful character named Patrick Jerome "Battle Ax" Gleason. He was elected mayor of Long Island City for three separate two-year terms between 1887-1897.
From 300 Years of Long Island City History by Vincent Seyfried, courtesy of the Greater Astoria Historical Society:
Patrick Jerome Gleason (1844-1901) was a Long Island City politician who held many political jobs throughout his lifetime, sometimes even at the same time.
In the Board of Alderman election of 1885, Gleason was elected alderman-at-large from the First District of Long Island City. In November 1886, he put himself up for election as mayor of Long Island City as an independent without being nominated by the Regular Democrats or Independent Democrats, running against George Petry. In the election, he won 1436 votes to George Petry's 1258. He owed his election to the vote of the working-class Irish of the First Ward, Hunter's Point & Blissville.

Patrick Jerome Gleason now occupied two offices at once-alderman and mayor; when asked to resign his council seat, he refused on the ground that there was no statute in the Long Island City Charter forbidding dual office holding. This point was correct. No one in 1871 had foreseen this eventuality. Gleason's dual status gave him unique power; he could act as a legislator and pass or veto his own legislation. Gleason held on to his alderman's seat until the term of his office expired.
Gleason could be said to be the Boss Tweed of Queens. He owned the area trolley lines, leased land to the school district, and formed the City Water Supply Co. to sell Long Island City water from his wells. When a ferry erected a fence to block access to the waterfront, Gleason destroyed it with an axe, earning his nickname.
When the New York Times published an article exposing his graft, he purchased and destroyed nearly every copy distributed in Long Island City. His relationship with the press was pricklier than Donald Trump's. He approached Associated Press reporter George Crowley in a hotel lobby in 1890 and berated him, then physically attacked him, throwing him against a glass cigar stand. He was arrested and convicted of third-degree assault, and served five days in the county prison , paying a fine of $250. Gleason followed some time later by dislocating the shoulder of a fellow meeting-goer at the Board of Health.
Nevertheless Gleason was beloved in Long Island City. The Romanesque PS 1 at Jackson and Van Alst Avenue (21st Street) is his greatest remaining legacy. Hundreds attended his burial in Calvary Cemetery in 1901.
The Doelger family, brewers by trade, have a prominent Calvary plot. in 1889 Matilda Doelger, the daughter of the owners of Teddy's saloon in Williamsburg, married a boxer named John West (of whom the family didn't approve). The Wests had 4 children, one of whom, Mary Jane, entered showbiz in her pre-teen years, and you know her better as Mae West. I don't know if that story is apocryphal or not. West also is purported to have a connection to Neir's Tavern in Woodhaven, since she lived nearby for a while. Mae herself is interred in Cypress Hills Cemetery a few miles to the east. A stained glass sign for Doelger's products can be seen in Teddy's window at Berry and North 8th Streets in Williamsburg.
John J. Scannell (1840-1918), the the first New York City Fire Commissioner, his brother Florence, his wife and children …and his horse, The Abbott, are memorialized at this plot in Calvary. How did this arrangement come about? Let Mitch Waxman explain it in Brownstoner…
And Matt Green in I'm Just Walkin' explains…
It turns out that The Abbott (or Abbot) was a renowned racing horse and one of John's most prized and beloved possessions, for which he had paid a record-breaking price shortly after the horse set the world record for the fastest mile in 1900. The Abbott is not, as far as I can tell, buried here at Calvary, but John apparently felt he deserved a place on the family monument nonetheless.
The centrepiece of Calvary Cemetery is its central chapel designed by architect Raymond Almirall in 1895) With its "beehive" tower, it resembles the Cathedral of the Sacred Heart in Paris. Almirall designed a similar dome for the massive St. Michael's Church in Sunset Park. The dome goes up to 80 feet and is 40 feet wide, which was a great feat of concrete construction for its time, and it is topped by a statue of Christ reaching out his arms in a blessing, which was carved from a single block of limestone.
It was also designed as a burial crypt for NYC's parish priests. According to Popular Mechanics magazine:
The crypts or catacombs are for the burial of the priests of the diocese of New York, under the charge of which the cemetery is maintained. At present, but one section of the catacombs has been completed with accommodations for twenty-four bodies in the concrete niches. But the section can be extended underground in four directions, and at any time an addition for seventy-two more bodies can be made. For a cryptal burial there is a lift set into the floor of the chapel to lower the body to the level of the crypts.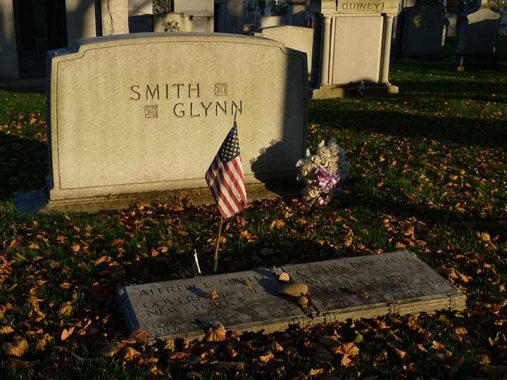 Al Smith (1873-1944), was Governor of New York State for four two-year terms (elected in 1918, 1922, 1924 and 1926) and the unsuccessful Democratic standard bearer in the 1928 Presidential race (he lost to Herbert Hoover, but was the first Roman Catholic major-party candidate; two Catholic presidents have been elected to date). The "Happy Warrior" as FDR nicknamed him, championed laws governing workers' compensation, women's pensions, and children and women's labor. He broke with Roosevelt after the latter's election in 1932, disagreeing with FDR's New Deal policies. A protegé of Smith's was an assistant, Robert Moses, who began building NYC's parks, parkways and expressways systems in the 1920s. After the 1928 election, Smith became president of Empire State Inc., the governing body in charge of constructing the King Of All Buildings.
Other NYC and NYS politicians interred at Calvary include Hugh J. Grant, who became mayor of NYC at age 31, the youngest in history, serving from 1889-1892; and Robert F. Wagner, a longtime US Senator from1927 to 1949, Robert F. Wagner II, a longtime mayor of NYC from 1953 to 1965, and RFW III, a deputy mayor and President of the NYC Board of Education, among other positions, during the Koch and Giuliani administrations.
I don't know much about William Boyhan, interred nearby, but I can infer some things. He was Irish, as witness the traditional Irish cross; he was involved in the legal profession, from the Latin "Justitia" and scales on the base. He was Catholic, from the the symbols of the four traditional Gospel authors, Matthew, Mark, Luke and John (angel, winged lion, ox and eagle).
Before moving on from Calvary, I got this extraordinary "golden hour" shot facing west.
Creekside veteran Mitch knew the best elevated places to get vistas. This is from a private parking lot at 30-30 Review Avenue, which displays views of the new Kosciuszko Bridge. as well as recently constructed Queens and Manhattan towers. Construction is at such a breakneck pace that the NYC of 2030 will be vastly different from the one seen, say in 2020, which is radically changed from 2000.
This parking lot, empty on the weekend, allowed us to get views of the elevated Long Island Expressway just east of the Queens Midtown Tunnel, and the Borden Avenue Bridge, one of two retractile bridges in NYC and one of four in the United States. Aiming the camera through a fence permitted close shots of Dutch Kills and the railroad bridge spanning it.
Twilight view of the "Shining City" from Bradley Avenue and 37th Street. Calvary Cemetery was to my rear at this vista.
Bantry Bay Tavern, Greenpoint Avenue and Bradley Avenue, and the County Cork Association speak of a tenuous Irish presence in Blissville, which is actually larger in neighboring Sunnyside. Irish immigration to the USA has ebbed and flowed in response to Ireland's economy, way up in the 1990s but way down since. The Cork Association was founded to help immigrants from County Cork as well as Irish immigrants as a whole:
The County Corkmen's Benevolent, Patriotic and Protective (B, P & P) Association was founded in 1884. The purpose of forming the Association was to promote unity, good will and protection amongst its members and to foster their culture and traditions. A fund was established to aid the sick and disabled members and to assist in payment of funeral benefits. [NY Cork Association]
Mitch and I stopped here for eats, and were made welcome by hostess Erika Clooney, who Mitch knew; he knows everyone creekside.
Queens' King of Preservation Mike Perlman is attempting to get NYC's Beaux Arts early 20th Century fire alarms landmarked; and John Colgan has been repainting and restoring them.
On Saturday, September 7, 2019, I did something I had never done before: I walked across the Kosciuszko Bridge. I had never had the opportunity on the old bridge that bore the name, because while it had walkways when originally opened in 1939, they were quickly eliminated. Just as well since the bridge's steep ramps would have made any walking or bicycling on it arduous.
The crossing of Newtown Creek between Meeker Avenue and Laurel Hill Boulevard at Calvary Cemetery has now been accomplished by five separate bridges. I talked about these crossings, the first three of which were called Penny Bridge (after its original toll) on this FNY page. The first of the two New Kosciuszko spans opened in August 2017. When the second cable-stayed span opened in 2019, it featured a walkway/bike path, which enables pedestrian/bicycle crossings for the first time in decades.
I have crossed the New K on foot on repeated occasions, but I had never been near it when its colored lights had been turned on. Thus, I requested a dusk trip with Mitch; by the time we were almost done, the bridge would be lit up, and I would have my pictures. This view of the bridge is looking south on Review Avenue, with Calvary Cemetery on the left and the Long Island Rail Road on the right, out of the picture. I'm never here at night, but Mitch's wheels made it possible; even before he bought the SUV, he would prowl the area on foot at night, and knew the best vantage points.
This group of shots was taken in the parking lot at Restaurant Depot at 43rd Street and the Long Island Rail Road tracks. The bridge lighting cycles through seven separate colors. The project is part of an initiative announced by ex-governor Andrew Cuomo in 2016; included are the George Washington, Mario Cuomo (Tappan Zee) Bridge and several others. Unlike Mitch, I'm rarely out late at night, so I hadn't seen any of the bridge lighting projects anywhere, until now.
A s I write this Mitch is now in Pittsburgh, which presents interesting opportunities for the next time I get out there.
As always, "comment…as you see fit." I earn a small payment when you click on any ad on the site.
12/4/22