In early June 2022 the weather cooperated absolutely fully for me to do a lengthy walk from Penn Station all the way to Columbia University, mainly along 9th and Columbus Avenues, and photos from that walk will make their way here in multiple posts. I am not a meteorologist unlike my Facebook pal Joe Cioffi, but in my observation the climate has changed in NYC and not toward a way I favor. In summer the humidity sets in about mid-June and doesn't really relent until mid-September; formerly, you could have some cool days when the mornings dropped into the 50s in the summer in NYC, but that doesn't happen anymore. In January 2023, it's pretty much been 45 degrees all month with occasional rain, no snow and very little cold weather except for a few days around Christmas. Since some believe talking about the weather is the bastion of boring people, I'll get on with the business at hand…
Looking north at 9th Avenue and West 33rd. The multiwindowed condo building at left replaced the Cheyenne Diner, which served its last Mohegan Burger in 2008. The tall building in the rear, #433 9th Avenue at West 34th, was built in 1962, but was recladded in glass and had the tall condo tower plopped on top of it from 2017-2018. It is the corporate HQ of Peloton, the talking exercise bike company.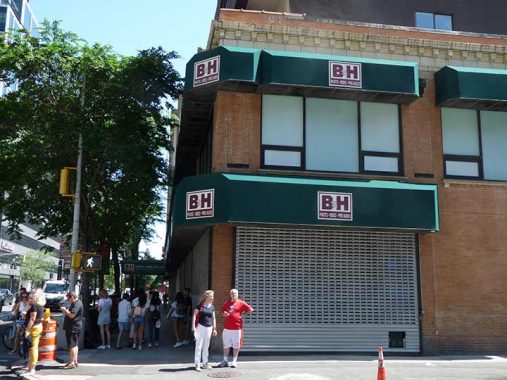 "You go to B&H" as the commercial says, if you want quality cameras and accessories. It was founded by Blimie and Herman Schreiber in 1973 downtown on Warren Street in 1973 and moved to West 33rd and 9th Avenue in 1997. Worth a visit to see its unique conveyor belt system.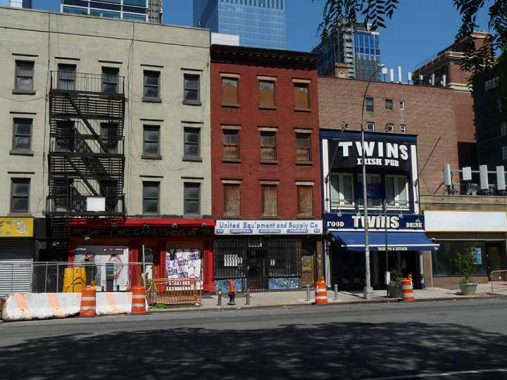 Take a look at the early 20th Century row on the west side of 9th Avenue from #413-421, including a vintage sidewalk sign or two. Demolition plans have been drawn up, and another tall condo glass tower will take its place among the many in the area.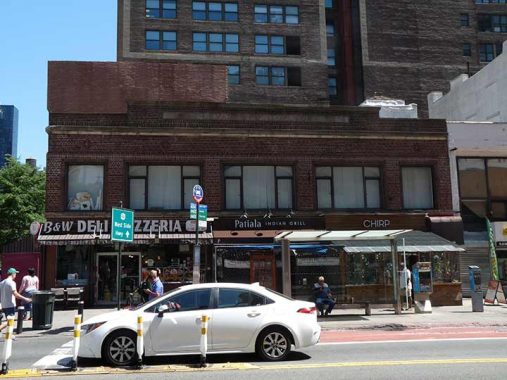 This elderly building on the NE corner of 9th Avenue and West 34th bears the name "Levas Politopulos." I had thought that was a Greek phrase of some kind, but it's likely the name of the long-ago developer.
#440 9th Avenue, at West 35th, was constructed at the peak of the Art Deco revolution in 1927 and was originally called the Holland Building. It originally housed Garment District offices, but has been remodeled into luxury apartments. The midtown branch of Bayside's Uncle Jack's Steakhouse can be found here. I have passed the place for years and still don't know how that steak doesn't slide off his plate. Check out that terra cotta detail.
9th Avenue is known as the restaurant capital of NYC with cuisines from around the world represented, and the fun begins at West 35th and extends north all the way to West 57th. I had something to cook at home and didn't stop in anywhere, but took note of some of the imaginative signage found on many of the eateries. Here's a traditional plastic letter sign for Vito's Pizza in the traditional Italian flag colors of red, white and green at the SE corner of 9th and West 36th. It's actually a new sign, and shop, dating to about 2019.
Noting Tavola, an Italian restaurant at #488 9th Avenue, for its etched glass signage and its vertical neon sign.
38 Special. The Esposito Meat Market, serving locals and also the restaurants further north on 9th Avenue, has been in business since 1932, many of those years here on the SW corner of 9th Ave and West 38th. Its vinyl-lettered sign is in the colors of the Italian flag, red, light green and white. The signage features an "animal cannibal," a pig licking its chops.
A handpainted sign for Taqueria Diana, NE corner of 9th Avenue and West 39th.
There has been a bowling establishment at the Port Authority Bus Terminal for decades and I seem to remember trekking in here as a kid at least once during my bowling days in the 1970s. In 2008 it became Frames Bowling Lounge and was repositioned as a place to hang out and drink as well as bowl, if you were so inclined. The 9th Avenue entrance is at West 40th.
The Deuce's last flop: The Elk Hotel, SE corner of West 42nd and 9th Avenue, opened in 1925. The Times' Steven Kurutz dropped in in 2004:
A rickety old staircase leads from the street up to a locked glass door, where guests are buzzed into a tiny lobby. To the right and lining the first floor are the "short stay" rooms, which rent for $25 for two hours; to the left and up a flight reside longer-term guests. Moving along the hallways, painted a dizzying aqua, and peeking into the rooms, one can almost imagine the figures that once ran rampant in old Times Square: teenage runaways, ex-cons, junkies and hustlers, lonely drunks, all the lost souls that nested here for a time.

The hotel has lately been popular with Mexican workers, and this day two laborers, their jeans and boots covered in dust, sat on the lobby stairwell eating rice and beans. Men followed by scantily clad women bounded up the stairs most of the day.

The hotel also has a few permanent residents who pay anywhere from $115 to $350 a month. Teddy, a withered black man, has lived there for 35 years. He had no time to talk, however; he had a hot plate going in his tiny room.

In Room 201 were a couple of sightseers who had taken the bus up from Atlanta, a short man with a red mustache and a teenage boy. In town for a week, they inquired at one hotel that charged $280 a night, then another that wanted $100 and then, finally, they came across the Elk.

How were they finding the accommodations? "Other than the mice, the hookers and the transvestites," the man said, "it's fine."
The Elk closed for good in February 2012. The 42nd Street sidewalk sign persists, a good decade after it flopped forever.
I'm not sure if that's real vegetation at @nine, pronounced "at nine" at 592 9th Avenue between West 43rd and 44th but it's not the last time I'll see this method of construction on this walk.
Kiehl's beauty products and apothecary has been around in the East Village at 3rd Avenue and East 13th Street since 1851. Its Original Musk Oil, a sample of which was discovered in the store's basement in the 1920s and, since its reintroduction in 1963, has become the most widely imitated fragrance in the world (by Kiehl's rendering).
I snapped its picture at 9th Avenue and East 47th, though, because of the ghost of a bicycle store ad. The bikes had moved out by 2013, with Kiehl's moving in the next year.
Until you take a closer look there's nothing extraordinary about this apartment building with storefronts at the NE corner of 9th Avenue and West 48th Street, unless you count what I call the "casual elegance" of most structures from the late 1800s and early 1900s.
…But it has one of the greatest carved or chiseled street signs I've ever seen on a building. Before about 1900 or 1905 street signs mainly existed on buildings (as they still do in places like London, UK) and weren't on the smallish gaslamps in use until the mid-1910s. They could be porcelain, enamel or metal, or carved in stone as they were here. The stonecarver had to take time to do the small flanges or serifs on the letters, as well as the underscores. Just an amazing job by the anonymous stonecutter here.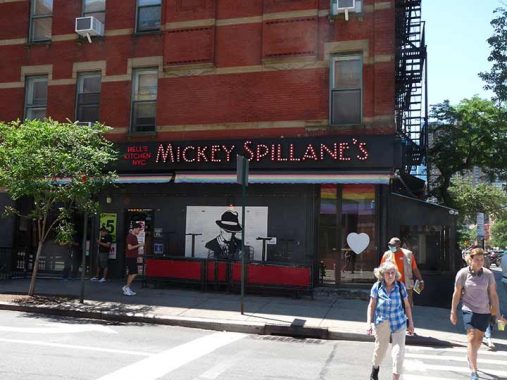 Contrary to what I had thought, Mickey Spillane's at the SE corner of 9th Avenue and West 49th Street wasn't directly named for the crime novelist who created detective Mike Hammer. The name Mickey Spillane is best known in Hell's Kitchen for Irish mobster Mickey Spillane, who participated in the Westies vs. Mafia wars in the 1970s and 1980s and was shot dead at age 43. His son, also named Mickey Spillane, owns the restaurant as well as other area venues.
Harold Ross began a publishing institution, The New Yorker, in a nearby building, still sporting a coal chute, on West 47th Street west of 9th Avenue. Dorothy Parker, Ogden Nash, Harpo Marx and other members of the "Algonquin Round Table" were frequent visitors.
The Queen Anne apartment building at the southwest corner of 9th Avenue and West 50th has a few years on the odometer — it was constructed by Ellsworth Striker in 1885. But it stands on property that goes back in colonial history for nearly two centuries before that.
In 1667 a settler named John Hopper acquired a vast swath in what is now called Hell's Kitchen, likely for the barrel fires that were set by the Irish dockworkers who resided in the area in the 19th Century. Hopper's spread occupied what is now 6th Avenue to the Hudson River between 48th an 55th Streets. Hopper built a number of houses on the property for himself and his grown sons, and the family burying ground stood at where 9th avenue and West 50th Street would be surveyed and laid out, next to John Hopper Junior's mansion that was constructed in 1752.
The Striker and Hopper families intermarried and Ellsworth Striker inherited the property in the 1880s and set about developing it, as Hell's Kitchen was bustling. The new elevated train had arrived in the 1870s and the 50th Street station was known as the Graveyard Station because of the old cemetery. Striker exhumed the remains and reburied them in Woodlawn Cemetery, and razed the old Hopper mansion, building the Clarice (the selection of the name is unclear) in 1885. The building, now with a pizzeria on the ground floor, still occupies the corner today.
Another oddment is the retention of the Department of Transportation of a rusted lamppost next to the newer stoplight that supports a pair of streetlamps. It still carries street signs and one-way directional signs. The straight mast at the top once supported a set of GE Whiteway lamps, a set of separate mercury lamps under one glass reflector cover.
More on the Clarice in Daytonian in Manhattan.
There are at least 4 Hummus Kitchens around Manhattan, so this may be a franchise, but the sidewalk signage at #768 9th Avenue makes the most out of a very limited space with which to work.
Nice views on 9th Avenue in the West 50s. The long-ago builders of the Warner Building, midblock in the photo on the right in this Gallery, according to legend had "Green Men, each of whom has a different facial expression, playfully placed there to salute 9th Avenue el riders as they went past (the el came down in 1940).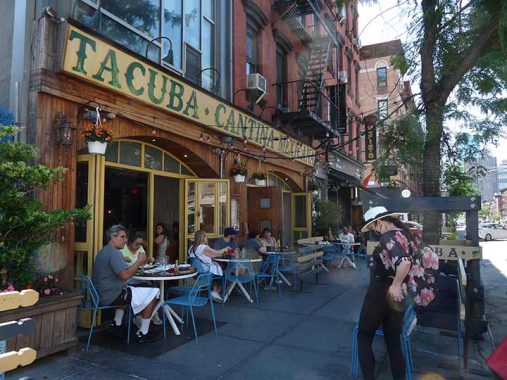 An impressive sidewalk painted sign for Tacuba Cantina Mexicana, #802 9th Avenue off West 54th.
This view will, sooner or later, become unavailable on 9th Avenue and West 54th Street as a parking lot will inevitably be built upon at some point. Here we see the Central Park Tower, 225 West 57th Street, one of a number of reed-thin "supertall" residential towers on what has come to be known as "Billionaire's Row." I'm reminded of the 1950s movie "The Monolith Monsters" in which a meteorite gives rise to massive towers that crumble, multiply and advance, threatening to overwhelm everything in their path.
824 9th Avenue/#359 West 54th Street is a turn of the century apartment. How do I know? The date of construction, 1900, is on a tablet on the West 54th Street side.
The glass-walled building on the NW corner of 9th Avenue and West 55th is home to the Alvin Ailey American Dance Theatre. The company was founded in 1958 by the Texan dancer and choreographer (1931-1989).
The Route 66 sign seen here for Route 66 Bar & Grill off West 56th combines two of my objects of admiration: the United States highway sign shield and ancient neon, quite a lot of which can still be found on liquor store signs around town. In 2008, FNY also did a survey of 9th Avenue sidewalk signs, and most of them have disappeared since then.
The neon sign is quite old, and this has been a liquor store going back as far as the 1940s; the sign shows up on tax photos from the era, but has been given different neon signage since that time.
Route 66 was a direct highway established in the early 20th Century "that winds from Chicago to LA" as the song says. Much of it no longer exists, as it was outmoded by interstate highways.
An ever-adaptable Donald Deskey pole at 9th Avenue and West 56th, here carrying a stoplight and pedestrian signals.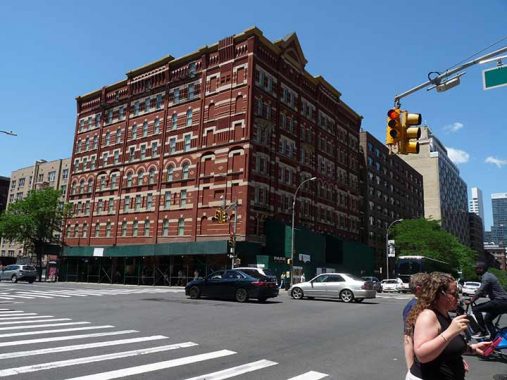 There are a number of places around the world that bear the name Windermere; the original Windermere is England's largest freshwater lake. New York City's Windermere has been largely a mystery for a couple of decades, as the grand building at 400 West 57th Street at the SW corner of 9th Avenue gradually sank into decrepitude emblematic of NYC's 1970s and 1980s deterioration, then disappeared behind a construction facade for the better part of a decade. In early 2019 the building finally emerged from its chrysalis.
The Windermere is actually three separate buildings joined together to appear as one. Its facade is light brown brick with buff trim, combining Queen Anne, High Victorian Gothic, and Romanesque architectural elements. It was constructed in 1881 for developer Henry Sterling Goodale as one of New York City's first apartment buildings. But this one had a twist. While single men and families could rent there it was pitched toward women of independent means. It did not adopt the strict rules imposing moral "norms" as boardinghouses of the day did. Unlike Manhattan's small, crowded tenements downtown the Windermere's apartments were spacious for their time and the building boasted the latest in technological innovations: electrified elevators and telephones.
The Windermere carried merrily along by the 9th Avenue El until the late 20th Century. The el came down in 1940 and Hell's Kitchen followed it down. It became a place where struggling actors could find lodging; Steve McQueen was a renter. But it then became a place where down-on-their luck folks wound up and as is the wont in NYC's building owners, maintenance then became severely deferred. Gradually conditions got so bad that only a few diehards remained until they gradually were forced out.
Despite becoming NYC Landmark in 2005 the Windermere's fortunes did not change until 2009 when developer Mark Tress bought the building for $13M and gradually renovated the building top to bottom in what turned out to be a decade-long job. Tress planned to convert the Windermere to a 325-room hotel, with a rooftop restaurant and ground floor retail.
St. Paul the Apostle, on Columbus Avenue between West 59th and 60th, is a Late Gothic Revival-style church built between 1876 and 1884 with Tarrytown granite to designs by Jeremiah O'Rourke and the Rev. George Deshon. The building was dedicated on January 25, 1885.

It contains interior elements designed between 1887-1890 by Stanford White and many large decorated side chapels. Later stained glass windows were added by John LaFarge. Other artists who worked within include Augustus Saint-Gaudens and Frederick MacMonnies; Stanford White and Bertram Goodhue both offered advice on design elements.

The church was added to the National Register of Historic Places in 1991, and designated a New York City Landmark in 2013.

The large church basement has been used as a homeless shelter, soup kitchen, rehearsal space for The Rockettes and for boxing matches. From 1996–2001, it was the home of the multi-annual Big Apple Comic Convention. wikipedia
A branch of P.J. Clarke's restaurant can be found at Columbus Avenue and West 63rd Street near Lincoln Center. The original Clarke's, at 3rd Avenue and East 55th Street, was established by Ehret's Brewery in 1890, with Patrick Joseph Clarke taking over in 1904, continuing until his death after World War II. There are 7 other branches of P.J. Clarke's in Manhattan, Chicago, Washington, Las Vegas, and São Paulo, Brazil. This Clarke's is perhaps best known for its appearance in the final scene of Woody Allen's "Annie Hall," in which Alvie Singer and Annie Hall have lunch after some years apart.
One of NYC's more unusual street clocks can be found on 9th Avenue and West 65th Street, opposite Lincoln Center. It was designed. by famed architect Philip Johnson and installed in 1999.
More a sculptured monument than a clock, the Time Sculpture is more evidence of Philip Johnson/Alan Ritchie Architects interest in manipulating geometry to create a work of art. The clock has several faces of different size, designed in part to allow pedestrians, those in vehicles, and visitors in Dante Park all to have visual access to the current time–intended to be useful, especially right before curtain time at the various venues at Lincoln Center.
Working in collaboration with Michael Rock, of design studio "2 x 4", Philip Johnson developed distinct clock face graphics. The playful quality of the placement of the numerous faces is a counterpoint to the monumentality of the sculpture's overall form. Colored a soft bronze, the sculpture elegantly twists and warps. It seems far larger than it actually is. Also, it creates a focal point not only within Dante Park, but the larger intersection in which the park sits. The clock was made possible through Lincoln Center and generosity of Yaffe and Gedalio Grinberg. [Wally Gobetz]
Dante Alighieri (1265–1321) balefully gazes on parkgoers in the park named for him at Lincoln Square, Broadway, Columbus Avenue and West 65th Street. The very early Renaissance poet is best known for "The Divine Comedy," an allegorical work in which the author visits Hell, Purgatory and Heaven.
The sculpture, by Ettore Ximenes, was commissioned in 1912 upon the 50th anniversary of Italian unification (as the monument in Columbus Circle was meant to celebrate the 400th anniversary of Columbus' arrival in the New World). However, sculptor Ximines did not complete it till years later and it was dedicated in 1921, which happened to be the 600th anniversary of Dante Alighieri's death. After refurbishments in 1992 and 2001 the monument looks as good as when it was dedicated over a century ago.
As always, "comment…as you see fit." I earn a small payment when you click on any ad on the site.
1/22/23