It's time for another entry in FNY's Cross Streets of NYC series! I have been walking Manhattan's numbered streets from east to west or vice versa so compulsively, I've decided to create a new FNY category to hold them. Over the years, I've done this quite a few times and I was amazed at how much stuff I missed and how much material I knew about and posted here and there, but never really formalized or categorized. There's a separate universe in each NYC numbered cross street.
Today's jaunt brought me to 44th Street, which I walked east from 12th to 1st Avenues, from Hell's Kitchen to Turtle Bay. I began within sight of the USS Intrepid, the aircraft carrier that saw service in the Pacific Ocean during WWII, the Vietnam War, and helped recover astronauts splashing down from NASA Mercury and Gemini missions. Decommissioned in 1974, she became the centerpiece of the Intrepid Sea, Air & Space Museum.
To get to 44th Street in January 2021, I took the 7 train to Hudson Yards, then waited 20 minutes for the 12th Avenue bus. The day was clear, but this was the dead of winter with shadows at their harshest, as you can see from this photo. Note: east of Grand Central, I shot East 44th Street photos in August 2020; those will be considerably brighter. I have over 100 photos in this series, so may split it into two pages.
I cannot detect a pattern to the window placement at #589 11th Avenue at West 44th, which real estate website City Realty calls "irregular fenestration." Honestly this looks incredibly weird. It was built atop a popular far west side tavern, McQuade's.
The Oskar, #572 11th Avenue at West 44th, is a 14-story rental apartment building with 118 units, opened in 2018. The building replaced the Market Diner, manufactured by the De Raffele Diner Company and opened at 11th Avenue and West 43rd Street in 1964 and closed in November 2015; I was among its last customers.
A painted ad for Meritex Ribbons can be seen at #599 11th Avenue, among other faded ads. This calls for a consult with the Indispensable Walter Grutchfield, who reports that they were produced here from 1945 to 1956.
PS 51, #520 West 44th, is the Elias Howe School.
As is the case with the telephone (invented by Antonio Meucci but recognized as by Alexander G. Bell), Elias Howe was not the first to conceive of a sewing machine, but he was the first to obtain a patent of a sewing machine using a lockstitch design, which became the workhorse model for many years. Howe was forced to defend his patent in a court case that lasted from 1849 to 1854 because he found that Isaac Singer with cooperation from Walter Hunt had perfected a facsimile of his machine and was selling it with the same lockstitch that Howe had invented and patented. He won the dispute and earned considerable royalties from Singer and others for sales of his invention.
Howe is buried in Green-Wood Cemetery, as is his dog, Fannie.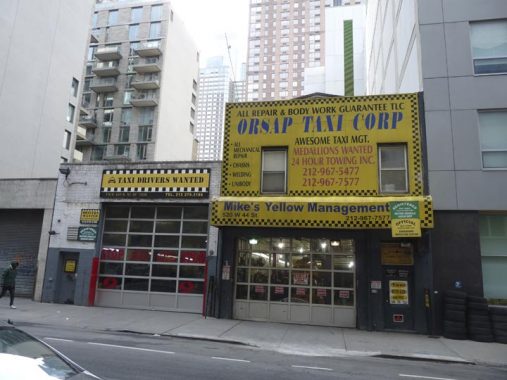 Across the street, this taxi garage retains the "checkers" cabs used to have.
East of 10th Avenue we're getting into the mainly residential section. I was attracted to the bright blue door at #447.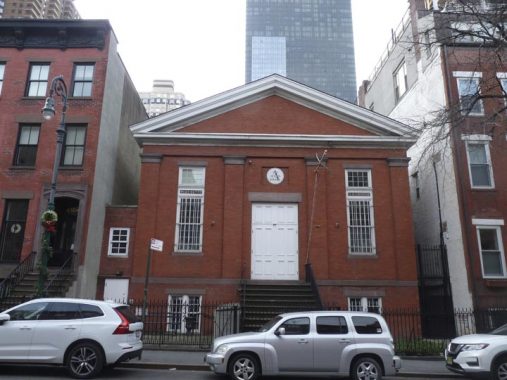 The beauty of Hell's Kitchen is that it's minutes away from the Crossroads of the World, and yet, it's fairly quiet on the side streets yet bustling on 7th 8th and 9th Avenues.
The former 7th Associate Presbyterian Church, built in 1859, has been the Actor's Studio since 1955, a membership organization for actors, screenwriters and directors, founded in 1947 by Elia Kazan, Cheryl Crawford, and Robert Lewis. The name most prominently associated with the Studio is Lee Strasberg, who taught acting here from 1951-1982. Dozens of the biggest names in show business have been associated with Actor's Studio over the decades.
A couple of doors away is #428 West 44th, a townhouse once owned by actress June Havoc, sister of ecdysiast Gypsy Rose Lee. It was said to be haunted by a ghost known as "Hungry Lucy." The name refers to a young woman named Lucy Ryan who died in 1792. According to the ghost story of Havoc House, Psychic Sybil Leek is claimed to have channeled Ryan, and reported that Ryan was constantly complaining about being hungry. Presently there is a "trip hop" duo named Hungry Lucy that has been playing electronica since 1998.
Yet another repurposed church a few doors down now used in the stage profession is at #424 West 44th, a Gothic Revival church now home to the New Dramatists; "dedicated to the playwright" is the inscription over the door.
A nonprofit founded in 1949 that develops playwrights (Paddy Chayefsky, August Wilson, and William Inge are alumni), it was variously the German Mission Church for Seamen (1898), the Evangelic Lutheran Church of the Redeemer and the Metropolitan Lutheran Inner Mission Society.
I have no online documentation about #429 West 44th, but its wide doorway indicates a former stable or firehouse.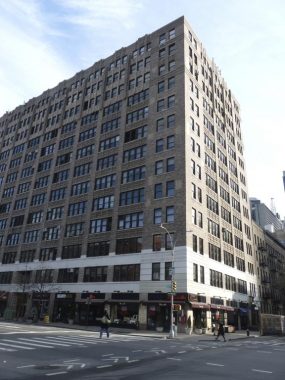 I should have at least attempted to get a shot of the radiant Art Deco lobby of the Film Center Building, #630 9th Avenue at East 44th, as that's the only really beautiful aspect of this stolid 13-story office building completed in 1929 to house businesses involved in film, theater, music and audio production. Both interior and exterior were designed by Jacques Kahn.
Rudy's Bar and Grill (and it does have a grill — you get a free hot dog with a beer) has been a mainstay on 9th Avenue between West 44th and 45th Streets since the 1930s.
Crowned by antique Tiffany lamps, the booths are all covered in duct tape. The house beers– a red and a terrific blonde — run you $2.50 for a pint and $7 for a pitcher….there's little space among the young bankers and advertising types who long ago elbowed out the boozy neighborhoodies who used to dominate. Nowadays old timers who wander in seem out of place, especially after sundown when the post-work crowd settles in. I witnessed a septuagenarian trying to get the attention of another septuagenarian. Though they were standing only five feet away from each other, it was too loud for them to hear one another. –Ben Westhoff, New York City's Best Dive Bars, 2nd Edition, IG Publishing 2010
Rudy's is closed during the covid pandemic, but a sign on the door says "we'll open when the world is open sometime soon."
9th Avenue, from 42nd to about 52nd, is known as the avenue in Manhattan where you can pretty much find any national cuisine you're looking for.
I mention the Brazen Tavern, 356 W 44th, because its very old building boasts a painted ad for Fletcher's Castoria, painted anywhere between 1890 and 1925. The mild children's stomach trouble medicine was ubiquitously advertised on buildings in the early 20th Century. The Brazen, like Rudy's, is shut down temporarily (it is hoped). We're approaching a reckoning of Biblical proportions with so many bars and restaurants closed down during the pandemic. Will only the chains survive?
Old-school Hell's Kitchen apartments, #347-351 West 44th.
What had been Luthier Music Corp. at #341 West 44th moved as early as 2015 to #49 West 24th Street further downtown, and it has closed in that location as well.
A luthier is someone who makes or repairs lutes and other string instruments, a fitting name for the legendary guitar shop that moved from West 44th to 24th in 2015. Though Luthier Music has one of the largest selections of Classical and Flamenco guitars as well as other requisite guitar accessories, and related musical instruments, they are, perhaps, most well known for their high quality nylon strings. [Sideways NYC]
Coffee shop under a parking garage, #332 West 44th. I don't know about you, but the name of the shop reminds me of…

The building at #331 with the high arched windows is now a union hall, but I wish I knew its original purpose. The writing above the windows on this 1940 Municipal Archives photo is too fuzzy to make out.
I've been around so long, I have histories just about anywhere I go. West 44th is no exception. In April 2014, I spent a few days as a freelance copy editor at the print edition of the New York Observer (the pink-sheeted weekly has since gone the way of the dodo bird) in this building, #321 West 44th. Inside, I had been wondering why there were all these framed photos of rock musicians, till I dug deeper and discovered this had been the Record Plant, where dozens of hit albums by the likes of Jimi Hendrix, Bruce Springsteen and Patti Smith were recorded. John Lennon and Yoko Ono were listening to playbacks and making suggestions to the Double Fantasy album on the same night, December 8, 1980, they later returned to the Dakota Apartments on Central Park West and Lennon was shot dead by a crazed individual.
The Hotel Lincoln was the tallest and biggest hotel in New York City when it opened at 8th Avenue and West 44th in 1928. It was purchased by William Zeckendorf in 1957, who remodeled it and renamed it the Manhattan Hotel, signified by a giant neon "M." Count Basie, Lester Young and Artie Shaw were the house musicians at the hotel's Blue Room Plaza.
By the 1970s, the Times Square area wasn't what it used to be by a long shot and the Manhattan was getting a bit shoddy. The Milstein family purchased it, renamed it the Milford Plaza, (retaining the big M) and launched a TV commercial touting its affordable prices, "the lullabuy of Broadway," that seemingly played during every commercial break…
Another chapter began in 2010 when Rockpoint Group and hotel operator Highgate Holdings purchased the hotel, removed the "M" and in 2014, rebranded it as ROW NYC.
Mama Leone's, an Italian restaurant regarded the same way as Olive Garden is now by foodies, was on the ground floor on the 44th Street side until 1994.
I'm unsure if the present red and green neon wraparound sign at 8th Avenue and the NW corner of West 44th is the original, but Smith's Bar first opened in 1954 and has served theatergoers, tourists, hookers and everyone else in the vicinity, surviving a closure scare in 2014 reported by more than one media outlet.. I have only been in once, around 2005 or so. It had middling marks in Yelp (stick with the drinks, not the food).
Here 44th Street enters the Theater District. I won't cover every theater along 44th but I did get some photos of what I found interesting. Personally, I haven't attended a Broadway production since 1994, when I saw Patrick Stewart's one-man Christmas Carol.
In January 2021, the Theater District, usually bustling even during non-matinee days, was cold and empty. The St. James Theatre opened in 1927 as the Erlanger, named for Broadway impresario Abraham Erlanger, but became the St. James after Erlanger's death in 1930. Broadway stalwarts such as Oklahoma!, The King and I and Hello, Dolly! premiered here.
Jagged Little Pill, based on Canadian singer Alanis Morissette's 1995 album, opened at the Broadhurst Theatre in 2019 and awaits the end of the pandemic for a reopening. The theater opened in 1918 under the supervision of playwright George Broadhurst. Cabaret, Godspell, The Sunshine Boys, Grease and Amadeus all premiered here and Humphrey Bogart originated the role of bad guy Duke Mantee in the Broadway production of The Petrified Forest in the 1920s.
Restaurateur Vincent Sardi opened his Continental-themed restaurant here at #234 West 44th Street in 1927. Known as a Broadway actors' hangout, more than 1000 framed caricatures of celebrities hang on its walls, many drawn by Russian refugee Alex Gard, who produced hundreds of them until his 1948 death. Producer Brock Pemberton conceived of the Tony Awards given to Broadway productions of excellence at Sardi's in 1948, naming them for his actress wife, Antoinette Perry.
The Shubert Organization is one of the foremost "movers and shakers" on Broadway, constructing numerous theaters and producing dozens of plays. It was founded by three brothers, one of whom, Sam Shubert, lent his name to this Venetian Renaissance theater in 1913. Pal Joey, Kiss Me Kate and Chicago have all played here but in recent memory, the theater is most famous for A Chorus Line, which set a record for continuous performances here. A public alley adjoining the theater was where actors looking for calls used to meet. It's also notable for its corner neon sign.
Along Theater Row on West 44th, there are plenty of other attractions besides dramatic productions: bowling alley (I was in a league at Bowlmor when it was a dingy, smoky mess on University Place in 1976) guitar shop, deli, miniatures gallery.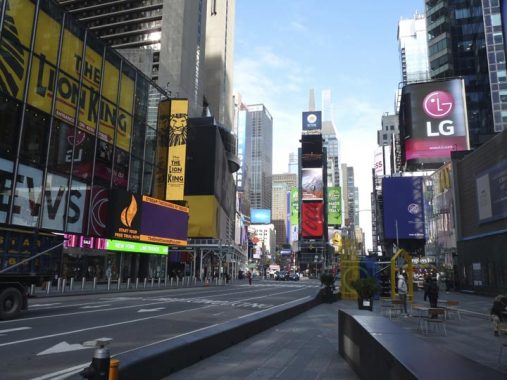 Looking south from West 44th along Times Square to the Times Tower, which in 2021, covered by video billboards, looks utterly different from the Renaissance palazzo it appeared to be when first built in 1903, when it was the tallest building in the area.
In 1927, the Paramount Building, SW corner of West 44th and Times Square, supplanted the Times Tower as the area's tallest building. It contained offices for Paramount Studios and was until 1967 home to the Paramount Theatre. Until taller buildings clustered around it, the illuminated glass globe at the building's apex could be seen for miles. Chimes play "Give My Regards to Broadway" at 7:45 p.m. every day.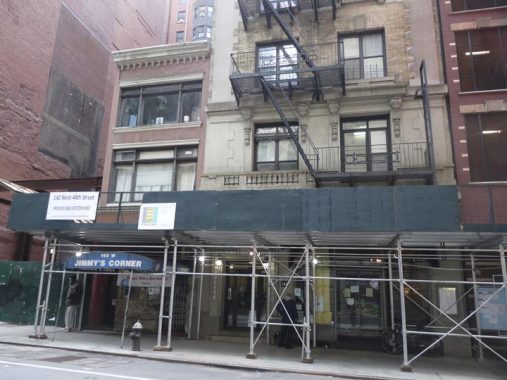 Jimmy's Corner, at #140 West 44th, was founded in 1971 by professional boxer Jimmy Glenn, who died from complications of covid disease in 2020. Glenn also operated the now-vanished Times Square Gym on 42nd Street. The small space is chockablock with boxing memorabilia.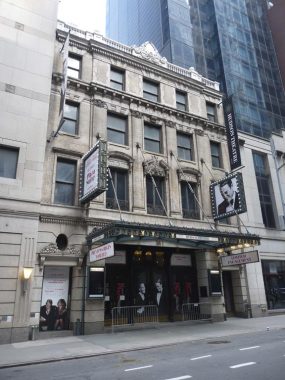 The Beaux-Arts Hudson Theatre, 131 West 44th, is one of the oldest theaters on Broadway, dedicated in 1904 and constructed by McElfatrick & Son. If the walls could talk here, they would have a lot to say. The Hudson was where Arsenic and Old Lace launched, Steve "Steverino" Allen hosted the first incarnation of The Tonight Show, and it has been a porno palace and rock club.
The Lambs Club, #128 West 44th, a social hangout for actors and theater enthusiasts, was founded in 1874 and has a number of clubhouses around town. All three members of the McKim, Mead & White architects were members, and the firm designed this Lambs clubhouse/theater in 1903. The design features lambs' and rams' heads. An ell was added in 1915.
The Belasco Theatre has a neon-lettered sign similar to that of the Shubert (see above). It, too, was built in 1904. Actor/impresario David Belasco, in the early 20th Century, conceived of his theater as a place where actors and their audiences could have an intimate theatrical experience. The interior features Tiffany lamps and murals by Everett Shinn. Girl From the North Country, with music by Bob Dylan, had the misfortune of opening in March 2020 at the outset of the pandemic.
As I suspected I'm running out of gas. I'll finish 44th Street in Part 2.
As always, "comment…as you see fit." I earn a small payment when you click on any ad on the site.
4/25/21