Coney Island Avenue is among Brooklyn's lengthiest routes, extending from Ocean Parkway and Parkside Avenue where Prospect Park meets the Parade Grounds and runs generally straight south all the way to the Coney Island boardwalk (officially called the Riegelmann Boardwalk for the borough president when it was completed in the 1920s). As this 1873 map shows, Coney Island Avenue (at first Coney Island Road) was one of the first north-south routes in the area in the towns of Flatbush and Gravesend; Old Flatbush Road (now Flatbush Avenue) and Old New Utrecht Road were others.
The Coney Island and Brooklyn Railroad (CI&B) was chartered on December 10, 1860 to build and operate a horse-powered street railway from the banks of the East River in the city of Brooklyn to the seashore on Coney Island. The new line made its way out of downtown Brooklyn alomng Smith Street, crossed the Gowanus on 9th Street, and feached [what was then] the Brooklyn city line at the southwest extreme of Prospect Park. Southward from the park, the new line headed overland to the Atlantic Ocean along the alignment of the Coney Island Plank Road, a corridor that later would be known as Coney Island Avenue. How We Got To Coney Island, Brian Cudahy
Under the stewardship of Civil War hero General Henry Warner Slocum, the CI&B was converted to electric power. The line was later purchased by the precursor to the BMT, Brooklyn Rapid Transit, and became the #68 streetcar line. Today's #68 bus route is the only legacy of the days when horses pulled railroad cars down the Coney Island Plank Road. Slocum, who is commemorated by a statue at Grand Army Plaza, is perhaps best remembered by the tragedy and horror of the burning of an excursion steamboat named for him in the East River in June 1904; over a thousand perished, making it the second greatest loss of life from one event in NYC, second only to the terrorist attacks of 9/11/01.
Forgotten Fan and railroad historian Joe Brennan: The Coney Island and Brooklyn Railroad ran along the west side of Coney Island Avenue, not down the middle, from the city line (Fort Hamilton Parkway) to the Coney Island Creek bridge, about 6 miles. The company claimed that this was private property acquired from the plank road company. Old photos show a dirt road and double track railway side byside with a narrow grassy space between them. The plank road company, however, went out of business in 1880. In 1910, a legal dispute between the railroad and the city was solved when the company released claims to the property along the west side in exchange for an undisputed private right of way down the middle. The avenue then consisted of two separate roadways on each side of the railway, and was probably paved after 1910. I would guess the right of way was not given up until after 1925, when cities began to donate more and more streetspace to auto lanes. I do know that the tracks were in pavement, like most trolley lines, by the time the railway was abandoned. This story helps explain the great width of the avenue, and it is also an example of how close we got to European-style light rail lines on some streets in the outer boroughs.
I've taken a couple of walks down Coney Island Avenue, in spots, the past couple of years. It is mainly a corridor of auto body shops, wholesalers, gas stations, and this general atmosphere could be a legacy of its old days as a railroad corridor. There are a number of apartment buildings that sprung up during its streetcar days. Much of Coney Island Avenue contrasts mightily with the landmark neighborhoods to its immediate east such as Prospect Park South and Beverley Square, which feature highly stylized homes from the Victorian age, many of which feature lush, wide lawns. (While they will be featured on FNY presently, grit seems to suit Forgotten NY best most of the time.)
Above we see a distinctive brick building occupying the parallelogram between Coney Island Avenue, Foster Avenue, Glenwood Road, and little Corbin Court. It may have originally been a roadhouse catering to passengers traveling on the once-rough-and-ready horse-drawn railway.
I was surprised to see the Kent Theatre, 1170 Coney Island Avenue near Avenue H, still running mainstream first run features. How long before it succumbs to the presence of nearby multiplexes? It opened in the late 1930s and was among famed theater architect Charles Sandblom's last works. It's not highly regarded by Cinematreasures commenters, but $4.50 got you in on Wednesday, at least in December 2006 when I shot this.
Coney Island Avenue has a lot of mysteries that, unfortunately, may have to remain that way. Such as this building on the SE corner of Avenue I. A former roadhouse perhaps? You can make out the shadow of the former name, Moran's, along with a remaining R, above the front door.
I don't recall exactly where this terra cotta palace is — perhaps Kings Highway or one of the lettered avenues above or below it. The urns are there for no reason; that was the point of putting them there. No sea-things, hence probably not a Child's.
I was attracted to the Old West style lettering at Crossroads saloon just south of Kings. Then there's the telephone company building emblazoned with depictions of communications over the centuries: smoke signals, tom toms, semaphore, telephone, satellite. I'm not sure that cavemen used smoke signals, and Native Americans may chafe at being represented one notch above Cro-Magnon Man.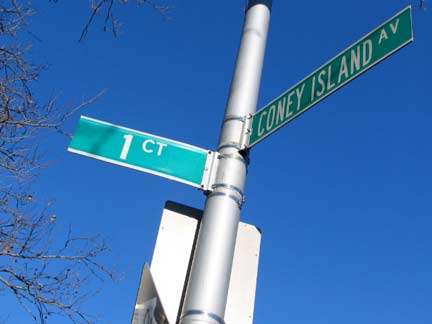 Another mystery: the presence of First Court, or 1st Court, between Coney Island Avenue and East 9th just south of Avenue R. Brooklyn has many street numbering systems; there's 1st-101st Streets and 1st-28th Avenues in Park Slope, Sunset Park, Bay Ridge and Bensonhurst; the East and West numbered streets of Kensington, Coney Island, Gravesend, Midwood, Flatbush, East Flatbush, Canarsie and other neighborhoods; the North and South numbered streets of Williamsburg; the Brighton and Banner numbered streets (dozens of them, some no more than thin walkways) of Sheepshead Bay and Brighton Beach; the Bay numbered streets of Bath Beach; the Beach numbered streets of Sea Gate; the Paerdegat and Flatlands numbered streets. Am I forgetting any? And there's one-shots, like First Court; there's no Second or Third. There is a Seventeenth Court at the end of 17th Avenue in Bensonhurst.
1st Court shows up on Brooklyn maps by the late 1930s. Perhaps, to the builders, it was so perfect that no other needed to be built.
As you go south Coney Island Ave. sheds some of the wholesalers and becomes more residential, though you'd never mistake it for the shadier side streets it parallels.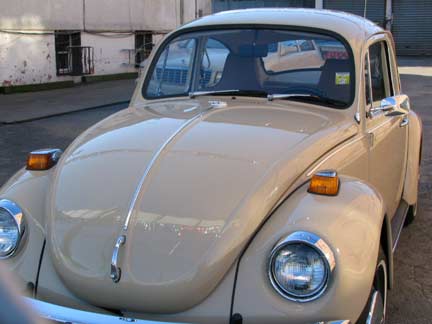 The promise of belly dancers and hookah smoking seemed enticing (OK maybe just the belly dancers) but all I found was a Beetle.
Near Avenue T. No wonder Rosenstock is out of business, his sign has too many digits in the phone number. I liked the stencil sign for Schnoll Monuments.
Lester's at Avenue U. It just goes on and on…and on…perhaps where money talks and nobody walks?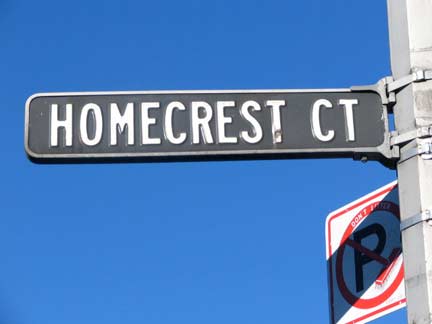 There are a pair of dead-end courts on Coney Island Avenue south of Avenue S called Hutchinson and Homecrest Courts, but Homecrest is vastly more interesting for me, since it boasts a 1940s or 1950s era enamel and aluminum signs — black with white raised letters — that were mostly replaced in the Swingin' Sixties by vinyl signs all over town. Department of Transportation…spare this sign! Have mercy!
I turned west at Neptune Avenue and this grand old apartment house on the southeast corner…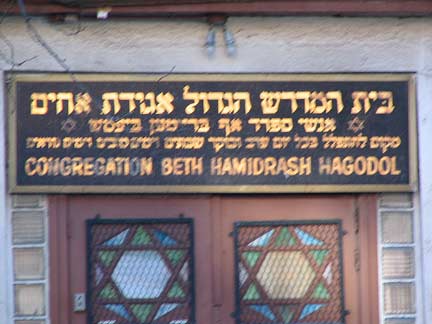 …and found this magnificent relic of a building near Ocean Parkway. Is the English a translation of the Hebrew? There's also a rare two-light traffic light at the Ocean Parkway service road.
ForgottenFan Dave Steckler: Large letters: House of Great Study of the Society of Brothers.
Small letters, top line: the second word is "S'fard," as in "s'fardim. Jews who emigrated from from Eastern Europe are referred to as "Ashkanazi" and Jews who emigrated from Spain are referred to as "S'fardim." The last three words are the name of a rabbi.
The last line reads: A place to pray every day, night and day, Sabbaths and holidays, and High Holidays.
Forgotten Fan Mitch Balish: 1) 'Agudath ahim' shouldn't literally be taken to mean 'society of brothers'; it's a general term for a congregation. So I would say that the English on the sign is a good translation of the Hebrew, leaving the name of the congregation, 'Beth Hamidrash Hagodol,' untranslated. 2) I would also say that it means 'great house of study,' not 'house of great study.' 3) 'Anshei Sfarad' specifically means 'men of Spain,' who would indeed be Sephardic (that is the conventional spelling, as is 'Ashkenazic' for the others) Jews.
Coney Island … I will never let you go.
5/28/08