On the first three Saturdays in August the Department of Transportation shuts down Lafayette Street, 4th Avenue, Park Avenue South, Park Avenue and part of West 72nd Street in theSummer Streets program, designed to give New Yorkers the run of these streets without threat of auto traffic. It's been a smashing success after its 2009 institution, though the program is geared toward bicyclists and runners; plodding pedestrians like your webmaster are still largely relegated to the sidewalk, mostly by necessity. On August 7, 2010 I decided to walk the route and give the event a ForgottenNY spin.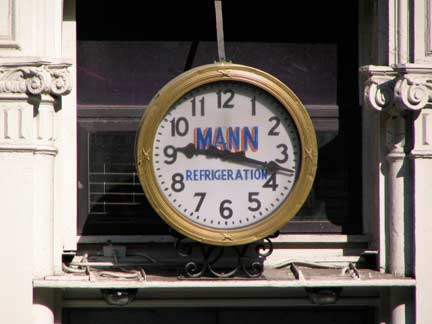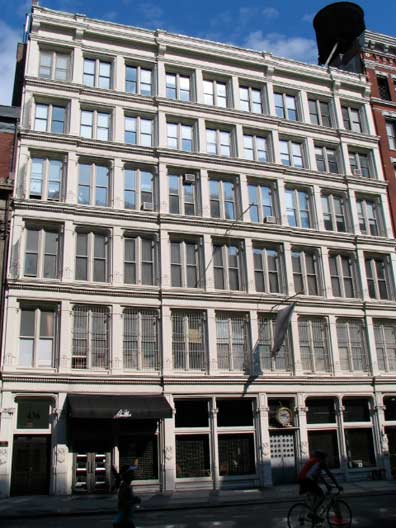 After passing the old Lafayette Place Colonnade buildings, the demolished remnants of some of which have recently been rediscovered in Morristown, NJ (See Part 2 linked above) you pass the impressive cast-iron front 436 Lafayette Street, part of which used to be occupied by the Mann Refrigeration Company. You know that because the company's brass clock, which still tells correct time, is above the front entrance. This is across the street from Joseph Papp's Public Theatre.

Cooper Square
Cooper Square is an ancient Manhattan crossroads, where Astor Place, East 8th, Lafayette Street, 4th Avenue, 3rd Avenue and the Bowery all meet, some beginning here, some ending. There's more here than the 1854 institution founded by gelatin inventor, transtalantic cable innovator and philanthropist Peter Cooper …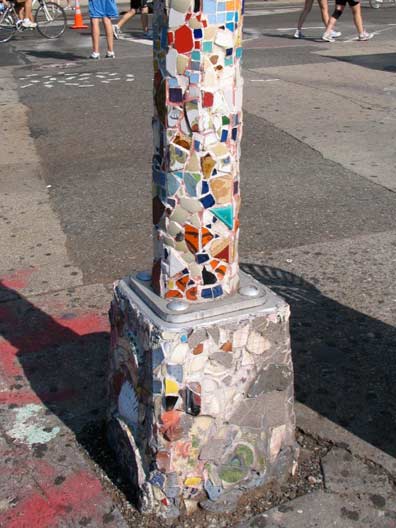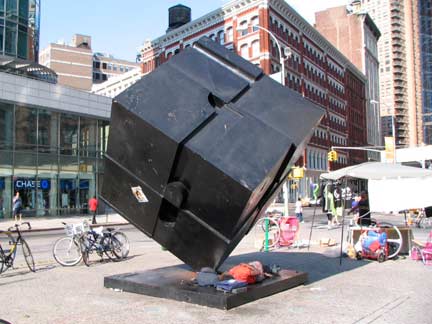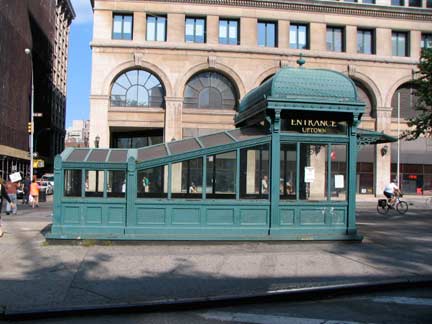 There are the lamppost mosaics of Jim Power, which line St. Mark's Place from Cooper Square east to Tompkins Square (that is, where the Department of Transportation hasn't removed them); Toney Rosenthal's nearly 1-ton sculpture called Alamo, installed in 1967 — it can rotate if you push it hard enough. And, in the early 1980s, the MTA installed a replica of one of the IRT's classic entrance kiosks. When the IRT Subway was first opened in 1904 its stations had dedicated entrance and exit kiosks, with different designs. As cars began to dominate the streetscape the bulky kiosks interfered with sightlines and so were gradually removed over time; the last original ones disappeared around 1960. But we have this new one to remind us what they were like.
4th Avenue officially begins at East 9th Street (the portion south of that intersecting with the Bowery is street-signed "Cooper Square.") It's a portion of the old post road to Boston (as is Park Row and the Bowery). Long ago, it ran all the way north of Grand Central Terminal, but most of it was renamed Park Avenue in the 1850s as the city attempted to beautify an ugly railroad cut filled with steam belching railroad trains. 4th Avenue is now Manhattan's shortest numbered avenue and runs NW against the overall gridiron. 4th Avenue and Park Avenue South share house numbering north to East 32nd, where Park Avenue numbering begins.
The graceful Grace Memorial House fronts on 4th Avenue at the rear of James Renwick Jr.'s first great work, Grace Episcopal Church at Broadway and East 10th Street in 1878-1879. The House was created in the same style as Grace Church in 1883 by Renwick. 11th Street is interrupted, according to legend, because landowner Henry Brevoort refused to budge when the streets were being cut through in the early 19th Century. This was reputedly home to NYC's first day care center.
The furiously Moderne Cooper Station Post Office, NE corner of 4th Avenue and East 11th. It was constructed in the mid-1930s by the Works Progress Administration. This is the PO where Newman, the scheming mailman from Seinfeld, played by Wayne Knight worked. Even though it's a creature of the 1930s, its columns echo Colonnade Row a few blocks south.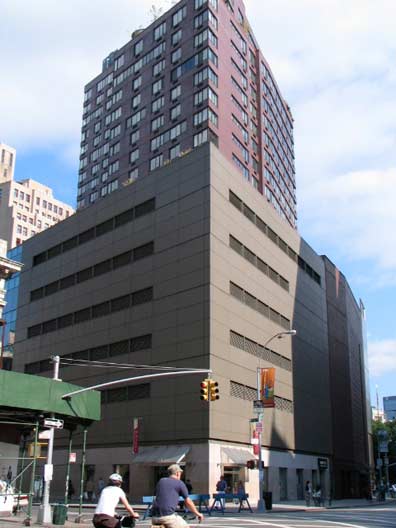 The ugliest building in NYC? There are a number of candidates. The back of a theatre complex and what was once Virgin Records on Broadway and East 13th. 'Twas the digital download what killed the multimedia megastore.
Pedestrians, bikes and dogs wait for the light to change at 14th Street, where 4th Avenue meets Union Square, named for its intersecting groups of roads. theMetronome, and its accomopanying clock that no one knows how to read without a scorecard, face the square from East 14th. Both were installed by artists Kristen Jones and Andrew Ginzel in late 1999. Here's how to read the clock. Look closely at the Metronome, and you'll see George Washington's hand.
Page completed August 18, 2010
PART 1 | PART 2 | PART 3 | PART 4 | PART 5 | PART 6 | PART 7