Rivington is a street in Manhattan's Lower East Side, in general running from the Bowery east to Pitt Street. In 2010 it exists in three separate pieces, a one-block stretch between Bowery and Chrystie, a main section from Forsyth east to Pitt, and a small piece remaining at Columbia. It was originally laid out as one continuous street from the Bowery to the East River, but over the decades, the construction of Sara Roosevelt Park, Samuel Gompers Houses and Baruch Houses have served to truncate it somewhat. In the colonial era, James Rivington(1724-1802) published a loyalist Tory journal from 1773-1775, the New York Gazetteer; nonetheless, he was an associate of James de Lancey, Jr., and a number of streets in the Lower East Side honor his allies in this neighborhood.
That the Lower East Side is a former enclave for Jewish immigrants from eastern Europe is well-known. The western end of Rivington was, apparently, home to many Romanian Jewish immigrants, as this building at 58-60 between Eldridge and Allen, was formerly the Adath Jashurun synagogue built by immigrants from Iasi, Romania, designed in 1903 by famed architect Emery Roth, later famed for grand residential buildings. Since 1973 it has been a residential building itself, though thankfully the exterior is relatively unaltered.
What does it say on the tablets?
ForgottenFan Matthew Kirshner: If you were wondering what it says on the two tablets above the doorway at 58-60 Rivington (the former Adath Jeshurun synagogue), those are the ten commandments, from right to left.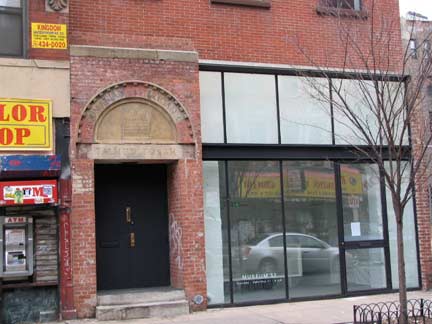 Evidence of Rivington's Romanian past can also be found at 95 Rivington, between Orchard and Ludlow. This 1840 townhouse has been much altered over the years but its former life as the Talmud Torah synagogue is obvious over the front entrance.
Economy Candy at 108, just west of Essex, has been there since 1937 and has been owned and operated by the Cohen family since the beginning. The smallish, cramped store is a wonderworld for candy aficionadoes, with all the well known brands and others from around the globe you have never heard of. Your webmaster is in here a couple of times a year to stock up on candy fruit slices and chocolate covered pretzels. (The sweet-sour mix on the former and the sweet-salt mix on the latter is at the optimum level for my preference in each case.) It's only my superhuman resistance level that keeps me from going in more often.
A now-rare colorful painted wall-dog ad for Schapiro's Kosher Winery. The vintner was founded in 1899 and originally specialized in thick, fruit juice-like product but has broadened its approach over the decades. The wines can be purchased at the Essex Street Market, between Rivington and Delancey, though this warehouse no longer houses the vintner, now based in Monticello, NY.
Botanica San Lazaro, #127 and Rivington Guitars, #125. Botanica are purveyors of religious paraphernalia and hexerei such as candles, statuary, amulets, and herbs thought to aid healing (thus the plant reference incipit in the name; some are Christian, some santeria, some mixtures of the religions of the Caribbean. This store carries the name of Lazarus, the youth Christ raised from the dead in the Gospels, an act presaging His own Resurrection. I shot this in early 2009, and Rivington Guitars has since moved its operations to the East Village, though it has retained the name.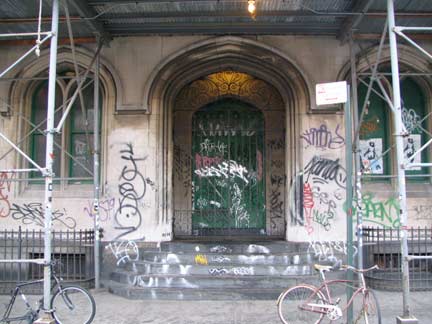 The massive medieval-styled castle at the SE corner of Rivington and Suffolk is the former Public School 160, now the Clemente Soto Velez Cultural and Educational Center:
The Clemente Soto Velez Cultural & Educational Center Inc. is a Puerto Rican/Latino cultural institution that has demonstrated a broad-minded cultural vision and a collaborative philosophy. While CSV's mission is focused on the cultivation, presentation, and preservation of Puerto Rican and Latino culture, it is equally determined to operate in a multi-cultural and inclusive manner, housing and promoting artists and performance events that fully reflect the cultural diversity of the Lower East Side and the city as a whole.
When I passed by it was undergoing a concerted stab at blasting the graffiti off the exterior, though that appears to be a daunting effort.
ABC No Rio: a large artist's collective on Rivington Street, well known for decades for political activism and its drive to be a community social center, combining art, music, poetry and intense activism on many political and economic issues affecting local residents. They have been one of the major centers for the performance of spoken word/poetry slams and host a regular weekend matinee show of indie punk thrash metal music, amongst many other activities…The front of the building, whose ownership has been in dispute all along, is decorated with salvaged metal parts and murals depicting moments of nihilistic despair, somewhat ironic because the general aims of the organization are very optimistic – art studio access for everyone, fair and affordable housing and educational outreach to the unfortunate. [NY Daily Photo]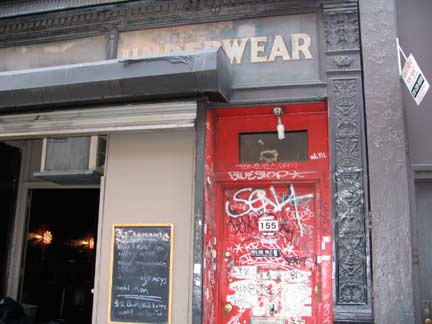 Underwear, #155. Perfect name if they wanted to make it a nightclub, no? Instead a wine bar called Belly occupies the ground floor.
Tailor Shop, nice hand lettered awning sign, at #176 between Clinton and Attorney. A couple of doors down is DM, which of course, stands for Dangerous Mathematicians, quite naturally, a ladies' clothing shop.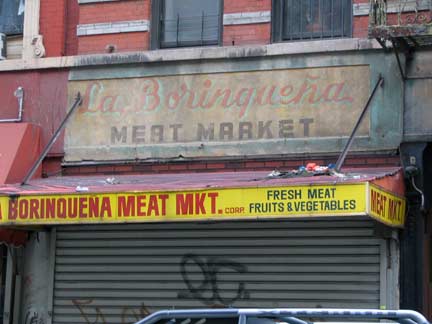 Rivington's greatest hand lettered sign, #206 east of Ridge, La Borinqueña (Puerto Rican) Meat Market.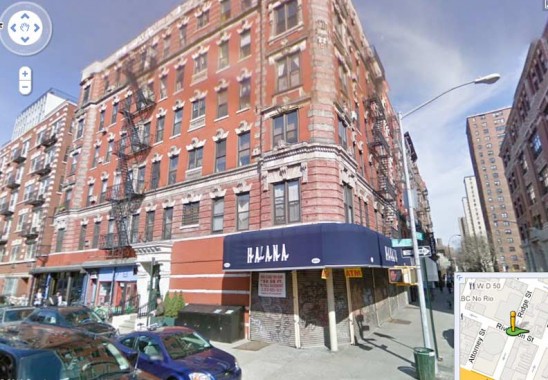 Finally, here's #202 at the corner of Rivington and Ridge, the girlhood home of Genya Ravan, who has been rocking for over 40 years. Here she is with one of her first hits with Goldie and the Gingerbreads in 1964:
From a few years later: Genya Ravan, Back in My Arms Again

SOURCE: Jim Naureckas' New York Songlines

Jim Naureckas says: Rivington, though publishing a loyalist newspaper, was secretly spying for Washington at the same time–and it's my understanding that this explains why the street bears his name.
Photographed February 2009; page completed December 15, 2010