Actually this walk features rather less wilderness than when I first did it in 1999. After reading Bruce Kershner's Secret Places of Staten Island, a primer for the remaining wild areas all over the island, I sallied forth on several of the adventures written about in the book. One of the more fascinating ones was in Latourette Park, a vast forest in the center of the island that encompasses a golf course as well as a couple of ruined houses. I set forth west from St. Andrews Church in Richmondtown along an ancient wagon and cart path called Old Mill Road, which in the colonial era connected with other such paths in the colonial and postcolonial eras, and may have been Native American trails to start.
Upon my second visit to that path, I was at the end of a journey I was making through Oakwood Heights, Richmondtown and Lighthouse Hill, and did not have the time to fully explore Old Mill Road again. My curiosity was piqued because in 2009, the NYC Parks Department had cleared brush along the old, overgrown path, put down a gravel path (in some cases blacktop) and generally made it quite safe and more amenable for casual walking. So in May 2013 I decided to walk the path again, and explore the parts that it was difficult to do so earlier.
I took a subway to Bay Ridge and then two buses, the S53 and S74, to Richmondtown (the ferry and bus would have been a fare cheaper but I just wanted a change; I took the ferry back to Manhattan). I've amply covered Richmondtown before — its collection of 17th through 19th Century houses imported from all over the island make it one of my favorite areas in the city. Today I was forced to walk along busy Richmond Road because a chili festival had closed off Center Street, the main drag of the historic area.
WAYFARING MAP: RICHMONDTOWN to BULLS' HEAD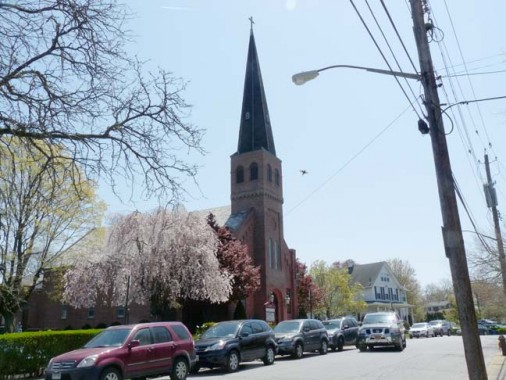 St. Patrick's Church, on St. Patrick's Place and Center Street, is a NYC Landmark built from 1860-1862. The historic plaque placed by its door reads thusly:
St. Patrick's Church is representative of an early phase of the Romanesque Revival style of architecture. Built in 1862, it has remained, relatively unaltered since it was completed. Its light-colored brick walls provide an effective contrast to the dark brown doorway and, indeed, the charm of this simple building depends largely on the interesting play of light and shadow on its smooth walls. The 19th century wrought-iron lamps which flank the entrance lend distinction to the structures. 
The Staten Island Historical Society, headquartered at Richmondtown, has now helpfully provided a red and white sign identifying each historic house on the grounds. This is the Crocheron House, constructed about 1819 by an islander named Jacob Crocheron (the name also turns up in eastern Queens and may be a related family). The house had been in Greenridge, adjoining Richmondtown on the west, before being moved here.
Richmondtown also intriguingly provides an American flag corresponding to the date of construction of the house it stands beside. In 1819-1820 the USA had 21 states and the flag featured a row of five stars, a row of four stars and two rows of six.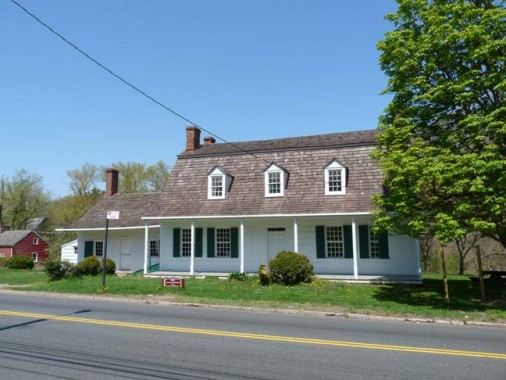 The Guyon-Lake-Tysen House, a classic Federal constructed in 1740 with an 1820 addition, has passed through three families but was built by Joseph Guyon in New Dorp. It may have been a slave house and is purported to be haunted. Strange faces have been seen peering out the dormer windows. I don't believe in spooks, though.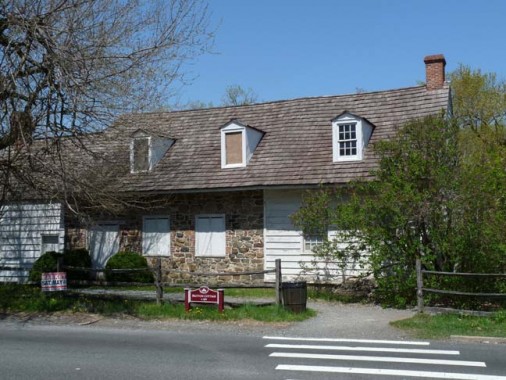 The Britton Cottage is one of Staten Island's oldest buildings. Its oldest section was built around 1670 while none of its additions is younger than 1800. It was built near New Dorp Beach and was home to the Britton family on two separate occasions.
These small metal yellow and black signs could go back as far as the 1910s. As a kid, I was taken on the 69th Street Ferry to Staten Island by my parents and we'd pile on buses and ride all over the island — and I remember that before 1964, when I was seven, these signs were the dominant form of street signage all over the island. Then they were nearly wiped out by the metal and vinyl signs that took over in the early 1960s.
After I began researching and photographing FNY in 1998, there were still a few of these around — there was another pair in Richmondtown, a pair in Tottenville, there was one squirrelled away in Emerson Hill. As far as I know, there's now this pair, and one at Cubberley and Oakley Places in New Dorp and that's it. Believe me, finding more of these is like the Holy Grail of FNY.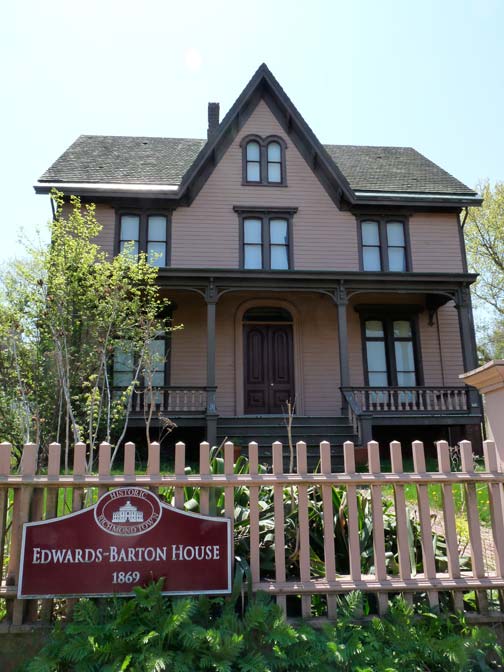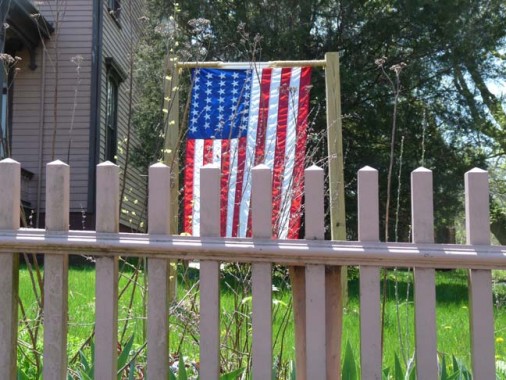 Like the sign says the Edwards-Barton House was built in 1869, named for tailor Webley Edwards and his son-in-law, Willis Barton. By 1869 the US flag had 37 stars arranged in  4 rows, with 8 stars on the 1st and 4th rows and 7 stars on the middle two rows.
The Guyon Store was constructed about 1819, with an 1835 addition, by another Guyon, James (Guyon Avenue is a main east-west drag in New Dorp). It was reconstructed by Richmondtown Restoration as a tavern. The sign is a reproduction of 19th-century signs, but since the Restoration actually has a print shop using the old techniques, it likely came from there.
The Kruser-Finley House stands some distance away from Richmond Road. It was built in 1790 with additions no younger than 1850. It was the simple home of craftsmen and woodworkers for most of its history in the small town of Egbertville about a mile east of Richmondtown.
The Treasure House stands at the T formed by Richmond Road, Arthur Kill road, which runs southwest along the waterway Arthur Kill to Tottenville, and Richmond Hill Road, which snakes up and down the glacial moraine, ending up in New Springville (more on that later).
The so-called Treasure House was built here around 1700 and was enlarged between 1740 and 1860. In Frank Sinatra's "That's Life" he sings: "I've been a pauper, a piper, a pirate, a poet, a pawn and a king" and this building has housed saddlemakers, tanners, shoemakers, bakers, and has been a post office. During the Revolution, the story goes, British troops hid away a cache of sovereigns worth about $7000. How else to explain their being found here by painters in 1854?
Next door, this 1750 building was the home of educator Henry Boehm for many years. It was moved to Richmondtown from Greenridge.
The so-called "Voorlezer's House" is the oldest surviving schoolhouse in the United States.
Like other buildings native to Richmond Town, the original nature of this house was unsuspected until careful research was done by Staten Island borough historian Loring McMillen in the 1930s. It was built in about 1695 by the Reformed Dutch Church and functioned as a church, school and home for the lay minister/teacher (voorlezer, meaning approximately "to read in front of" in Dutch) until 1701. The ensuing centuries found it being used as a private residence, storefront and lunch counter until 1939, when it was restored by the Staten Island Historical Society. It is now a National Historic Landmark.
If you looked at photos of Richmondtown's historic buildings in the 1930s and 1940s, they are so festooned with commercial signs and ads that you wouldn't believe they're as old as they are. The Restoration has carefully returned the buildings to what is thought to be their original appearance.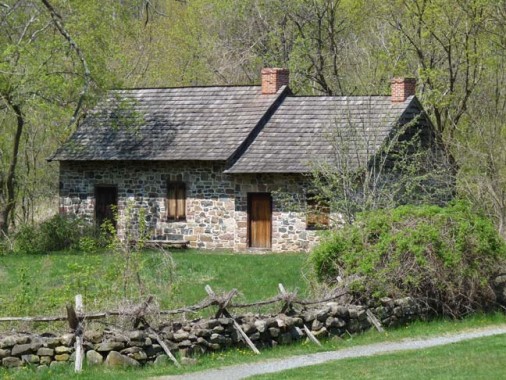 The Christopher House, set back from Arthur Kill Road behind the Boehm House, was owned by Joseph Christopher, a member of the Richmond County Committee of Safety during the Revolutionary War; it was built around 1720 and was moved here from Willowbrook.
To arrive at St. Andrews's Church takes a bit of persistence, since you have to make your way across one of the more pedestrian-unfriendly crossings in all of New York City. The stoplights at the T intersection are calibrated to permit traffic movement along 3 major routes, and while there is a pedestrian control, it rarely shows The Man for go. In addition here the roads are sidewalk-free with no shoulders. (I realize the City has become more bike-friendly, though not as pedestrian-friendly, in recent years, and it's odd that the Department of Transportation has dropped the ball in this regard, though I realize it's Staten Island we're talking about where the auto remains unchallenged for its crown.)
You then cross a stone bridge taking Richmond Hill Road across narrow Richmond Creek, built in 1845 and billed as Staten Island's oldest arch bridge, though I may have found one just as old (see below).
The Episcopal Church of St. Andrew was granted a charter by the British Queen Anne in 1712 after its inception three years earlier; that charter remains in the possession of the church today. The church barracked British troops during the Revolutionary War, and traces of their fortifications can be detected on Fort Hill to the rear of the church. The present church is a Romanesque structure built in 1872.
The churchyard contains dozens of stones dating back to the early 1700s, recognizable by the winged angel carvings at their tops. Family members of Mother Elizabeth Bayley Seton, America's first canonized saint (in 1975) are interred here, as well as familiar names from Staten Island street maps (also see Asbury Cemetery below).
Having walked through the timeless cemetery, my quarry, Old Mill Road, came into view. The road is now a dead end to traffic, originating just south of Richmond Hill Road's S-shaped "Snake Hill" curve — it mainly leads to the church caretaker's building. However…
… it is actually a very old road that may go all the way back to the colonial era. Open up this image to get a full-size map from 1874. We can see that there were once dwellings scattered here and there along its route, including a former British fort from the Revolutionary days, and a tidal grist mill from which Old Mill Road gets its name, in operation from 1790-1927. Before Latourette Park, through which the road now runs, was created, this land was in the possession of several landholders including the Green family. The Forest Hill Road I marked on the map is the "old" Forest Hill Road, predating the present one built in the mid-20th Century.
The condition of the park is now a far cry from what it was in the 1970s, when Staten Islanders hauled wrecked cars up here and used it as a junkyard.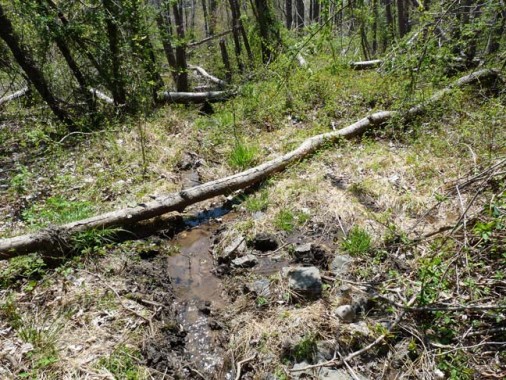 I was immediately forced to ford the "Old Mill Stream" almost immediately after entering the new park path, as Parks seems mystified about what to do with this small creek that cuts across the path, other than laying a board at the bottom of the creek to make it just a bit easier to cross. The woods next to the path have some thorny plants and aren't easy to get through unless you're wearing thick gloves.
Actually, getting down Old Mill Road was a bit more eventful when I had to crash through weeds and fight off bugs; it's more of a leisurely stroll now, though you do have an option if you want a wilder journey (see below). As you walk west, on the right is a high glacial ridge that borders the LaTourette Park Golf course, and on the left is a view across Richmond Creek, which widens at this point, to the town of Eltingville.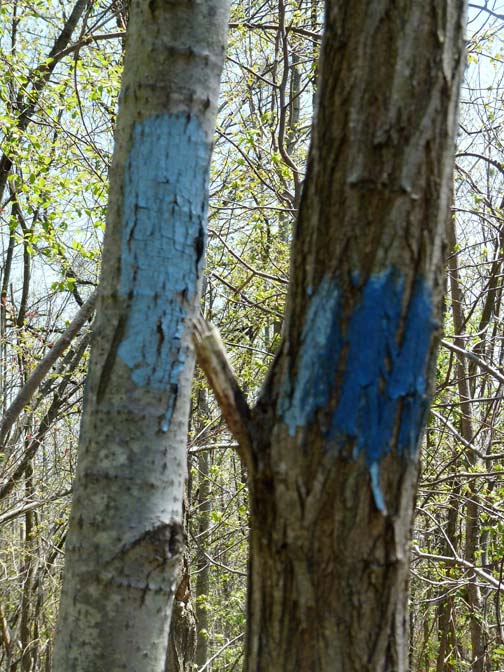 This is that wilder option I was talking about. After 10-15 minutes of walking Old Mill Road you come to a more unfinished path, more of a slight clearing, that goes up the hill on your right. If you follow this, you'll return east, skirting the edge of the golf course at a higher level which provides better views of Richmondtown, which you know you're approaching when you see the spires of St. Andrews and St. Patricks. This path, the Blue Trail, is marked by "blazes" that Parks has helpfully marked on tree trunks and rocks. It leaves you off on Richmond Hill Road at the golf course parking lot.
In fact, there are blazed trails like this all over the Staten Island Greenbelt. The Parks Department, in the mid-2000s, found the money to vastly improve and mark these trails, which run the gamut from gravel and blacktopped paths to mere trickles through the woods. The Greenbelt has published a handy map marking all the trails, which are also marked in Secret Places of Staten Island.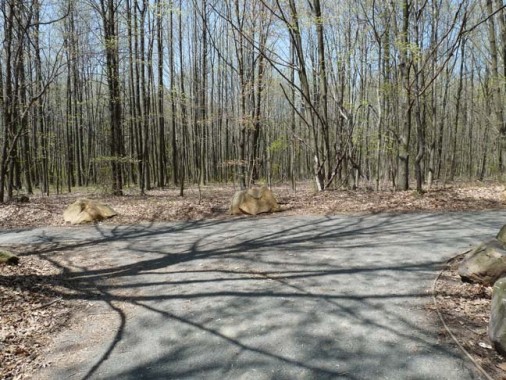 Then Old Mill Road comes to another "T" and you're forced to decide what end of the T to take. The Blue Trail is marked by a pair of blazes on a rock; the ascending blaze means the trail turns right here, and that is what I did the previous time I was here in 1999. Today, though, I wanted to go whole hog and also follow the left end of the "T" and see what I could see. Kershner, in Secret Places, says this path is the older, colonial route of the original Forest Hill Road; the newer auto route was constructed in the 1960s as far south as the Staten Island Mall.
So, Forest Hill Road twists and turns rather uneventfully through some old woods, parallelling a stream along the way. After reaching a paved road (which turns out to be Alaska Place) I asked a couple of young women walking their dogs if the path went considerably further, and they told me it ended at Richmond Avenue (more likely the 'new' Forest Hill Road) which by then is in the Mall area. I had no interest in the Mall, especially since Golden's Deli and its imported subway car are no more, and reversed course.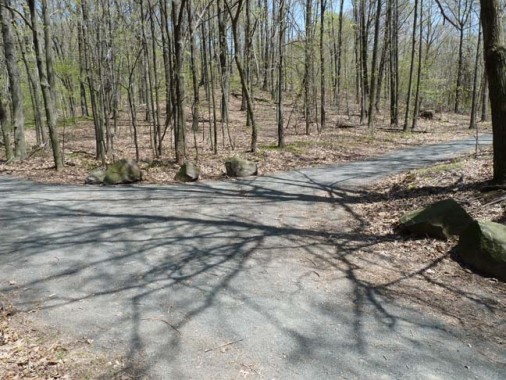 Passing the T-intersection with Old Mill Road. If you turn right you will return to Richmondtown.
After continuing northeast you come to a somewhat ruined stone bridge over what some maps call LaTourette Creek. The stone bridge at St. Andrew's was by some accounts built in 1845, but this one might be older than that. According to Kershner, a bit downstream you can find 15-foot tall dirt levees that run for more than 1100 feet, built as fra back as the 1820s as a dam for a since filled-in mill pond.
Past the creek LaTourette Golf Course abuts the path, and you can hear traffic from Richmond Hill Road off in the distance.
Trees, possibly felled by Hurricane Sandy (10/29/12) fell across the path but Parks quickly sawed them up and un-blocked the path.
The Greenbelt Yellow Trail, which has come in from the "new" Forest Hill Road, parallels the Blue Trail for a mile or so.
At length, the park trail comes to the busy intersection of Forest Hill and Richmond Hill Roads. Though you do have the option to continue along the blazed trails heading east, which run into Bucks Hollow and the infamous and storied Heyerdahl Hill, I opted to turn left onto Richmond Hill Road into Heartland Village and New Springville, where I am rarely found.
West of Forest Hill Road, Richmond Hill road extends its persona as a rural road, with no sidewalks or parking and not much of a shoulder to speak of. There are suburban developments on the south side of the road, with a farm on the north side.
A farm?
The Decker family has roots in Staten Island that go back to the beginnings of Dutch colonization in the 1600s, and Deckers can be found in every Staten Island cemetery. One of the Decker farms in what is now Heartland Village, at 435 Richmond Hill Road, is one of New York City's two farm museums (the other being the Queens Farm Museum in Glen Oaks). On Decker's 20 acres, immigrant farmers are trained to grow native crops in NYC's northern climate as part of the New Farmer Development Program.
The Decker Farm is open to the public: visitors can learn about farm life with hands-on activities such as rug beating, hay raking and apple and pumpkin picking in the fall. For hours, call Historic Richmondtown at 718- 351-1611, ext. 280. (The farm was apparently closed in 2012 but should be reopening in 2013.)
The acreage has been used as a farm since 1809. The farmhouse, owned and operated by the Staten Island Preservation Society, was built by Japhet and Sarah Alston that year; the property was sold to Lorenzo Decker in 1841, and the Decker family farmed and lived here until 1955, when Alberta Decker donated the property to the Staten Island Historical Society.
After pasing the Decker Farm and Wellington Court, Richmond Road enters a part of Staten Island called Heartland Village, a development near the center of Staten Island begin in the late 1960s and completed in the 1980s, built concomitantly with the development of the Staten Island Mall.
Most of the homes in Heartland Village consist of two family homes with six or seven rooms in the main home, with three bedrooms. These are medium-sized homes. In recent years, with most new construction has been focused on larger homes or condominiums, these medium-sized homes have become particularly desirable. wikipedia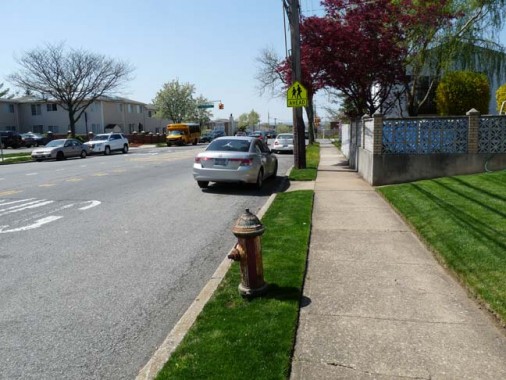 One of two "Bicentennial hydrants" I passed on this walk. They were painted red, white and blue in 1976 as a celebration of the 200th anniversary of the signing of the Declaration of Independence. I wrote about them previously here.
Kelly Boulevard is the only Heartland Village north-south avenue that runs the length of the development from Richmond Hill Road to Rockland Avenue. In general it's emblematic of the state of shade on these streets: with very young trees, and not many at that, not a whole lot of shade.
At first I thought these might be leftover 1964-vintage gold and black Staten Island street signs, but I then realized they are 1980s green signs bleached white by the unobstructed and merciless sun.
Heartland Village uses several street naming themes. There's an Alaskan theme, for example, with Alaska Place and Yukon, Nome, Platinum (which is mined in Alaska) and Klondike Avenues. My guess is a good as yours on this, but the mapmakers probably considered this area so remote that it might as well be in Alaska.
There's also a college theme, with Purdue, Vassar, Rockne, Villanova, and Marymount (spelled Merrymount here). Add to that a New England theme: Bowdoin, Copley, Bangor. I like this — it beats the usual Mulberry, Spruce, and plant names scheme.
Most notable, though, is the street naming system using the names of astronauts from the Mercury, Gemini and Apollo space programs of the 1960s. The theme includes James McDivitt, James Lovell (the commander of the Apollo 13 mission that broke down en route to the moon), Wally Shirra, Frank Borman, Deke Slayton, Pete Conrad (the third man on the moon), John Glenn (the first American to orbit the Earth in space), Scott Carpenter, Alan Shepard (the fifth man on the moon and the only golfer there to date), Gordon Cooper, and Gus Grissom.
Two of the larger homes on Kelly Boulevard. These seem to be cognates of the grand French Second Empire houses of the late 1800s, especially with their slanted, or mansard, roofs.
Some homes featuring modern design on Travis Avenue and Kelly Boulevard. I usually disdain newer houses, but these are attractively designed with actual lawns and water meters kept out of sight.
Along with Rockland Avenue, Travis Avenue is the main east-west route in Heartland Village. The green area at the horizon is the William T. Davis Wildlife Refuge, which Travis Avenue runs through on the way to Victory Boulevard, just north of the village for which Travis Avenue is named.
Turning west on Rockland Avenue, I found the cherry trees blooming. Rockland Avenue is one of Staten Island's ancient colonial routes, connecting Egbertville at Richmond Road and New Springville at Richmond Avenue. It passes through Lighthouse Hill, adjoins High Rock Park and LaTourette Park and forms the northern border of Heartland Village.
Rockland Avenue, or the ancient pathway it is built on, is an old colonial-era (18th Century) road and was originally much narrower — like Old Mill Road it passed through thick forest. When Heartland Village was built much of Rockland Avenue was widened — but there are still some spots here and there where it wasn't. At these locations you can sometimes find older houses that predate the Heartland Village construction.
Richmond Avenue has, from the earliest days of European habitation, been the major north-south route in mid-Staten Island, stretching from the Kill Van Kull in Port Richmond to the Atlantic Ocean in Great Kills, the only Staten Island route to do so. It is one of the busiest streets in New York especially since the Staten Island Mall was opened in the 1970s and engineers added lanes to it between Forest Avenue and the Korean War Veterans, or Richmond, Parkway. Here at this bus stop several lines running to both Port Richmond and St. George can be accessed.
At the edge of the New Springville community, some new architectural styles have been tried out along Richmond Avenue. Some work, like this Chase bank building…
… and some don't, like this metallic hulk containing real estate and developers' offices, accompanied by a cellular Eiffel.
Two churches appear in quick succession walking along the west side of Richmond Avenue, the first being the Immanuel Lutheran Church, which is handsome enough but of indeterminate age. However the second church…
Originally the Asbury Methodist Church, this building's walls are as old as 1849, with the interior remodeled in 1878. The church was named for Bishop Francis Asbury (1745-1816), an itinerant preacher who became America's first Methodist Episcopal bishop. It is now Son Rise Charismatic Interfaith Church. An even earlier church called the North End Church stood on this site.
The historic church is surrounded on three sides by a venerable cemetery, whose first interments were in 1804. Different sections of the cemetery are in various states of upkeep or down-keep. To visit its most famous resident, enter through this gate, walk straight ahead to the back of the graveyard, and turn left.
Before you is the gravesite of Col. Ichabod Crane, a military man who was an acquaintance of author Washington Irving. He is buried here with his wife and brother as well as Juan, a Native American boy who accompanied Crane after he was stationed in Oregon. Crane later learned (to his horror, by all accounts) that the protagonist of Irving's famed 1820 story The Legend of Sleepy Hollow bore his name.
Repeatedly vandalized over the years, the Crane grave marker was restored anew in 2004 by the Joseph G. Hall and Sons Monument Company of Pleasant Plains, Staten Island.
Col. Crane's house stood nearby in New Springville until the 1980s, when it was torn down and a warehouse built in its place. There is a street near the cemetery called Sleepy Hollow Road.
Elsewhere in the cemetery, which apparently is the churchyard of Asbury Methodist combined with the New Springville Cemetery which once served the town in general, are a few metallic monuments, most likely made of zinc. Tap them — they're hollow. Most graves in the cemetery read like a Staten Island street gazetteer. Similar metal monuments can be found in Brooklyn/Queens' Most Holy trinity Cemetery, where they are quite numerous.
The northern end of the cemetery, abutting Amsterdam Place, is the most overgrown and abandoned.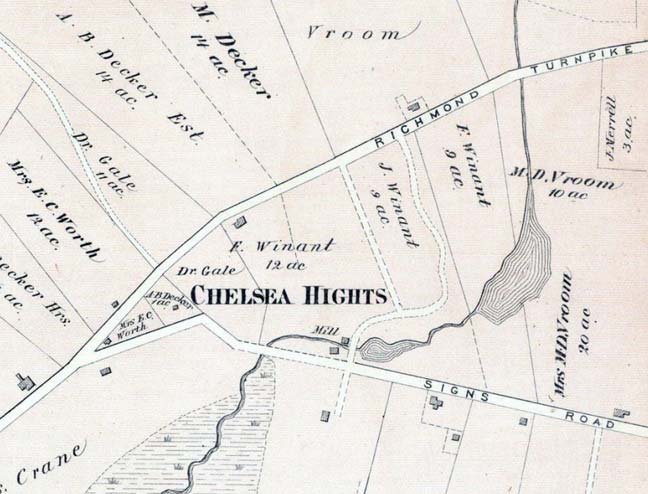 After zigzagging around the streets north of the cemetery, I found Signs Road, which runs between Richmond Avenue and Victory Boulevard (called Richmond Turnpike on this 1874 map). This is another longstanding Staten Island street name that is a complete mystery to me — you might guess there were a number of signs along the route, but signs pointing to…what?
The map indicates its older name, Chelsea H(e)ights. These days it's on the borders of New Springfield and Bulls' Head. There is still a small Staten Island neighborhood called Chelsea, but it's home to warehouses and industrial plants west of Travis.
There are other strangely-named roads on the island: Fingerboard Road, in Clifton and Grasmere, is said to have been named for a large finger-shaped directional sign positioned on the road directing the way to the Richmond County Courthouse, then located in Richmondtown. Older maps in Willowbrook mention a Skunks Misery Road. Sunset Avenue in the same neighborhood used to be called Gun Factory Road.
Signs Road is another road in southern Staten Island that abruptly changes character. East of Arlene Street it's decidedly suburban.
West of there, the sidewalks drop away, and a couple of older homes appear. There is still some newer development on the west side especially near Victory Boulevard.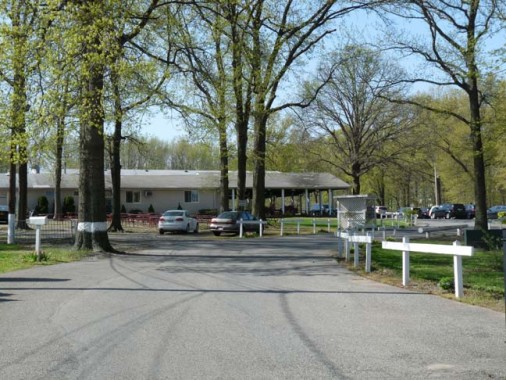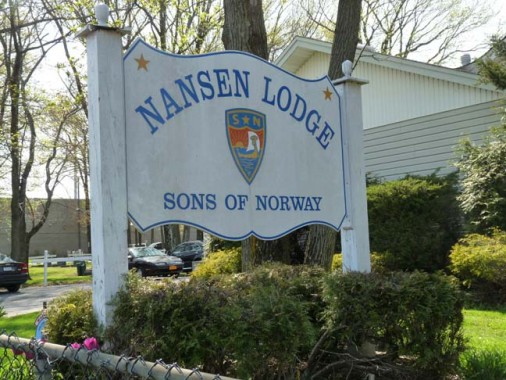 Attaining Victory Boulevard and Signs Road, you find a wide expanse notated on maps as Nansen Park, but it's actually a private reserve for the Sons of Norway:
Sons of Norway (Norwegian: Sønner av Norge) is a fraternal organization representing people of Norwegian heritage in the United States and Canada. It describes its mission as "to promote and to preserve the heritage and culture of Norway, to celebrate our relationship with other Nordic Countries, and provide quality insurance and financial products" to its members. The organization was founded by 18 members on January 16, 1895, in Minneapolis, Minnesota, to insure each other when they were unable to secure life insurance on their own. Currently, the Sons of Norway has over 400 lodges in the United States, Canada, and Norway. With over 66,000 members, the Sons of Norway is the largest Norwegian organization outside of Norway. wikipedia
The Nansen Lodge was founded in 1938, making it 75 years old in 2013.
Walking south on Victory Boulevard to the approximate spot where Ichabod Crane's house once stood, I found a demented bear advertising a kiddie gaming palace, and a couple of stone and granite dealers. So this is where the southern Island's bad architecture comes from!
Continuing along this way will lead into Travis, but I hadn't the time to explore it again, so I reversed course east along Victory Boulevard.
Victory Boulevard, which runs from the St. George Ferry area to the Arthur Kill (where there was originally a ferry to New Jersey), was built as a toll road in the 1810s by a consortium led by none other than Vice President Daniel Tompkins. By the end of World War I it had lost its tolled status but was still called Richmond Turnpike; it was renamed in honor of the American effort in World War I in 1918.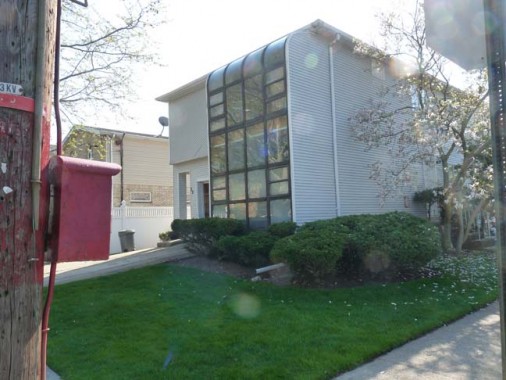 North again on Speedwell Avenue, which sports many examples of mid-20th Century architecture. Actually I don't mind the floor to ceiling window on the ultramodern building on Sommer Avenue — just be careful with the curtains.
I have now stumbled into Bulls' Head, which is named for a vanished Revolutionary War-era tavern at what is now Richmond Avenue near Victory Boulevard, which had a large sign featuring the titular bovine (perhaps an inspiration for Signs Road). The tavern was a meeting place for British troops and other Tory residents of the area.
The sacred and profane meet on Speedwell Avenue, as two holy saints avert their eyes from a prancing nude sylph. Leadest thou not into temptation.
There are a couple of roads around here that also bear odd or incongruous names. In the early 1800s, before the macademizing process was invented, what had been dirt roads were often paved with flat wooden planks; some roads in New Jersey formerly paved that way still keep the old name, like Paterson Plank Road. However, Plank Road in Bulls Head was laid out in the mid-20th Century and likely built in the 1970s — it was never paved with planks.
Looking east on Paulding Avenue, there is a direct view of the top of Todt Hill, the highest point in Staten Island at 410 feet above sea level, marked by a radio tower.
Passing by another Bicentennial Hydrant.
I'm not sure if the house has been rented, but the renter has intricate and dare I say it, soulful handwriting. And, everything's spelled correctly.
I'm not an area denizen, so someone fill me in on why there are two Catholic high schools adjacent to each other on Merrill Avenue and Arlene Street: Bishop Patrick V. Ahern and Moore Catholic (originally Countess Moore High School).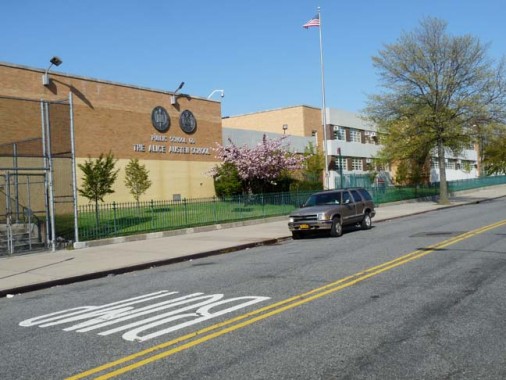 Across Merrill Avenue, there's yet another school, PS 60, the Alice Austen School. How many area residents know it's named for one of Staten Island's greatest photographers and chroniclers of urban and suburban conditions in NYC?
Another of Staten Island's hidden cemeteries can be found on Merrill Avenue west of Richmond Avenue, named for one of the island's more prominent colonial-era and 19th Century families, who originally spelled their name Merrell. This site gives a detailed history of the family, the progenitor of which arrived in 1680.
When I first encountered Merrell Cemetery in the late 1990s, there wasn't a locked gate, leaving it open for area miscreants to destroy tombstones. With the gate the destruction has at least been stabilized.
Time for the bus back to the ferry by the time I got to the impressive International Christian Center on Richmond Avenue. Like many churches, its website accents the ministry but not the history.
5/13/13