Queens is so vast that I have already decided that it's going to take at least two parts to get through it, and I may need even three. It has been a county since 1683 (just as the USA originally had 13 states, the state of New York has 12 original counties: Albany, Cornwall, Dukes, Dutchess, Kings (ultimately Brooklyn), New York (Manhattan), Orange, Richmond, Suffolk, Ulster and Westchester).
Nassau County, you say? It's a Johnny come lately. In 1898, when four counties voted to become part of New York City, becoming Greater New York, half the county of Queens — the three easternmost towns of North Hempstead, Hempstead and Oyster Bay — chose to become independent and in 1899 created a county of their own, Nassau. Had these towns not separated from Queens, I would be doing entries on Lynbrook, Long Beach, Port Washington, Oyster Bay, Massapequa… I'd be writing till Christmas. As is, Queens is large enough and the task is set before me.
Western Queens, before 1870, consisted of three separate towns; Newtown, Flushing and Jamaica. That year, Long Island City seceded from Newtown and incorporated as a city. The towns were made up of villages, such as College Point and Richmond Hill, that are today mere neighborhoods. 28 years later, these three western Queens towns and one city were dissolved and were made contiguous with New York City.
As I've said many of the old village and city names were retained as names of neighborhoods. Many today think of Long Island City and Astoria as the same place. In a way, they are, but Astoria is only a part of what was once greater Long Island City, which consisted of today's Astoria, Ravenswood, Hunters Point, Dutch Kills, Blissville and Sunnyside, all of which will be discussed here…
12th Street near 27th Avenue, Astoria Village
ASTORIA and ASTORIA VILLAGE
Astoria's pedigree dates to the mid-1600s, when William Hallett received a grant for the area surrounding what is now Hallett's Cove by New Netherland director general Peter Stuyvesant. However, the oldest structures in the region date to the mid-1800s, after fur merchant Stephen Ailing Halsey had incorporated the village in 1839.
Astoria was named for a man who apparently never set foot in it. A bitter battle for naming the village was finally named by supporters and friends of John Jacob Astor (1763-1848. Astor, entrepreneur and real estate tycoon, had become the wealthiest man in America by 1840 with a net worth of over $40 million. (As it turns out, Astor did live in "Astoria"–his summer home, built on what is now East 87th Street near York Avenue–from which he could see the new Long Island Village named for him.)
>Wealthy businessmen built homes on what are now 12th and 14th Street, some cozy Italianate boxes like the one in the photo, others large, ornate mansions; sadly, those that remain have been altered nearly beyond recognizability.
Hallett's Cove today, the region in Astoria just south of Astoria Park and west of 21st Street, is today a mixture of breathtaking houses, ancient churches and graveyards, as well as forbidding, utilitarian housing projects and industrial buildings. The area near Astoria Park, as well as Ditmars to the north, feature views of the Hell Gate (1910) and Triborough (1936) bridges. It's typical of the resolute nondevelopment of New York City's waterfront that the closer to the water you get, the more boring the housing gets.
Astoria built out away from the river, and today can be said to extend from the East River on the north and west south to 34th Avenue and east to 51st, Hobart and Hazen Streets.
Socrates Sculpture Park and Sohmer Piano Factory, then Adirondack Chair Factory, 2005
RAVENSWOOD
Like most of New York City's other neighborhoods, Ravenswood was first settled by the Dutch when Captain Francis Fyn acquired what would later be called Roosevelt Island and the strip of land facing it across the East River on Long Island in 1651. That island's namesake for decades was Robert Blackwell; his mansion on Blackwell's, now Roosevelt, Island still stands, and his son, Jacob, built an imposing dwelling on the East River at about today's 37th Avenue in 1744 that was razed in 1901.
A group of impressive mansions was arrayed on Vernon Boulevard (neé Avenue) in the mid-1800s, none of which remain today. The area came into its own as a residential area in the 19th century but only after NYC had bought up land in the 1840s and proceeded to build orphan asylums and smallpox hospitals. In 1845, angry Astorians burnt the smallpox hospital to the ground, and the asylums found a home on Blackwell's Island.
Colonel George Gibbs had acquired some waterfront property as early as 1814 and intended to create a private residential park. he died in 1833 without fully realizing his dream. It is thought that around this time, the name Ravenswood was introduced by prominent clergyman Rev. Francis Hawks in honor of his friend, John Ravenscroft, the Episcopal bishop of North Carolina. after it was gently suggested to the reverend that the bishop might not want his name attached to so obscure a property, Hawks changed it to Ravenswood. Gibbs' property was sold to developers in 1848 to four prominent NY investors, who quickly began to build it up. Over time, a street grid was built and Sunswick Creek, which ran through the area, was filled in (Sunswick likely derives from an Indian word meaning "chief's wife's place").
East River Ferry Landing, 2nd Street
HUNTERS POINT
Hunters Point, which can be spelled with an apostrophe or without, is the southwest end of Long Island City, running from the East River to Sunnyside Yards and from 44th Drive to the Newtown Creek.
Dominie's Hoek (Hook), originally the western end of the town of Newtown, was originally settled when a tract of land was awarded to Everard Bogardus, a Dutch Reformed minister (dominie), in 1643. The land was later owned by British sea captain George Hunter and by 1825 had become known as Hunter's Point. It began the transition from rural farmland in the 1860s when the Long Island Rail Road built a terminal that would be its primary connection with Manhattan until the East River tunnels and Pennsylvania Station were built in 1910.
In 1870 Hunters Point was incorporated along with the villages of Astoria, Blissville, Ravenswood, Dutch Kills, Middletown, Sunnyside and Bowery Bay into Long Island City. Because it is strategically located at the East River and Newtown Creek, the waterfronts of Hunters Point became heavily industrialized in the 19th and 20th Centuries. De-industrialization in the 1970s and 1980s was swift and left many rusting and rotting remnants, some of which have now been incorporated into the recreational and residential sites now springing up at water's edge.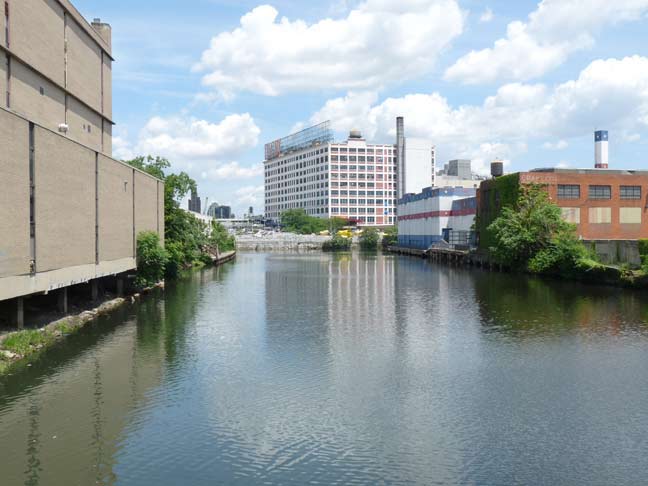 Dutch Kills, seen from Hunters Point Avenue Bridge
DUTCH KILLS
Dutch Kills, named for the Newtown Creek inlet, is concentrated near Queens Plaza and the west end of the massive Sunnyside railroad yards servicing Long Island Rail Road and Amtrak trains. In 2011 Dutch Kills was beginning to transition from mainly industrial to upscale residential, and several of its older treasures such as the old Long Island Star offices, where the long-lived newspaper was produced, have fallen to the wreckers. The term "kill" is derived from middle Dutch "kille" meaning "riverbed" or "channel." A number of NYC bodies of water are called "kills" including Dutch Kill(s), English Kill(s), and the Arthur Kill and the Kill Van Kull between Staten Island and New Jersey. Dutch Kills and English Kills in the colonial era led to territory held by the Dutch and the British.
Sunnyside Arch, 46th Street and Queens Boulevard
SUNNYSIDE
The Bragaw family, French Huguenot settlers who purchased the land from the Dutch in 1713, named their estate 'Sunnyside Hill' because the property afforded them breathtaking views of the sunrises and sunsets. Sunnyside Hill and other area farms were occupied by British forces during the Revolutionary War.
It was the 'Sunnyside Hotel,' built nearby, that started the ball rolling in the development of present-day Sunnyside, Queens. Named after the adjacent farm, the hotel opened in the 1840′s near what would be Webster and Jackson Avenues (now 37th Ave. and Northern Boulevard). Its clientele was mainly visitors to nearby cemeteries. From 1854 to 1866, it also catered to patrons of the National Race Course in Corona (renamed 'Fashion Race Track' in 1856).
Sunnyside extends from the Sunnyside Railroad Yards along Skillman Avenue in the north to the Queens-Midtown Expressway in the south between 30th and about 58th Streets. Originally slower to develop than its immediate neighbors, Long Island City and Astoria, Sunnyside was transformed into a bustling residential neighborhood by the opening of the Queensboro Bridge and then the IRT Flushing Line along Queens Boulevard.
Review Avenue looking toward Kosciuszko Bridge
BLISSVILLE
Blissville is the small wedge of Queens positioned between Newtown Creek, Calvary Cemetery and the Queens-Midtown Expressway; it takes its name from Neziah Bliss, inventor, shipbuilder and industrialist who owned most of the land in the 1830s and 1840s. Bliss, a protégé of Robert Fulton, was an early steamboat pioneer and owned companies in Philadelphia and Cincinnati. Settling in Manhattan in 1827, his Novelty Iron Works supplied steamboat engines for area vessels. By 1832 he had acquired acreage on both sides of Newtown Creek, in Greenpoint and what would become the southern edge of Long Island City. Bliss laid out streets in Greenpoint to facilitate the riverside shipbuilding concern and built a turnpike connecting it with Astoria; he also instituted ferry service with Manhattan. Though most of Bliss' activities were in Greenpoint, he is remembered chiefly by Blissville and by a stop on the Flushing Line subway (#7) that bears his family name; 46th Street was originally known as Bliss Street.
Doughboy Park statue, Woodside Avenue and 56th Street
WOODSIDE
Originally from Charleston, South Carolina, merchant John Kelly moved his young family to Newtown in 1826, building a home on what was then called the 'Road to Newtown' at Betts Avenue (58th Street). Their property was vast and it included the part of the Winfield Woods which was across the street from the house. [Winfield is now considered part of Woodside.]
Kelly's son, John A.F. Kelly, pursued a career as a journalist and co-founded a newspaper with his sister, Maria, published out of Brooklyn. The paper was eventually bought out by theBrooklyn Times, but Kelly stayed on as a columnist.
At this time Kelly was living in Brooklyn, but he wrote a column called Letters From Woodside about life at his parents' estate, which he called Woodside. Later in life, he moved back to the community and lived with his brother in a house around the corner from his boyhood home. Both residences are now gone. St. Sebastian's School (1926) at Woodside Avenue and 57th Street is there now.
Today's Woodside runs between Woodside Avenue on the northwest, 58th Street on the west, 31st Avenue on the north, the Brooklyn-Queens Expressway on the northeast and the New York Connecting Railroad on the southeast. On the south, it's been debated where Woodside ends and Maspeth begins, but I'll make it Mt. Zion Cemetery and 53rd Road in the southwest and Grand Avenue in the southeast. Debate among yourselves in Comments.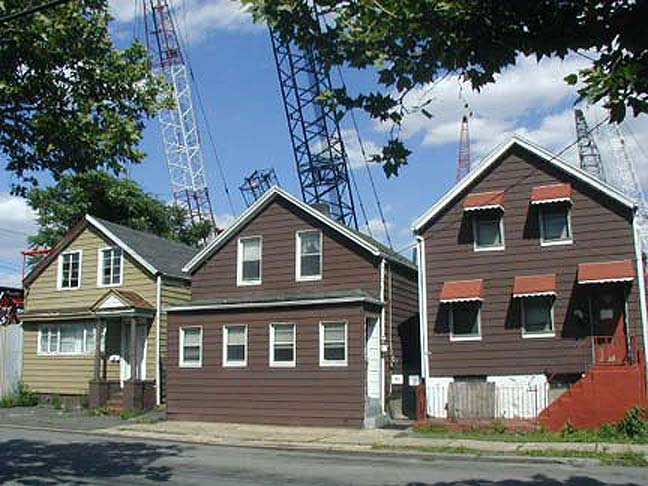 Now-demolished Laurel Hill houses
Also known as West Maspeth, this mixed industrial-residential area is fascinating because when FNY was first being scouted and photographed in the late 1990s, wide sections of the neighborhood, between Laurel Hill Boulevard, the Queens-Midtown expressway, the Long Island Rail Road Montauk tracks, and 58th Street, appeared virtually unchanged from the way they must have looked in the early 20th Century and late 19th. Changes have come to the neighborhood as preparations commence for the construction of the new Twin Kosciuszko Bridge spans, which are supposed to be finished in 2017 (in NYC construction-ese, that means 2027). The area took its name from a preponderance of linden trees here and around close-by Calvary Cemetery.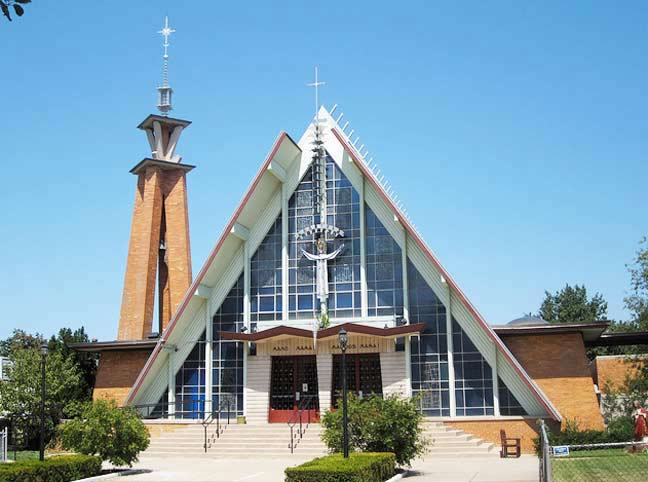 Church of the Transfiguration, Perry Avenue near 64th Street
MASPETH
Maspeth, in a western corner of Queens east of Greenpoint and Williamsburg, Brooklyn and west of Middle Village, seems stuck between the grit of Brooklyn and the airy, almost suburban feel of its eastern and southern neighbors, Middle Village and Glendale. Maspeth was first settled by Native Americans for centuries before the middle 1600s and by the Dutch and English after that. It was absorbed by a newer settlement to the east (named, appropriately, Newtown–the present-day Elmhurst), became a part of the borough of Queens, and then became a part of New York City in 1898. "Maspeth" is derived from an Algonquin Indian term that according to 19th Century historian William Wallace Tooker meant "overflowing tidal river." Newtown Creek, noxious through most of its latter-day history, is nearby. The name dates back to Dutch records in the 1630s.
Furman family farmhouse, Furmanville Avenue
MIDDLE VILLAGE
The Williamsburgh-Jamaica Turnpike was completed in 1814 and operated as a toll road between the towns of Williamsburgh (as it was spelled then) in Brooklyn and Jamaica in Queens, two major centers of trade in the 17th, 18th and 19th centuries.By 1820, the part of Newtown best known for its 100-acre swamp (see Juniper Park below) was being called 'Middle Village' because it lay midpoint on this road.
Its growth hampered by the presence of the large swamp, Middle Village found itself in a strange combination of niches – it became renowned as both a stagecoach stop and a place to bury the dead.
The Turnpike became Metropolitan Avenue, a free road, by 1873. The western part of Middle Village which today borders Ridgewood was also called "Metropolitan" prior to WWI, but it is unclear whether the avenue named Metropolitan or the community named Metropolitan came first.
Middle Village is in a compact area between Cooper Avenue on the south, Eliot Avenue on the north, 69th Street and All Faiths Cemetery on the west and Woodhaven Boulevard on the east.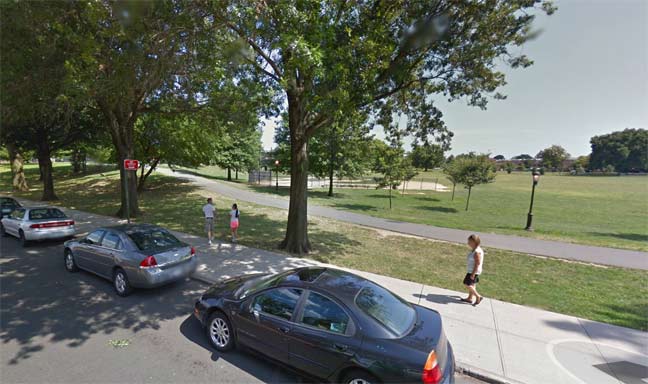 Juniper Valley Park, Juniper Blvd. North and 77th Street
JUNIPER PARK
Some call it a western section of Elmhurst or a northern section of Middle Village; others say they live in Juniper Park, named for its centerpiece Juniper Valley Park, a relatively new addition to the western Queens park scene.
 The park takes its name from the Juniper Valley Swamp, which covered an area of about 100 acres from Caldwell Avenue south to Juniper Valley Road. The swamp and surrounding area were blanketed by a thick forest of Juniper and White Cedar trees. Before the site of Juniper Valley Park was improved for recreational purposes, it was used variously as a farm, a cemetery, a source for peat moss, the property of a racketeer, and a garbage dump…
In the early 1930s the City of New York acquired the bog to settle a $225,000 claim in back taxes against the estate of the infamous Arnold Rothstein (1882-1928), who had been accused of fixing the 1919 World Series. Rothstein had purchased land in Middle Village on which he erected 143 flimsy houses with the hope of raising property values. Rejecting proposals to use Rothstein's "Phantom Village" as the site of a municipal airport or as the site of the Queens civic center, government officials chose instead to develop the land for use as a park. The bog was mined to provide landscaping material for parks and parkways. The land and four adjacent parcels were acquired for park purposes between 1937 and 1949. NYC Parks
Stockholm Street Historic District
RIDGEWOOD
This neighborhood, between Metropolitan Avenue, the Brooklyn (Bushwick)-Queens line, and the Long Island Rail Road Bay Ridge branch and Cemetery Belt, resembles  Brooklyn more than any other Queens neighborhood. It was named for the source of the Ridgewood Reservoir, Ridgewood Ponds in Massapequa, Nassau County. Many infrequent visitors to Ridgewood consider it to be in Brooklyn, a fact that rankles Ridgewooders to no end; they are proud Queensites. Its row upon row of brick brownstones, many built by developer Paul Stier (who has a one-block Ridgwood alley named for him) housed a couple of generations of German immigrants in the early 20th Century, many of whom worked in the neighborhood's many breweries such as Eurich's and Welz and Zerweck. When Prohibition arrived, the breweries quickly left. Today Ridgewood is a stable middle-class neighborhood centering on its main drags, Myrtle Avenue and Fresh Pond Road, named for a body of water that was filled in as development encroached on the area's rurality in the early 20th Century.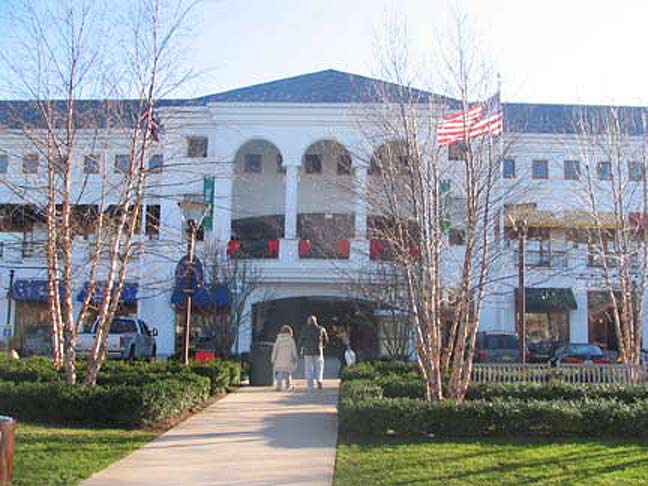 GLENDALE
A once-remote area in western Queens between the Bay Ridge branch of the LIRR, All Faiths Cemetery, Metropolitan Avenue, Myrtle Avenue and Woodhaven Boulevard, long ago filled with woods, swamps and freshwater pools, the town of Fresh Ponds was part of the land chartered by the Dutch West India Company in 1642. Cypress Hills Street (formerly 'Old Fresh Pond Road'), which starts in Brooklyn at its southern end, was the progenitor of present-day Fresh Pond Road…
The eastern end of Fresh Ponds, where Forest Park is today, was called "Dry Harbor" because it was said that houses there appeared to be sitting atop the crests of trees and hills, resembling a harbor without water. Today's 80th Street was originally an extension of Dry Harbor Road, named after this part of the community.
In the early 1860′s, developer George S. Schott, (perhaps related to the late owner of the Cincinnati Reds), acquired a considerable amount of land in Fresh Ponds as repayment of a debt owed him. As the Civil War drew to a close, he founded what is today known as Glendale, which he named after his hometown of Glendale, Ohio.
At the southeast corner of 80th Street and Cooper Avenue sits what was formerly known as Atlas Terminal. Construction of this industrial park commenced in 1904. In 1922, the Hemmerdinger Real Estate Corporation purchased the site and over the years expanded the terminal to 16 buildings. By the end of WWII, it had become Glendale's largest employer. In 2003, the terminal was decommissioned for railroad use. Most of the buildings were torn down in 2004, and The Shops at Atlas Park opened in mid-2006.
Former Jamaica Savings Bank, Queens Boulevard and 55th Avenue
ELMHURST
Early British colonists in Maspeth were chased out by angry Native Americans, and eventually moved further east, where Queens Boulevard meets Broadway today. Eventually, the name Newtown was applied to the, er, new town. By the mid-1800s, horse cars and eventually streetcars began to bring in people from all over, and when Cord Meyer developed the area in the 1890s, he lobbied for a higher class name…Elmhurst. Strangely, the IND subway, which arrived in 1936, keeps the Newtown name at a station, and Newtown High School retains the old moniker, as do a pair of roads in Astoria that were formerly main thoroughfares leading to the town.
"Hurst" is an old English and Germanic term meaning "wooded hill," and in Long Island, many such wooded hills featured elms, which may have inspired Meyer. Today's Elmhurst runs from the NY Connecting Railroad (roughly paralleling 74th Street) east to Junction Boulevard and from Roosevelt Avenue south to the Long Island Expressway. The heart of Elmhurst, and its predecessor, Newtown, has always been the intersection of Queens Boulevard, Broadway and Grand Avenue.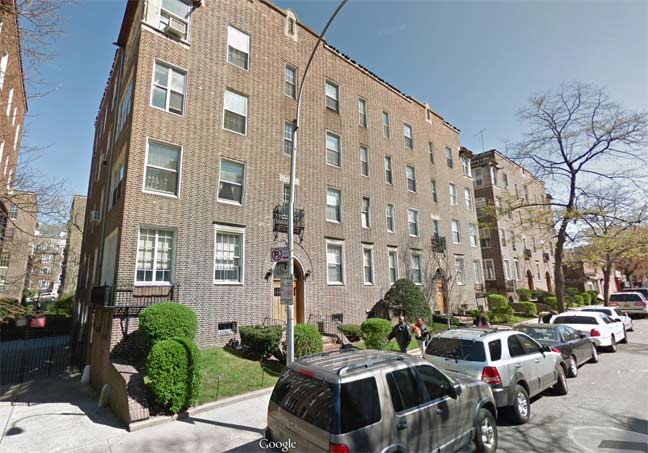 84th Street north of Roosevelt Avenue
JACKSON HEIGHTS
In a borough largely ignored by NYC's Landmarks Preservation Commission, the magnificent garden apartments of Jackson Heights are a happy exception. Today's Jackson Heights is a neighborhood of handsome six-story co-operative apartments, most of which surround a central garden. They appeared, seemingly out of nowhere, beginning in 1914 when the entire area was not much more than a swampy meadow. The Queensboro Corporation and developer Edward MacDougall built now-landmarked housing along today's 82nd Street; the area became known as Jackson Heights after John C. Jackson, who laid Jackson Avenue, now Northern Boulevard, out across the meadow beginning in 1859.
The boundaries of Jackson Heights proper are fairly well-defined, from the Brooklyn-Queens Expressway on the west to about 90th Street on the east, and from Roosevelt Avenue on the south to the Grand Central Parkway (and LaGuardia Airport) on the north. But there's a triangle of a neighborhood bounded by Hazen and 81st Streets, 19th Avenue and the Grand Central Parkway, that can be claimed by both Jackson Heights and Astoria.
American Airlines terminal, LaGuardia Airport, 2007
EAST ELMHURST
Actually if you look at a map East Elmhurst is actually north of Elmhurst, but why quibble. In general, it stretches from Roosevelt Avenue north to LGA and from 90th Street east to 114th. According to the Encyclopedia of New York it was developed in 1905 as a "neighborhood of frame houses". Like Elmhurst it contains a series of alphabetized street names: Butler, Curtis, Ericsson, Gillmore, Humphreys, McIntosh, and Kearney (A, B, F, J, L are skipped and K is out of place). It's one of the few real African-American enclaves in northern Queens west of Flushing Meadows-Corona Park. Willie Mays, Ella Fitzgerald and Malcolm X have lived here.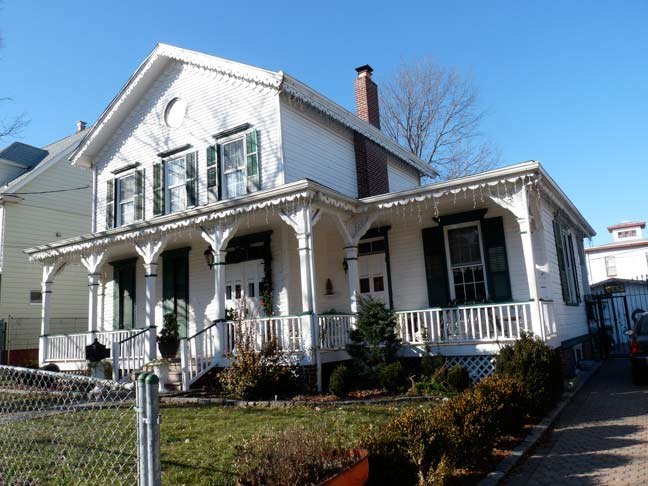 Nathan Sanford House, 47th Avenue near 104th Street
Originally known as West Flushing, what became known as Corona was developed in the 1860s by Benjamin Hitchcock, who bought 1,200 West Flushing lots in 1867 and sold them in 1870. He offered installment payments to his less wealthy customers, which was a novel idea at the time, and one which they found very attractive.

Resident Thomas Waite Howard discovered that his town's name was confusing to outsiders and even to the post office. In 1868, he petitioned the post office to change West Flushing's name to 'Corona' as he felt that his neighborhood was the "crown jewel" of Long Island. The post office granted his request in 1872.
Trylon Theater, Queens Boulevard near 98th Street
REGO PARK
You wouldn't think they would have to abbreviate "Real Good" Park, would you? That's exactly what the developers Henry Schloh and Charles Hausmann did when naming their new Queens development Rego Park in the 1920s, for the construction company that built the area's one-family row houses…the Real Good Construction Company. The row houses stand in contrast with the modern high-rise apartment buildings along Queens Boulevard.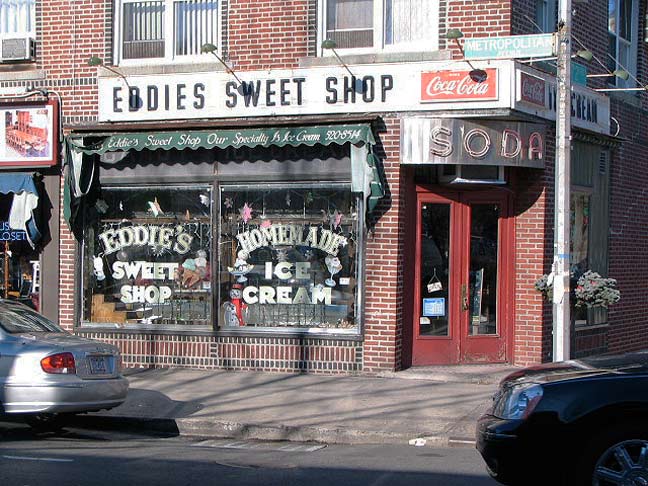 Eddie's Sweet Shop, Metropolitan Avenue and 72nd Road
FOREST HILLS
In 1909 Cord Meyer, the developer of nearby Elmhurst, sold 100 acres south of the Long Island Rail Road to the Russell Sage Foundation, which commenced to piece together a nearly self-contained community, Forest Hills Gardens, from sixteen former truck farms throughout the 1910s and 1920s. Winding streets, Tudor brick buildings, and short, cast-iron streetlamps and street signs make the development completely unique in New York City. The Gardens, and the surrounding neighborhood, were called Forest Hills for nearby Forest Park.
Japanese House, Brevoort Street at Beverley Road
KEW GARDENS
Kew Gardens was inspired in layout by the London suburb that gave it its name. It was conceived and developed in the 1890s by Manhattan lawyer Albon Platt Man and later by his son, Alrick Man, and features block upon block of Spanish Colonial, Italianate, Dutch Colonial, Tudor, and even Japanese-style homes, as well as a cluster of apartment complexes in the vicinity of the Kew Gardens LIRR station, in a fairly well-defined wedge of land between the Jackie Robinson Parkway (Union Turnpike), Metropolitan Avenue, and the Van Wyck Expressway.
A fairly recently developed section of Queens east of Flushing Meadows-Corona Park, from Mt. Hebron Cemetery and Queens College south to Union Turnpike west of Parsons Boulevard, was named Kew Gardens Hills, by real estate concerns who wanted to cash in on the Kew Gardens name.
More names of the neighborhoods of Queens coming soon. Meanwhile, check Brooklyn, Bronx and Manhattan.
Some sections of this page were adapted from earlier FNY pages, including those written by Christina Wilkinson.
4/13/14