There's about a 2-week window in the spring and another in the fall when New York City is tolerably walkable. Of course, I will walk in all weather except below 20 degrees or so, but my optimal conditions: a light breeze, no humidity and cool enough for just a light jacket (like Linus Van Pelt and his security blanket, I don't like to go jacketless until Memorial Day) come up only about 4 to 5 weeks in May and October. Given that obligations and rain days knock out about two of the four weeks, that gives me about 14 days out of 365 with complete comfortability.  I'll go on longer walks in hotter or colder, but it's just more of a grind.
Thus, on May 25, 2014 I roved from the Carroll Street F train stop to the F train 18th Avenue stop, not strictly following the tracks; that is just how it turned out. I saw painted ads, war monuments, Bill deBlasio, attached brownstone buildings, elevated railroad stubs, which will be discussed as they come up.
I left the F train at Bergen Street, which is technically in Cobble Hill, but the sightseeing for this page really began in the next neighborhood to the south, Carroll Gardens. From my "Names of the Neighborhoods" series:
The neighborhood defined by Hamilton Avenue/Gowanus Expressway, Union Street and the Gowanus Canal is named for Charles Carroll of Maryland, the only Roman Catholic to sign the Declaration of Independence, and Carroll's presence here in the atlas is quite deliberate. A regiment of 400 Maryland troops, under Lord Stirling, assisted American patriots in a strategic retreat from British forces who vastly outnumbered them in the Battle of Brooklyn in what is now Green-Wood Cemetery, witnessed by George Washington from Cobble Hill Fort (see above). Some of the building plots on Carroll and President streets allow for extra-large lawns — hence the "Gardens."
I was on Smith Street, which runs south from the junction of Fulton and Jay Streets downtown south to the area south of the Gowanus Expressway once home to grain silos, dry docks, shipping vessels and other riverine activities, but now mostly parkland and Ikea. Smith Street was named for 19th Century Brooklyn mayor Samuel Smith (1788-1872) elected to a 2-year term in 1850.
In the mid-to-late 20th Century and early 21st, it has undergone three phases: along with Court Street it was the main drag of Gowanus before it was subdivided into Carroll Gardens, Cobble Hill Boerum Hill. It was never as "Italian" as Court Street has been, but played host to the many nationalities, from Scandinavian to Native American, that worked the Brooklyn docks. By the late 20th Century, Smith Street had obtained a distinctly Latino flavor, and finally, by the early 21st Century, as the areas near Downtown became decidedly more upscale, it has increasingly become a restaurant row and, if anything, has obtained something of a French aspect, with a number of restaurants specializing in French cuisine.
Some of the "old" Smith Street is still evident. In the photo, looking north from Douglass, there is an empty lot on the corner, and the massive green J. Michaels Furniture store is seen in the rear, now a massive Rite Aid.
This corner bodega at Smith and Warren Streets has been here for awhile. How long? There are still some Pepsi signs from the Fabulous Fifties on the side of the building: the company slogan in 1957-1958 was "Say Pepsi, please," which was probably a play on cola fans' habit of using the word "coke" for "cola" no matter what the make.  The familiar red, white and blue "Pepsi globe" was originally a bottle cap when introduced in the 1940s.
The newest trend in store awning signage is in shingle-style signs that hang over the sidewalk. This makes a lot of sense, as you can see what you're getting closer to as you walk along the sidewalk. A lot of them are handcrafted with interesting designs. Much of the "gentrified" parts of western Brooklyn, from Cobble Hill to Red Hook, feature this style, though many traditional awning signs are still in place.
The "Jake Walk" sign obviously takes off on "cake walk," a 19th Century dance competition in the Old South which has come to mean an easily accomplished task.
This lot at Smith and Douglass has been here for several years, as has the plywood fence surrounding it. Pasted art and advertisements have become more and more imaginative the longer the lot stays empty.
The minimalist signage and stucco exterior of Angry Wade's, Smith and Butler, are interesting enough, but you hardly ever see a One-Way or traffic sign of any type attached to a Type B lamppost, which are mostly deployed in parks but are used to illuminate the sidewalks on Smith Street.
I know they're having a little fun, but I'm always instinctively revolted by anything with the word "People's" in the title. Let's just say that if a North Korea-style "People's Republic" ever set up in Brooklyn, you wouldn't find 3-4 bars per block or tattooed women on bikes. Your haircut would be determined by the government and your relatives would be turning you in. (I wonder if PBR is served at PRB.)
This sign at Smith and Douglass advertises a now-closed design shop. The name, pronounced "roo roo," is French for the noise dogs make.
There are laundromat/bar combinations in Brooklyn, but I never heard of a sewing goods shop that also dispensed wine, cheese and pastries, which is what La Casita is. I can think of several potential Brave and the Bold, Marvel Team-Up or DC Presents business combinations:
Barbershop/bowling alley
Pizzeria/hair salon
Toy store/public school. That will make the kids learn…
9/11 memorial/gift shop. Oh, they thought of that one already.
Supermarket/real estate office
Mad Dog & Beans, Smith at about Sackett, which also has a branch in the Financial District, doesn't rate high on yelp.com but does have a handsome woodcut awning sign in an Old english 'blackletter' style font.
During the late Michael Bloomberg administration, Citigroup sponsored bike rentals, "Citibikes" that could be rented by the hour or longer; the program continues in selected parts of Manhattan and Brooklyn. On Smith Street and Sackett we have a designated bicycle parking area.
At #287 Smith Street is one of those mysterious storefronts you occasionally find around these parts. There are a couple of plaques with Stewart Smalley-type aphorisms, and also this portrait of an angry bunny rabbit.
A classic storefront awning sign at Smith and Union Streets. The awning itself features the Copperplate type font.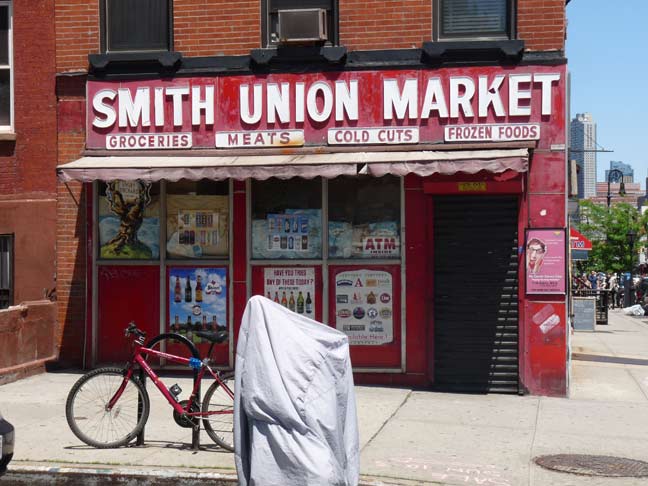 Directly across the street is this storefront on the corner that, unusually, faces Union Street instead of Smith. When I first encountered it years ago I thought they only served union members (any store like that should be outlawed). It's  named for the two streets. The sign has probably been there for decades and gets the job done.
There was a sidewalk sale across Union Street and you had to hand it to them, they came up with some interestingly worded chalked sidewalk signs.
Another sign on Smith between Union and President Streets of very old provenance.
It's unusual to use an extended font and a condensed front in the same sign. I've seen the font on the first line but can't place it while the one on the bottom is close to a News Gothic Condensed Bold.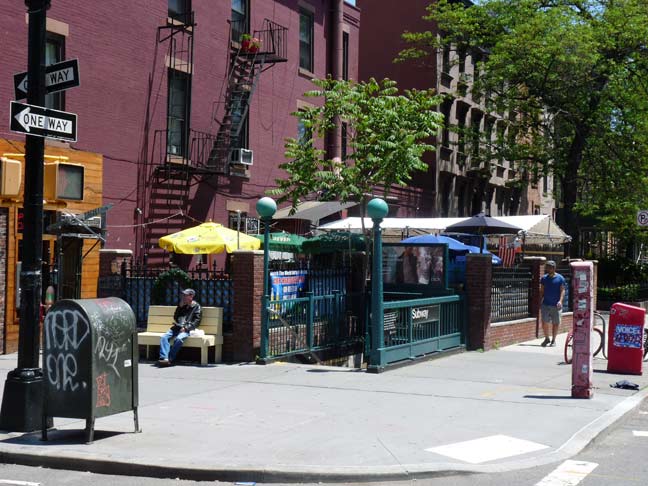 The Gowanus Yacht Club at Smith and President Streets arrived early in the "gentrification" of Smith Street, as far back as 2002. It is an outdoor beer garden, also serving BBQ fare like hotdogs and hamburgers, and usually packed solid in late spring and summer months. It is named for the nearby Gowanus Canal (see below) and features a nautical decor motif.
Typical yelp.com review… (yelp.com does not allow copying and pasting, but there's more than one way to skin a cat):
Right above the Carroll Street subway exit-entrance, strategically placed.

At Smith Street and 1st Place is what is now apparently the Ki Delicatessen. A lot of the letters have fallen off; the words "Italian" and "catering" were formerly on the bottom. One of its competitors, "Joe's S Perette", actually "Joe's Superette" without the U, has apparently left the scene.
If the Giuliani-Bloomberg era has a great legacy other than drastically reducing crime, it's that the city's monuments have never looked better. No doubt this was cracked and verdigris'ed at one time, but the busy gnomes at Parks have been polishing up the city's statuary and plaques. It looks as good as when it was built almost a century ago.
Serving as the symbolic centerpiece of this neighborhood park and playground, the Carroll Park War Memorial honors the memory of those men from the surrounding 8th Assembly District who lost their lives in military service during World War I.
The monument consists of an 18-foot tall pink granite stele to which are mounted front and back bronze bas-reliefs of soldiers and sailors, crafted by Brooklyn-born sculptor Eugene H. Morahan (1869-1949). On either side are bronze honor rolls listing those who paid the supreme sacrifice for their country. The frontal image represents a soldier mourning his slain comrades while the rear composition's central motif is that of a sailor on watch.
A gift to the City, the monument was commissioned by a local committee at a cost of $9,000 and dedicated in 1921. In 1994, as part of a $1.3 million upgrade of Carroll Park and playground, the monument, its sculptural reliefs, and commemorative plaques were fully restored.  NYC Parks
Carroll Park, which fills the block between Court, Smith, Carroll and President Streets, is Brooklyn's third-oldest public park; it was organized from privately-held land as early as 1853. Like Carroll Street and Carroll Gardens, it was named for Charles Carroll of Carrollton (Maryland, 1727-1832), the longest surviving signer of the Declaration of Independence and the only Roman Catholic signer.
As we will see, the state of Maryland played a large role in the history of what was known till the mid-20th Century as South Brooklyn.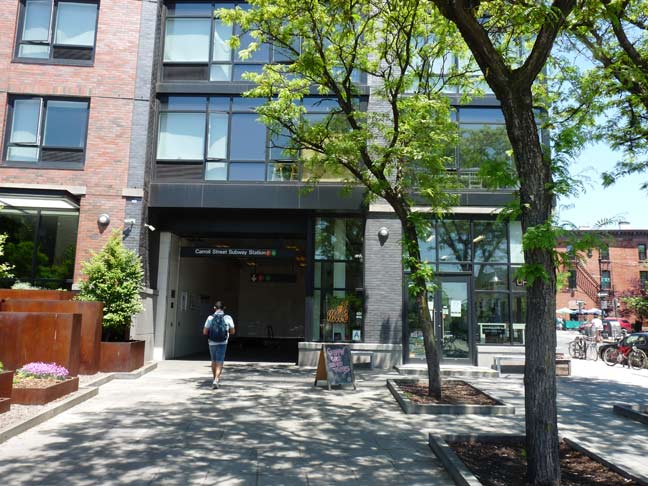 There was a lot of weeping, hue and cry, and teeth gnashing when plans were revealed for this residential tower at Smith Street and 2nd Place a few years ago above the north Carroll Street IND subway entrance/exit, but it didn't turn out all that badly.
Some of the unsung heroes of the IND Subway are their Art Moderne (most were built between 1930-1935) substations, like this one at Smith Street and 3rd Street where the train emerges from the tunnel. Electrical substations convert high voltage alternating current to lower voltage direct current for use in the transit system.
Realizing I had rarely used the 3rd Street Bridge crossing the mighty Gowanus, I decided to turn left here and make my way into Park Slope.
Attached two-story brick buildings, 3rd Street between Smith and Hoyt Streets. Buildings like this represent the backbone of residential housing as built around 1900, give or take a decade, in "South Brooklyn" and on into Park Slope.
Neon sign for the long-gone Magic Touch Cocktail Lounge, 3rd and Hoyt Streets. Hoyt, Bond and Nevins Streets are narrow lanes running from Downtown south to the Gowanus Canal area. Charles Hoyt and Russell Nevins were real-estate developers and speculators who began the process of urbanizing what had been Tunis Joralemon's farm in the 1830s.
A look south from Hoyt and 3rd reveals a look at the classic industrial Brooklyn of the early 20th Century, with the gradually reconstructing IND Gowanus Canal Viaduct. At 88 feet in height, it is the highest "subway" station in NYC and, by some accounts, the highest such in the world. Its platforms and station recently completed about five years of reconstruction. Also in view is the iconic Kentile Floors neon sign, though its parent company went under several decades ago.
A look north on Hoyt shows St. Agnes Roman Catholic Church, Hoyt and Sackett Streets, dedicated in 1888 by Brooklyn's Bishop John Laughlin. Among the biggest Catholic churches in Brooklyn, its medieval Gothic Newark stone gargoyled tower is 130 feet tall and the nave is 174 feet in length. 20 stained glass windows, imported from Munich, Germany, depict the life of St. Agnes of Rome.
3rd Street, looking southeast across the Gowanus Canal bridge. The new Whole Foods Market, built next to one of the most noxious bodies of water in the United States, is on the right. Prospect Park is the line of trees at the horizon.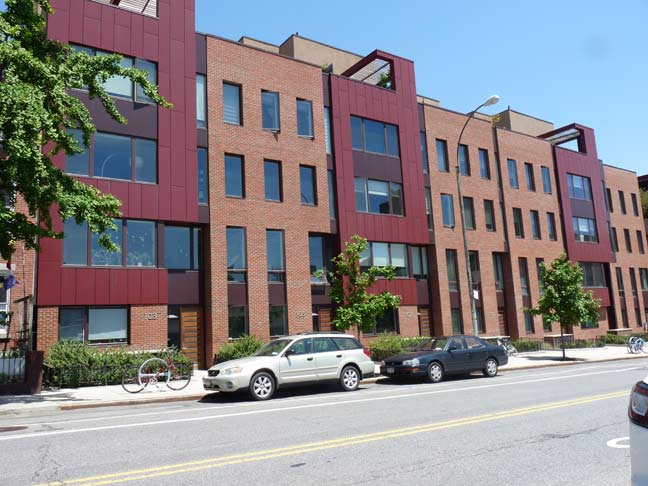 This is a new-ish group of residential buildings on 3rd Street between Hoyt and Bond Streets. They more resemble offices than places people live.
This former door factory (perhaps some asbestos was involved?) is now available near the noisome Gowanus Canal.
This sign is made of small doilies on a cyclone fence outside an empty 3rd Street lot that looks as if it's been abandoned for several years. The URL works, but there's not much there.
The Third Street Bridge was coincidentally the third bridge built across the Gowanus Canal. It is a bascule bridge and is a near twin of the Union Street Bridge; it opened March 21, 1905, 27 days after Union Street.
Looking south from the bridge we see one of the many industrial plants lining the canal as well as the IND subway trestle and the massive Kentile Floors sign.
The Gowanus Canal was originally a creek running through empty marshes and fields. According to gowanus.org, the canal is quite old: it was begun in 1849, other accounts say 1855 (finished in the 1860s) by narrowing its predecessor, the Gowanus Creek, into a one and a half mile long commercial waterway to provide commercial access to Gowanus Bay. Developer Edwin Litchfield formed the Brooklyn Improvement Company for the express purpose of dredging the Gowanus Creek, then a fresh stream, and making it navigable. With the creation of the new waterway, barges brought in sandstone from New Jersey that was used to build the beautiful brownstones that today still line the streets of surrounding Boerum Hill and park Slope. Unfortunately the buildup of the area contributed to the pollution of the canal, which would go on for over a century: the surrounding area's raw sewage would be pumped directly into the canal, and the new gasworks, coal yards and soap factories along the canal's length also dropped tons of pollutants directly into it as the years went by. As early as the 1880s the canal was foul and miasmic and its color had changed to a dark Pepto-Bismol shade, prompting locals to call it "Lavender Lake."
I'm intrigued by what species of fish would thrive in this waterway. Large numbers of them were swarming under the bridge the day I walked across.
Various plans have been hatched to clean it up, but after over a century of pollution, this will be difficult. Nevertheless, plans call for a lot of residential development along the streets that abut and surround the creek, and a new supermarket has already opened to serve them…
The ground adjoining the polluted canal would seem to be the least logical place imaginable to sell fresh produce; nevertheless, Whole Foods has planned to make a major Brooklyn inroads here and finally succeeded, in 2013 opening a massive new market. Naturally I was drawn to the futuristic LED lampposts that light the parking lot.
At 3rd Avenue and 3rd Street, or what the Brooklyn locals used to call Toid and Toid, there are a number of interesting structures, one of which barely stands anymore.
In many ways engineer Edwin Litchfield is the father of Park Slope, since, while converting Gowanus Creek into the Gowanus Canal beginning in the 1850s, the also purchased a full one third of all the land between the canal and what is now Prospect Park, eventually, along with other landowners, hiring architects to draw up lots and cut through streets. The opening of the Brooklyn Bridge in 1883 led to a housing boom and by 1900 many of the beautiful brownstone buildings we see today had been built.
Litchfield occupied the 1872 Long Island Coignet Stone Company Building, once part of a 5-acre factory complex along Third Avenue to the 4th Street Basin of the Goanus Canal, which was constructed concurrently with the complex. The stone was a decorative variety of concrete patented by French inventor Francois Coignet, which used a number of prefabricated molds that lessened the need to use chisels and other implements during construction. Some Coignet (pronounced kwa-nyay) stone was used to produce this building (making it the oldest building made of concrete in NYC), along with the Western Union Telegraph Building at 5th Avenue and West 23rd Street and St. Patrick's Cathedral in Manhattan and the Cleftridge Span in Prospect Park. Nevertheless, the stone company struggled and closed in 1882, with Litchfield's development company occupying the building until 1957. It was used for a variety of businesses but has sat abandoned in recent years. Finally, the owner of Whole Foods bought the building as part of the land purchase, and has set about reconstructing it, though I'm not sure what use it will be put to when it reopens.
The intersection of 3rd Avenue and 3rd Street is an unlikely architecture mecca. At the SE corner is the magnificent brick American Can Company building, with its distinctive diamond shaped 4th floor windows with etched glass. From NYC's Gowanus Canal Historic historic resources analysis:
The main corner section of the building was constructed ca. 1885, and in 1886 was occupied by the Somers Bros. Decorated Tinware Company, as indicated on a historic Sanborn map. By the 1920s, however, the structure was occupied by the American Can Company… The 5th Street basin of the Gowanus Canal formerly extended immediately south of the complex, and it is likely that the American Can Company utilized the canal for the transport of materials and goods. The building currently contains offices and spaces for artists, designers and manufacturers. In the 1980s, Sonic Youth recorded three albums in studios located here. The building is currently a venue for movie showings and productions.
For many years it was thought that this section of wall along 3rd Avenue east of 3rd Street was part of the exterior wall of Washington Park, where the Brooklyn NL baseball team played its games before moving to Ebbits Field for the 1913 season. This was disproven.
A Brooklyn professional baseball team, though, once played within.
The New York Times reported in December 1912 that the Washington Park, where the Brooklyn Superbas (occasionally known as the Dodgers) played, had been demolished, and was clear on the nature of the buildings: The tearing down of the wooden grandstand and clubhouse at Washington Park to make way for new streets and apartment houses recalls Brooklyn's thirty years of activity in baseball on or in the vicinity of the old grounds. The city had planned to extend Second Street through the lot, and this was even offered as an excuse for moving by Dodgers owner Charles Ebbets, but the extension never took place.
Photographic evidence suggests the wall was constructed in 1914 for the Brooklyn Tip Tops of the Federal League, which was in business for only two years from 1914-1915. A much larger edifice also remains from the Federal League era: Wrigley Field, which later became and is still the Chicago Cubs' home.
In recent years Con Edison, which owns the property, has demolished the western end of the wall, though a generous portion remains.
Another massive local edifice that hasn't yet been rehabilitated is this massive Brooklyn Rapid Transit powerhouse at 3rd Avenue and what had been 2nd Street that, for some reason, hasn't had the press that, say, the Long Island City and Jersey City Pennsylvania Railroad powerhouses have gotten, possibly because there were no massive smokestacks to be removed in recent years. This building burned coal to generate electricity that ran the BRT's fleet of trolley and elevated train routes in the early 20th Century. The BRT went bankrupt after the Malbone Street Wreck in 1918, and was then reorganized as the BMT, or Brooklyn-Manhattan Transit.
The inscription at the top of the powerhouse refers to an NYPD practice, "stop and frisk," implemented to take guns off the streets. It infuriated several civil-rights groups, who perceived it as being deployed selectively.
Also at 3rd and 3rd is this vintage fire alarm, which still has a stanchion on which a red light was installed to alert its presence. The light was removed decades ago.
A look at 3rd Street west toward Carroll Gardens.
Moving to 4th Avenue, this is the Two Moon Cafe, where the first, and so far only, Forgotten NY Film Festival was presented by me and "Movie Mike" Olshan (in the hat) in the summer of 2009. Film reels from old New York in the 1930s and 40s were shown. We'll have to do another one.
I always liked this unique block of buildings along 3rd Street between 4th and 5th Avenue, with its jutting windows in V-shapes. They grant views of both east and west along the street and overlook J.J. Byrne Park.
What we now call the Old Stone House was originally built in 1699 by Dutchman Klaes Arents Vecht. The house remained in the Vecht family until just prior to the American Revolution, when it was rented to an Isaac Cortelyou; his father, Jacques, bought the property in 1790.
Officially known as the Vecht-Cortelyou House, the Old Stone House played a pivotal role in the American Revolution. On August 27, 1776, during the Battle of Brooklyn, things looked dire indeed for the Americans, as the British and Hessians were overwhelming them in what is now the northern section of Prospect Park.
Hoping to reach forts at Boerum Hill and Fort Greene, about 900 American troops retreated from what would be the Greenwood Cemetery area; they hoped to track northward. General William Alexander, also known as Lord Stirling, led a company of 400 Maryland troops (this is the Maryland state flag) that engaged British General Charles Cornwallis' force of 2000 grenadiers and cannoneers at the Stone House to cover the retreat and, while many of the Americans were able to escape, Stirling was captured and 259 of the Maryland troops were killed. George Washington, observing the battle from what is now Cobble Hill, is said to have uttered: "What brave fellows I must this day lose."
The house continued on with the Cortelyou family until 1850 when it was sold to Edwin Litchfield, who allowed the house to literally sink into ruin. By the 1890s only its upper floor was visible above ground level; after serving as a makeshift clubhouse for the Brooklyn Bridegrooms baseball team playing in nearby Washington Park, the house was demolished in 1897, though its construction was such that Gatling guns were used to force the old stones apart; in those days they didn't fool around, building houses to last whose designs somehow never look kitschy or out of place.
The house found an angel in Brooklyn Borough President John J. Byrne. The Old Stone House's original foundations and brick were rediscovered, and Byrne, in one of his final acts before his death in 1930, ordered its reconstruction in a park posthumously named for him in 1933. The Old Stone House received a thorough makeover in 1996 with new plumbing, electrics and roofing installed. Colorful Maryland state flags wave at the old house, in honor of the regiment. The Old Stone House's stock has risen as Park Slope's has in recent years: it's now a premier history museum.
Surprisingly, another Old Stone House in Georgetown, Washington, DC resembles this one and is nearly as old.
There was a recent movement to rename J.J. Byrne Park for George Washington, but it's come to nothing so far.
Coming up in Part Two: into Park Slope
5/26/14