This was one of my periodic walks where I pick out a street and wander as far as my preference goes, seeking out Forgotten material along the way. The group of streets that runs between the Cobble Hill section and East New York are among Brooklyn's longest east-west streets and span several neighborhoods along the way. Bergen Street is one of a number of NYC roads and neighborhoods named for the colonial-era Dutch immigrant family, with Bergen Street itself named for Teunis Garret Bergen (1806-1881) who originally owned much of the land through which the street named for him runs.
Getting off the F train at Bergen Street (more about this later) I noticed an installation that resembled, to me, the former striped signposts in Queens that pointed to every nearby neighborhood, though not a trace of them remain anywhere. These signposts by artist Sasha Chavchavadze carry aphorisms relevant to the Battle of Brooklyn, fought locally in what is now Cobble Hill, Gowanus and Green-Wood Cemetery. It was inspired by the Liberty Poles installed by patriots, and Walt Whitman's poem about the revolution, "The Centenarian's Story."
"Artisanal" is a word you will see frequently in northern and western Brooklyn; it' simply a highfalutin' word for "homemade." At first I thought this place was named for the guitar player and composer in the Dutch group The Shocking Blue, Robbie Van Leeuwen, but that was almost 45 years ago. Actually this is an artisanal ice cream palace at 81 Bergen Street near Smith, that has other branches in Greenpoint and the East Village, and they also sell from roving trucks, owned by Ben and Pete Van Leeuwen.
148 Hoyt Street at Bergen, one of Boerum Hill's masterpieces. According to the Boerum Hill LPC designation report, it was constructed in 1851 and underwent renovations in 1881 that gave it its present appearance. The windows that face out over the street are known as oriels.
The Brooklyn Inn, which occupies the first floor, has been there for a few decades and boasts an oak bar dating from the 1870s. Its manager, Jason Furlani, has been famously touchy with bloggers such as Curbed's Lockhart Steele [Eater]. The Inn was locked the day I went past, but Brooklyn The Borough will show you the interior.
Bergen Street between Hoyt and Bond Streets.
Bethel Baptist Church, 265 Bergen Street between Nevins Street and 3rd Avenue. The congregation, the first African American Baptist church in Brooklyn, was founded by Rev. Timothy White in 1907; the present building was dedicated in 1924.
Mural by RAE, who usually creates art from found objects, but used just paint here on Bergen Street near 3rd Avenue.
Usually, I set out to make one thing, and in the end, it becomes something totally different.  I know that going in, but I still try to pretend to myself that I don't.  I'll cut a head off of one piece and join it to the body of another piece or fingers from this guy become a hat for this one.  Who knows really?  You just hope for the best.  However, I can honestly say that I've come a long way from slicing tennis balls in half with a rusty steak knife in my mom's basement and hot gluing them to things. Street Art NYC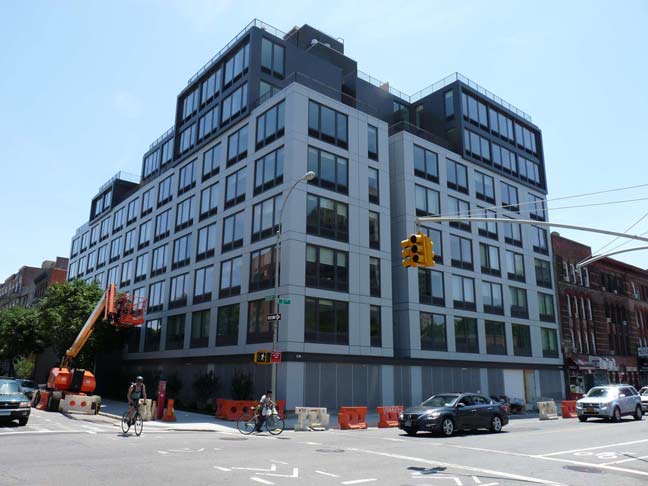 This forbidding object at 3rd Avenue and Bergen Street contains luxury apartments and is called simply The Bergen. Lucky residents on the first few floors on the 3rd Avenue side have a nice view of a Shell gas station, but the view from the upper floors is undoubtedly better.
"Say hello to The Bergen, a unique addition to historic Boerum Hill and one of the most distinguished new rental residences ever to arrive in Brooklyn. Inside, you will find a collection of distinctive studio, one and two-bedroom residences in addition to a range of high end amenities including an attended lobby, state-of-the-art fitness center, two resident lounges, a
fully landscaped and furnished roof deck, an interior courtyard and unlimited access to noted concierge, Abigail Michaels."
There are, I suppose, "noted concierges" now. I don't move in these realms, but Abigail Michaels has a website, which if you poke around long enough, describes what she does.
Meanwhile back in old Brooklyn here's the other side of 3rd Avenue at Bergen Street. The gray building formerly was home to a printer that did my St. Francis College newspaper, "The Voice" in 1980.
#305 Bergen Street, which faces The Bergen. This is likely a former administrative building that has since been converted to residences.
I was fascinated by this corrugated metal slope-roofed survivor. It adjoins a private parking lot. It may have been a trolley car shed at one time.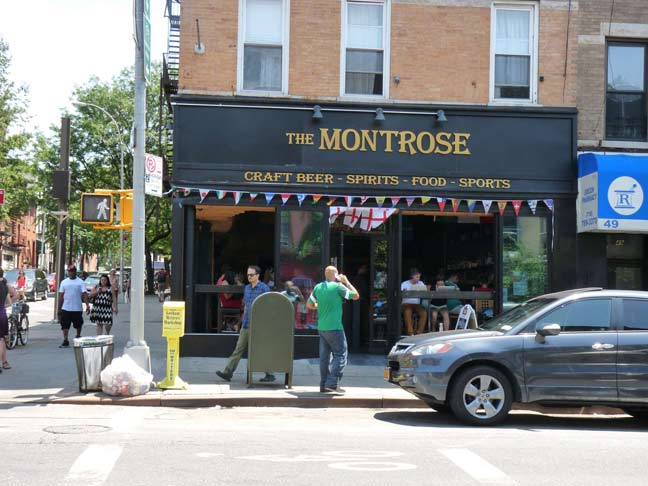 Fifth Avenue in Brooklyn has always, with apologies to Billy Joel, been my "river of dreams." Since the 1960s, I've seen all its phases, and have ridden the B63 bus thousands of times. As a kid, one parent or the other, knowing my obsession with looking out the bus window for lampposts, signs and other interesting items, would accompany me on rides to the end of the line, which was then at Furman Street and Atlantic Avenue; the bus, in those days, would take a jog along Hicks and Joralemon Streets in Brooklyn Heights. I knew about Sunset Park and Green-Wood Cemetery, both bordered by 5th Avenue, from a very young age. Not until my twenties, though, was I aware that there had been an elevated train on 5th Avenue between Flatbush Avenue and 38th Street until 1940.
I continued to travel on the 5th Avenue B63 all through high school, since my school was on Atlantic and Washington Avenues and I got there via a transfer to the B45 bus. With the transit pass, the ride and transfer only cost me a nickel; I don't know what it is now. I continued with the B63 in college; since my school was on Remsen and Court Streets, I took the bus to Court Street and walked a few blocks.
Throughout that time (1963-1983), the stretch of 5th Avenue between Carroll Street and Flatbush Avenue remained petulantly averse to 'improvement,' even as the rest of Park Slope east of 5th gentrified; and lengthy stretches of it were abandoned or burned out, with paintings of flowerpots covering the abandoned buildings. The old carnicerias, bodegas and botanicas survived amidst hole in the wall coffee shops. Gradually, though, the money found its way even to 5th Avenue. The first relatively upscale ginmill, 200 5th Avenue near Union Street, showed up in the mid-1980s. It has been a gradual process but 5th Avenue has joined the rest of Park Slope for better or worse.
The Montrose, at 5th Avenue and Bergen Street, is reminiscent of Montrose Avenue, miles away in Williamsburg; 19th Century architect Montrose Morris, whose fingerprints are all over Victorian Brooklyn; and real estate blog Brownstoner's best architecture writer, Suzanne Spellen, who has adopted the architect's name as a nom de plume. There's also the 1970s hard rock group led by the late Ronnie Montrose, whose primary leather lunged belter was Sammy Hagar, later of Van Halen fame.
This is the entrance to the apartments in the same building with The Montrose. The building has an identical twin opposite it on Bergen Street. Here I was fascinated by the leftover fallout shelter sign and the stenciled "Fear Less" sign.
This is a new development at #443 Bergen. It tries to fit in contextually, but with a lot of glass, since it's 2014.
On the south side of Bergen Street between 5th and Flatbush Avenues there are a group of relatively new businesses along with newish awning signs, among them Coffee, (actually Gorilla Coffee, though the sign doesn't have the 'Gorilla') which sells what you might expect, and Bark, a 'comfort food' place specializing in hot dogs. I like the new shingle sign trend over the sidewalk, since you can see what is coming up long before you get there. Most of these signs are colorful and imaginative. The first thing I noticed in the 'Gentlemen's Shop' window was a dress.
At first, I thought the respelling of 'milk' on the chalkboard outside Sun In Bloom Kitchen was an idle exercise in 'twee', but in addition to that, I've since been told that the respelling refers to nut milk or soy milk, i.e., milk not taken from an animal. I think 'homade' is an honest mistake, but you never know.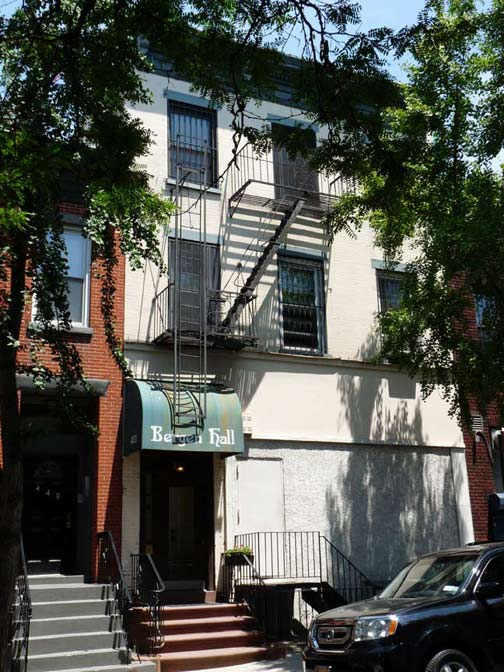 The awning sign says Bergen Hall, which is likely a building owner's way of making the place sound attractive. The interiors look nice.
The hand-lettering contrasts the expensive awning signs across the street. This place probably predates the likes of Gorilla Coffee, Bark, etc. "Limonana" or "lemonana" is a type of lemonade made from freshly-squeezed lemon juice and mint leaves that is popular in Israel, the Palestinian territories, Egypt, Jordan, Lebanon, and Syria.
This is the NW corner building at Flatbush and Bergen, and the IRT subway entrance, but I was struck by the line of metallic garbage cans. Nowadays garbage cans are almost always molded plastic or polymer.
I'll have a bit more on Flatbush Avenue a bit later, but I will mention here that as it passes through Park Slope it is positioned diagonally against the street grid, creating a number of triangle-shaped lots and strangely-angled buildings. One of them, at 5th Avenue, gave rise to the now-defunct Triangle Sports store chain, and there's this one formed by Bergen Street and Flatbush and 6th Avenues.
The old Pintchik Paint locale, Flatbush Avenue and Bergen Street. The story went, several years ago, that calling from old-fashioned telephone mounted on a wood box on Flatbush Avenue would connect you to a Brooklyn writer, Jonathan Safran Foer (author of the bestseller Everything Is Illuminated), seated inside Pintchik, who would answer your question by displaying the answer on the store's electric billboard. Foer has since gone on to better things, but Pintchik still held firm despite the efforts of the big box Home Depots to ruin it.
Nathan Pintchik, the grandfather of the current president of Pintchik Inc., began the company in 1912 as a series of paint and hardware stores across the city, but over the years the family also quietly began acquiring dozens of buildings, especially on the stretch of Flatbush Avenue between Atlantic Avenue and Grand Army Plaza. NY Sun
In 2012, Pintchik refused entreaties from Hooters to rent ground floor space.  Ace Hardware and Benjamin Moore Paints occupy the space these days.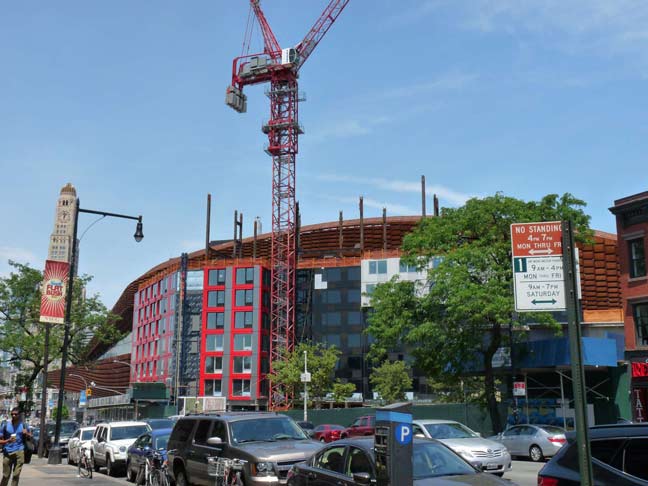 Construction cranes have appeared again at the Atlantic Yards site on Flatbush Avenue, as Tower B2, the first of the project's residential buildings, is under way. The tower is due to be finished in 2015.
What preceded Barclays Center [FNY, 12/25/05]
Despite the incredible change that has occurred in the nearby blocks, a neighborhood stalwart has always been the NYPD 78th Precinct building at 6th avenue and Bergen Street. As it appears to be a classic NYC police precinct building, the producers of TV comedy "Brooklyn Nine-Nine" used it for exterior shots.
The 78th, as with most police precincts in NYC, displays two green lamps at the entrance. The tradition of green lights dates back to colonial times.

 According to the NYPD website, "It is believed that the Rattle Watchmen, who patrolled New Amsterdam in the 1650's, carried lanterns at night with green glass sides in them as a means of identification. When the Watchmen returned to the watch house after patrol, they hung their lantern on a hook by the front door to show people seeking the watchman that he was in the watch house. Today, green lights are hung outside the entrances of Police Precincts as a symbol that the "Watch" is present and vigilant."
The side entrance is decorated with the NYS official seal, as well as two disused lamp stanchions, now a bright green verdigris shade.
The Essential Walter Grutchfield has been able to find out something about Peter F. Reilly, whose name is found in Olde English lettering on this massive Deco storage skyscraper on Bergen east of 6th, constructed in the late 1920s:
Peter F. Reilly (1863-1936) appeared in both the 1870 and 1880 U. S. Census reports, living with father and mother in Brooklyn. His father, also Peter F. Reilly, was 40 in 1870 and 50 in 1880. He was born in Ireland, and his occupation in both instances was "truckman." The younger Peter F. Reilly was 8 years old in 1870 and 17 in 1880. In 1880 he was a truckman, like his father. Peter F. Reilly (the second) also appeared in the four successive U. S. Census reports from 1900 to 1930. Over the course of these 30 years he lived at 538 Carlton Ave., Brooklyn. In 1900 he was 37 years old, born New York, May, 1863. He had been married 15 years. His wife, Augusta, also 37 years old, was the mother of 8 children, of whom 5 were living. Among the children was their son, Frank, age 11. In 1910 Frank was called Peter F., now age 21. Frank/Peter Jr. was the P. Frank Jr. mentioned in Reilly's obituary. (Apparently the F. in Peter F. Reilly stood for Frank.) In 1930 Reilly's son was a widower living with his father. He was 40 years old and named P. Francis.
This ad for Peter F. Reilly appeared in the Brooklyn Daily Eagle Almanac, 1900. At that time the business was located at 614-622 Dean St., Brooklyn.
By the time of this ad from the 1929 Brooklyn telephone directory Peter F. Reilly's Sons had built a new facility on Bergen St. near Flatbush Ave. As of June 2011 the warehouse at 491-495 Bergen St., Brooklyn, still functioned as the home of Peter F. Reilly Storage Inc.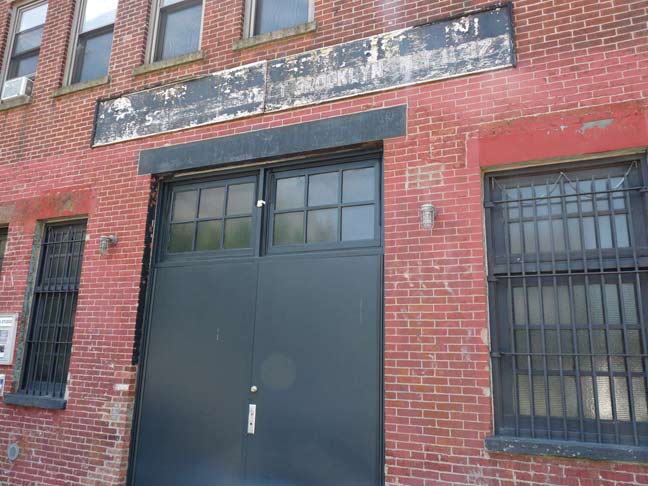 The wood sign above the door at Lava Studio (a gymnastics training school) at #524 Bergen is so worn that not much besides the word "Brooklyn" is still visible.
Carlton Avenue is named for the British Carleton House, the London residence of Henry Boyle (1675-1725) which briefly became the seat of British government until usurped by Buckingham Palace, which has a street named for it in Prospect Park South.
575 Carlton, on the corner of Bergen, was likely built in the 1870s with an extra floor than its fellows. The Second Empire style mansard apex was likely a decades-later addition.
East of Carlton, here's a row of attached brick buildings with V-shaped bays, allowing the sun to shine in the front rooms at different times of the day.  Bars on the ground floor windows indicate that it's still better to be safe than sorry here.
The west end of the south side of Bergen between Carlton and Vanderbilt Avenues feature attached brick buildings with extra-long setbacks, allowing for big green front yards.
On the north side is what was clearly once a stable, with its wide front entrance. Look closely and you will see the baling hook still in place under the roofline. The artwork is from 2013 and is based on the work of painter Philippe Vignal.
The ancient brick building on the corner of Bergen Street and Underhill Avenue retains a pair of chiseled street signs. This was the standard method of delineating streets before signs were mounted on lampposts. The street was named for Captain John Underhill (1597-1671) whose claim to fame was leading colonists against Native Americans in the Pequot War, an armed conflict between the Pequot tribe and an alliance of the English colonists of the Massachusetts Bay, Plymouth, and Saybrook colonies and their Native American allies in 1638, which the Pequots lost. Perhaps Underhill is remembered here because of his vehement opposition to Peter Stuyvesant as a Long Island selectman in 1645; he believed Stuyvesant's rule was tyranical.
I noticed a small brick residence at #738, between Underhill and Washington Avenues, that's slanted at an angle away from Bergen, instead of facing it flush, as its fellows do. A similar situation also exists with an lder brick building on Prospect Place east of Underhill, a few blocks away. Of course, there is a reason these buildings are on an angle.
This overhead view from Google Earth shows the Bergen Street building (top) and Prospect Place building (south) angled away from the street grid, as well as other area buildings.
On this early 20th Century atlas plate, I have circled the Bergen Street building in red. Notice that it, and other area buildings, aren't facing the regular street grid but are instead aligning with another grid shown by thin blue lines that run athwart the grid. The older the buildings, the more likely are they to face the "other" grid.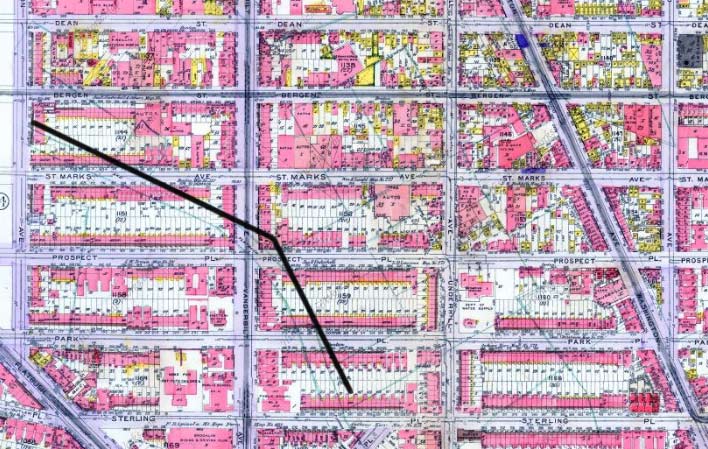 OK, if we pull back on the atlas a little  we can see that that "other" grid, shown by the faint blue lines, seems to line up with the course of a ghost roadway, along which I've drawn a black line so you can see it better.
The ghost roadway, first traveled in the colonial era, may date back to Native American days as a trail. It was eventually called the Flatbush Turnpike. Early property lines were drawn to line up with the turnpike, and several buildings were constructed obeying those property lines. However, the Flatbush Turnpike was straightened (more or less) in the mid-1800s and, with just a couple of twists, today runs south and southeast to Jamaica Bay under the moniker "Flatbush Avenue." And now you know the rest of the story.
Josh Jackson provided some more detail in Lost Magazine.
Awning sign for The St. Catherine, a recently (2014) opened ginmill at Bergen and Washington Avenue. Until recently the building exterior still had an illuminated Castrol GTX sign, betraying an even earlier use.
The saint, one of the more prominent on the Christian roster, was tortured by Roman Empire numeraries  under Maxentius on a spiked wheel later given her name:
The breaking wheel, also known as the Catherine wheel or simply the wheel, was a torture device used for capital punishment in the Middle Ages and early modern times for public execution by breaking the criminal's bones/bludgeoning him to death. As a form of execution, it was used during the Middle Ages into the 18th century; as a form of post mortem punishment of the criminal, the wheel was still in use into 19th century Germany. wikipedia
I zoomed in on this shot looking north on Washington to include the twin spires of the Chrysler Building and on my old high school, Cathedral Prep, which closed in 1985 and since turned into condominiums.
The King of All Buildings can also be seen from here, on a separate angle.
A pair of traffic signs not meant to aid automobiles. WalkNYC, a division of the Department of Transportation, has placed stanchions in selected areas around town that act as a pedestrian orientation aid. The maps show nearby streets, neighborhood highlights and the nearest subway and bus lines.
Since New York City is a patchwork of neighborhoods, WalkNYC maps typically feature a zoomed-in neighborhood map and a zoomed-out regional map, to provide local context. (And these maps are to scale, unlike the geographically warped MTA subway map, designed by Michael Hertz Associates in 1979.) There's a circle that indicates what's in a 5-minute walk of your location. The maps have a neutral color scheme of grays, greens and soft yellows so they're not flashy 'bouquets' on every corner, and the font is a custom version of Helvetica, Helvetica DOT, which replaces the square dots above lowercase I and J with round dots. Mashable
But can they survive neighborhoods' agents of destruction, graffitists and vandals?
A regulation DOT sign signals the Bergen Street unprotected bicycle lane.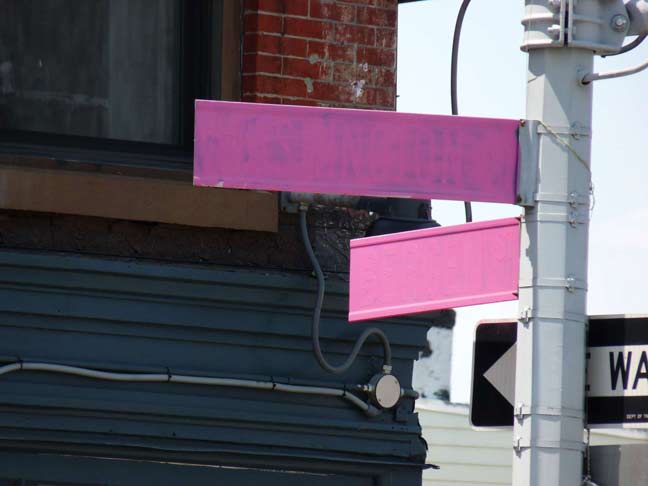 Already, a prankster has covered the Washington Avenue/Bergen Street signs in pink paint.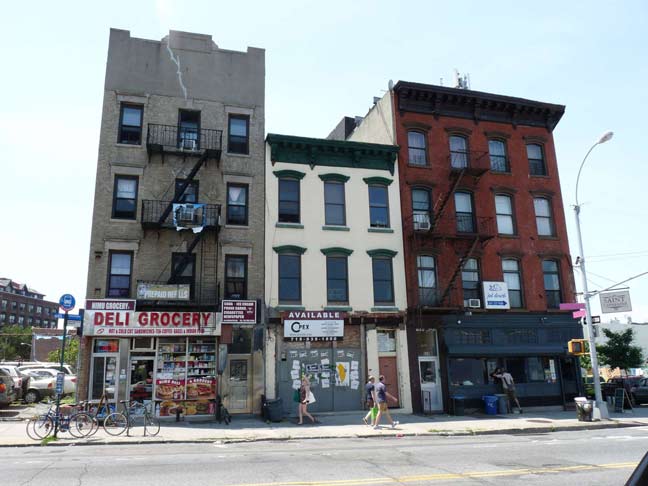 Gentrification creeps east, but it has not yet found this pocket on Washington Avenue.
Painted building ad, Classon Avenue at Bergen Street
New apartment building, Bergen Street east of Classon. Those opaque terrace fences remind me of frosted beer mugs, especially since it was sort of hot on this walk.
Another new development on Bergen east of Classon. You wonder why it was set back so far from the sidewalk. It's just paved over, with nothing at all in the front.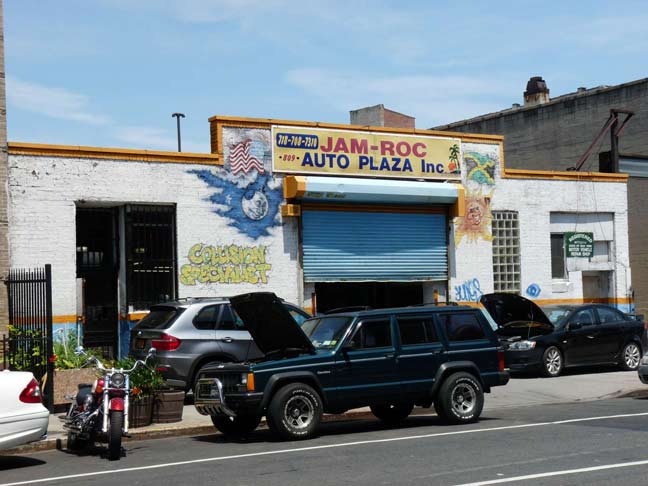 Jam-Roc sounds like something a rapper would call himself in 1983. There's a lot going on here, with American and Jamaican flags, and comic representations of the moon and sun.
Some good old pregentrified Brooklyn, corrugated metal fence, barbed wire, scrawled graffiti. Classic stuff, really.
Berg'n, a beer hall/food court owned an operated by the owners of Brooklyn Flea and Smorgasburg, is due to open at #899 Bergen during the summer of 2014, reusing some low-rise warehousing. It's fitting that the backdrop up Bergen Street is an old Heinz factory, which once turned out tons of jarred comestibles and condiments.
The sign should be vaguely familiar to NYC subway riders and subway buffs. Enamel signs with the same spelling and same type font were once used on the pillars of the IND Bergen Street subway  a couple of miles west on Smith Street.
This photo was taken in 1972, when the signs were still extant. There are still some existing "Berg'n" signs at the NYC Transit Museum, and a number of them are still in place on the pillars in the now-unused lower platform of the Bergen Street station. The train above was used on a fan trip and its roll signage harkens back to the days when BMT trains were numbered (they received letters in 1967 when the BMT and IND were merged).
More old-school graffiti under the Franklin Shuttle overpass. The shuttle connects the IND Fulton Street Line with the Brighton Line at Prospect Park, and is all that remains of the northern end of the Brooklyn, Flatbush and Coney Island Railroad. In the 1970s and 1980s the city had no money for the line's upkeep, and it deteriorated to the point of collapse, but in the late 1990s the MTA found some money in the kitty and completely rebuilt the shuttle, closing the Dean Street station but adding a transfer to the IRT at Eastern Parkway.
The grand old Heinz factory, on which the company slogan "57 Varieties" is clearly still in view, was built in the late 1800s as part of a large brewery complex that extended to Franklin Avenue and around the corner to Dean Street. After Heinz decamped its building became the Monti Moving & Storage Co., which in turn moved out in 2001. The buildings are used by artists and light manufacturers these days, with the ice house on Dean has been converted to residential.
In the colonial era, this was a Hessian Camp, German mercenaries allied with the British. By 1849, even before much of the street grid had appeared, the Liberger and Walter Brewing company was brewing here, between 1866 and 1883 it was the Bedford Brewery run by Christian Goetz. In 1883, William Brown purchased the brewery, renaming it the Budweiser Brewing Company. After a suit by Anheuser-Busch in St. Louis, Brown changed the name to the Nassau Brewing Co. in 1902, and it continued brewing until 1914. Heinz then purchased the westernmost building and turned it into a factory.
The remains of the Nassau Brewery, at Franklin Avenue and Dean Street, go back to at least 1866, just after the Civil War, and are among the oldest remaining commercial buildings in Brooklyn.
That will kick it in the head for the day, as I wandered down Franklin to the Eastern Parkway IRT.
7/7/14