In this preternaturally mild summer [2014] only the exorbitantly high transit fares and my volunteer work at Greater Astoria Historical Society are keeping me from roving all over town most days of the week, pointing a camera at anything remotely of interest. However, I do try to get out whenever possible and on this day, I was traveling  in one of my favorite parts of town, the downtown Brooklyn area. There have been ForgottenTours in Brooklyn Heights and DUMBO the past couple of years, yet I have merely scratched the surface on what has always been a fascinating and ever-changing region.
[See "Bergen Statement" — a recent FNY page]
I went to college in the area between 1975 and 1980, long before FNY was conceived, yet I have always been interested in historical oddments. I must have evinced such interest outwardly even then, since a then-girlfriend whom I met at the school gave me a copy of Clay Lancaster's "Old Brooklyn Heights," from Dover Publications when they still printed historical pictorials for my birthday in 1982. It's the Bible of Brooklyn Heights architecture.
Getting off the train at the IRT Boro Hall station, you see a pedestrian path leading north from Joralemon Street to the junction of Court and Montague Streets, on the west side of Brooklyn Boro Hall (see below). This path is a remnant of Fulton Street, which is a very old road going back to the early 1700s as the British forged what they called "King's Highway" that reached from what was the Fulton Ferry landing south along what is now Old Fulton Street, Cadman Plaza West, Fulton Street, Flatbush Avenue, and the modern Kings Highway all the way to Midwood in the heart of Brooklyn. When Cadman Plaza was built in the early 1950s, this section of Fulton Street was closed to traffic and turned into a pedestrian path. Creating Cadman Plaza meant the closing of several streets and razing nearly a hundred buildings. In addition, the Fulton Street El also ran along this section of the street until it was eliminated west of Rockaway Avenue in 1942. Other sections were later torn down, until only the part that runs along Liberty Avenue in Ozone Park remains today. In addition, note the Bishop Crook lamps. These were among the first of the "retro-crooks" that appeared in the early 1980s to be installed. The luminaires are of a style used in the 1980s and no longer installed today.
Brooklyn's City Hall was originally built in 1848 in the Greek Revival style in Tuckahoe marble, designed by architects Gamaliel King and Calvin Pollard. In 1898 it was "demoted" to Borough Hall as the county of Kings was absorbed into Greater New York. That same year it received its present cupola and gilded statue of Justice; the originals had been destroyed in an 1895 fire. Believe it or not there was a push to demolish the structure in the 1930s as some critics felt its design wasn't sufficiently attractive. The depression and war ended whatever plans there were for a new Boro Hall, and in 1966 the building received designation by NYC Landmarks. The sign from the opening credits of Welcome Back, Kotter that read "Welcome to Brooklyn, 4th largest city in America, Hon. Sebastian Leone Borough President" (1976) currently hangs in the lobby of Borough Hall.  And, a tile representation of Boro Hall can be found on the walls of the #2/3 IRT platform underground.
[See this page for the nearby statue of Christopher Columbus, which has been around]
The Boro Hall station elevator entrance at Court and Montague Streets is cleverly designed to approximate the look of the original IRT exit and entrance kiosks first installed in 1904 (the last one was removed in the late 1960s). Another one resembling it can be found at Centre and Chambers Streets in City Hall Park.
The "retro-crooks" seen on the Fulton Street remnant are not the only unique NYC lamppost versions around Brooklyn Boro Hall. This double-headed post, which somewhat resembles older posts in San Francisco and Los Angeles, CA. uses a regular Type 24M shaft with entwined garland with a somewhat shortened base. THere are a number of these on the mall at Cadman Plaza West between Montague and Johnson Streets.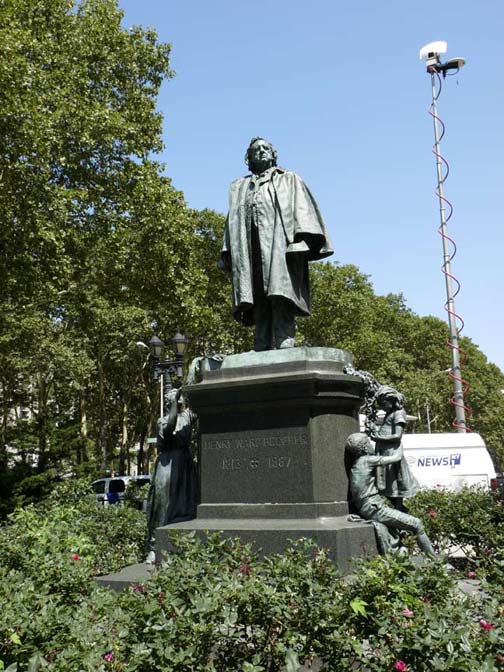 There are two monuments to famed 19th Century preacher Henry Ward Beecher (1813-1887) in the Boro Hall — Brooklyn Heights area, the one seen here and one at Beecher's church, the Plymouth Church of the Pilgrims on Orange Street. Henry Ward Beecher preached from the church's opening until his 1887 death. Beecher, a lecturer and writer as well as a pastor, attained a pre-eminence almost equal to Abraham Lincoln's at the height of the Civil War, and even endorsed products, which well-known ministers did in the era. The pastor staged mock slave auctions to call attention to the evils of slavery; his sister, Harriet, wrote "Uncle Tom's Cabin." Beecher was later involved in a sex scandal and was accused of committing adultery with the wife of a trusted associate. It caused irreparable damage to his career, though a jury found him not guilty of the crime.
This statue, sculpted by the renowned John Quincy Adams Ward, was unveiled in 1891. The accompanying figures are said to represent his abolitionist stance as well as his love of children. Reportedly, family members took issue with the likeness, saying it didn't resemble the preacher. The statue was placed in its present Cadman Plaza position in 1959.
I headed south on Court Street. At Joralemon Street, the bluestone sidewalk is cracked and is almost in a dangerous state. The Boro Hall surroundings were last updated in the early 1980s, when they received the retro Bishop Crook lamps. The county seat's environment deserves somewhat more.
I have mentioned the Community Bookstore before, at 212 Court at Warren, before on FNY's Court Street page, but I was surprised to see the window display in a decrepit state when I passed by today. Pulitzer Prize winners as well as VHS tape boxes sit in the window in sun-bleached, dust-caked decrepitude. As far as I know, though, the place is still open (though it wasn't during a midweek noontime). Here is a look within from 2011. It was opened by John Scioli, who still runs it, in 1985.
Nectar Juice Bar, 270 Court. Its identity is outwardly known only by the chalkboard on the sidewalk, but that's just as well because you get to see that gorgeous stained glass awning sign.  
Court Pastry Shop, #298 Court between Douglass and DeGraw, remains as a mainstay of Cobble Hill and Carroll Gardens' still-healthy Italian populace. Many awning signs, especially those selling comestibles and especially bakery products, are rendered in the red, white and green colors of the Italian flag.
Yet another classic storefront at the corner of DeGraw, officially a cigar store selling Optimo (which has sponsored hundreds of such signs for much of the last century) but really an all-purpose general store, the direct descendant of the general stores found in the hamlets depicted in movies and paperbacks.
I wish I knew more about #220 and #222 Kane Street at Tompkins Place. The windows have been modernized fairly recently but I have always been attracted to floor-length. Kane Street received its name fairly recently. It was renamed (from Harrison Street) in 1928 to honor former Brooklyn alderman and police chief James Kane. Before the 1970s, streets were routinely renamed (cf. Stone Avenue becoming Mother Gaston Boulevard and 8th Avenue becoming Frederick Douglass Boulevard) but since then, streets have generally been given an additional street sign, but the older name tends to stick. There was a push to rename Fulton Street in Brooklyn for Underground Railroad heroine Harriet Tubman, but she got a few street signs appended under the ones showing "Fulton Street" in 2005 and that's about it.
"Let Robert Fulton keep his street" [NY Times]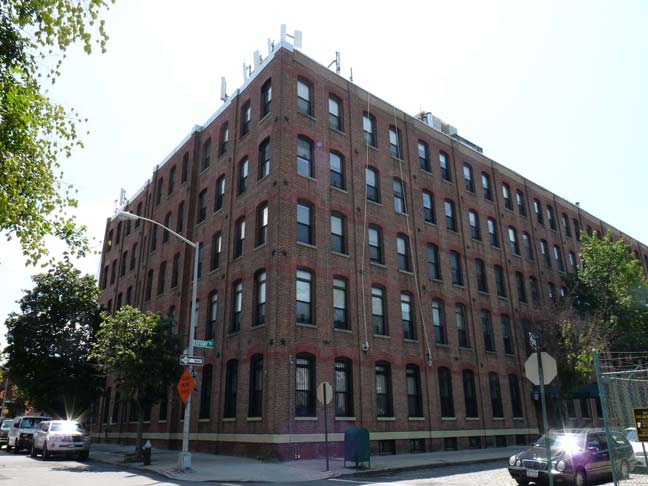 If you have read FNY long enough you know I like to feature brick factory buildings that have been converted to residential, such as #1 Tiffany Place at Kane Street, west of the Brooklyn-Queens Expressway. According to legend, this was once one of Lewis Comfort Tiffany's glassworks factories, but recent research by Brooks of Sheffield suggests the street was named for 19th Century Brooklyn alderman George Tiffany. As for the factory, it belonged to Walther and Company, which made "fancy paper" used for wedding invitations and the like. This was an early condo pioneer, since it was "converted" in 1986. If you're searching for a real Tiffany factory, you would look no further than 43rd Avenue and 97th Place in Corona up to a short time ago. The factory has been razed to make way for a new school, but glass fragments found in the rubble will be used to create an art piece in the school lobby.
A look inside [Curbed]
Indulge me a little nostalgia. When I passed Freebird Books on Columbia Street between Kane and DeGraw Streets, I remembered my very first book tour appearance associated with the ForgottenBook in the fall of 2006. what a day that was — it was by far the best post-book release appearance I made, since I attracted 45 ForgottenFans and I led a short tour of Cobble Hill.     The strange thing was, even though the ForgottenBook was number one on the nonfiction list at the much more well-known Book Court on Court and Dean Streets, I didn't attract anyone when I did a book signing there during the Christmas season. Perhaps they didn't promote it…
A bit pressed for time, so I'll cut this short here. Here's Part 2.
8/25/14