In August I was on my way to a gathering in Prospect Park South, near the Parade Grounds. Instead of the usual thing, the F train to Church Avenue, I decided to make a stroll out of it and take the #2 to Franklin Avenue and Eastern Parkway and walk from there. It was one of those days we have had mercifully few of in the summer of 2014, but the usual fare for most NYC summers: overcast and sweatingly humid, but with no rain for humidity relief. This did, though, make for even lighting for photographs, even as dusk approached.
GOOGLE MAP ROUTE: CROWN HIGHTS TO PROSPECT PARK
The Franklin Manor, Franklin Avenue between Union and Presidents Streets, has been used for farbrengens, or Hassidic Jewish gatherings, and later as the Full Gospel Assembly storefront church. That molded terra cotta exterior that includes the name of the building over the front entrance, hints at some minor grandeur in the past. It might have started out as a minor catering hall or poolroom.
At Franklin Avenue and Crown Street is a low building accompanied by a tall smokestack with the name "ASMUS LAUNDRY" spelled out in white bricks. A look around the Franklin Avenue side reveals it had been at one time Erasmus Laundry. Until late 2013 or early 2014 this was the site of the Sea Crest Linen Supply Company, an apparent successor.
Erasmus Hall was apparently so named because of its relative nearness to Erasmus Hall High School on Flatbush Avenue between Church and Snyder Avenues, which in turn was named for Renaissance Dutch scholar -theologian Desiderius Erasmus (1466-1536) and that, in turn, reflected Flatbush's colonial past as one of Holland's premier outposts in Breuckelen.
Were they from the same era, Benjamin Franklin, for whom the Crown Heights street was named, and Desiderius Erasmus could have had interesting conversations.
The Brewery
I'm not sure if the shambling, dormered brick hulks on Montgomery Street off Franklin Avenue are in fact part of the Consumer's Park brewing complex, but for now, I'll assume they were. The brewery itself is still used as a spice factory, but if it ever comes up for sale it'd make a handsome residential space.
The hastily-erased words "Consumers Park Brewery" can still be found on the massive brick building along Franklin Avenue south of Montgomery.
From nyfoodmuseum.org:
A large group of hotel and saloon-keepers established this Brooklyn brewery in 1897 (for the purpose of sharing profits from brewing and selling beer). The brewery featured a recreation-like décor that included a hotel, a beer garden, and concert facilities. The company merged with the New York and Brooklyn Brewing Company and formed the Interborogh Brewing Company in 1913. Subsequently, the company sold out during the 1920s (perhaps due to prohibition). The primary organizer and first president was Herman Raub. After a dispute with the directors, he returned to the hotel business in 1907, and died in 1915 at the age of forty-six.
The Morris Golombeck spice importers now occupies the old brewery, and the immediate neighborhood is redolent with a nutmeg-like odor. Dozens of different spices and spice products are handled here.
Here's a little more on the Golombeck spice empire from I Love Franklin Avenue.
This 1912 BMT map shows a Consumer's Park station once located here, indicating the importance the brewery once had in the neighborhood.
The old Brooklyn, Flatbush and Coney Island Railroad (which evolved into today's Brighton Line, the Band Q trains) Consumers Park station was at the still existing Consumers Park Brewery building at Montgomery Street, not the current site of Brooklyn Botanic Garden station. The original Consumers Park station was renamed "Botanic Garden" some time after the Malbone Street wreck. In 1928 the station was closed when it was replaced by the current Botanic Garden station at Eastern Parkway. The Brooklyn Botanic Garden was constructed on the site of an old ash dump across Flatbush Avenue from Prospect Park in 1910.
The station was again rebuilt in 1998 with a drastically shortened platform only able to accommodate two 75-ft. subway cars. The renovations also exposed the brick interior of the barrel-vaulted tunnel that takes the line under Eastern Parkway, and the renovations also relocated an old Transit Police precinct to allow a transfer between the Shuttle and the IRT under Eastern Parkway. Very handily, a transfer to the IRT Seventh Avenue Line, which runs under Eastern Parkway, was also built.
Notice on the map that the Franklin Shuttle directly connected to the Fulton Street El, which operated in this neighborhood until 1942. It was only later, in 1920, that a BMT subway connection to the Manhattan Bridge was built under Flatbush Avenue.
Meanwhile, the Franklin Shuttle is a handy connector from the Brighton line to the Fulton Street line (in Manhattan terms, the 6th Avenue line/Broadway line to the 8th Avenue line) that the MTA neglected for decades, but finally rebuilt in the late 1990s.
Just south of the old brewery there is a near-triangle of territory defined by Montgomery Street, Sullivan Place, Franklin Avenue and Washington Avenue that appears untouched for decades, with weeds, barbed wire, tags and ancient spotlight-style lamps that from the looks of them haven't worked since 1965. A glimpse of pure Brooklyn! Whoever owns it isn't bothering to develop it, or perhaps it is undevelopable because of the nearby subway cut.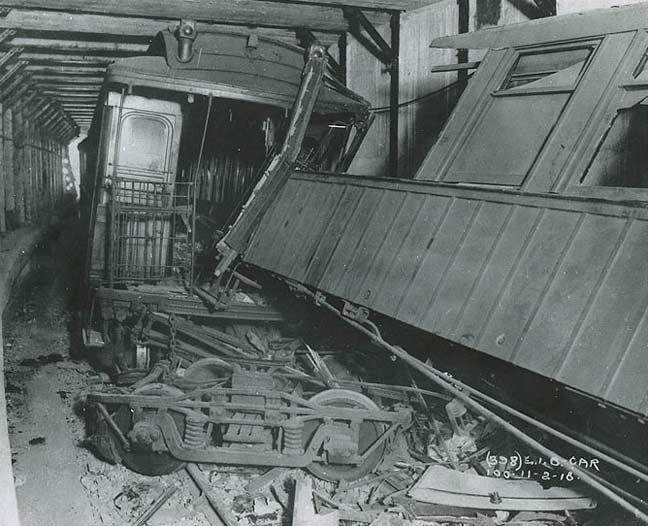 photo: anywhen.com
The Wreck
This is near the spot where the Malbone Street  subway wreck happened on November 1, 1918. Subway motormen on the BRT had gone out on strike on Nov. 1st, 1918. Dispatchers and supervisors were pressed into service as replacement workers. That day, dispatcher Antonio Luciano was assigned as motorman on the Brighton Line that ran at that time from Park Row over the Brooklyn Bridge (which had train traffic at the time) and Fulton Street to the current Franklin Shuttle. He had never before operated elevated trains in passenger service.
Luciano had to navigate an S-shaped curve on what would later be called the Franklin Shuttle at Malbone Street. The speed limit at the location was posted as 6 MPH, but those on the scene later reported that he roared through at what must have been 50 MPH. The first car held the rails, suffering only minor damage, but the second and third cars derailed, the second being demolished and the third nearly so. About 100 passengers lost their lives, though Luciano was spared.
Soon after, Malbone Street's name was changed to Empire Boulevard (although a portion of it remains at Montgomery Street and Nostrand Avenue).
Since that time, a signal system has been installed that goes a long way toward preventing such wrecks. It trips a brake if downhill trains exceed a prescribed limit. The S-curve is still there, but shuttle trains no longer have to negotiate it.
The BRT was reorganized as Brooklyn-Manhattan-Transit…the BMT…soon after the accident, and continued as an independent entity until 1940, when the BMT, IRT and IND subway divisions came under the oversight of New York City board of transportation, the present-day MTA. The new Flatbush Avenue tunnel under Prospect Park began service in 1920, and while the connection with the Fulton Street El was severed and the el itself out of service by 1942, the line, now called the Franklin Avenue shuttle, continued to run some trains all the way to Coney Island as late as 1963.
The Tower
The tallest object in the general area is the tower associated with the FDNY telegraph station on Empire Boulevard between Franklin and Washington Avenues. It is a gorgeous Italian Renaissance building [1913, Frank Helmle, arch.] Fire calls from local alarm boxes were dispatched from this building until 2008, when those operations were transferred to the MetroTech campus in downtown Brooklyn. I'm not sure what the FDNY has planned for the landmarked building at present. In any case, it's Landmarks-protected.
Helmle's fingerprints are all over Brooklyn, including the Prospect Park Tennis House and the colonnade pavilion in Greenpoint's McGolrick (formerly Monitor Winthrop) Park. Dig those wrought iron lamps in front!
The Bakery
I vaguely remember Bond Bread being around when I was a kid. Our mass-produced bread brands were Taystee, Wonder, Arnolds, Silvercup and when we wanted something different, like caraway seed rye, Levy's. Of course the Silvercup plant in Hunters Point has become famed for its huge neon sign and as the bakery's successor business, the TV studios where The Sopranos and many other TV shows have been filmed and produced.
But Bond Bread should be remembered as well, as much for this hulking building with a huge clock [1925], on Flatbush Avenue south of Empire Boulevard. Perhaps the name is too much associated with the longtime clothing store near Manhattan's Duffy Square which became a concert venue in its final days. Bond, in its day, was also famed for its ryes and the slogan "Bond Makes Good Bread." No doubt the bouquet of baking bread once permeated the general area. You can't get more basic than that. In 1997, after several years of idleness, it became the Phat Albert Warehouse and is also home to a gym chain. Hopefully it won't become luxury housing, but it would be nice if that clock could be restored.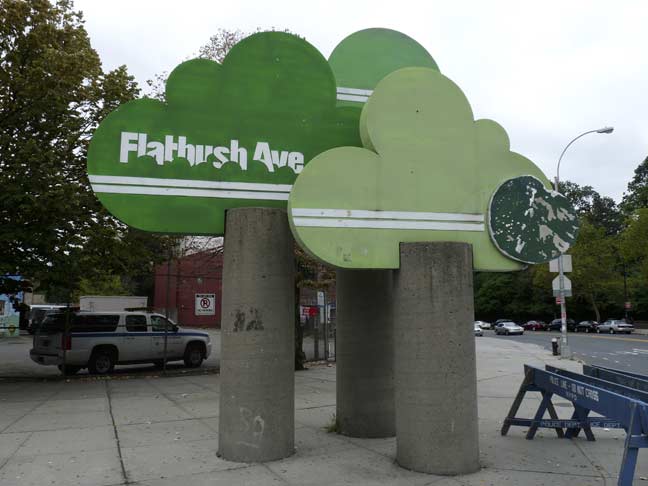 I don't know what agency was responsible for the green clouds mounted on concrete pylons at Flatbush and Ocean Avenues, but they've been here as far back as I can remember. Any other identifying marks have worn away.
One thing that had also warned away somewhat, and is now being completely restored in its 15th year, is the large mural depicting African scenes on the wall originally by Quentin "quenci" Jones outside the Brighton Line's Prospect Park station.
Never afraid of heights or the physical challenges of creative ingenuity, kwenci, a former Marine, has been a visual arts specialist and teacher since 1980. Kwenci has designed, constructed and created a wide variety of cultural and cosmopolitan art. His multi-discipline artworks include 2D Drawings, Graphic Paintings, 3D art Sculptures, Murals, Metal works, Wood and Interior Design Projects which can be seen around the country, with most of his productions in the Greater New York area. kwencijones.com
You can donate to help restore the mural here.
The Flatbush Avenue entrance to the Prospect Park station on the Brighton line is one of the fancier in the system, with wrought iron panels, torch lighting, and a full gateway. The presence of Times Roman type marks it, though, as a latterday effort. When was all this added to the entrance/exit? It's not even the main entrance; the "token booth" is a round the corner on Lincoln Road.
Washington Avenue from the north and Flatbush Avenue from the northwest finally meet at Lefferts Avenue, where a vaguely Art Deco mixed use building was built, likely around 1030. The billboard advertises IPhone 5, which apparently was supplanted by IPhone 6 in September 2014. More 20th Century offerings are on the ground floor.
I believe IPhones are those little boxes with pictures that people are incessantly looking at and typing on.
A former Childs' restaurant branch here on the NW corner of Flatbush Avenue and Lincoln Road. The former chain can always be recognized by something ichthyic on the building facades, like wiggling fish or seahorses. Founded by Samuel and William Childs in downtown Manhattan in 1889, the eatery became one of America's first restaurant chains until 1961, when its remaining outposts were sold to the Riese Organization (which today runs TGI Fridays outlets, among others). Why Childs' featured fish on the facades is not immediately apparent to em, since it didn't specialize in seafood.
Lincoln Road, meanwhile, is the second thoroughfare in Brooklyn named for the 16th President; Lincoln Place runs from Park Slope to Brownsville, interrupted only by Grand Army Plaza. Lincoln Road actually begins at East Drive in Prospect Park and runs east (though it's one way facing west) as far as New York Avenue, where it gains some width and becomes East New York Avenue. There's been some variation in street names in Lefferts Gardens since the early 20th Century; Tulip Street became Rutland Road and Robinson Street was changed to an eastern extension of Parkside Avenue.
Shamefully there are still some swaths of Brooklyn I haven't investigated on bike or on foot and the eastern section of Lefferts Gardens north of Kings County Hospital is one of them. There's always Google Street View…
This pair of hand-lettered awning signs on the SE corner has probably been there for a couple of decades at the very least. The blue street sign honors the NYPD's Lloyd George Sealy.
I should do a post on neighborhood civic signs. Lamps along this stretch of Flatbush Avenue points out the Flatbush Avenue — Empire Boulevard to Clarkson Avenue Merchants Association.
This is still the Lefferts Gardens neighborhood, not Midwood, which generally comprises the southern precincts of Flatbush from Brooklyn College–Avenue H to Gravesend, and between McDonald and Nostrand Avenues. The term comes from the Dutch word Midwout, which means 'middle of the woods." Nevertheless, Midwood Street runs east to west in the middle of Lefferts Gardens and on the corner of Flatbush Avenue and Midwood this new bar is imminently opening, featuring an awning sign reminiscent of late 19th Century stylings.
Note the Phi-shaped bicycle bar at the curb.
There are a trio of cul-de-sacs running west from Flatbush Avenue ending at the open cut of the Brighton Line. By far the more picturesque is Chester Court, the one in the middle, which is lined on both sides with exquisite attached Tudor-style houses.
There's also a Chester Avenue in nearby Kensington, so perhaps the same developer was responsible for each.
Here's a minor masterpiece at the SE corner of Flatbush and Parkside Avenues. There's  no practical purpose for those stepped cornices with globular finials. The architect wanted them there.
This was H.P. Lovecraft's neighborhood when he moved to an apartment on Parkside Avenue with his wife Sonia in 1924. The marriage did not last long and he was back in Providence by 1926.
The Station
I'm fascinated by the Parkside Avenue BMT Brighton Line station, so much so that I have devoted an entire FNY page to it. I enjoy the tilework, the old three-headed lamp stanchions and the built-in view over the tracks.
There's a bank of four pay phones on a wall adjacent to the station that looks like a quartet of broken-down drunks. Pay phones are now largely outmoded, and the local youth have given these phones a real Brooklyn sendoff.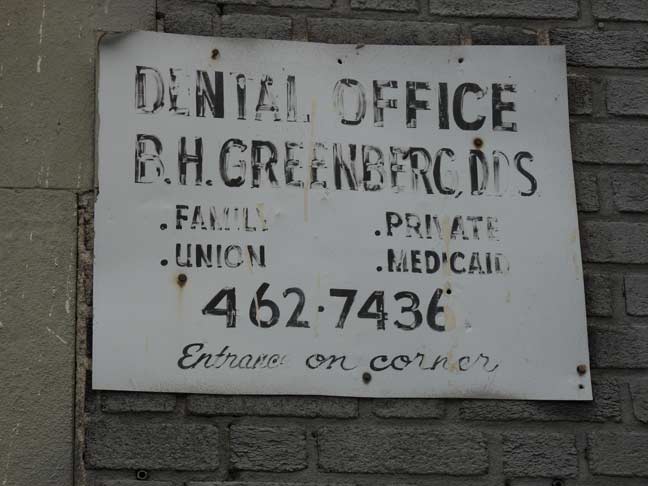 I wonder if this dentist still has an office in the building. I could call the number and find out, I suppose. Or you can.
At the corner of Parkside and Ocean is one of the main Prospect Park entrances. I had not the time to enter, but I have before.
The entrance is surrounded on both sides by the trellised, Ionic-columned Pergola; the famed architectural firm McKim, Mead and White constructed this entrance in 1904. The Pergola features a granite colonnade consisting of Ionic columns split by an entrance drive. Wisteria vines climb trellises on either side. The benches sometimes are occupied by vagrants sitting in the midday sun.
The old Caledonian Hospital complex on Parkside Avenue and St. Paul's Place has been converted to upscale residences. It's now known as 123 On The Park. The hospital closed its doors in 2003 after 90 years in existence. There must have originally been a Scottish connection, since Caledonia is the Latin term for Scotland.
An oddly polite old Curb Your Dog sign on a St.Paul's Place fence. The city has given up on these signs and will no longer install new ones; the fines are just going up too fast.
There's a little grid of streets east of the Parade Grounds and south of Prospect Park that have nothing to do with the overall southern Brooklyn nomenclature of numbered and lettered (or at least alphabetically-ordered) streets, St. Paul's Place, Woodruff Avenue, Caton Avenue, Crooke Avenue. Philip Schuyler Crooke (1808-1891), a one-term Republican congressman, was married to Margaret Caton of a longstanding Dutch local family, the Martenses.
Timothy Woodruff was a Republican congressman and Teddy Roosevelt's lieutenant governor.
Above, some handsome attached houses with bay windows on St. Paul's Place.
A trio of novel apartment building entrances on Crooke Avenue between St. Paul's and Parade Places.
I will leave off at the Parade Ground,  a rectangle formed by Coney Island Avenue, Parade Place and Parkside and Caton Avenues. I like the sign in Garamond Bold, not a usual choice for NYC signage.
Throughout the late 1880s and 1890s, when unoccupied by the military, the lengthy Parade Grounds field often hosted archery practice, lawn bowling games,  and cricket matches. In later years the Parade Grounds would also hold public lacrosse, baseball, football, and soccer games. When Caton Avenue underwent construction in 1926, the City added a small triangular section of its unused land to the grounds. By the late 1930s the Parade Grounds' baseball diamonds attracted an average crowd of 20,000 daily spectators to watch soon-to-be-discovered baseball players, such as Dodger Sandy Koufax. NYC Parks
9/29/14