I've been on Fulton Street a lot. Over a decade ago I learned that the classic restaurant Gage & Tollner, at Fulton and Smith, had just closed, so I did a piece on it that evolved into a survey of ancient stuff to be found in the stretch between Adams and Flatbush Avenue.
Not to be content with that, in 2004 I authored a piece on Fulton Street from the East River waterfront and continuing with its guise as Cadman Plaza West as far as Joralemon and Adams Streets. THis part of town has been a FNY staple over the deca…ah, over the years.
Later that year, I walked Fulton Street from Fort Greene to East New York and posted a page about all that in October 2004.
It's taken a full eleven years but I'm finally ready to complete the Fulton Street saga from East New York to the borough line with Queens and beyond. I actually had to shoot this whole page in its entirety twice. I walked the route in the fall of 2013, but my hard drive swallowed those photos in its death agony in December. Your webmaster, who is sometimes known as "Mr. Loser," had failed to check if my backup, called Time Machine by Apple Computers, was still working; it had turned itself off for whatever reason some time before, and poof! went my work for about ten months. Easy come, easy go, as they say.
I was determined to finish Fulton, though, so I revisited it after a few months when the route was newly fresh in my mind. I took the subway to the Broadway-East New York complex, went down Fulton, circled around in Woodhaven for awhile and staggered to the J train on Jamaica Avenue and headed home.
After you have ridden underground all the way (as I did to get here on the A train) staggering outdoors, and yanking the baseball cap even further down the brow than usual, to shield the sensitive rods and cones from the ever-burning solar disk, you blink and marvel at the tonnage of metal that has been erected to support the borough's mass transit. At this junction, the Canarsie El carrying the L train meets and intertwines with the Brooklyn Broadway El, which has carried the J train across the Williamsburg Bridge. Both trains can transfer to the IND A and C lines, which are the babies of the litter, having been built in the 1930s. The Canarsie and Brooklyn Els can also combine routes, though they don't do that in regular service these days.
Another el train used to converge with the whole mess here, as well, the Fulton Street El, which was built in the 1880s. The IND Fulton Street line was built by the city to compete with it, and it killed it in a slow, laborious fashion… it was cut back from west to east until by the 1940s, most of it west of East New York was gone.
The city has retained a short bit of its trackage above Fulton Street at Van Sinderen Avenue, to maintain structural integrity with the other two massive els, but trains will never use it again. The ghosts of subway lines lurk here, too — the JJ, KK and MM trains ran here at different times of the day before the new connection to the 6th Avenue in 1967 enabled some reroutes and elimination of some other lines.
GOOGLE MAP: Fulton Street to Woodhaven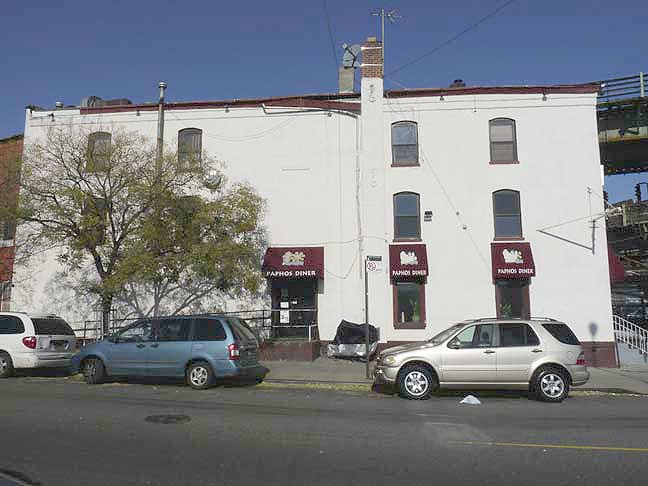 Defying the shadows, the Paphos Diner somehow manages to avoid the elevated trains that shroud most of the streets in the immediate neighborhood. on Fulton Street where it makes a slight curve between Van Sinderen Avenue and Broadway. Like most diners, the reviews run the gamut. Since I try all diners, I'll go in one day.
The junction of Broadway, Fulton Street, Jamaica Avenue, and East New York Avenue is officially known as Jewell Square, or it used to be, since I didn't see any signs indicating thus. A couple of blocks away is another very busy interchange where Jamaica Avenue meets Bushwick Avenue, Pennsylvania (Granville Payne) Avenue, and the Interborough (Jackie Robinson) Parkway, the first of Robert Moses' vehicular parkways constructed in the 5 boroughs (1932). Jewell Square first appeared on maps in 1905.
The Metropolitan Transit Authority's East New York Yards offices are accessible on Jamaica Avenue east of Jewell Square. The trainyard handles J,Z, M and L trains; currently (March 2015) the most varied rolling stock in the system can be found on the J/Z, which uses new R-143 and R-160 cars as well as much older R-40 and even a few R-32 cars.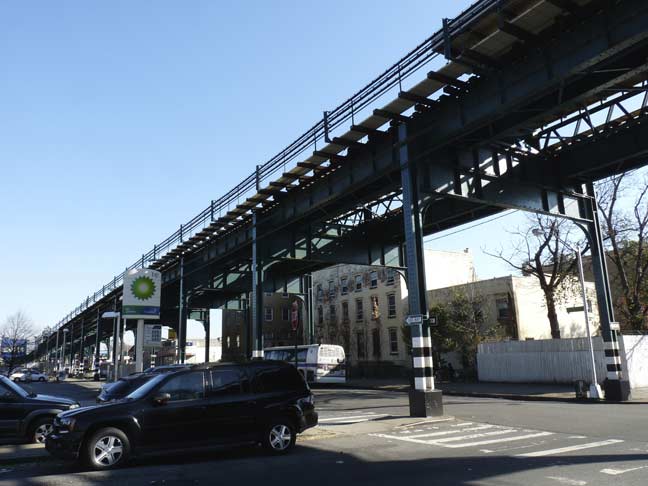 The stretch of elevated track over Fulton Street for a few blocks east of Jewell Square dates back to the 1880s and is some of the oldest remaining infrastructure still used in the MTA. This is part of the Broadway El that was built out between the Williamsburg Bridge and downtown Jamaica.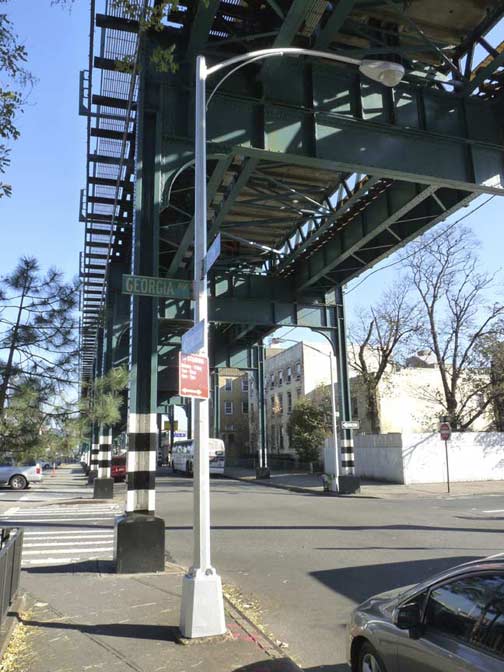 As I've emphasized through the years on Forgotten New York, older forms and outdated forms of street lighting can be found under elevated trains, where nonstandard equipment isn't as obvious. When octagonal shafted lampposts first appeared in 1950, mastarms were curved and employed a thin brace. By the end of the 1950s, straight mastarms had overtaken them and the curved nmastarms were no longer produced. However, there are still a few dozen scattered around town, such as here at Fulton Street and Georgia Avenue.
Several north-south streets in East New York are named for states, such as Alabama, Georgia, Pennsylvania, New Jersey and Vermont. That seems to be the extent of the trend, and older maps I've researched don't expand on their number. All but Alabama and Vermont are original 13 colonies that became states. Why these particular states were selected for ENY street names seems destined to remain a mystery.
A short detour south on Georgia Avenue, about halfway to Atlantic Avenue, reveals what appears to be a small country chapel, complete with bell tower and arched windows, facing away from the street. It is not marked, and appears not to have hosted any services in recent times. What could this be about? The answer lies in the stone building seen behind the chapel.
The chapel was used by residents in the Wartburg Lutheran Home for the Aged, whose building still stands on the southwest corner of Fulton and Sheffield Avenue.
The retirement home is referenced in typically succinct fashion on the Belcher-Hyde 1929 Brooklyn atlas. Wartburg, whose name ultimately references the nearly millennium-old Wartburg Castle in Thuringia, central Germany, was established in 1874 and the building still standing under its name seems to have been constructed some time after 1929, because it doesn't take up the entire plot as depicted on the map.
Today, what was the Wartburg Home seems to have fallen on hard times, as it seems to be a drug rehabilitation center adjacent to the Bushwick Center at #50 Sheffield, though I'm not sure if it's a part of it. Amazingly the old chapel is still in place, and is shown on the map.
In 2003, a community board proposed that Fulton Street in its entire length from Adams Street east to the Queens line be renamed for Harriet Tubman (1820-1913), the abolitionist and Underground Railroad heroine. The measure was passed in modified form, and today only a few lampposts bear a second sign naming Tubman underneath the main sign. The original proposal called for a straight renaming.
Tubman, though, has her moment in the sun in Harlem, where there is a statue in her honor on Frederick Douglass Boulevard.
Though we're still in East New York, as you get further east you enter the neighborhoods of Highland Park and then Cypress Hills, which I judge to be east of Euclid Avenue. Nevertheless, these signs are found on lightposts along Fulton Street all the way from Pennsylvania Avenue to the city line. I really should feature these neighborhood signs in a FNY piece, because many of them are nicely designed, such as this one showing a cypress tree.
The neighborhood was formerly called Union Place, after the mid-19th Century racetrack located just east of what was the Brooklyn "City Line" (some residents call the neighborhood by that name).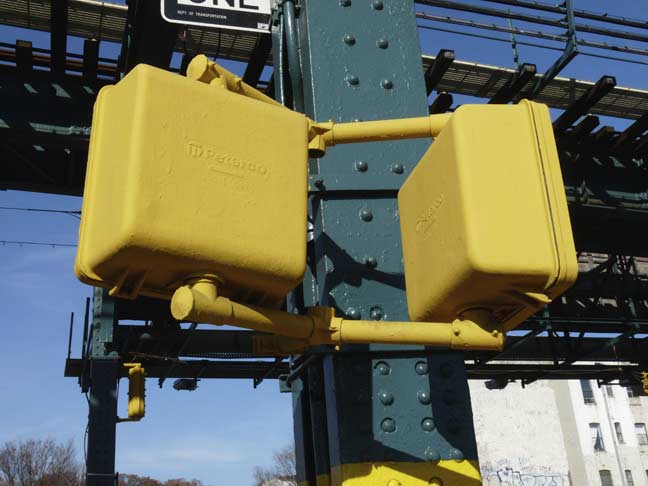 I  had an eye for detail on today's walk. I noticed that the elevated train stanchions had been newly painted green, with black and white stripes at the base. I also noticed that on the back of these pedestrian control lights at Pennsylvania Avenue, the manufacturer was Peterco. These signals have a number of different makes, such as Marbleite and Winko-Matic.
Some attached, bay-front brick buildings on New Jersey Avenue south of Fulton Street.
A short detour north on Wyona Street reveals the twin-peaked Christ Lutheran Church, built in 1894 as the Christ Evangelical Reformed Church, now home to a Latin congregation.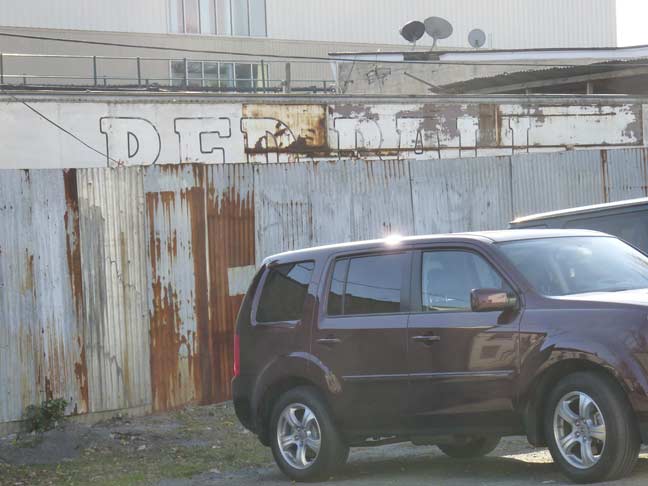 Also on Wyona, there's a truck that's been parked there a long time bearing an old logo of the Red Ball Company, a trucking firm established in 1919. A separate Red Ball Express trucking operation was established during WWII to supply Allied forces, staffed primarily by African Americans.
This stretch of Fulton Street is, oddly for a street running under an el, lined on both sides with freestanding houses large and small. 2747 Fulton, at Bradford Street, appears to have been built as two separate buildings that are now joined. There is a parking lot with several individual spaces on the corner. I'd like to know a bit more about the story here.
There's a lot going on with this light post at Fulton Street and Miller Avenue. For one thing it's one of the older posts installed in the 1960s (the whole stretch was replaced with brown-L-shaped posts in the 1980s).
It also has two species of street signs, a traditional one in Highway Gothic from the 1980s and another one in the Clearview upper and lowercase font installed in the mid-2010s.
The two one-way signs use different styles of Highway Gothic type.
The original orange fire alarm light is still affixed to the apex, though it's no longer likely in use. The newer red signal is not on the post.
The post has received a recent paint job, so it's likely going to stay for awhile.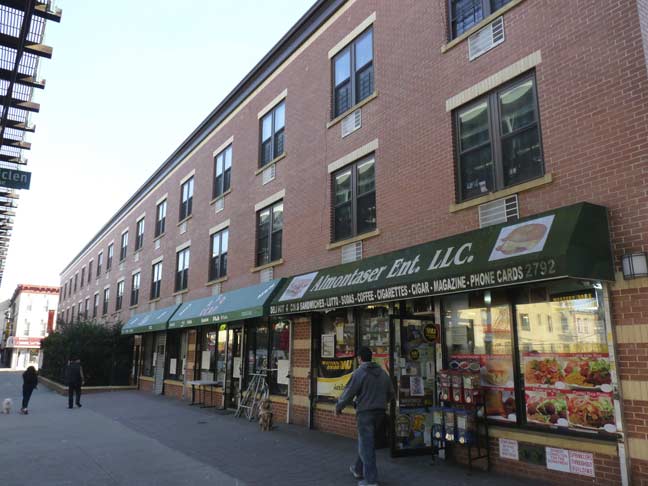 A newer building built with a handsome brickface presents some storefronts on Fulton between Van Siclen Avenue and Hendrix Street.
Meanwhile, a block away at Hendrix Street, a multifamily building constructed early in the 20th Century features a goddess above every window. Meanwhile, the same goddess can be seen above a blocked-up door.
No doubt at #2822 Fulton, east of Hendrix, about what's sold here.
The walls of the Cypress Hills Local Development Corp., on Schenck Avenue, are decorated with depictions of people tied up in red tape. I'm sure that's not the intent. The ribbons are inscribed with encouraging epigarms in English and Spanish.
This won't be the last time somewhat baffling, but engaging, artwork will be seen raveling east on Fulton Street.
The name "Schenck" turns up on 4 different Brooklyn streets, in neighborhoods as far-flung as East New York, Canarsie, and Gravesend. The name "Van Siclen" or "Van Sicklen" is on three. The names are Dutch settling families from centuries ago.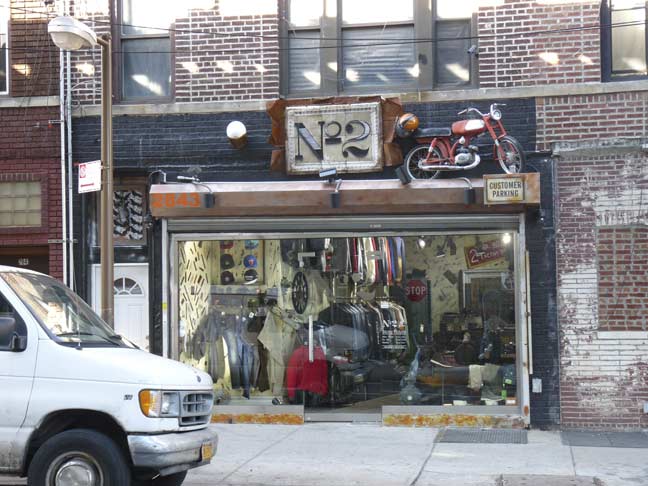 Imaginative store signage on No. 2, haberdashery at #2843 Fulton east of Schenck Avenue.
An apartment building at Fulton and Jerome Streets contains a couple of panels of interesting ecclesiastical art depicting New Testament scenes.
The first depicts a crowned, haloed woman overseeing a baby with a red-cloaked older woman (or man — I'm not sure if the figure is drawn with a  beard)  in the background. This may depict Mary's presentation of Jesus 40 days after His birth at the temple in Jerusalem, where prophets Anna and Simeon foretold of His future.
The second image is of a stylized Christ child, also with a crown.
Meanwhile there are some arresting images painted on the walls of the C-Town supermarket on the opposite side of Fulton and Jerome. Two female figures kiss a haloed child (possibly Christ?), a polar bear, rearing steed with American flag on the Jerome Street side, with an African elephant, anchor and a flag of the Dominican Republic. What could this all mean? Does it mean anything?
Jerome Street is named for the same man the Bronx' Jerome Avenue is named for: Leonard Jerome, the 19th-Century financier and horse racing buff who built the Jerome Park in the Bronx (where Jerome Park Reservoir is now). He was the grandfather of Winston Churchill.
What else am I going to find in Highland Park, Cypress Hills and Woodhaven on and around Fulton Street? Find out in Part 2.
3/29/15