I've been on Fulton Street a lot. Over a decade ago I learned that the classic restaurant Gage & Tollner, at Fulton and Smith, had just closed, so I did a piece on it that evolved into a survey of ancient stuff to be found in the stretch between Adams and Flatbush Avenue.
Not to be content with that, in 2004 I authored a piece on Fulton Street from the East River waterfrontand continuing with its guise as Cadman Plaza West as far as Joralemon and Adams Streets. THis part of town has been a FNY staple over the deca…ah, over the years.
Later that year, I walked Fulton Street from Fort Greene to East New York and posted a page about all that in October 2004.
It's taken a full eleven years but I'm finally ready to complete the Fulton Street saga from East New York to the borough line with Queens and beyond. I actually had to shoot this whole page in its entirety twice. I walked the route in the fall of 2013, but my hard drive swallowed those photos in its death agony in December. Your webmaster, who is sometimes known as "Mr. Loser," had failed to check if my backup, called Time Machine by Apple Computers, was still working; it had turned itself off for whatever reason some time before, and poof! went my work for about ten months. Easy come, easy go, as they say.
I was determined to finish Fulton, though, so I revisited it after a few months when the route was newly fresh in my mind. I took the subway to the Broadway-East New York complex, went down Fulton, circled around in Woodhaven for awhile and staggered to the J train on Jamaica Avenue and headed home.
When I left off in Part 1, I had arrived at Jerome Street and its baffling, yet engaging, collection of religious murals. Although there is no defined boundary between East New York and Highland Park, I am getting close; the park from which the neighborhood south of it takes its name runs along Jamaica Avenue between Ashford Street and Highland Boulevard, south of the Jackie Robinson Parkway and west of National Cemetery.
NYC city chronicler Brian Berger, the compiler of the 2007 book New York Calling, in which your webmaster submitted a piece, and author of the blog Who Walk in Brooklyn? wrote a lengthy guest post on Highland Park.
GOOGLE MAP: Fulton Street to Woodhaven
Though Fulton Street is shadowed by an el between Jewell Square and Crescent Street, things aren't as dark as they could be. Except at station stops, there's a generous amount of sunshine because there are no express tracks in the center, and J and M trains run local all the way to Jamaica. Here, the sidewalks are fairly shady; in other cases where els are two tracks only (the White Plains road line in the Bronx, for example), they run together in the center, with the sidewalks getting ample sun. Not so much here.
Forgive me if I wander north on Elton Street, as there is some architecture on Arlington Avenue I want to consider. This is a very old brick residence painted beige several years ago, with distinctive arched windows.
Originally called the Arlington Avenue Presbyterian Church, this is the second of its church buildings to occupy property on Elton Street. The first church, a small wood structure, was constructed on Elton Street in 1893, but the congregation outgrew it and this handsome twin-belfreyed Gothic Revival brick church was completed in 1906. The wooden church was retained beside it for a few years but was eventually torn down. Currently, it is called the Presbyterian Church of the Crossroads.
Arlington Avenue is named for the Arlington National Cemetery in Arlington, Virginia, fitting because New York City's own National Cemetery is within a few blocks at Jamaica Avenue and Hale Street.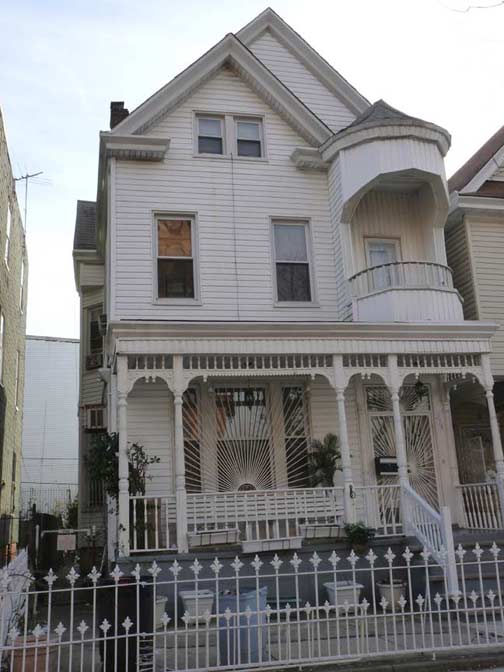 This Victorian-era "Stick Style" residence, so called from the thinness of the porch pillars and awning slats, was once even more picturesque before aluminum siding was installed. Arlington Avenue between Elton and Linwood Streets.
The avenue boasts many well-kept, beautiful homes from a distant era, and is worthy of a future FNY survey.
P.S. 108 [Linwood at Arlington] was built in 1895, designed by James Naughton, who designed most of the NY public schools of that era. Built out of brick and Lake Superior sandstone, it was designated as an historic landmark on February 3, 1981. It is also now known as the Sal Abbracciamento school, after a well known local graduate [who saved the school in the 1970s when it was in danger of closure]. East New York Project
One of the handsomest school buildings in New York City. The Romanesque Revival brownstone retains its Boys and Girls entrances, though they aren't used that way anymore, of course. The 1895 cornerstone is revealed as a fairly recent addition, as it uses the recognizable Times Roman font.
This school has much less ornamentation, and a totally different structure, based on a Second Empire-style plan: three bay-wide pavilions on both sides, connected by recessed wings to a seven-bay-wide central entrance. The use of pavilions makes the building flow, adding interesting shadow and contrast to what is an enormous school. Naughton loved dormers and piled them on here, too. Large windows admitting light and air were also a prominent design feature, for both practical and aesthetic reasons, and this building does not disappoint in that regard, either. Montrose Morris, in Brownstoner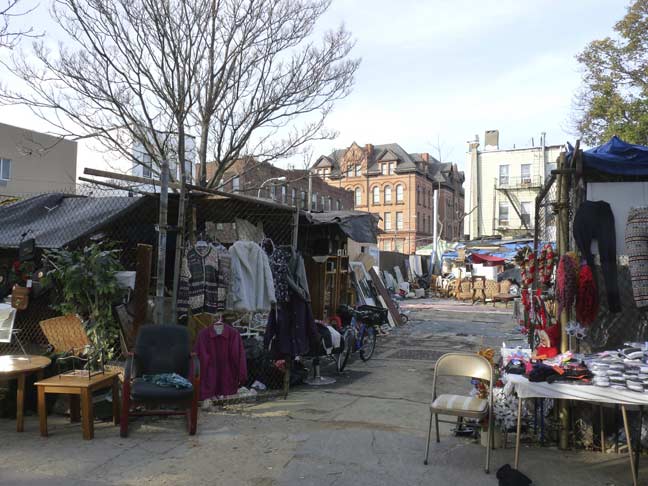 Returning to Fulton Street, PS 108 provides the backdrop for this flea market just east of Linwood Street.
A substation supplying electric power to the elevated train's third rail at Essex and Fulton Streets sports the old orange and blue Transit Authority logo. The TA ran the surface lines and subways in NYC between 1953 and 1968, when it was placed under the Metropolitan Transit Authority, a state agency that runs most of the mass transit lines entering NYC.
Edging past Hale Avenue, I knew that this unusually configured brick building with a bricked-up entrance and arched windows must have been something important in the past. Sure enough, this was once the Norwood Theatre between 1914 and 1928, a small theater consisting of less than 500 seats. It later became a roller rink and then Hale Bowl, a bowling alley that according to the ENY Project remained such until 1984.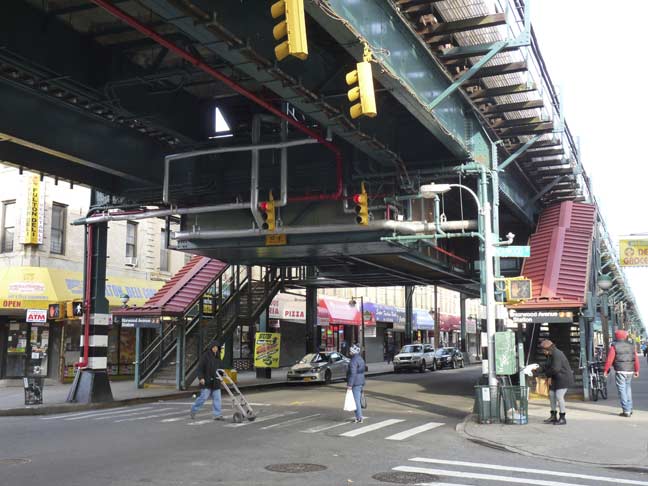 The theater was called the Norwood, of course, because Norwood Avenue and its el station are a mere block away.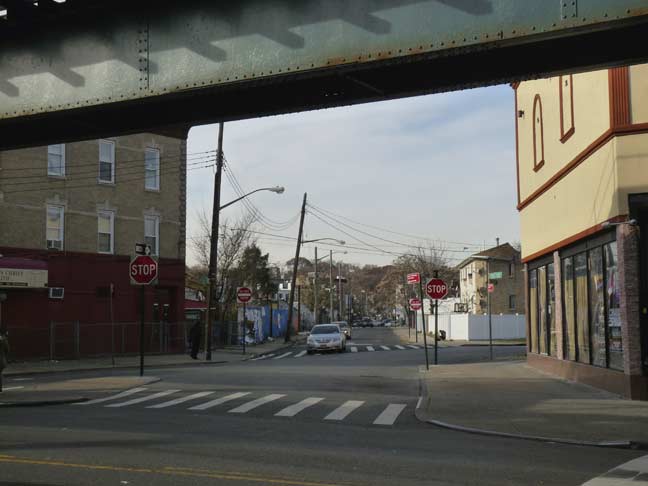 Force Tube Avenue upsets Highland Park's overall street grid, running between Jamaica Avenue and Highland Place southeast to Fulton and Logan Streets. The street has been mapped since the late 1800s, and old-time residents mention that it formerly was a dirt road without sidewalks.
The name refers to high-pressure tubes, or conduits, that ran under the street, connecting Ridgewood Reservoir, just north of Highland Park, to a large pumping station that stood until the mid-1960s at Atlantic Avenue and Conduit Boulevard. It was part of a water system connecting Freeport in Nassau County where the Milburn Pond was tapped in the 1890s to supply water to the then-city of Brooklyn. A water conduit through southern Nassau and Queens was constructed along streets which came to be known as Conduit Avenue and Boulevard. Aqueduct Racetrack, which sat near the conduit, was also named for it.
The pumping stations, conduits and reservoir had all gone out of use by about 1970. The Romanesque Brooklyn Water Works building in Freeport, visible to generations of Long Island Rail Road commuters, was damaged in a fire in the early 1990s before it could be converted to residential use, and was then demolished. The Ridgewood Reservoir remains, awaiting revival.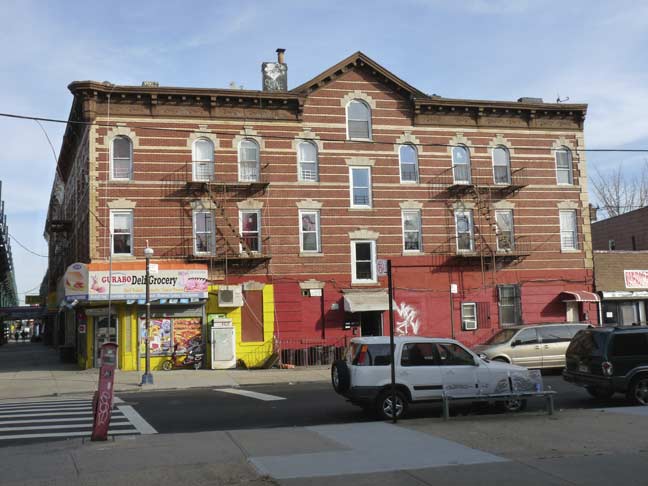 Handsome apartment building on the southeast corner of Fulton and Richmond Streets. It looks much the same as when it was built, likely around 1910.
South of Fulton, along Richmond, homes have succumbed to practicality and have installed aluminum siding, but the original fenceposts and bannisters can still be seen here at the stoop at #227 Richmond.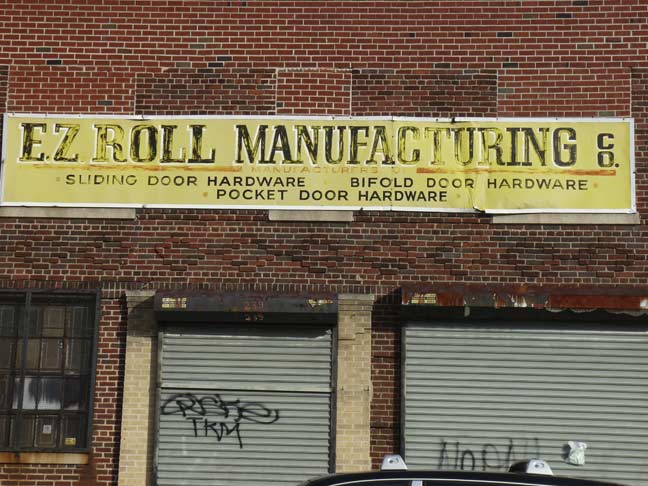 Painted sign on Richmond Street for EZ Roll Manufacturing, which produced sliding metallic doors, a must for businesses in tough neighborhoods. The company is apparently no longer in business.
For Friends Auto Repair, Richmond Street and Dinsmore Place, has, for some time (apparently, as I was here in 2013 and 2014) attracted customers with this method. The paintings changed between 2013-2014.
At Chestnut and Fulton Streets, note an extra beam on a slant at the trackway on the left. This is all that remains of a ramp that once connected the Long Island Rail Road on Atlantic Avenue to the el structure here, beginning in 1898. LIRR trains entered the el from the ramp and followed it over the Williamsburg Bridge after its 1903 opening to a terminal at Essex and later, Chambers Street when that station opened in 1913. This, not Pennsylvania Station, was the LIRR's first connection to Manhattan. A court ruling forbidding joint operations between Brooklyn Rapid Transit and the LIRR severed this connection in 1917. Only this beam remains as a reminder of the joint service.
Chestnut and Fulton. Faro is lighthouse in Spanish; a pupusa is a traditional Salvadoran dish made of a thick, handmade corn tortilla that is usually filled with a blend of the following: cheese cooked pork meat ground to a paste consistency, refried beans, or cheese and herbs.
Fulton Street now enters Cypress Hills, named by 19th-Century settlers for a preponderance of the trees. The name also went to the vast Cypress Hills Cemetery and Cypress Hills street, which vaults the high hill and connects the neighborhood to southern Ridgewood in Queens.
Cypress trees are found in quantity in Greece and southeast Europe, but that's the only connection I could think of about why one of the main north-south streets is called Euclid Avenue, for the Greek mathematician called the "father of geometry." Traffic from Cypress Hills Street flows south on Euclid Avenue as far as Atlantic Avenue.
By far the tallest and most imposing structure in Cypress Hills is Blessed Sacrament Roman Catholic Church on Euclid just north of Fulton Street. The parish was established in 1891 when a small wood church was constructed at Fulton and Euclid, with a farmhouse belonging to the Dyckman family serving as the rectory, or priests' residence. The monumental, twin-towered "new" church had its cornerstone laid in 1924 and was consecrated two years later. The East New York Project has several photos of the parish and parishioners over the years.
The parish school building, built in 1911, still stands on the east side of Euclid Avenue.
There was a time when Roman Catholic churches were so wealthy that they could build the equivalent of small towns surrounding the main church building. This is the parish rectory, opened in 1926, the same year as the "new" church.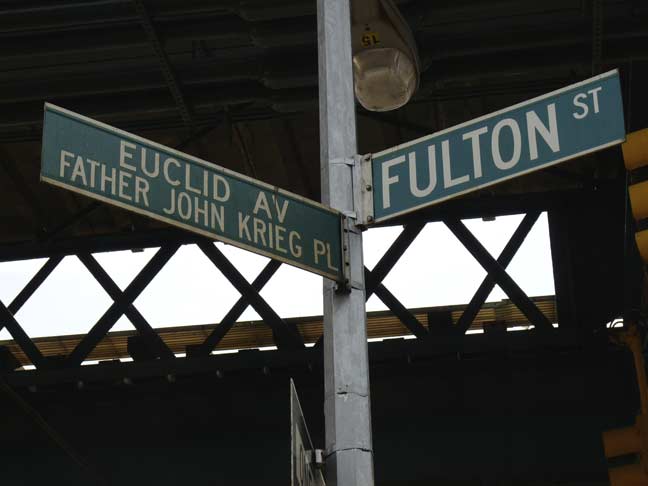 Euclid Avenue between Ridgewood avenue and Fulton Street has been given the designation Father John Krieg Place, after a longtime pastor of Blessed Sacrament Church.
Fr. Krieg was not the first Blessed Sacrament pastor to have a street named in his honor. Crescent Place, running between Crescent Street and Hemlock Street north of Ridgewood Avenue, was renamed Kiely Place for Msgr. John Kiely, another longtime pastor, in 1937, and what's more, Kiely doesn't have to share a street sign. Naming streets for local luminaries, but retaining the old name, is a more modern practice.
A candy store on Fulton Street between Euclid Avenue and Pine Street leaves no doubt about how the shop owner voted in 2008 and 2012.
This brings us to Pine Street, and the incredible facade on the otherwise nondescript entrance at #107, between Ridgewood and Fulton. I shot it from two angles, as well as a closeup on one of its Corinthian columns, one of which has deteriorated over the decades.
How did it get this way, and who added the facade? As usual the East New York Project can shed some light:
An English woman lived there at the time of the 1900 census. In 1903 the house is put on the market, and this ad in the New York Telegram described the house as "cosey" (sp). In 1904 the house is purchased by Frank Hockin, an Englishman. He is listed in the 1910 census as a staircase builder, and he constructs a milling shop in the rear of the property. In the 1908 insurance map on the left I have the property circled and two wooden buildings appear in the rear of the property. On the right is a description of the property when it was listed in 1915, though Hockin was still living there at the time of the 1920 census. We know the columns were in existence by 1918, so my theory is that he added the columns, partially to help promote his business…
… Former Pine Street residents Brian and Marianne Black, Mike Pettersson as well as big time site supporter Peter Stango all informed me the Nobile family lived here in the 60s and 70s.
Brian Black lived a couple of doors down at #101 Pine Street and I visited him and his family often there in the 1970s and 1980s. Small world, after all…
Through the magic of Google Street View I can show you #81 Essex Street south of Ridgewood Avenue, a few blocks to the west. A nearly identical columned facade has been added to this building as well, and so Frank Hockin may well have had something to do with it.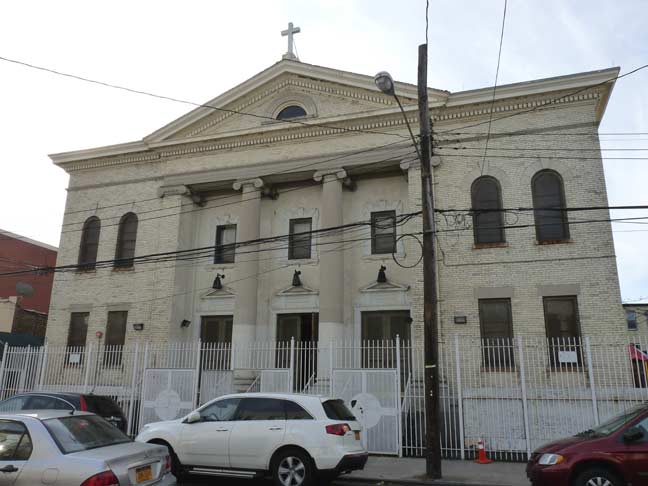 We've seen some Corinthian columns, how about some Ionic? The back end of the Blessed Sacrament school faces Pine Street and may be even more imposing than the front on Euclid Avenue.
The scene is completed by the presence of a remaining bluestone sidewalk outside #107, the mark of buildings of a certain age.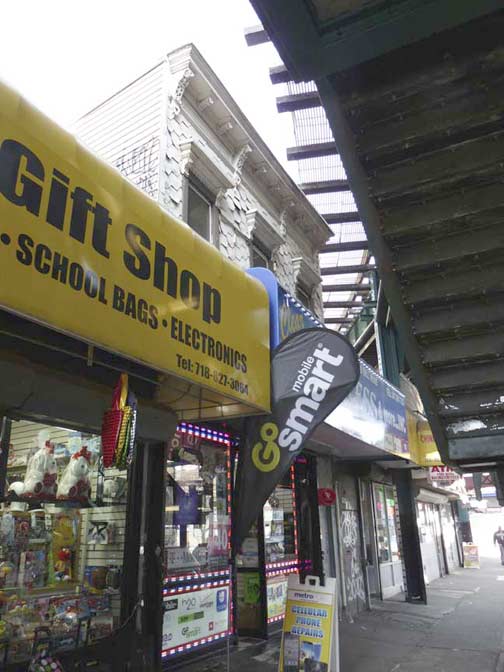 As the el prepares to turn north at Crescent Street, you wonder if the residents of this building, whose second floor is inches from the tracks, receive their adequate eight hours of sleep nights, or if they keep their curtains closed since the steps to the platform station are there.
Crescent Street north of Fulton. The el runs straight on Crescent between Jamaica Avenue and Fulton Street, a total of three blocks. This is among the oldest elevated train structures in NYC. The tracks extended only as far as Jamaica Avenue until 1916, when they were extended along Jamaica Avenue to 168th Street.
The elevated structure has to make a very tight turn at Fulton and Crescent, so much that it arches over a low-rise building on the NW corner home to a drugstore on its ground floor (Mellor's has served the region for decades). But what came first? My bet is the el.
It's a matter of conjecture how Crescent Street received its name. Though it's not quite parallel to its neighbor streets, it's far from curved. Could it be for a local building? The Crescent Club operated for many years in Brooklyn Heights, but that's a few miles away.
The Hamburg Savings Bank, sporting a decidedly Moderne appearance, was built on the NE corner of Fulton and Crescent in 1932, when the USA was between wars with Germany; the structure replaced the earlier Lafayette Hotel. After a series of mergers and sales, the bank is currently a Capital One, but come back in a few years and another bank will be there.
Just east of the bank on Fulton Street was the former Gem, originally Adelphi, Theater.
A plaque honoring local heroes who perished during World War II was placed here in the late 1940s.
The fish market at the SE corner of Fulton and Crescent has a terrific handcrafted green and white storefront sign (the sign uses typeset Helvetica).
Fulton Street emerges into full sun in Part 3, which I'll make a quickie since it's a ForgottenTour weekend.
"Props" to the finely detailed East New York Project for info about this neighborhood. The site is run by Riccardo Gomes, who has co-authored several Brooklyn books with Brian Merlis.
4/5/15