51 East 42nd Street is an 18th Century Beaux Arts office tower at the NW corner of East 42nd Street and Vanderbilt Avenue that runs all the way north to East 43rd Street. Until December 2014, the ground floor hosted Manhattan's flagship Modell's Sporting Goods store. 51 will be meeting its ultimate demise soon, as preparations are underway to raze it and build #1 Vanderbilt in its place, which will be one of Manhattan's tallest towers at over 1,500 feet.
However, a building on East 43rd just west of Vanderbilt Avenue has already been razed, and an ad for one of the early 20th Century's most popular brands of toothpaste has been uncovered.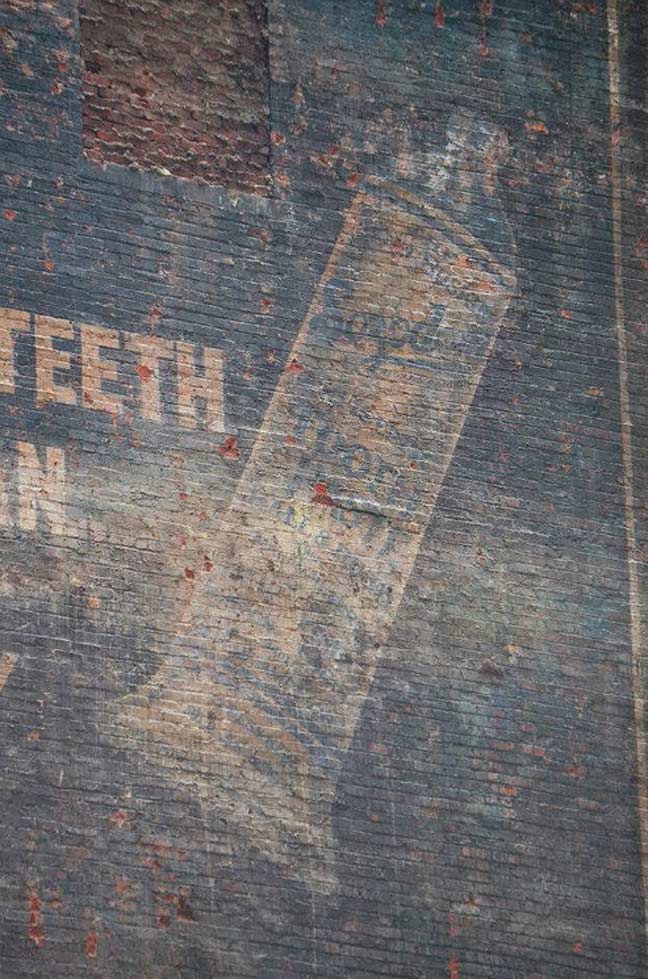 Sozodont was created in 1859 by a New Jersey druggist, Roswell van Buskirk, and took its name from two Greek words: sozo, to save, and dentia, "teeth." It was offered as a powder that could be mixed with water to produce a paste, or was sold in toothpaste form, as on this ad. The manufacturuer, Hall & Ruckel, claimed it could clean and preserve the teeth and harden the gums, and Sozodont remained popular for over seventy years. After the 1920s, the brand fell out of favor because it yellowed teeth in many cases.
The writer of the slogan, "Cleans Teeth Clean" was the original Captain Obvious.
Sozodont was heavily advertised in print: see this Google collection for samples.
The ad is placed in a tough spot for photography. Midmornings, the sun is in your eyes; try and get photos later on in the afternoon. In any case it will be visible for a short while, as I'm sure scaffolding will soon cover 51 East 42nd as prep work for its demolition gets under way.
Photos: Robert Mulero
9/14/15