Usually, when an ancient ad starts fading that's bad news because its legibility is ruined. But I've found a sign at 117 East 24th Street, a couple of blocks east of Madison Square, in which the fading has actually enhanced the ad's appeal — since it has brought to the fore even older ads that had been in place before the "dominant" ad was painted.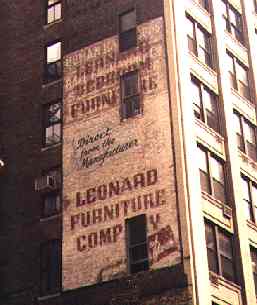 I first encountered this ad in October 1999 when I was puttering around the neighborhood, as I was doing this week. Back then, though, at the top of the ad, "Leonard Bedroom Furniture" was clearly visible.
When I encountered it again, 16 years later, that part had worn away, exposing a couple of ads below. Let's take them one by one:
According to the Indispensable Walter Grutchfield, Leonard Furniture was located in the Mount Hope section of the Bronx, at Park Avenue and East 175th, but its factory showroom was located in this building.
A window was subsequently cut through the ads but enough is visible to reveal:
"Human Hair Goods," a company dealing in wigs, toupees, etc., in  business here from 1915-1935 or so. The company was started by German immigrant Joseph Fleiescher.
Below that is "Ball Engraving Co." and while you may think that the company engraved bowling balls, it was actually a general engraving (cutting designs into hard surfaces) company founded by George N. Ball; the engraver shop was here between 1926-1941.
The lowest ad is hardest to read, and I can't make it out at all. There are also a great many other faded ads higher on the wall but the sun, and time, have made their ineluctable impression, and they are now totally illegible.
11/5/15